The Truth About The Lee Harvey Oswald Overcoat On Pawn Stars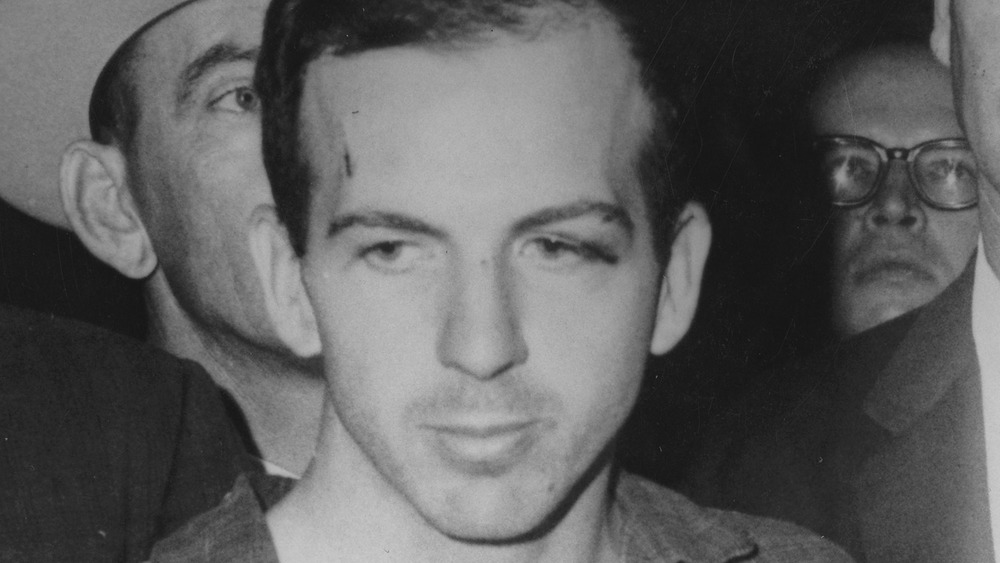 Imagno/Getty Images
An overcoat owned by the infamous Lee Harvey Oswald made its way into the World Famous Gold & Silver Pawn Shop in the latest episode of Pawn Stars, with the seller hoping to score a cool $20,000 for it. Sadly for the seller, Rick Harrison let the coat walk out of the store since it was owned by and therefore associated with someone accused of a heinous crime and he wouldn't be able to sell it to anyone else. But what made this piece of clothing so intriguing in the first place?
In the episode, Rick mentions that Oswald is part of one of the biggest conspiracy theories in the world, and certainly within the U.S. in particular. On November 22, 1963, President John F. Kennedy was riding in a presidential motorcade with in the middle of a parade in Dallas, Texas. His wife Jacqueline, Texas Governor John Connally, and Connally's wife Nellie sat with Kennedy inside the motorcade. At 12:30 PM local time, Kennedy was shot twice; Connally was shot as well, and luckily recovered. Oswald, a former United States Marine who allegedly already tried assassinating other United States political figures, was arrested the same day for the crime, though he insisted that he had been framed. However, before he could be taken to trial, Oswald was murdered in police custody. 
Jack Ruby was the man who killed Oswald on November 24, 1963. He had ties to the mob and apparently "acted out of outrage" in the murder of Oswald, according to Biography.com. This seemed more like a cover-up to the American public, and conspiracy theories spiraled from there. Even pop culture shows like The Umbrella Academy touched on the topic of Kennedy's assassination, and who was really responsible for the crime. Robert Kennedy, JFK's brother, had his own theories on the assassination as well. 
Following his death, several articles of Oswald's wardrobe were pawned off, but the overcoat featured on Pawn Stars was special because of Oswald's personal life.
How Rick knew the Lee Harvey Oswald overcoat was legit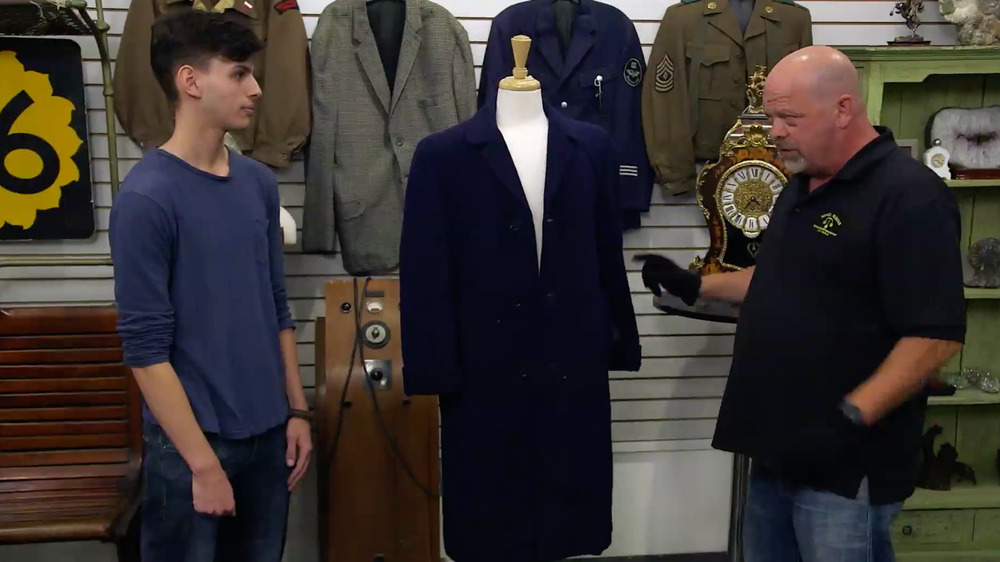 History
As stated on the show, Oswald wasn't one to have a lot of pictures taken. Let's be honest: He lived from 1939 to 1963, and pictures just weren't as abundant as they are now that everyone has a camera in their phone in their pocket. The only full-length picture that Oswald was photographed in was one in which he's wearing the overcoat, seen standing beside his then-wife Marina while the couple were living in Minsk, Belarus before they returned to the U.S. in June 1962. Knowing that photo, Rick knew the overcoat the seller brought in was authentic.
While the overcoat isn't the only piece of Oswald's clothing that's on the market, it sets itself apart because Oswald was actually photographed in it. Other items of his, like his dress suit, have been estimated to be worth up to $20,000 — the same price the customer on Pawn Stars was asking for. However, Rick ultimately let the piece go. Selling things related to infamous people can be dicey, even though the piece might have fetched high prices because Oswald was photographed in it.