The Tragic Real-Life Story Of The Actor Who Played Mr. Miyagi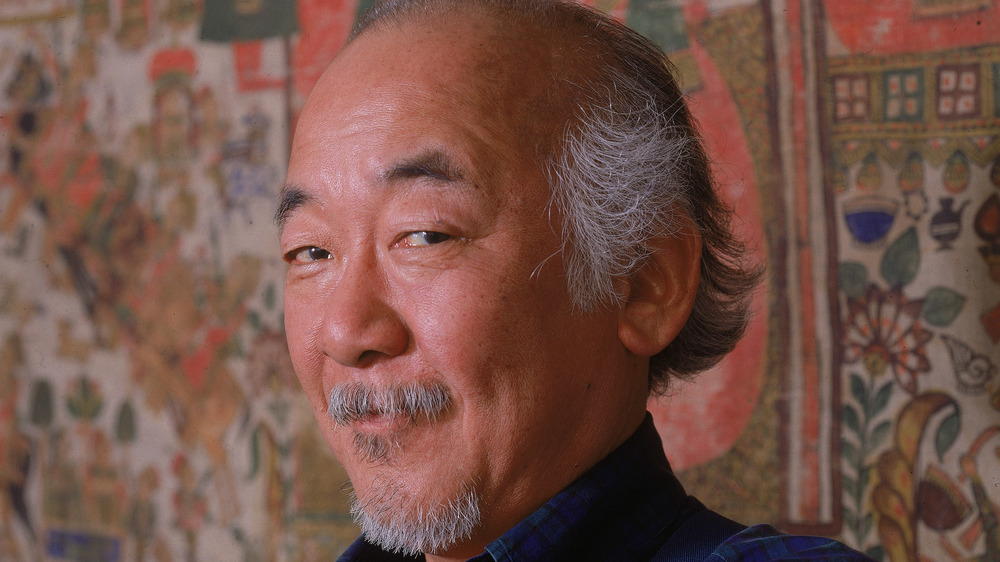 Nancy R. Schiff/Getty Images
Mr. Miyagi, the kind and beloved sensei of The Karate Kid, is one of the most legendary characters of the 1980s. Even though The Karate Kid isn't always viewed as a true "martial arts" movie, few can deny its cultural impact or longevity – and a big part of the film's success is due to Mr. Miyagi. Few characters from that era are as inseparable from their actors as Mr. Miyagi is from actor Pat Morita.
Born Noriyuki Morita, the actor brought a lot of himself to the role as the kindly but complicated Miyagi. His performance was so resonant, he even received an Academy Award nomination. It was the only Oscar nod of Morita's long acting career. He would go on to reprise the role in three more films in the franchise.
Like his most famous character, Morita himself lived a fascinating and tragic life. Here are some of the things you didn't know about the man behind Mr. Miyagi.
A childhood disease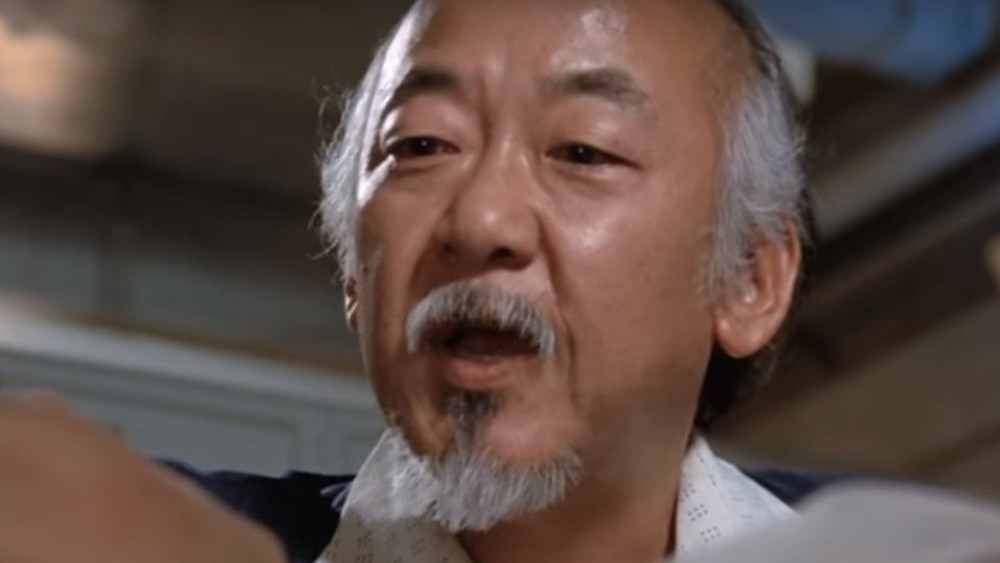 Mr. Miyagi is a master of martial arts. He's such an impressive and affecting mentor, he managed to reach kids in the real world: The film's popularity is often cited as a primary force in the rise of youth martial arts academies. Morita's childhood was spent far from the world of strip-mall karate classes, however -– he actually suffered from a rare disease and was told he'd never be able to walk.
At the age of two, Morita was diagnosed with tuberculosis of the spine, also known as Pott disease. He spent almost a decade of his life in a TB ward called the Weimar Institute, often immobilized and encased in a full-body cast. Eventually, Morita was transferred to San Francisco's Shriners Hospital and was given the opportunity to go through an experimental bone graft treatment that allowed his spine to fuse. The treatment worked, and Morita was eventually able to defy grim expectations and overcome the worst-case scenarios for his disease.
Using humor as a coping mechanism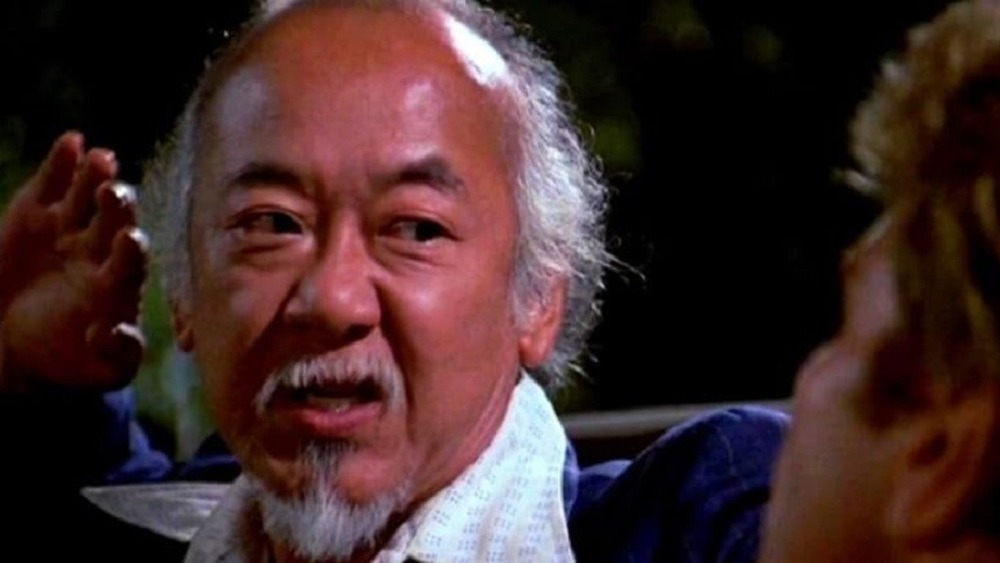 Morita wasn't just confined to a bed for almost a decade of his childhood -– he was often totally immobilized in a full-body cast that ran from neck to thigh. Because of this, he spent much of his time staring at the ceiling, trying to come up with ways to keep himself entertained. This is where Morita developed his sense of humor and comedic timing.
Morita recalled that his time spent at the Weimar Institute was emotionally and mentally taxing, so he "had to find things to laugh at." He would tell jokes, make up stories, and try to get his nurses to crack smiles. He later said, "If it wasn't for my disease, I wouldn't be here today." Though the experience was extremely difficult for him, Morita understood that the hardship of his childhood helped form his personality and make him who he was later in life.
An imprisoned family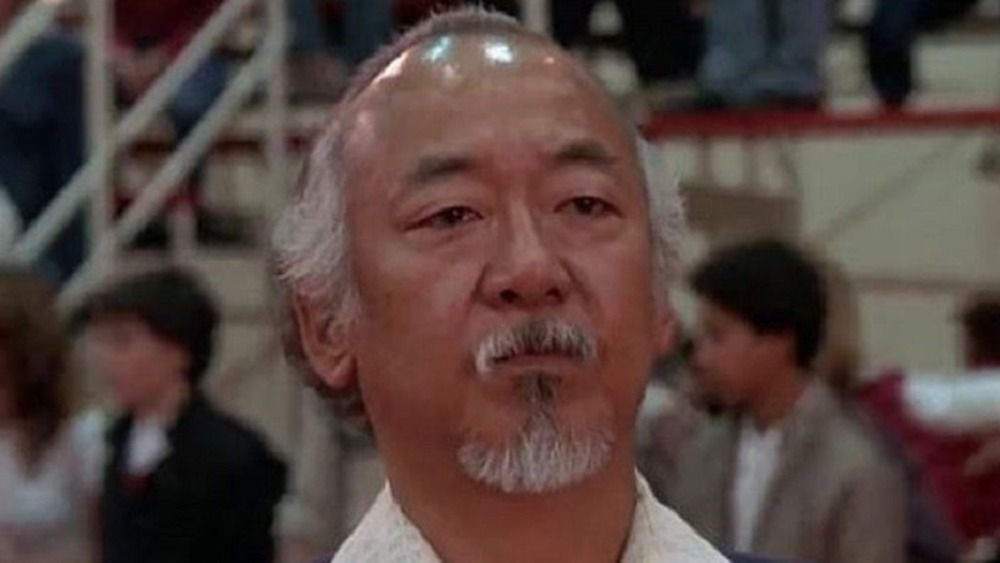 When Morita was released from the hospital with his disease in check, he was reunited with his family. Unfortunately, the year was 1943, and Morita's family were Japanese immigrants. He recalled being escorted (as an 11-year-old boy) by an FBI agent directly from the hospital to the Gila River  War Relocation Center in Arizona. After a little over a year spent there, the family was transported to California's Tule Lake War Relocation Center.
Morita was glad to be back with his family, but he was also too young to understand why they were being held. He recalled crying for days because he missed the care and compassion he was shown by members of the hospital staff. Morita's anger grew as he got older and began to comprehend the truth of the way his family was treated. In an interview with the Television Academy later in his life, he said, "Uncle Sam and we Americans like to use euphemistic words or invent words if we think certain other words are too harsh. So they called them 'relocation centers,' but they were America's version of concentration camps."
Trying his hand at comedy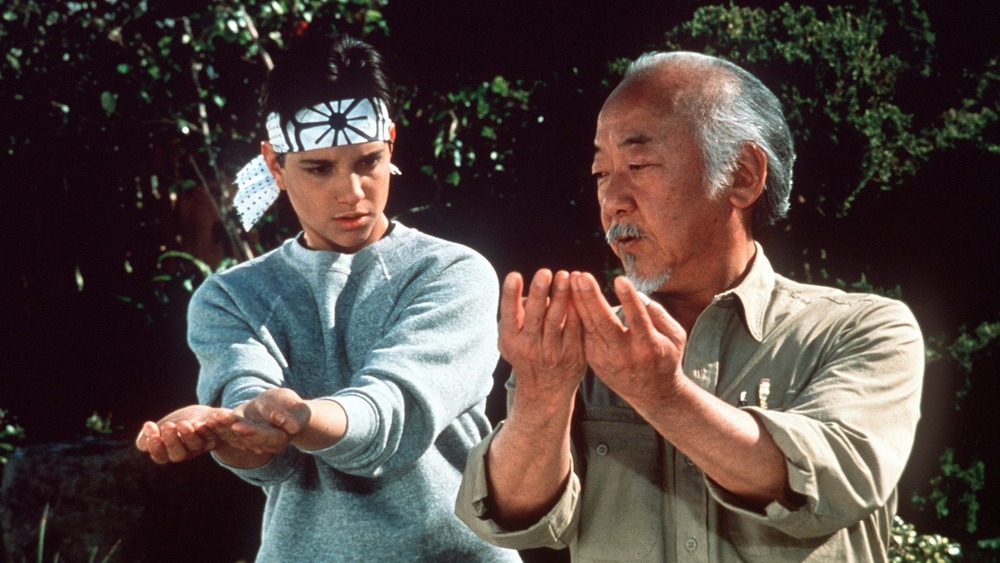 After the war ended, Morita's family opened a restaurant in Sacramento, where Morita would help out. Sadly, his father was killed in a hit-and-run accident in 1956, which eventually forced Morita to take on an office job to help support his family. After years of this work, he decided he needed to make a change.
Remarkably, Morita's sense of humor had remained intact through all this tragedy. He took on "Pat Morita" as a stage name and started working as a stand-up comedian. His name change was partially due to several other comedians at the time being named Pat, and partially in honor of a priest he befriended while he was in the hospital for his tuberculosis.
Part of what makes Mr. Miyagi such an effective character in The Karate Kid is Morita's comic timing and subtle humor. Stand-up comedy, which he embarked upon in the early 1960s, is where he honed that particular talent. Morita was known for his self-deprecating sense of humor, and would often make himself the butt of his jokes. It wasn't long before Morita got a better chance to showcase his talents.
Breaking into the mainstream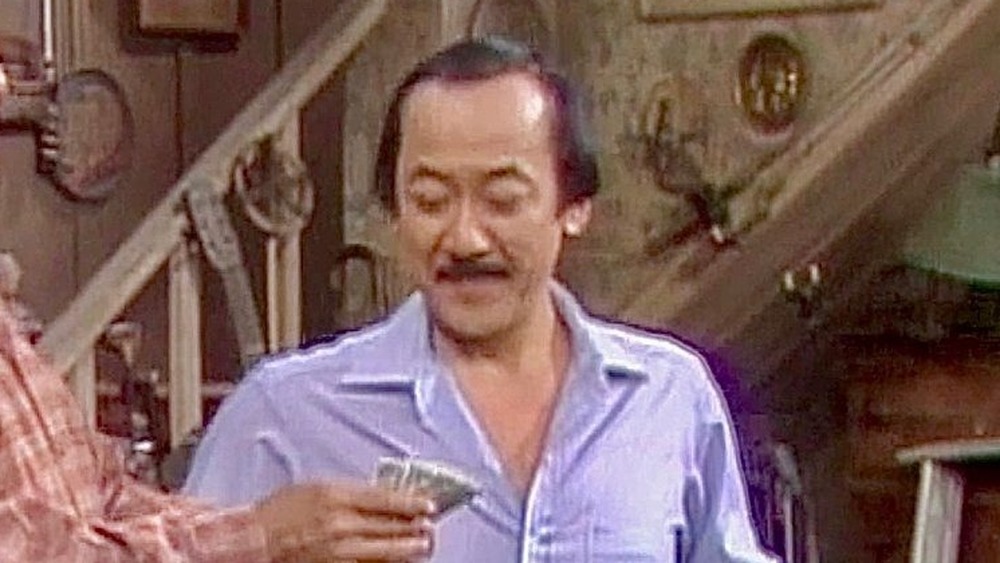 Morita started landing a few bit parts in film and television in the mid-1960s, though they were often roles that would be seen as problematic and stereotypical today: One of his first-ever film roles was as "Oriental #2" in the musical Thoroughly Modern Millie. Morita quickly started cropping up in sitcoms like The Cosby Show and Green Acres.
Two particular roles helped him break more into the mainstream. Morita landed the role of Arnold Takahashi, the owner of Arnold's Diner, on Happy Days, and had a recurring role as Ah Chew (yes, really) on Sanford and Son. This mainstream success actually led to a history-making moment for Morita: It propelled him into a starring role as Taro Takahashi on one of TV's very first predominantly Asian-American sitcoms, Mr. T and Tina. Unfortunately, the show only lasted a few episodes, but it was an important moment in Morita's career and in TV history.
Morita nearly missed out on his most iconic role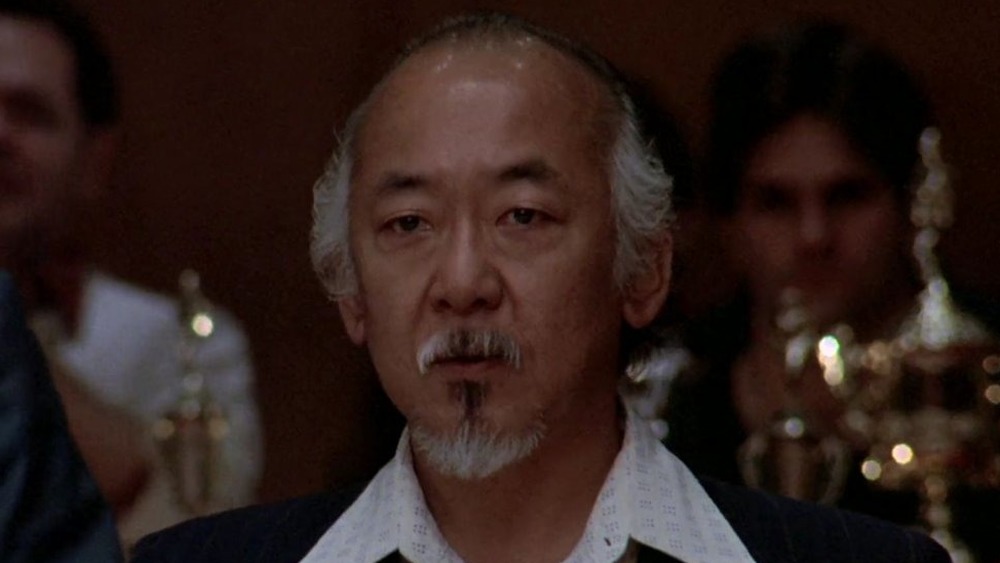 In hindsight, it's easy to look at a film like The Karate Kid and identify Pat Morita as perfect for the role of Mr. Miyagi. He embodies the character so flawlessly that it's impossible to imagine anyone else playing him. However, Morita traveled a long road to get to the role that would make him a legend.
Jerry Weintraub, the producer behind The Karate Kid, wouldn't even entertain the idea of Morita playing the role, despite the fact that his name came up multiple times. Weintraub's reasoning was that Morita was a comedian, and the role of Miyagi was too nuanced for a comic to handle.
The director of The Karate Kid, John Avildsen, held a private audition with Morita, which he recorded. During a later meeting with Weintraub, Avildsen started playing the tape without telling Weintraub what was going on. The recorded performance convinced Weintraub that Morita might actually be able to handle the role — though the actor still had to audition five different times before being cast. Obviously, the rest is history.
Morita's later roles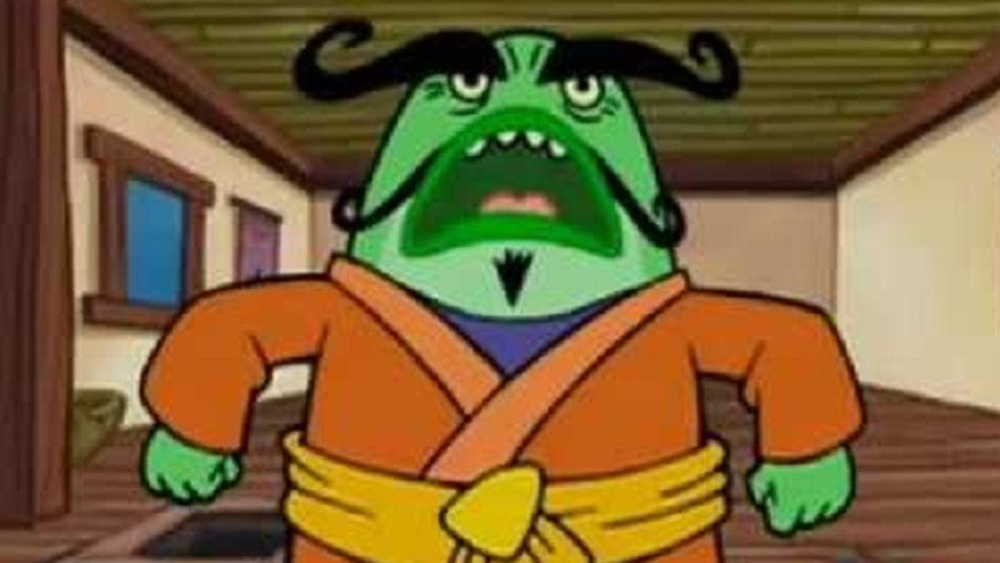 Morita's career was taken to new heights with his role as Miyagi in The Karate Kid and its sequels. He was nominated for an Oscar, and became a much more in-demand figure, for both comedic and dramatic roles.
Morita continued to appear in guest spots on a variety of television shows, including appearances on The Fresh Prince of Bel-Air, Murder, She Wrote, and Family Matters. He started landing roles as a voice actor as well: Children of the 1990s may recall Morita as the host of Britannica's Tales Around the World, in addition to his performance as the Emperor in Disney's Mulan, a role he reprised in sequels and video games like Kingdom Hearts 2. He even had a posthumous guest role as Master Udon on a 2006 episode of SpongeBob SquarePants.
Morita mostly stuck to guest appearances and film roles after The Karate Kid, but he occasionally took recurring roles on television. For example, Morita was part of the central cast of the criminally underrated kids' show The Mystery Files of Shelby Woo, which aired in the late 1990s. He also played Uncle Pat on the Barney-esque Adventures with Kanga Roddy.
Earning "a little place in history"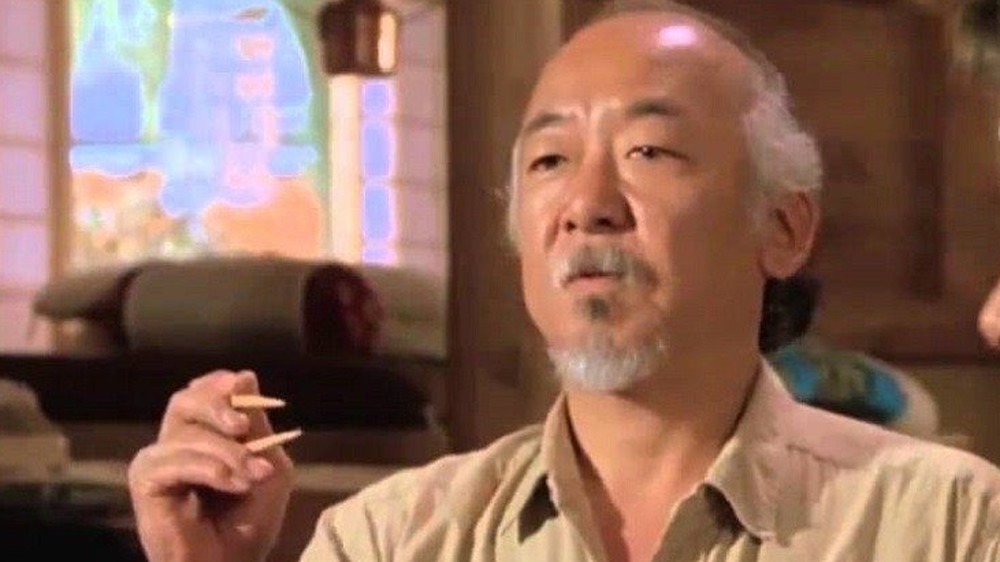 After a long and varied career, Morita died of kidney failure in 2005 at the age of 73. As fans went on to learn, Morita's lifelong struggle with alcoholism played a part in his death. Morita's wife, Evelyn, has said that she was well aware of her husband's addiction, and that she knew it was only a matter of time before it took him. The actor himself was aware of it too, and reportedly told his wife that he knew he couldn't get over his addiction.
Morita's daughter Aly has commented on her father's addiction as well. Just like Evelyn, she recognizes what a kind and caring soul her father had, underneath it all. She has also said that her father struggled with being "a washed-up movie star" following his Karate Kid success, and with being deemed "of no value to Hollywood." Still, as she argues, Morita managed to earn "a little place in history."
Morita's impressive legacy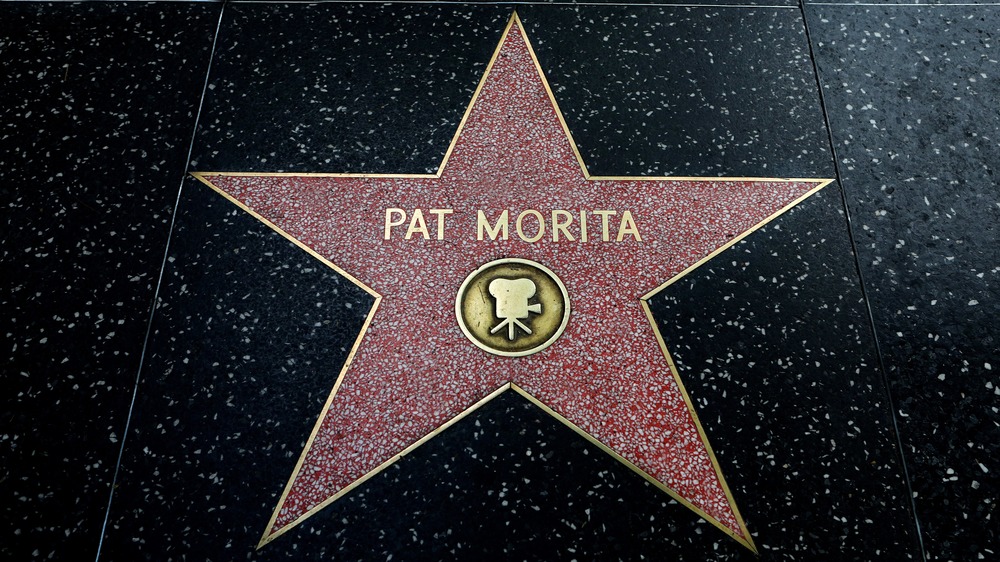 Raymond Boyd/Getty Images
Morita's legacy lives on, largely due to his unforgettable performance as Mr. Miyagi. Few who have seen The Karate Kid can forget Miyagi's lessons to Daniel LaRusso, and the film still plays a significant role in pop culture.
Cobra Kai, the YouTube-turned-Neflix series that centers around several prominent characters from the franchise, features a scene in which Daniel visits Miyagi's grave. Had Morita still been alive, there is no doubt that he would have made a triumphant return to the series. Ralph Macchio has said it was important to him and the rest of the cast and crew to pay tribute to the late actor, even calling Miyagi "the human Yoda for America."
Morita's life was so compelling, a documentary about him, More Than Miyagi, was released in February 2021. It includes interviews with several film industry luminaries and family members of the legendary actor. Morita may be gone, but he is a long way from being forgotten.