What Young Alice From Alice In Wonderland Looks Like Now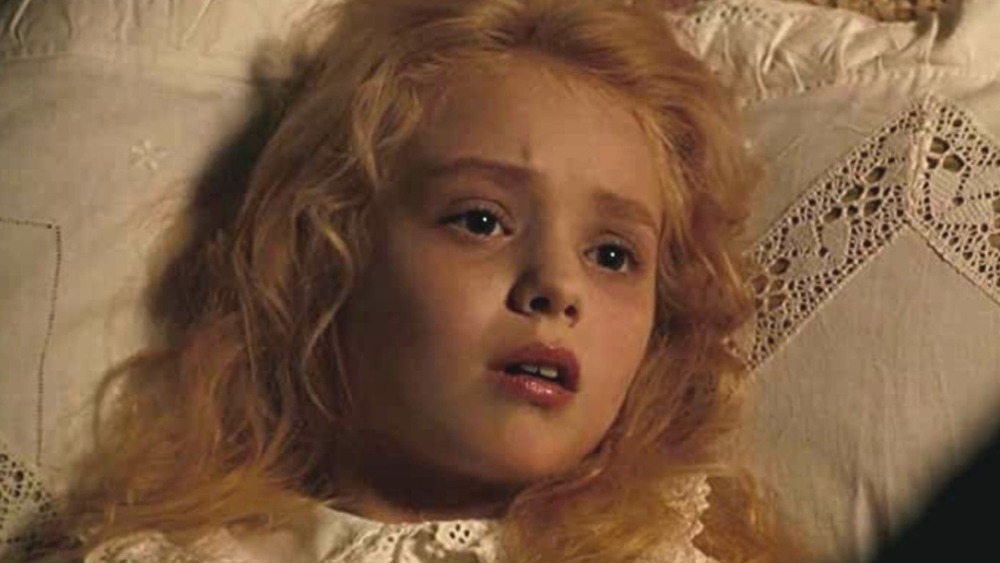 Walt Disney Studios
Most of the cast of Tim Burton's Alice in Wonderland has been on a roll in the 11 years that have passed since the movie came out. Helena Bonham Carter cemented herself as one of Hollywood's most sought-after character actors, Anne Hathaway won an Oscar and bounced back from internet hate to become a near-universally beloved star, and even veteran BBC actress Lindsay Duncan (who plays Alice's mother) earned overseas recognition in roles such as the evil critic in Birdman and Grace Playford on The Leftovers.
The big breakout from that ensemble, however, remains Alice herself, Mia Wasikowska, who has racked up so many impressive credits in indie/arthouse cinema by now that it's hard to believe we used to know her as the lead in a Disney blockbuster. In addition to Wasikowska's talents, the character of Alice was bolstered by the unique screen presence of the then-10-year-old girl who played her in childhood flashbacks.
But what is that girl, Mairi Ella Challen, doing now? Despite the success found by the movie and its actresses, she hasn't exactly become a household name. A look at her IMDb page only adds to the mystery: Alice in Wonderland appears to be her only screen acting credit ever. (IMDb also tells us she's a Leo, but that could mean anything.) In fact, Challen has found her own Jabberwockies to fight, and they're very different ones from what Disney fans might expect.
How Young Alice went from Wonderland to academia
Mairi Ella Challen got into acting via Playbox Theatre, a British theater company for kids and young adults that frequently has its praises sung by alum Sophie Turner, among others (via E! Online). Much like Turner, Challen seems to have nothing but love for her time at Playbox: In a 2014 interview for the documentary Claiming the Spotlight, she said she was "addicted" to performing with the company, and to the world of drama in general.
But even though Playbox made her fall in love with theater, doing a Hollywood movie wasn't a priority for Challen back when casting directors noted her similarity to Wasikowska and offered her a chance to audition. In the aforementioned interview, this is how she described her reaction to the news: "I actually remember saying 'I'd rather not take part,' and just going back to my computer game."
Thankfully, her parents convinced her to accept the offer, and she ultimately got the part. For the then-10-year-old, the experience was "mind-blowing." She wasn't prepared for the sheer scale of the production, much less for needing to have her hair bleached 12 times to achieve Alice's signature platinum blonde look — a method that she said in the interview damaged her hair for years. To Challen's frustration at the time, Alice in Wonderland's huge box office success didn't beget a lot of new movie offers, but even so, she remained a member of Playbox until 2016, according to her LinkedIn profile.
As is often the case with child stars, maturity brought new interests and perspectives, and Challen ultimately put acting on the back burner to focus on her studies and her volunteer work. She is currently a student journalist at Nottingham Trent University, a member of the UK National Union of Journalists, and a volunteer at organizations with missions ranging from child literacy to poverty relief. All in all, she seems to have found her own destiny. Alice would be proud.