What It Was Really Like To Film Jane's Death Scene In Breaking Bad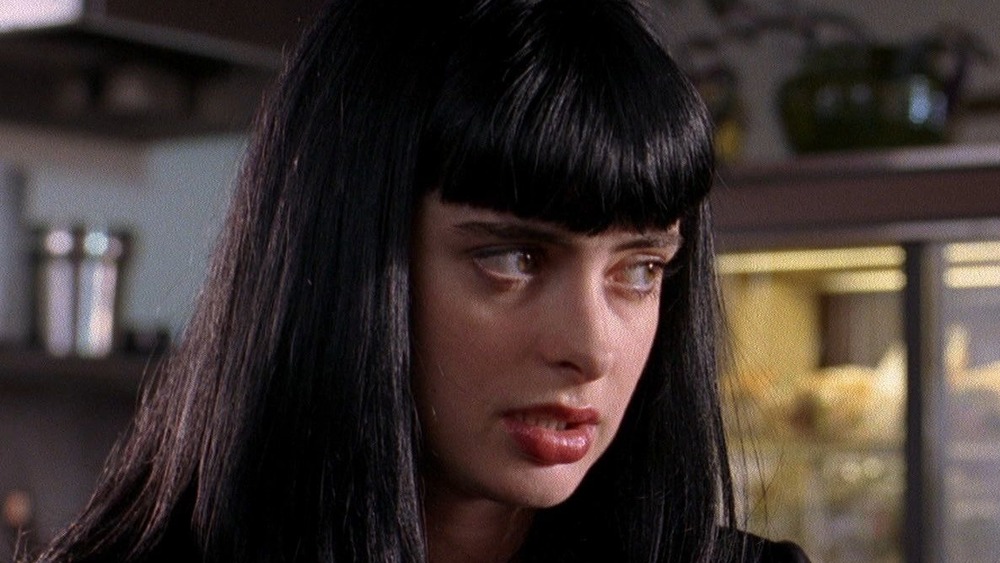 AMC
AMC's classic drama Breaking Bad is one of the greatest shows in television history. The story of high school chemistry teacher Walter White (Bryan Cranston), who builds a methamphetamine empire in order to provide for his family after a terminal cancer diagnosis, walked a tonal tightrope for the entirety of its five-season run. Sure, its premise lent itself to gritty drama and action — but thanks to its strongly-drawn characters and crack team of writers, the series could also be surprisingly poignant, heartwarming, and even hilarious.
Perhaps no character embodied the broad spectrum of Breaking Bad's tonal gymnastics quite as well as Jane Margolis (Krysten Ritter), the landlord-turned-girlfriend of Jesse Pinkman (Aaron Paul). Ritter's deadpan, sarcastic portrayal was good for plenty of moments of levity, but she also expertly communicated Jane's softer, vulnerable side, particularly as her relationship with Jesse became more involved — and as the pair's descent into heavy heroin abuse began to seriously complicate matters, she also broadcast Jane's growing desperation and capacity for self-deception.
Jane met her demise in "Phoenix," the twelfth episode of Breaking Bad's second season, in one of the show's most heartbreaking moments. With Walter and Jesse on the outs because of Jesse's drug use, Walt returns to Jesse's place to make amends. There, he finds Jesse and Jane passed out after shooting up — and as he watches, Jane rolls onto her back and begins to choke on her own vomit. Walter starts to intervene, hesitates — and then, whether to protect himself from exposure, or Jesse from continuing down the path of addiction, he does nothing. Jane dies in front of him, and her death will cast a long shadow over Jesse for the remainder of the series.
Jane's death scene wasn't nearly as much fun as Krysten Ritter thought it would be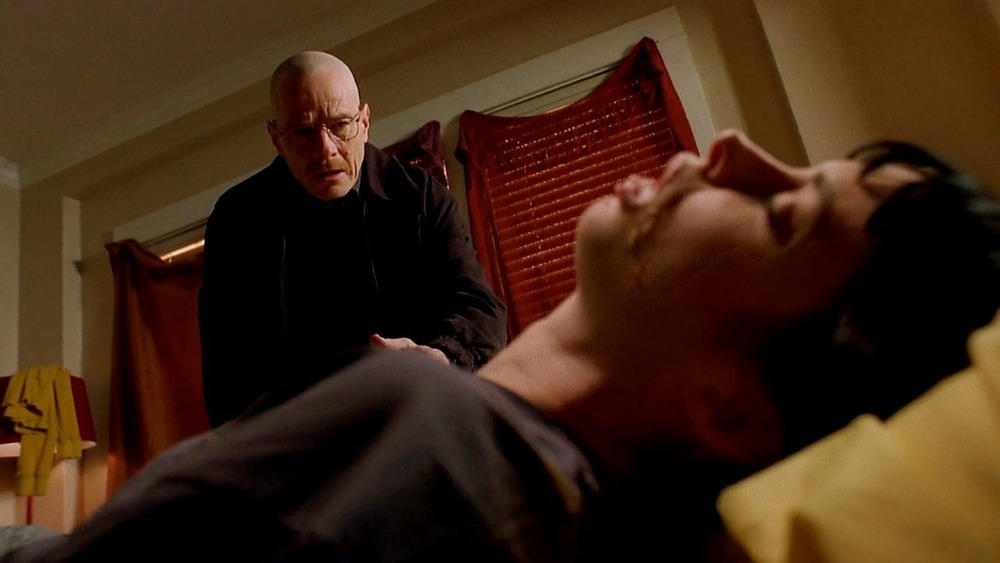 AMC
Pretty much any actor worth their salt will get excited at the prospect of filming a death scene, and Ritter was no different. In a 2021 interview with PeopleTV's Couch Surfing series, she revealed that she knew from the time she accepted the role of Jane what the character's fate would be. "I knew she was gonna die," Ritter remembered. "[But] it wasn't until we were shooting it that [Jane's death] really hit me. So, I knew [Jane] was going to die, I'm reading the script, and I'm like, 'Cool, rock and roll, she dies. So fun!'"
The actual shoot, though, turned out to be ... not quite so much fun. "Then you're doing it, and you're in this death makeup. They built a cast for my chest so that Aaron Paul can really be pounding on my chest [in the next scene]," she said. "And then Bryan, after the take, you just see him sitting quietly in the corner. It was intense, and I will never forget it."
It was a scene that played out quietly, wordlessly, between Ritter and Cranston, whose portrayal of Walter White proved him to be one of the greatest actors alive. Perhaps if a different, less committed actor had been sharing the frame with Ritter, she wouldn't have found filming Jane's death scene to be quite so memorable — but Cranston gave the scene his all, and he has since shared that shooting it was an experience that haunts him to this day.
Filming Jane's death scene traumatized Bryan Cranston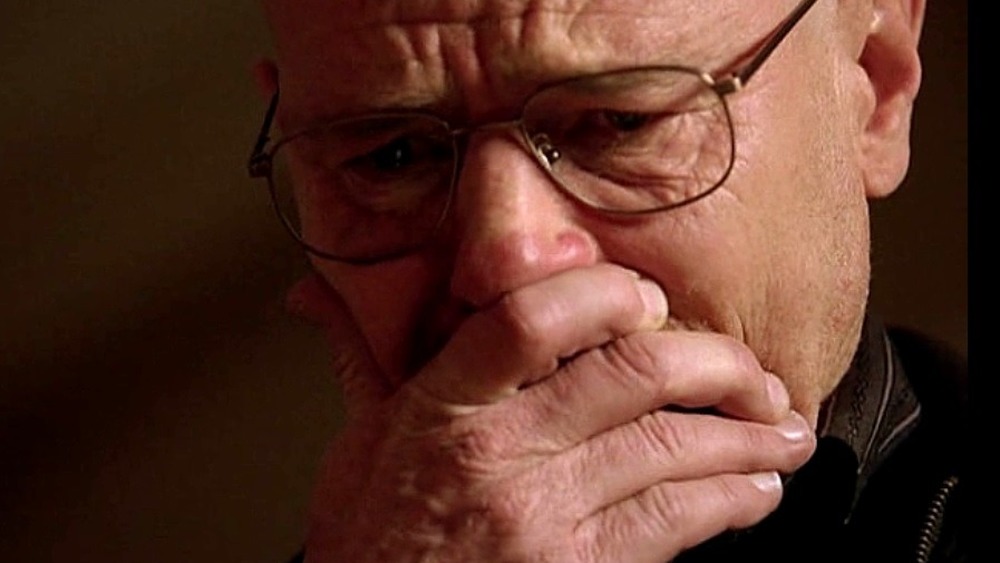 AMC
At the Tribeca TV Festival in 2018 (via IndieWire), Cranston told the crowd that in order to get himself in the proper mindset for filming the scene, he created a list — in character as Walter White — summarizing the pros and cons of saving Jane's life, or letting her die. "One of the things that I wrote, aside from 'she's going to kill Jesse and ruin our lives and she's a junkie anyway'... There were a significant amount of pros," Cranston remembered, "and one of them is that she's a young girl and she could be my daughter."
This was a thought that stuck in Cranston's head during the filming of the scene: his actual daughter, actress Taylor Dearden, was in her mid-teens during the shooting of Breaking Bad's second season. Cranston recalled that as he tried to focus on his list, Ritter's performance sucked him completely into the scene. "Krysten Ritter [was] doing a lovely job acting her heart out off-screen, choking on the mushroom soup that we gave her... in a split second her face lost all characteristics, and out of that came the face of my real daughter choking to death."
Even years after the fact, Cranston became emotional talking about the scene. "Even as I say it now, I get a little choked up about it because as a parent, that's the only thing that scares me," he said. "But in the end, that's what we're supposed to do — you're supposed to replicate real life and honesty, and what it's like." Anybody who has watched the final scene of "Phoenix" — which many fans mark as the single point at which Walter moved beyond redemption — would have to agree that both Ritter and Cranston did indeed put everything they had up on the screen, and the result was one of the most tragically moving scenes in TV history.