The Conan Reference You Missed In The Snyder Cut Of Justice League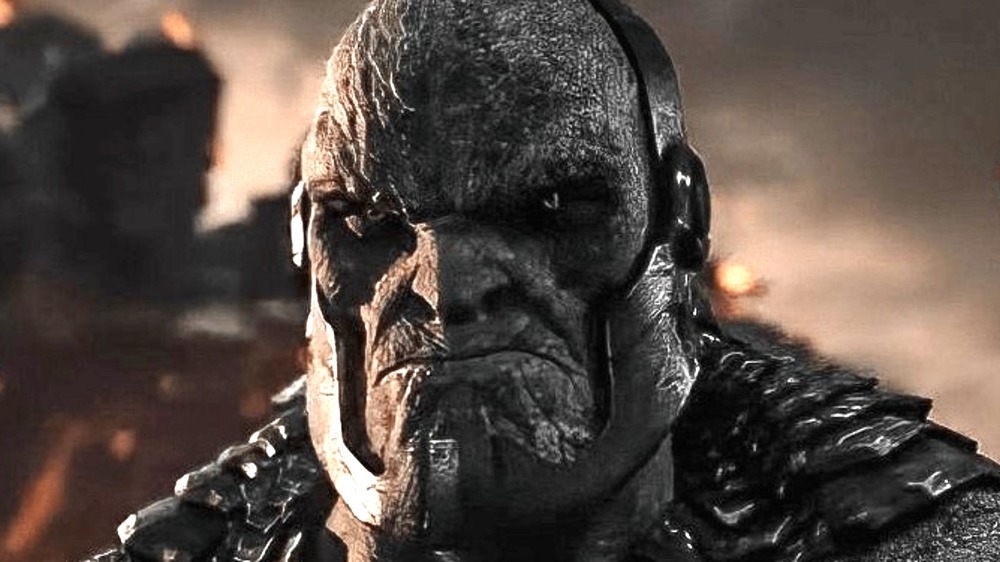 DC/HBO Max
There is no shortage of Easter eggs in the Zack Snyder Cut of Justice League, but even the most dedicated fan may have missed the movie's nod to Conan the Barbarian. And no, we're not talking about the mere presence of Jason Momoa, who played Conan in the 2011 remake. It seems Snyder snuck in a subtle nod to the 1982 film starring Arnold Schwarzenegger via a well-crafted shot of Darkseid that will make you want to revisit the fantasy classic immediately.
Prior to resurrecting Superman, Cyborg receives a disturbing vision of the future in which Wonder Woman and Aquaman are dead, and Darkseid is installed on a throne as the ruler over a ruined universe. It's bleak stuff, but it's also framed in a way that should be familiar to fans of Schwarzenegger's version of Conan.
When we see Darkseid on his throne, he's leaning forward slightly with his head resting on one of his giant fists, while his other hand is propped on his thigh. It's a regal, menacing pose, but it's also a famous one for '80s movies fans.
At the end of 1982's Conan the Barbarian, an epilogue reveals Conan will one day become king. And in the film's brief flashforward to the future, he's seen sitting on a throne in the exact same pose Snyder uses for Darkseid in Cyborg's vision of the future.
Why did Zack Snyder include a Conan the Barbarian homage in Justice League?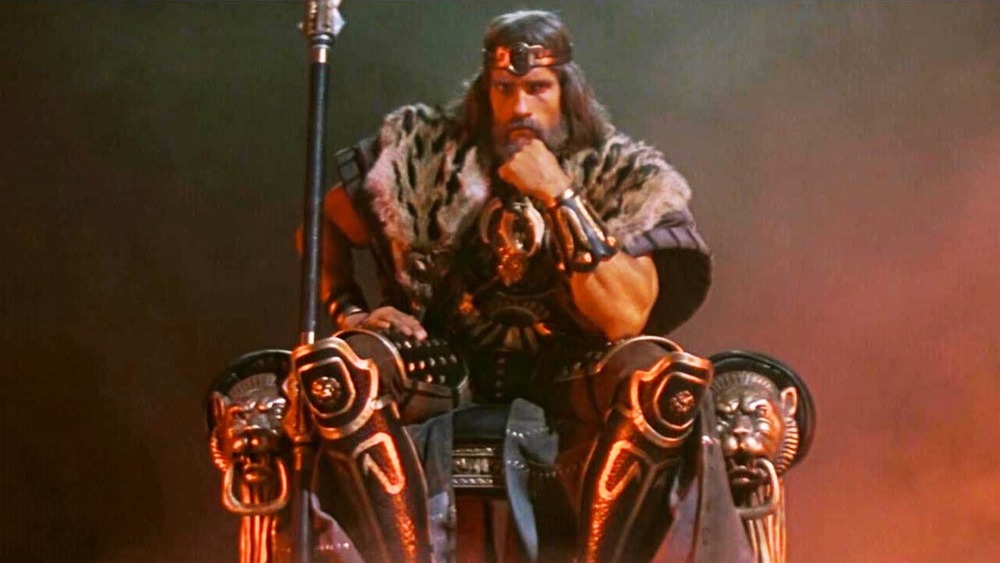 Universal Pictures
It's interesting that Snyder would include an homage to Conan in his version of the Justice League, especially since the character is a part of the Marvel comic book universe (although, the books by Robert E. Howard pre-date the comics version of Conan by several decades). For his part, the director hasn't shared his thought process behind the scene, but Snyder is first and foremost a fan of comic books, movies, and all manner of geekery.
Part of what makes the director's work connect with so many fans is his fluency in pop culture. As a result, the Conan reference makes perfect sense, especially since it takes place during a glimpse into the future. When Conan the Barbarian reveals the warrior will one day become a king, the image of him sitting on the throne is accompanied by the words, "but that is another story."
The same can be said for Darkseid's future. In a March interview with Vanity Fair, Snyder explained Cyborg's vision was meant to set up Justice League 2, which is unlikely to happen now. When the ship says, "the future has taken root in the present," it's telling Cyborg that all of the terrible things he just saw are unavoidable.
However, much like Conan's journey to the throne, Darkseid's reign of terror is a story that's likely to remain untold... at least for the foreseeable future.