The Sci-Fi Action Flop That's Defying Odds And Taking Off On Netflix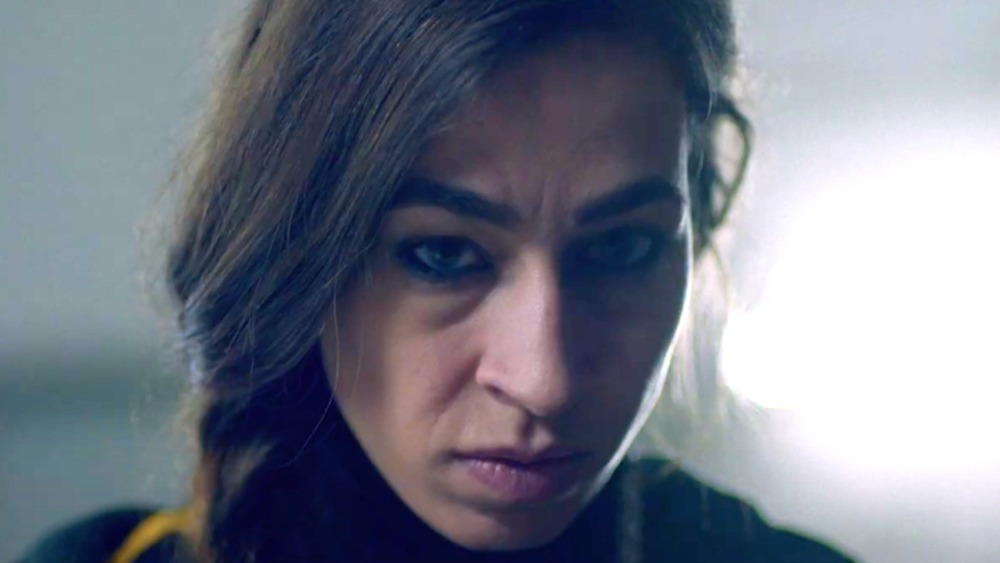 Vertical Entertainment
Time and time again, Netflix has proven itself to be the perfect place for audiences to discover overlooked movies, and for those overlooked movies to finally get some eyes on them. The streaming giant also provides a space for films that didn't perform all that well upon their initial release to get a second chance at success. Perhaps it's due to the wider audience or the ease of browsing for new flicks to watch, but either way, a lot of box office flops and critical bombs have Netflix to thank for their viewership. One of those flops that's currently defying both its past and the odds stacked against it is the 2020 sci-fi action movie Skylines, currently dominating Netflix's viewership charts.
The dystopian adventure is actually the third entry in the Skyline franchise, following after 2010's Skyline and 2017's Beyond Skyline. Sadly, the trilogy got started on a less-than-ideal note, with the 2010 original tanking at the box office and receiving mostly poor reviews from critics. However, Beyond Skyline rejected the sophomore slump expectation and wound up earning pretty solid reviews, even if audiences still weren't totally on board with the franchise. Skylines dipped from its predecessor's peak when it debuted in theaters and on Apple TV in December 2020, but its arrival on Netflix in March 2021 breathed new life into the movie. As of March 23, Skylines has remained in the list of Netflix's top ten most-watched movies in the U.S. for several days — something not many other projects, film or otherwise, have achieved.
What is Skylines about?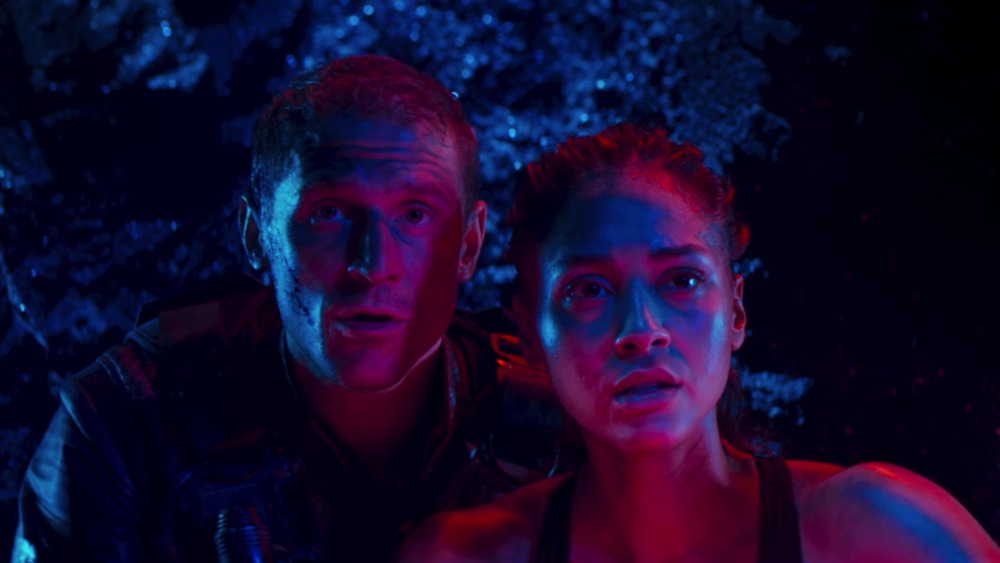 Vertical Entertainment
Directed by Liam O'Donnell, who also wrote the film's script, Skylines picks up where the second film left off: when now-grown-up resistance leader Captain Rose Corley (Lindsey Morgan) is leading a team of elite mercenaries, including both humans and bio-mechanical entities that were formerly enslaved as soldiers. The end of Beyond Skylines saw Rose and her team flying around the Moon, attacking other ships. At the start of Skylines, the human portion of crew is focused on battling the Harvester mothership known as the Armada, which will use its weapons to blow up Earth. Rose hits a crossroads when she realizes that the only way she can defeat the Armada and save Earth is to put one of her own ships in the line of fire, a move that could only result in everyone on the ship dying. She makes the difficult decision in order to protect Earth, then disappears for half a decade as she works through her guilt and grief.
When Rose emerges, living in London amongst Pilot aliens and trying to keep herself hidden from Leon (Jonathan Howard), humanity has changed ... and it's about to change again, but not for the better. A virus breaks out and turns into a pandemic, affecting Pilots and anyone who has Pilot parts. It destroys not only the Pilots' bodies but also their minds, causing them to revert back to their original hostile selves. All the friendly aliens who inhabit Earth suddenly becoming vicious and dangerous again? The definition of a nightmare.
It's up to Rose, Leon, her alien brother Trent (Jeremy Fitzgerald), Owens (Daniel Bernhardt), Alexi (Ieva Andrejevaite), and the rest of the team to put an end to the virus before it's too late. The group heads to the aliens' home planet in an attempt to save the world.
Netflix subscribers are digging Skylines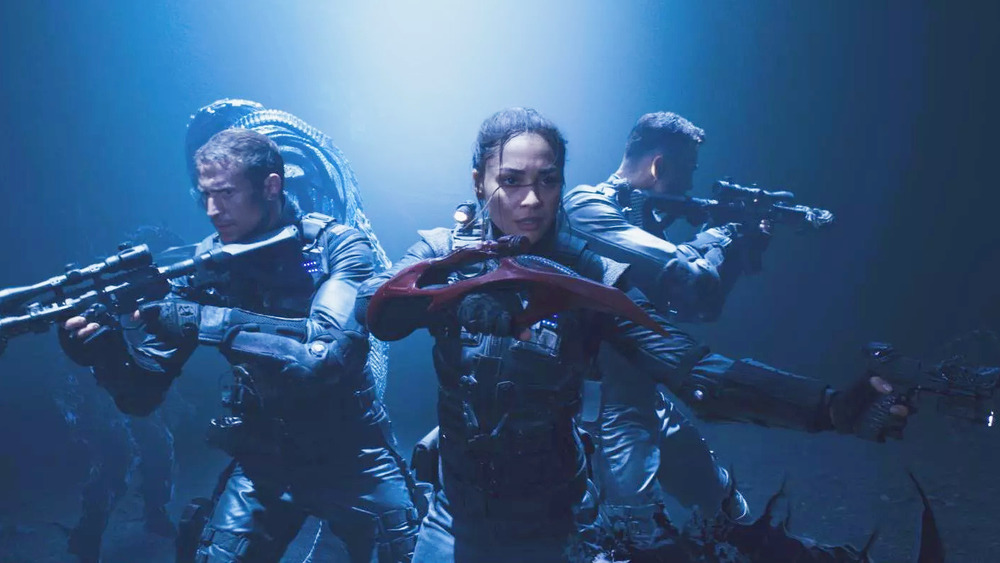 Vertical Entertainment
As mentioned, at the time of its release, Skylines didn't blow people away — not critics and not general audiences. Some reviews were mostly negative and some were rather glowing, but across the board, critics felt that Skylines was kind of like its title: a middle-of-the-road movie that rests on the horizon line. Polygon's Tasha Robinson put it best when she wrote in her review of the film, "Skylines feels like the respectable thirtysomething iteration of a familiar friend who used to be a rowdy teen, then a reckless and wild twentysomething. It's perfectly passable low-key science fiction, almost certainly destined for a fast trip to Netflix, where it can be taken up as an amiable evening's viewing."
Netflix is exactly where Skylines ended up, and subscribers are now singing the film's praises. "Skylines is honestly a good movie and I hope y'all will watch it now that it's on Netflix because it's soooo worth it and that it's what the cast & crew deserve!!" wrote Twitter user @theboldgirl. Another Twitterer gushed, "Finally catching up with Skylines (on UK Netflix today) and goddamn, I love Daniel Bernhardt. He delivers a kick (immediately post headbutt) in his fight with against Cha-Lee Yoon that is so clean and powerful I nearly punched a hole in my ceiling. Beautiful."
Critic Matthew Essary even took the time to share a six-tweet thread about Skylines' merits, writing in part, "I wanted to let you know that the incredibly fun sci-fi sequel SKYLINES is on @netflix starting today [March 18, 2021]! It joins the previous entry in the series, BEYOND SKYLINE, on the services and these two films form an excellent standalone sci-fi tale. You like strong female leads? Bad-ass alien designs? Grizzled character actors? Martial Arts? Kaiju?? Then these two movies are for you! [...] These are movies with meager budgets but that are bursting with great ideas, fun characters, stellar effects work, and most importantly heart and a genuine love of the sci-fi genre. I legitimately love SKYLINES and the earlier BEYOND SKYLINE and I think you will too."
If you're in the mood for a fun, action-packed adventure, Skylines is worth adding to your must-watch list.