The Walking Dead Star You Didn't Know Was In Starship Troopers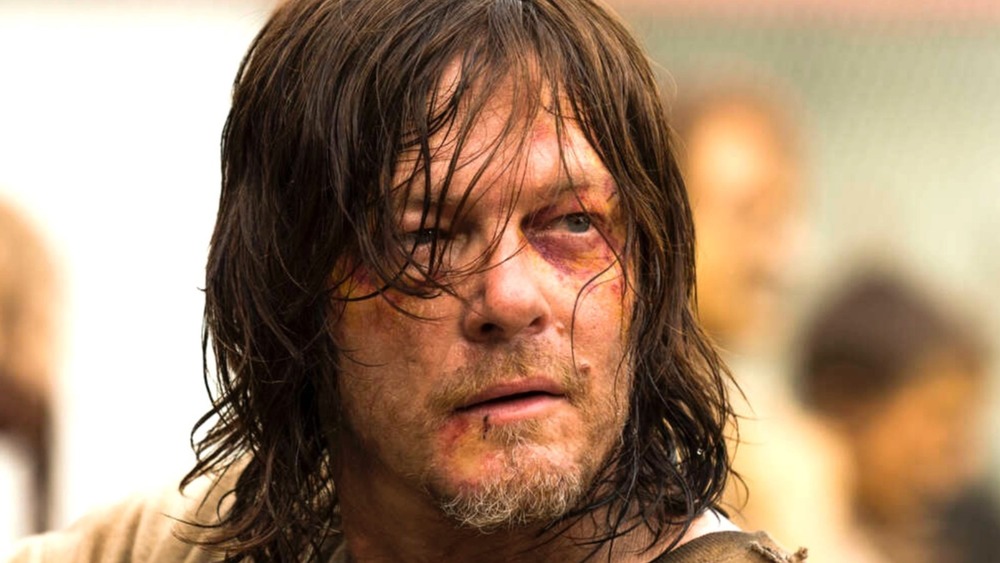 AMC
There are a lot of reasons that Starship Troopers has enjoyed a somewhat surprising longevity in the pop culture zeitgeist. Its entertaining combination of over-the-top storytelling and subversive narrative themes have helped it become a cult classic. But to this day, it's also one of a handful of films from the 1990s that you can watch and find yourself saying, "Wait, where do I know that actor from?" many times over.
It wouldn't exactly be accurate to say that Paul Verhoeven's sci-fi thrill ride served as a launching pad for its ensemble of actors. After all, when it was first released, it was dismissed by both critics and film fans — so it's easy to see why Hollywood wasn't exactly knocking down their doors. Still, many of the actors in the film went on to have long-lasting careers in Hollywood, with some, like Denise Richards, even branching out into reality television. 
One of the most successful members of the Starship Troopers ensemble is Seth Gilliam, who played Sugar Watkins. In the years since Starship Troopers, he's gone on to play prominent roles in some of television's biggest series, including HBO's critically acclaimed dramas Oz and The Wire. But his most significant post-Starship Troopers role to date is unquestionably as Gabriel Stokes, the priest who's grappled with faith and survival instincts alike in AMC's juggernaut The Walking Dead.
Seth Gilliam's roles in Starship Troopers and The Walking Dead are decidedly different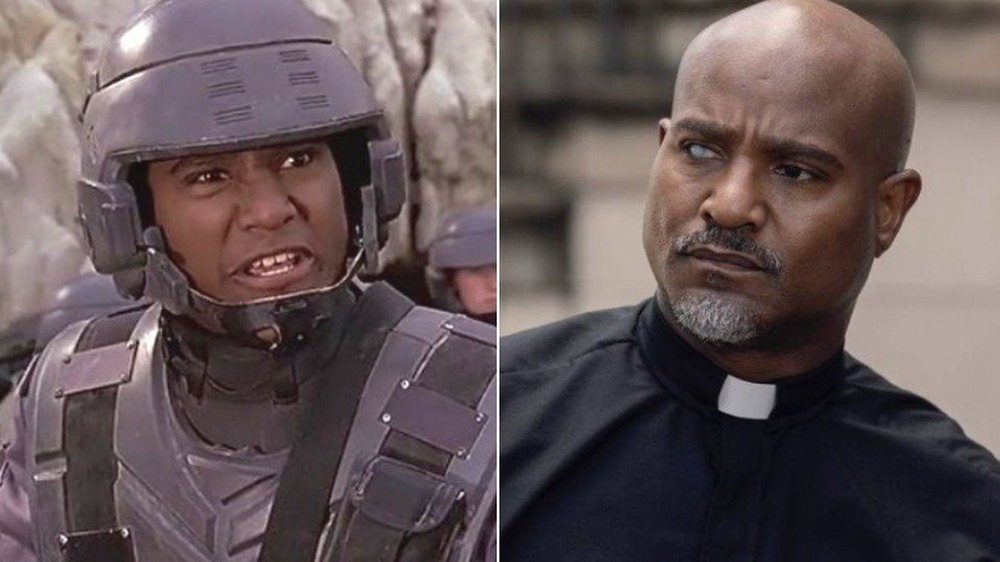 Sony/Buena Vista, AMC
In Starship Troopers, Seth Gilliam's character is a bona fide hero. Even in his dying moments, the Roughneck didn't think twice about doing everything he could to fight back the arachnids and save his fellow soldiers. In The Walking Dead, Gabriel Stokes is, to say the least, a little bit more nuanced when it comes to heroism. First introduced in the series' fifth season, the priest has had quite a journey. In the beginning, he proved to be one of the characters most likely to make self-serving decisions, so he hasn't always been a paragon of bravery. We learned shortly after meeting him that he had barricaded himself inside his rural church and condemned his parishioners to die at the hands of walkers when they came seeking refuge — so, yeah, basically the exact opposite of Sugar Watkins.
Over the years, after several close calls with death, Gabriel has learned not only how to survive but how to be a part of a community. That includes taking on more of a leadership role and also fighting for retribution for his fellow survivors. Seth Gilliam has also become one of the longest-lasting cast members on The Walking Dead — and he's recently gained more praise for his performance as Gabriel, thanks to recent storylines that have allowed him to flex his acting muscles.