Country Comfort Season 2 - Will It Ever Happen?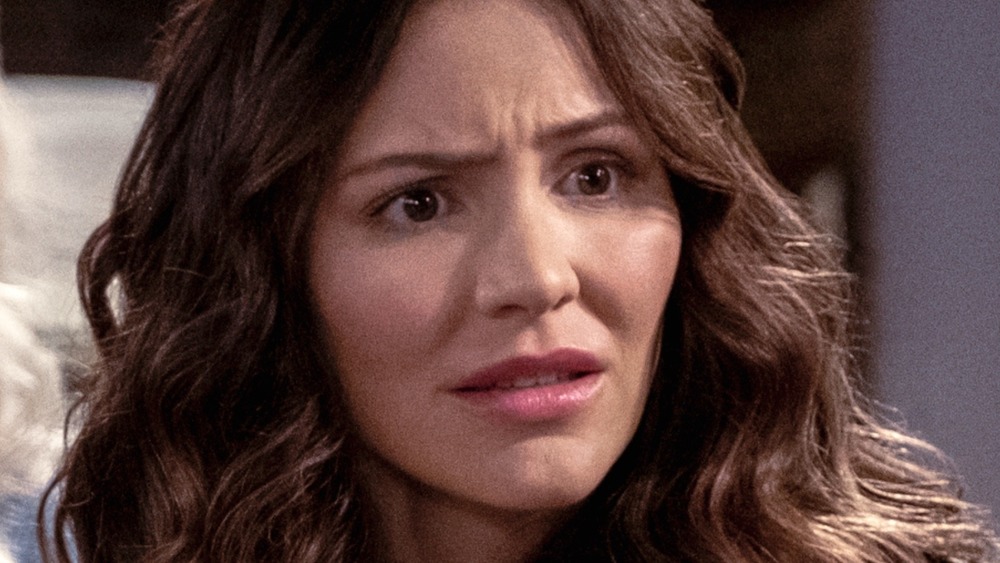 Beth Dubber/Netflix
While multi-camera comedies are on their way out on broadcast television, Netflix has had a decent amount of success with them over the last few years, from "The Ranch" to "Fuller House." "Country Comfort" joined the streaming service's multi-cam comedy slate in 2021, and with its heartwarming mix of Southern charm and the incorporation of musical performances into the episodes, the show has everything it needs to put viewers under its spell.
Created by Caryn Lucas ("The Nanny"), the series stars "American Idol" and "Smash" veteran Katharine McPhee as Bailey Hart, a wannabe country singer who, after her career stalls and her longtime boyfriend Boone (Eric Balfour) leaves her in the same night, finds herself in need of some direction. She ends up taking a position as a nanny to the five musically talented children of a rugged cowboy named Beau (Eddie Cibrian), whose wife died two years prior to the start of the series.
Over the course of the 10-episode first season, the kids come to love Bailey like family — even Cassidy (Shiloh Verrico), who misses her mom something fierce and initially rejects Bailey's presence in their lives. Bailey's presence also causes problems for Summer (Janet Varney), Beau's uptight girlfriend, who would like nothing more than for the kids to welcome her and see her as the mother figure they've been missing.
What is the release date for Country Comfort season 2?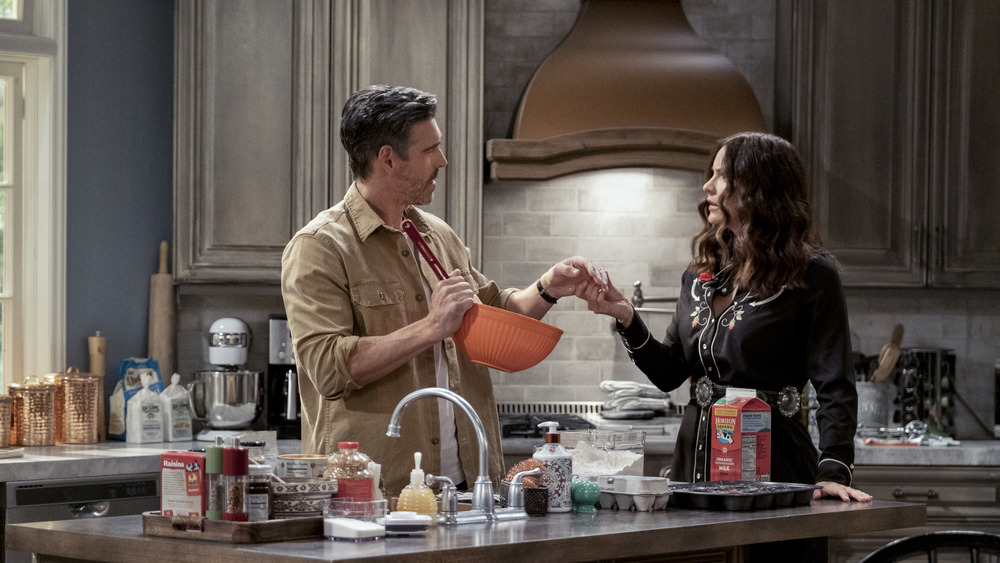 Beth Dubber/Netflix
The first season of "Country Comfort" debuted on Netflix on Friday, March 19, 2021. Streamers like Netflix don't publicly divulge the details of viewership numbers, but will quickly renew a series if it proves to be an immediate hit, or accumulates a solid amount of time in its highly publicized "Top 10" list. After that, the company will strike while the show still has some heat and buzz, and a second season will hit the site in a meter of months. 
"Country Comfort" wasn't discussed or promoted by Netflix much after its first season of 10 episodes dropped, with no immediate news released about renewal or more new episodes of the old-fashioned sitcom. Less than three months after premiering the show, Netflix canceled "Country Comfort." In July 2021, according to Deadline, the streaming service ended production or neglected to order more episodes of a number of studio sitcoms, including "The Crew," "Mr. Iglesias," and "Country Comfort.
Where to watch Country Comfort Season 1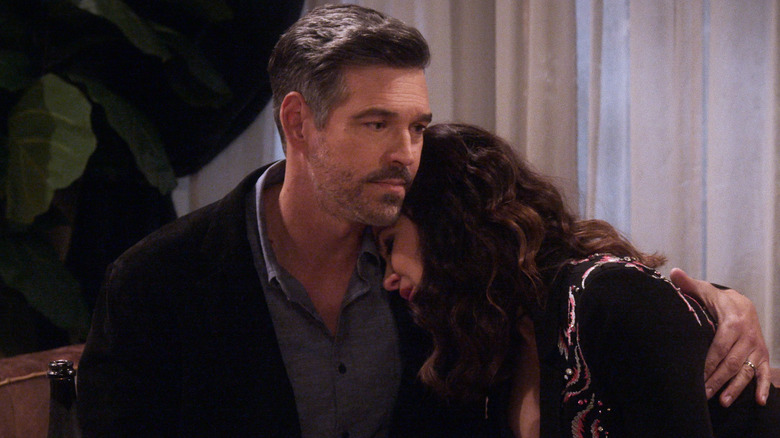 Netflix
Before a number of online services sprung up to distribute and promote the catalog titles and original productions of Hollywood's handful of entertainment conglomerates, Netflix virtually created the concept of streaming. Over the last decade, the company that once specialized in DVD-rental-by-mail evolved into a premiere destination for licensed films and suitable for bringing TV series and then a creator of its own movies and television series spanning most every genre possible.
While Netflix earned a lot of attention for gritty, forward-thinking, cinematic shows like "Orange is the New Black" and "Stranger Things," it also helped keep afloat the single-camera, laugh track-style sitcom that was the television industry standard in the 1980s and 1990s. Joining hits like "The Ranch and "Fuller House," the contemporary, country-music flavored riff on "The Sound of Music" nanny-based rom-com "Country Comfort" debuted in 2021. All 10 episodes of Season 1 were made available for on-demand viewing. While there won't be a Season 2 of "Country Comfort" on Netflix (or probably anywhere) anytime soon, the first season of the comedy remains available on the service.