Country Comfort Season 2 - What We Know So Far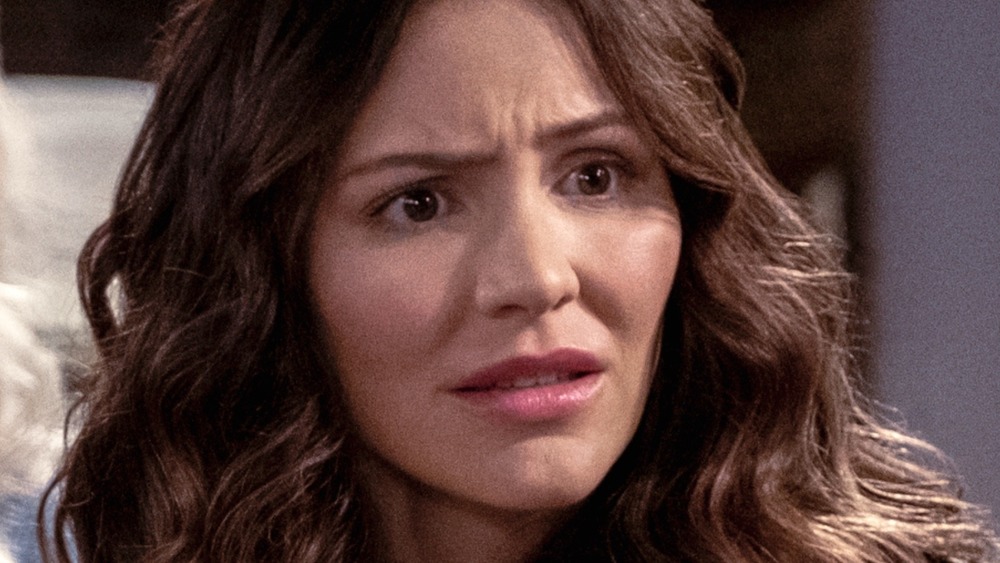 Beth Dubber/Netflix
While multi-camera comedies are on their way out on broadcast television, Netflix has had a decent amount of success with them over the last few years, from The Ranch to Fuller House. Country Comfort is the newest addition to the streaming service's multi-cam comedy slate, and with its heartwarming mix of Southern charm and the incorporation of musical performances into the episodes, the show has everything it needs to put viewers under its spell.
Created by Caryn Lucas (The Nanny), the series stars actress-singer Katharine McPhee as Bailey Hart, a wannabe country singer who, after her career stalls and her longtime boyfriend Boone (Eric Balfour) leaves her in the same night, finds herself in need of some direction. She ends up taking a position as a nanny to the five musically talented children of a rugged cowboy named Beau (Eddie Cibrian), whose wife died two years prior to the start of the series.
Over the course of the 10-episode first season, the kids come to love Bailey like family—even Cassidy (Shiloh Verrico), who misses her mom something fierce and initially rejects Bailey's presence in their lives. Bailey's presence also causes problems for Summer (Janet Varney), Beau's uptight girlfriend, who would like nothing more than for the kids to welcome her and see her as the mother figure they've been missing.
What is the release date for Country Comfort season 2?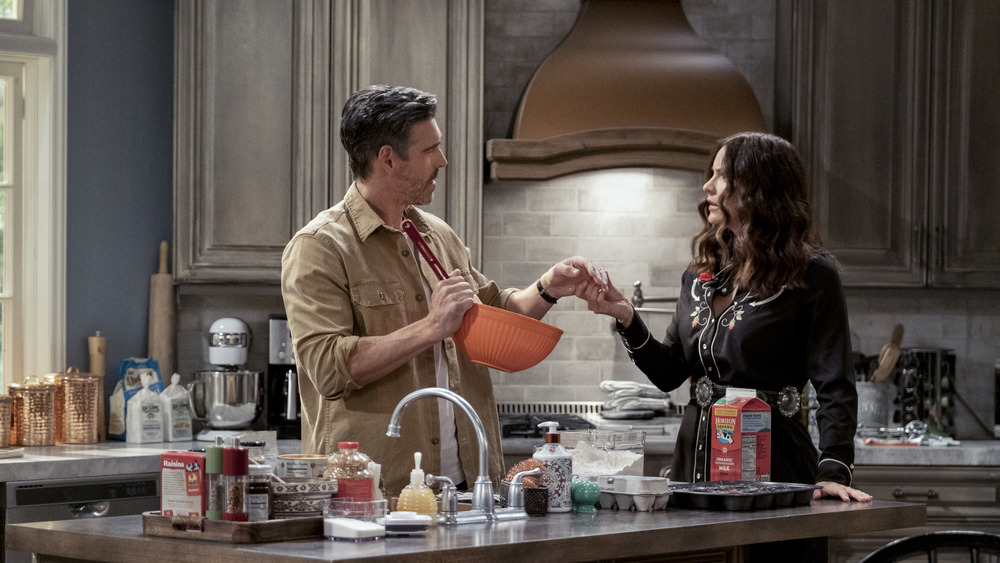 Beth Dubber/Netflix
The first season of Country Comfort debuted on Netflix on Friday, March 19. So far, there has been no word from the streaming service as to whether or not the show will return for a second season after its initial 10-episode run. But that's to be expected — it's still really early in the game. 
Traditionally, if a series does well for Netflix, the company will make a decision to renew it within a month or two of it premiering. Possibly even sooner. Once that happens, it could be anywhere from ten months, which was the case for Fuller House, to a year before the new episodes hit the service. It feels safe to say that, should Netflix renew this musical comedy for another season, we'll likely see those episodes sometime in the first quarter of 2022, if not a little sooner.
Who is in the cast of Country Comfort season 2?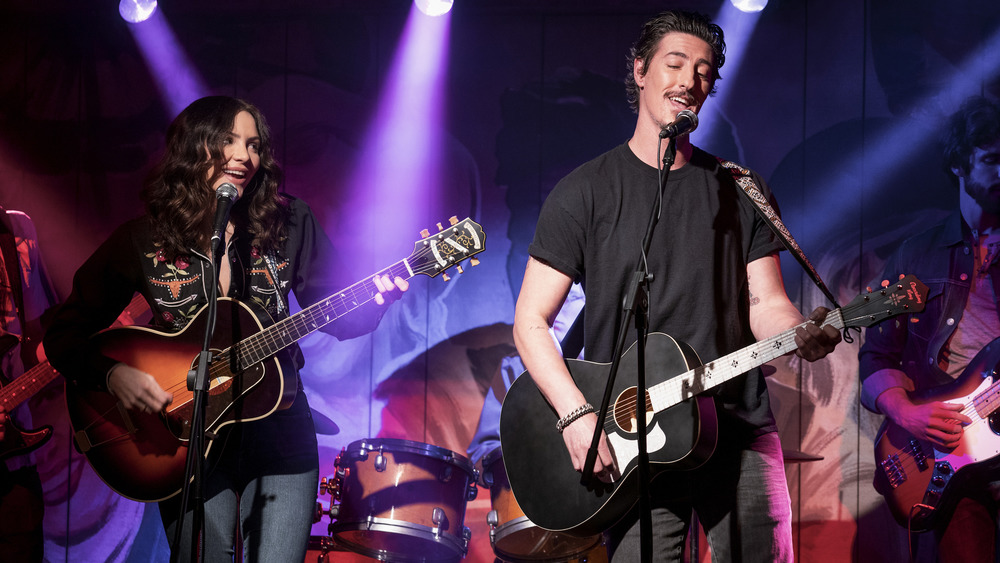 Ali Goldstein/Netflix
While there has not yet been confirmation of a second season for Country Comfort, it's probably safe to say that Katharine McPhee will return as Bailey if or when the show is renewed. The same goes for Eddie Cibrian as family patriarch Beau and the young actors who play his five children: Ricardo Hurtado as Tuck, Jamie Martin Mann as Brody, Pyper Braun as Chloe, Shiloh Verrico as Cassidy, and Griffin McIntyre as Dylan.
There is a good chance that Janet Varney will also return in a guest or recurring capacity as Summer, Beau's girlfriend, though the look she witnessed between Beau and Bailey at the end of the season could spell trouble for the couple in the near future. There's also a solid chance that Kirrilee Berger, who plays Jo — the family's next door neighbor and Brody's best friend (and secret crush) — will be back too. A little less certain to return, of course, is Eric Balfour, given the way things ended with Bailey and Boone in the season finale.
What is the plot of Country Comfort season 2?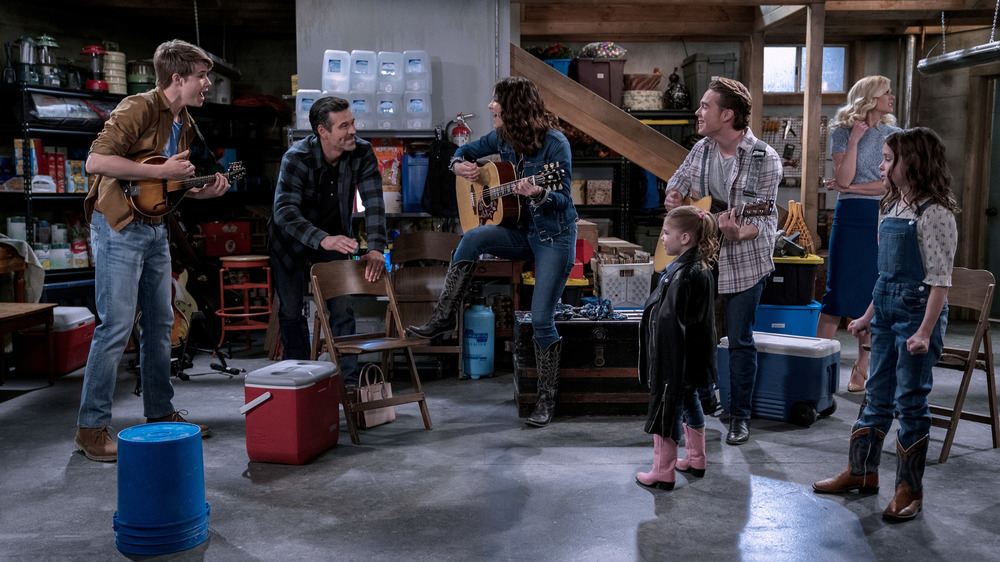 Ali Goldstein/Netflix
A second season of Country Comfort will have to address the ending of season 1, which featured Bailey getting ready to perform on stage with Boone for a chance to be featured on a TV show. Unfortunately, Boone dropped out at the last minute after being offered a chance to open up for Keith Urban's band. And this was after he proposed to Bailey earlier in the season!
Heartbroken for a second time, Bailey wanted to drop out of the competition and give up on her chance at stardom — not even a heart-to-heart with Beau was enough to convince her to go on. However, once she saw that the kids had gotten up on stage to encourage her to persevere and not give up on her dream, they all performed Rascal Flatts' "Bless the Broken Road" together as a band. The season then ended with Beau looking at Bailey with the equivalent of cartoon hearts in his eyes, much to Summer's dismay. Whether or not Bailey made it onto the TV show was left unanswered, so that seems like something that will be tackled in season 2.