Why Leland From Evil Looks So Familiar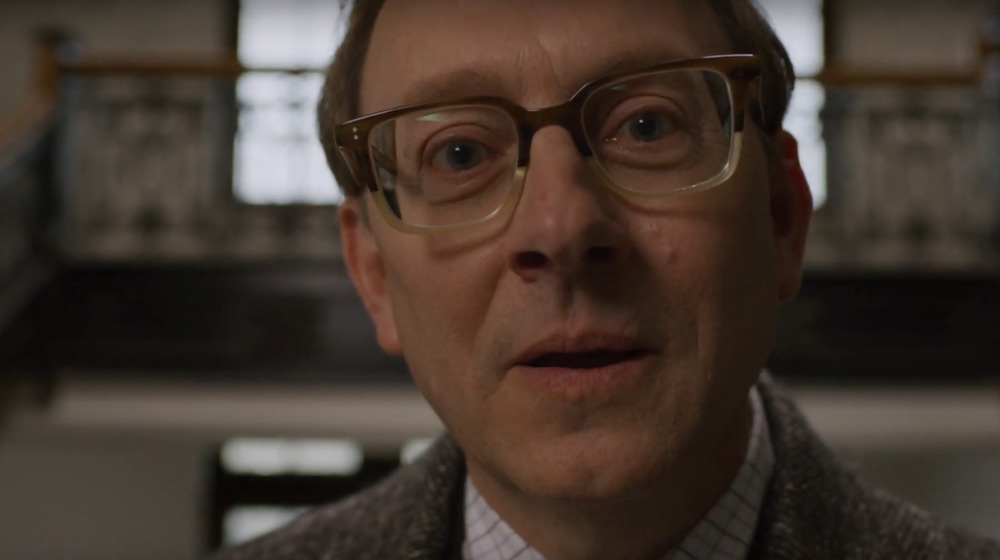 CBS
Evil is certainly CBS's spookiest procedural show yet. A priest-in-training (Mike Colter), a forensic psychologist (Katja Herbers), and their tech expert (Aasif Mandvi) investigate alleged paranormal events. They have encountered possessions both real and faked, a haunted VR game, and ghostly dance parties. On the opposite side of the Evil team is Dr. Leland Townsend, a rival psychologist obsessed with the occult who convinces others to do evil acts. Leland is played by TV's No. 1 creep, Michael Emerson.
Emerson is the king of weirding you out by bringing his intense energy to guest spots on such shows as Claws, The X Files, Mozart in the Jungle, and Without a Trace. Yet, these one-off characters are probably not where you recognize Emerson from. Before he started getting therapy from a goat-headed demon on Evil, Michael Emerson made his name in film and television as the go-to guy for a deeply complex villain.
Everyone's favorite sadist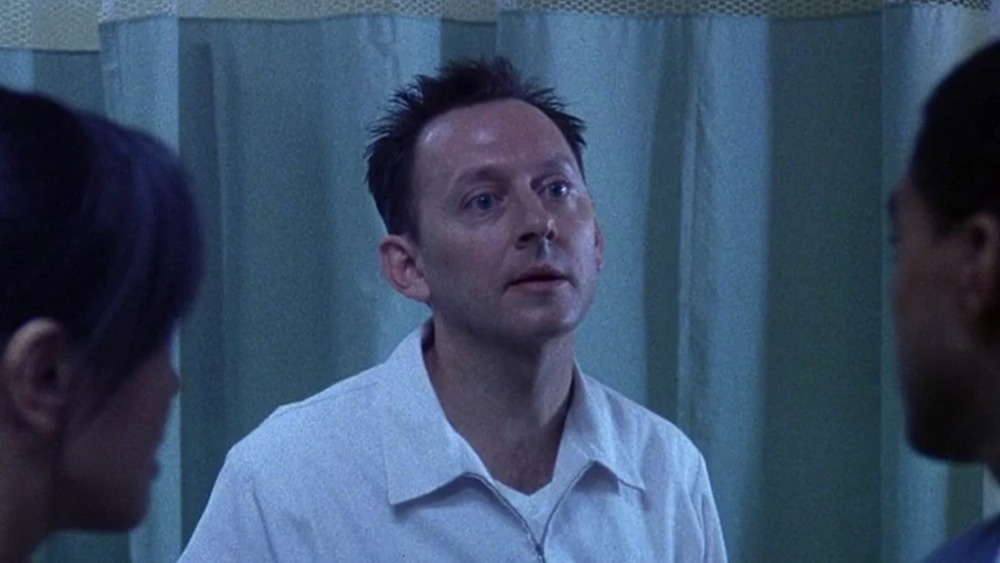 Lionsgate
Michael Emerson worked primarily in theater starting in the mid-'80s. However, he moved on to win an Emmy for one of his first TV roles, guest starring on multiple episodes of ABC's The Practice. The show followed a defense attorney practice, where lawyers regularly defend clients they know are guilty. The Practice constantly made the defense attorneys out to be conflicted anti-heroes for defending criminals, as if that's not how the adversarial justice process is supposed to work. Emerson played possible serial killer William Hinks, who either chopped up several women or had framed himself for the crimes for the attention.
Emerson was one of many Practice guest stars to win Emmys for their work on the show. A Practice guest star won the Outstanding Guest Actor in a Drama award five years in a row: John Larroquette won in 1998, Gilmore Girl's Edward Hermann in 1999, James Whitmore won in 2000, Emerson in 2001, and Charles S. Dutton in 2001.
Emerson parlayed his success as an on-screen sadist into his breakout film role, Zep Hindle in 2004's Saw. At first, the audience is led to believe that Emerson is behind the Jigsaw Killer's crimes, but he turns out to be just another victim.
Lost's second biggest bad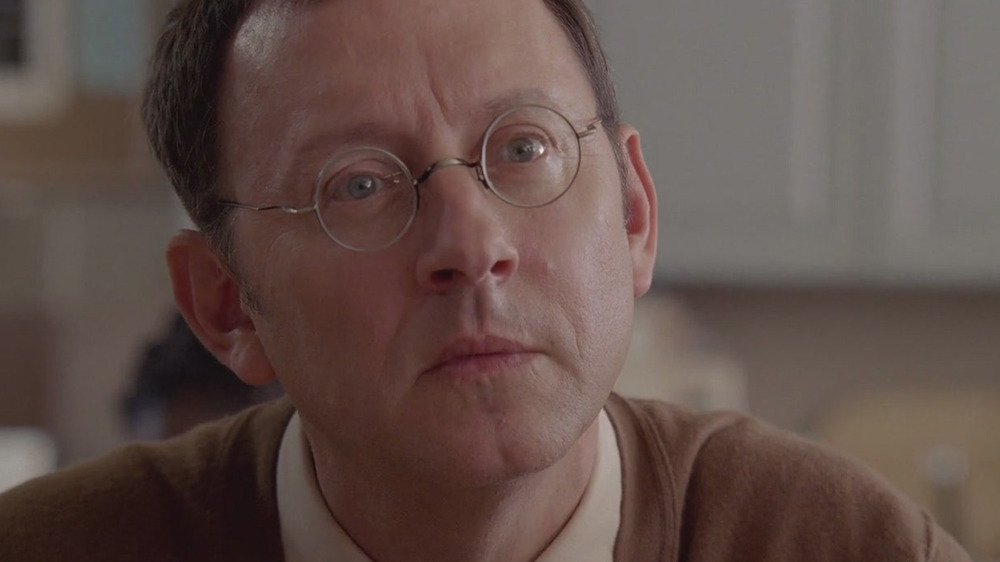 ABC
Emerson won another Emmy in 2009 for his role as Ben Linus on Lost. Emerson joined the ABC water cooler megahit in its second season. At first going by the name Henry Gale, Ben pretends to be one of the tail section survivors of Oceanic Airlines Flight 815. In reality, he is one of the Others — a nefarious group who has been living on the island for decades before the crash.
Ben was behind many of the biggest twists in the show's history. He stole Rousseau's baby away from her, helped purge the island of the DHARMA Initiative, killed Locke, convinced the Oceanic Six to return to the island, and so, so much more. Not bad for a character that was originally intended for a three-episode run. Or very bad, depending on how you look at it. Ben always existed in a weird gray area.
Benjamin Linus was ranked No. 1 in Rolling Stone's "40 Greatest TV Villains of All Time," above such notable ne'er do wells as Livia Soprano, Joffrey on Game of Thrones, and Mr. Burns.
Emerson is a person of interest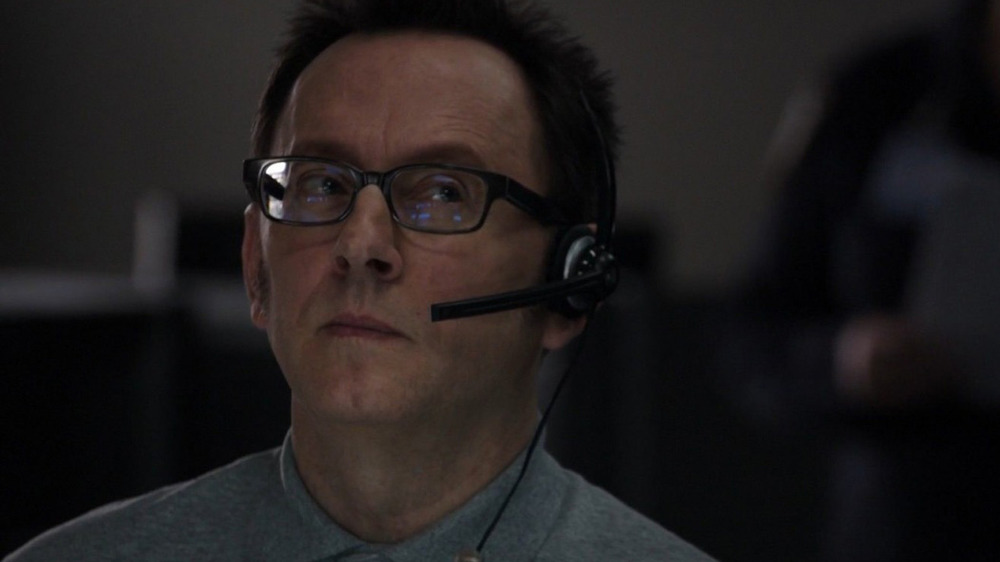 CBS
After Lost, Michael Emerson starred in the CBS speculative drama Person of Interest. Emerson played billionaire recluse Harold Finch, who created a computer program that could predict incidents of terror. Finch fears what the program, the "Machine," could do in the hands of the government, so he programs a backdoor for himself. The Machine gives him social security numbers of people who may be involved with a terror event or murder: be they future perpetrators, witnesses, or victims. He gives this info to former green beret John Reese (Jim Caviezel), so that he may investigate the titular Person of Interest in each episode. The show also starred Taraji P. Henson, Angel's Amy Acker, and Kevin Chapman.
The show slowly morphed from a somewhat science fiction-y procedural into pure speculative fiction. "Person of Interest was one of the smartest shows on television, turning a fairly pedestrian format into a kind of modern cyberpunk," according to io9. The Machine gained sentience early in the show's run and started guiding the main cast in its mission. Later, a second AI came online that wanted to force order onto humanity, much like the rogue AI in season 3 of Westworld. Person of Interest lasted for five seasons, garnering mostly positive reviews and winning two People's Choice Awards: Favorite New TV Drama in 2012 and Favorite TV Crime Drama in 2016.
Arrow's misguided villain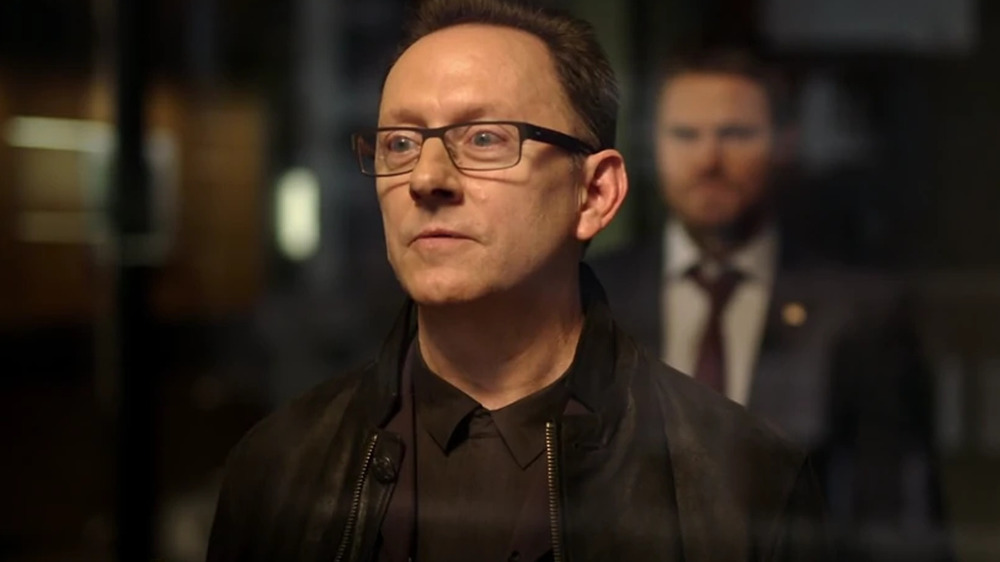 The CW
Emerson briefly guested on the CW's Arrow, as a hacker with a vendetta against Oliver Queen (Stephen Amell). Cayden James was a hacker who founded hacktivist group Helix. After being arrested, James' son is killed. James is told that Queen killed his son, Owen (Jesse Irving), when one of his arrows hit the wrong target. James vows revenge on the hero. James had various schemes over seasons 5 and 6 of Arrow, including trying to destroy the whole internet and faking a terror attack at a Billy Joel concert.
Speaking to Bustle, Emerson juxtaposed his nerdy vibe to the beefier antics of other Arrowverse villains. "Cayden rarely lifts a finger because he's just thought it all out. He mildly despises people that have to get physical," he said. "But it is a nice change of pace that there is no special weapons or special powers, no electromagnetics or forcefields. None of that stuff that you expect." James certainly didn't expect the double-cross that killed him, freeing Emerson up to star in Evil.