Saw Gerrera Could Appear In More Star Wars Movies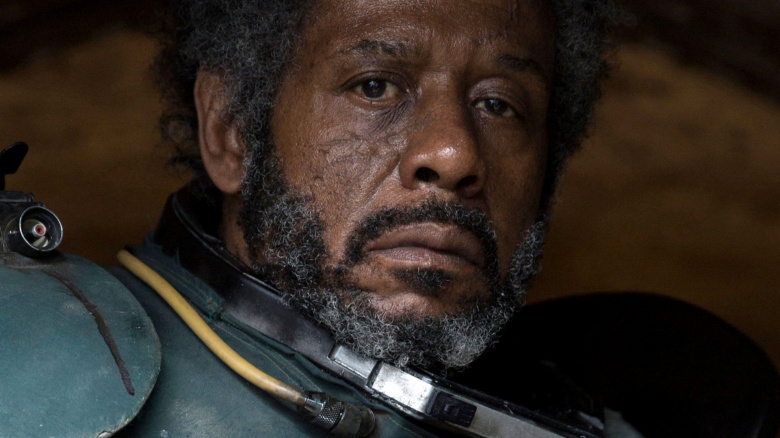 Lucasfilm
We probably haven't seen the last of Saw Gerrera.
Originally created for the animated series Star Wars: The Clone Wars, the character appeared in Rogue One: A Star Wars Story with Forest Whitaker as the grizzled Rebel warrior. We already know Whitaker will voice a younger version of Saw in another animated series, Star Wars Rebels, but it sounds like he could also return to the big screen in the near future.
Lucasfilm president Kathleen Kennedy told Empire that Saw has proven to be an integral character. "We just became very intrigued with him as a character [from The Clone Wars] and how he fits inside this story," she said. "To be honest, we originally thought we were going to develop Saw into something much larger [in Rogue One], but we couldn't accommodate it. So he is not in the movie as much as we would like to have him in the movie, which creates the opportunity to explore his character even further in our future development."
In the same piece, Whitaker said he's down for whatever comes next. "I'm curious about what else they're about to do," he said. "Because they seem to really like the character, which is great!"
Of course, "future development" could just mean the appearance in Rebels, but there should be plenty of opportunities to include Saw in future anthology films. Since the character came along early in the Star Wars timeline (he fought alongside a young Anakin Skywalker before he became Darth Vader), it's pretty unlikely that he would show up in Episode 8. But prequels like the upcoming Han Solo flick could be a good fit.
Like all Star Wars news, we'll probably have to wait a while for answers. Meanwhile, check out some Rogue One easter eggs that slipped right by you.