Why Sister Agnes From Rush Hour 3 Looks So Familiar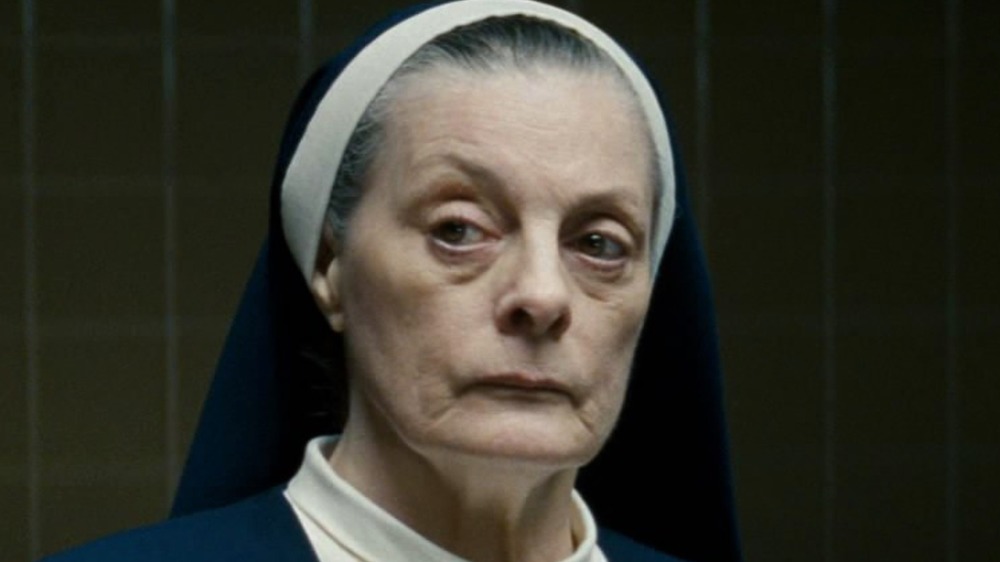 New Line Cinema
In Rush Hour 3, Sister Agnes provides crucial intel for our mismatched crime-fighting duo. Inspector Lee (Jackie Chan) and Officer Carter (Chris Tucker) are hot on the trail of Triad assassins, and their sole witness speaks only French. Lee and Carter enlist the help of a French-speaking nun, Sister Agnes. Played by Dana Ivey, Sister Agnes is able to translate for the French assassin and sets the rest of the plot in motion. Based on Agnes' intel, Chan and Tucker travel to Paris where they deal with snooty French cabbies, more Triad assassins, and a classic third-act double-cross.
But some viewers may spend the rest of Rush Hour 3 racking their brains for where they've seen Sister Agnes before. Dana Ivey is a prototypical character actress, bringing her chilly patrician presence to movies and television since the '80s. She's also a veteran Broadway actress, having won five Tony Awards throughout her career. Here's how you might recognize Dana Ivey.
One of her early big-screen breakouts was in The Color Purple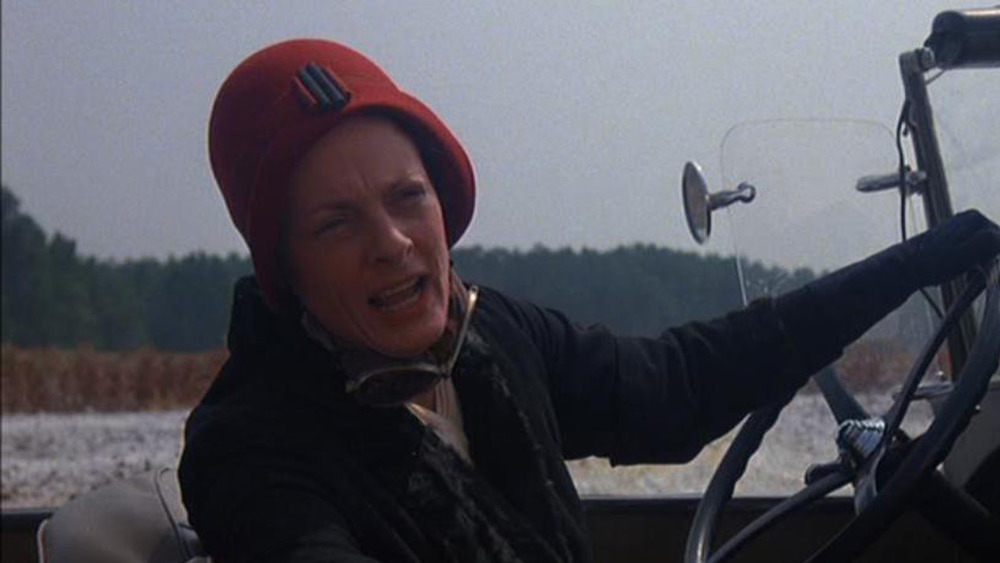 Amblin Entertainment
Long before she was Sister Agnes in Rush Hour 3, one of Dana Ivey's first big-screen breakouts was 1985's The Color Purple. In the Steven Spielberg adaptation of the Alice Walker novel, Ivey plays Miss Millie. After Sophia (Oprah Winfrey) is released from a long, undeserved imprisonment, she is forced to work as Miss Millie's maid. Sophia hasn't seen her children in eight years, so Miss Millie tries to drive Sophia to see them at Christmas. She is quickly overwhelmed by merely having to interact with Black people, and Sophia winds up barely getting any time to spend with her family.
The Color Purple primarily follows Whoopi Goldberg's character, Celie, as she discovers her inner strength, as well as her sexuality. The film was a marked change for Spielberg, who until then was mostly known for inventing the summer blockbuster. The Color Purple's legacy is mixed. Some people lament changes made from the book, some feel the Black characters are too stereotypical (and wonder why a white man directed this story in the first place), while others appreciate the representation and story of resilience (per Indiewire).
Before she was Sister Agnes in Rush Hour 3, She was Cousin Itt's main squeeze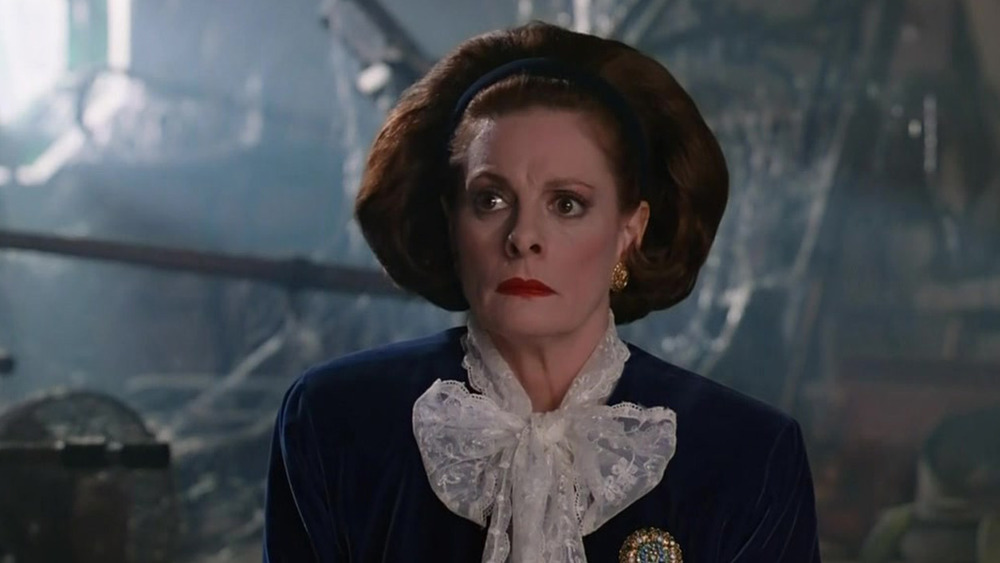 Paramount Pictures
You may also recognize Dana Ivey from her role as Margaret Alford in both The Addams Family and Addams Family Values. She starts the film series as the wife of Tully Alford (Dan Hedaya), Gomez Addams' scheming accountant. Tully owes money to a mother-son pair of loan sharks, Abigail Craven and her son Gordon. Tully and Abigail plot to insert Gordon into the Addams household to pose as their long-lost Uncle Fester. Little do they know that Gordon, played by Back to the Future's Christopher Lloyd, really is an amnesiac Uncle Fester. 
Margaret socializes with the Addams Family as much as she has to until she meets Cousin Itt (John Franklin) at a party held in Fester's honor. Margaret and Itt hit it off and she leaves Tully for the hirsute Addams. Probably the only time Dan Hedaya wasn't hairy enough for a woman. In the sequel, Addams Family Values, Itt and Margaret have a little bundle of joy/terror. Barry Levinson's Addams Family movies are beloved for their dark humor, production design, and how truly in love the couples in the extended Addams clan are. Nobody out-romances Morticia and Gomez, but Itt and Margaret are a duo for the ages.
Yep, Dana Ivey was Home Alone 2's persnickety desk clerk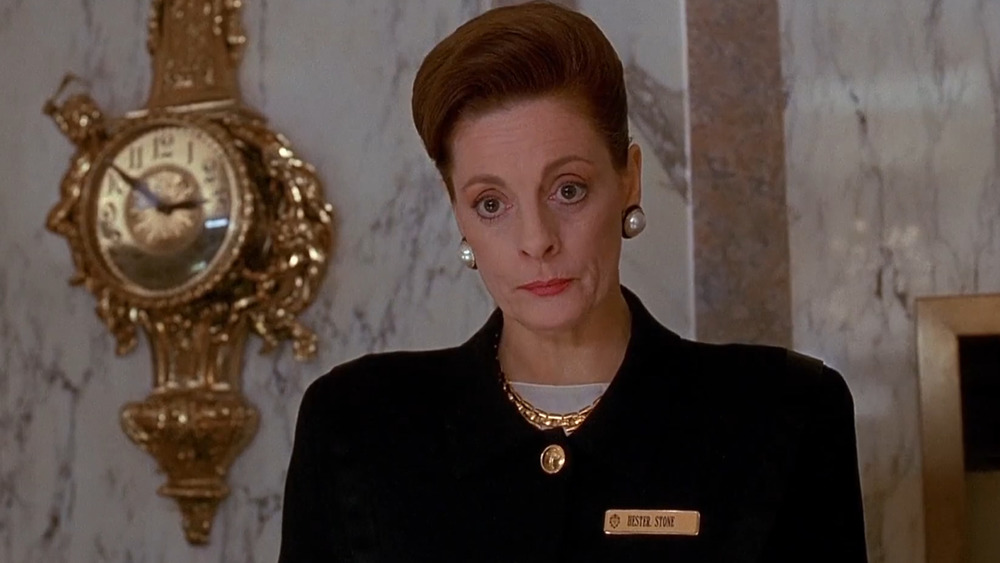 20th Century Studios
In 1992's Home Alone 2: Lost in New York, Dana Ivey plays Hester Stone, the desk clerk who lets Kevin McCallister check into the Plaza Hotel. Ivey excels at playing gatekeeper characters that get in the way of protagonists. Some of them bend, some of them don't. Hester Stone initially allows Kevin to shack up at the Plaza, but she falls in line with Tim Curry's concierge as the story progresses. We're supposed to be on Kevin's side throughout Home Alone 2, but the concierge and desk clerk are right to be suspicious of Kevin! He is defrauding them! It's not very cinematic to stop a child from running amok through New York City, but it is technically the legal and moral thing to do.
Kevin manages to hoodwink the Plaza staff long enough to rack up an insane bill on his father's credit card, as well as stop yet another Wet Bandit heist. The film also stars Macaulay Culkin, Schitt's Creek's Catherine O'Hara, Daniel Stern, Joe Pesci, Brenda Fricker, and Rob Schneider.
Once a Delta Nu, always a Delta Nu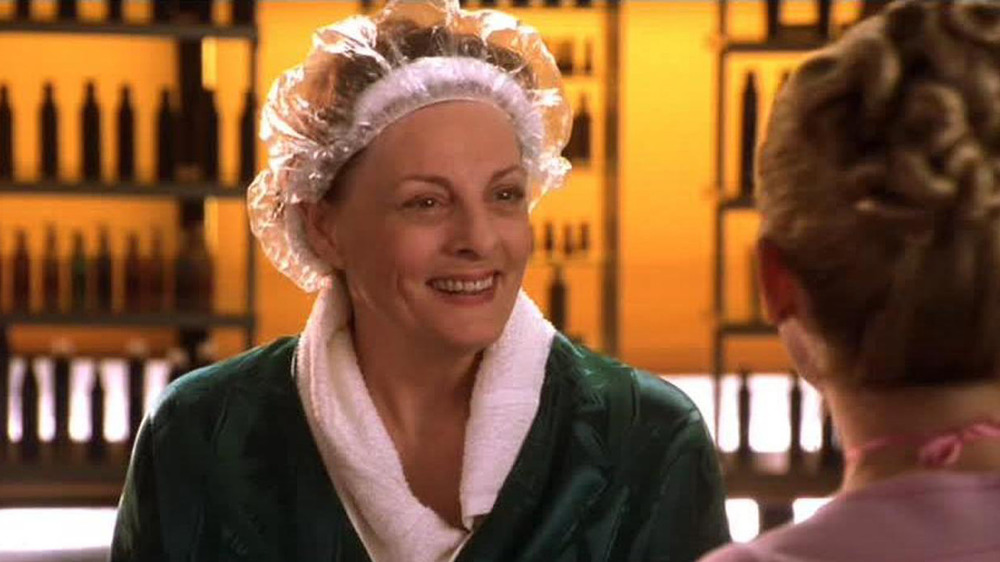 MGM
Dana Ivey joined the cast of another sequel many years later in 2003. She plays Congresswoman Libby Hauser in Legally Blonde 2: Red, White and Blonde. The movie follows Elle Woods (Reese Witherspoon) as she seeks to outlaw animal testing after discovering that the mother of her dog, Bruiser, is being used to test cosmetics. Elle travels to Washington to enact Bruiser's Bill, joining the staff of Congresswoman Victoria Rudd (Sally Field), who is skeptical of the bill's passage. Elle makes an important ally in Ivey's Congresswoman Hauser, who was a member of the Delta Nu sorority and will do anything to help a fellow sister.
In real life, Ivey was a sorority sister. She was a member of the Phi Mu sorority while attending Rollins College in Winter Park, Florida. "I got a work scholarship to Rollins, and I joined Phi Mu because my friend, Sally, was in Phi Mu," Ivey told her sorority newsletter. "I was president of my pledge class, and I lived in the Phi Mu house my sophomore and junior years." Ivey went on to study acting at the London Academy of Music and Dramatic Art, where her fellow alumni include Jim Broadbent, Doctor Strange's Benedict Cumberbatch, Chiwetel Ejiofor, Buffy's Anthony Stewart Head and Alexis Denisof, John Lithgow, and original Dumbledore Richard Harris.
Away with rum by gum: from Sister Agnes to Mrs. McGarry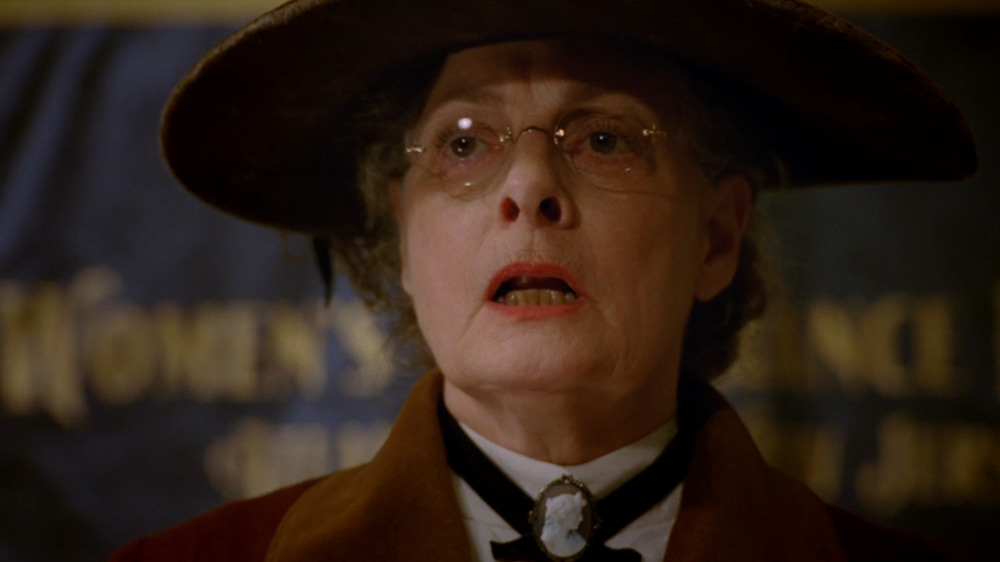 HBO
You may also recognize Dana Ivey from the small-screen. On the first season of HBO's Boardwalk Empire, she plays Mrs. McGarry, the head of the Atlantic City Women's Temperance Union. Mrs. McGarry, a wealthy widow, supports Nucky Thompson politically. She is unaware, however, that Nucky (Steve Buscemi) is one of the biggest bootleggers in Atlantic City. She and Nucky are the mutual acquaintances of Margaret Schroeder (Brave and Trainspotting's Kelly MacDonald). It is Mrs. McGarry who tells Nucky that Margaret suffered a miscarriage. She declines to tell him why, but Nucky easily figures out that it was because Margaret's husband Hans beat her. He then has Hans killed, which clears the way for Nucky to eventually hook up with Margaret in later seasons.
Mrs. McGarry came to Atlantic City with her husband, a wealthy oil tycoon. The late Mr. McGarry built a lavish mansion and promptly died, so Mrs. McGarry sold the mansion and still lives off the profit of that sale. Safely provided for, Mrs. McGarry can devote her time to social causes like temperance and women's suffrage.
Talented in her character work, Dana Ivey can disappear into a role. But by now she's had so many iconic ones that it makes sense for viewers to recognize her, whether as Sister Agnes from Rush Hour 3 or from many other memorable moments in movies and TV shows throughout the last several decades.