The Hilarious Way Bryan Cranston Trolled Aaron Paul In Breaking Bad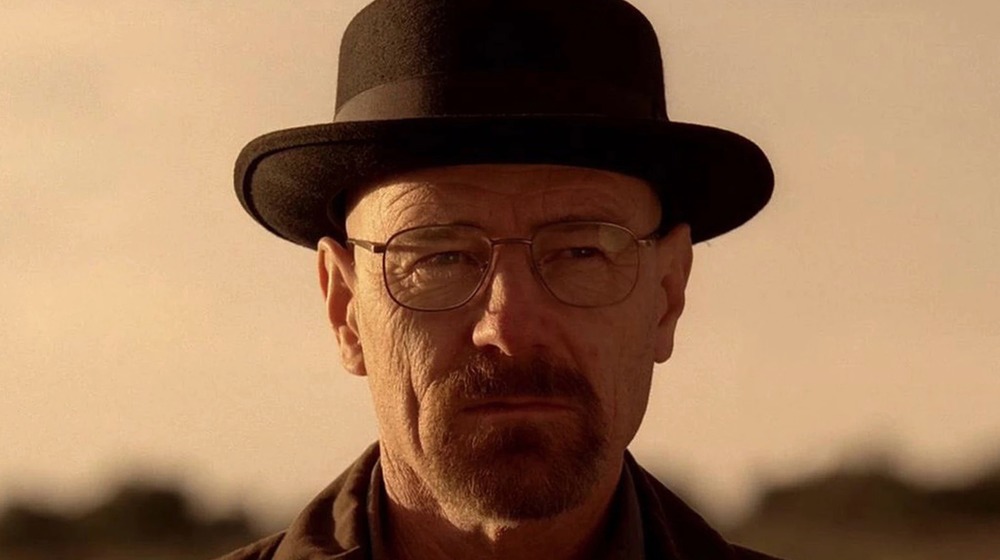 AMC
It's been off the air now longer than it was ever on, but AMC's white-knuckle crime drama Breaking Bad is still regarded with reverie. Many folks are still likely to call it one of the most perfect TV shows ever made. That reputation is well-earned, too. Crackerjack scripting, stylish production, and immaculate performances from the entire Breaking Bad cast all ensure that the sprawling tale of a schoolteacher's ascension to the king of New Mexico's meth-addled underworld remains in the upper echelon of small-screen classics.
At the center of Breaking Bad's five-season exploration of greed and moral corrosion is the tumultuous relationship between burgeoning kingpin Walter White (Bryan Cranston) and his young partner-slash-former-student Jesse Pinkman (Aaron Paul). And while that relationship was often a lot of fun to watch, it was far more frequently contentious and destructively codependent. As it happens, the pairing was also supposed to end much sooner than it did: It's well-known among true fans that, originally, Jesse was meant to be killed off early in season 1.
Though Paul worked his way into becoming a vital player in the Breaking Bad landscape, it seems one of his co-stars had some positively diabolical fun at his expense by continually teasing the character's imminent demise. That co-star was none other than Bryan Cranston, who giddily talked up the ongoing prank in a recent BBC appearance. "They were gonna kill him off in the fourth or fifth episode. I kept reading and telling him, 'Oh man, you know, one of the best things that any actor can do in cinema is a good death scene, and boy, you've got a great one coming up, man.'"
Aaron Paul was apparently no fan of Bryan Cranston's Breaking Bad prank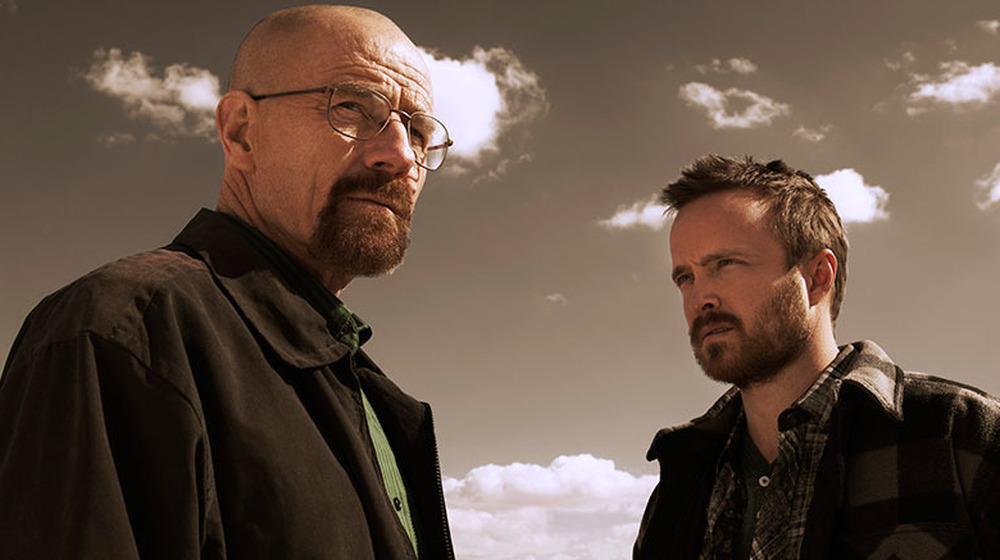 AMC
Yes, Bryan Cranston's prank is every bit as hilarious (and utterly cruel) as it sounds, especially as Aaron Paul was then an up-and-coming actor looking to stake a claim in the showbiz world. But it seems that Paul was no fan of the ongoing gag for a while. The actor admitted as much in a 2019 interview with The Hollywood Reporter promoting his Breaking Bad sequel El Camino. Paul recalled Cranston's torturous prank when discussing his time on the beloved series, telling his interviewer, "He would say, 'Hey, did you read the next script?' And I'd go, 'Nah, did you get it?' And he's like, 'Oh.' And he just would give me this big hug."
Paul went on to claim Cranston messed with his mind a bit in those early days. "I was honestly, utterly devastated [because] I thought I was signing onto, like, a full series," he said. The actor went on to detail how relentless Cranston was, adding that his elder co-star would hard-sell the ruse by approaching him with prepared lines like, "'Hey man, you know, it had to end sometime, but at least you go out, like, guns blazing.'" Unfortunately, neither actor detailed just how long Cranston's teasing went on, but it's safe to assume the joke was over once Breaking Bad debuted and became the toast of television.
Luckily for Cranston, Paul didn't hold any grudges and the pair went on to forge a lasting friendship that's extended well beyond their days shooting scenes in the sun-baked New Mexico desert. In fact, they've recently become more than just pals, getting into the high-end cocktail game with their own "Dos Hombres" Mezcal brand, per Forbes — though it remains to be seen if or when they'll ever team up again on the small screen.