What Is The Song In The Kohl's 'Family Fun' Commercial?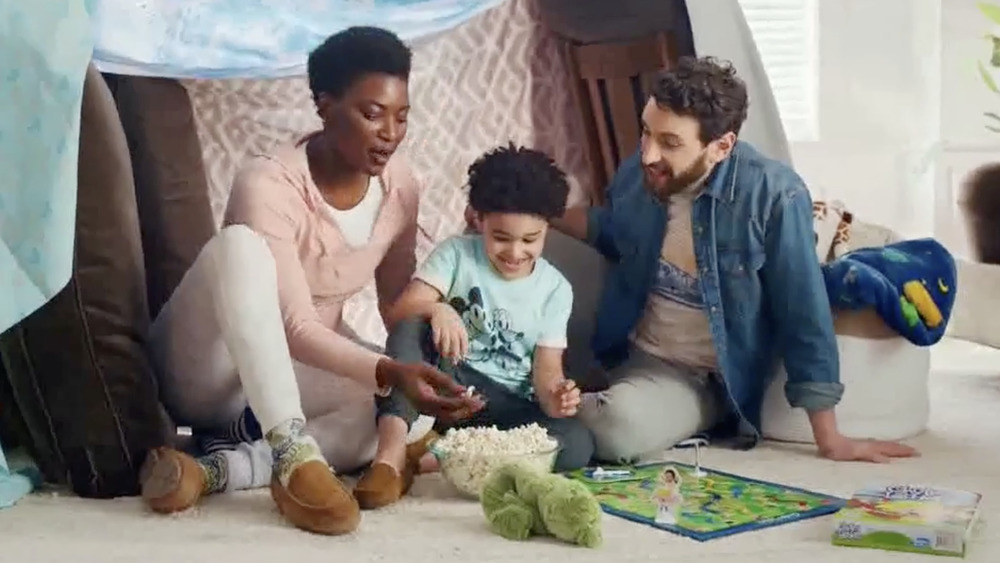 Kohl's
Emotional adverts are a dime a dozen today, but not all wholesome commercials are created equal. Retail titan Kohl's is no stranger to such marketing efforts, often centering its campaigns around the themes of connection, family, and friendship. The same goes for its latest 15-second spot, which portrays a family enjoying, well, the small things: a pillow fort, a bowl of popcorn, a board game, and tons of laughs.
But, as with so many commercials we see on a daily basis, you might be wondering: What's that really catchy tune in the background? Just like a child's imagination, "Endless Possibilities" by Oh, Hush! and Keegan Calmes brims with innocence and joy, setting the cheerful tone for a family evening indoors. As both the song and commercial communicate, it doesn't take too much effort to have "Family Fun." All you need is some creativity — and perhaps a few comfy blankets and pillows from Kohl's, too. If you're looking for perfect summer songs to accompany good vibes and long road trips, you should put Oh, Hush! on your radar.
The music of Oh, Hush! can be found everywhere — even in your favorite movies
The brains behind Oh, Hush! is music composer Chris Sernel, a well-respected recording artist with countless credits in the film and TV industry. According to AzTeen Magazine, Sernel actually assumed the moniker Oh, Hush! to remain more anonymous, depending on word-of-mouth primarily for work — a tough feat rarely pulled off. His songs have found placements in everything from blockbuster films like the LEGO series and Twilight Saga, to hit TV shows such The Simpsons and Pretty Little Liars.
Beyond his seven album releases, Sernel has worked as a producer and mixer with some of the biggest names in the music industry, including Jason Derulo, Weezer, and Zendaya. He was even nominated for a Grammy for his work on Cee Lo Green's "What Part of Forever." Signed by Mike Caren of Artist Publishing Group, Sernel is clearly one of the industry's go-to guys, making it very likely that we will hear one of his songs again on the big (or small) screen.