We Finally Know The Location Of WandaVision's Westview, New Jersey - Exclusive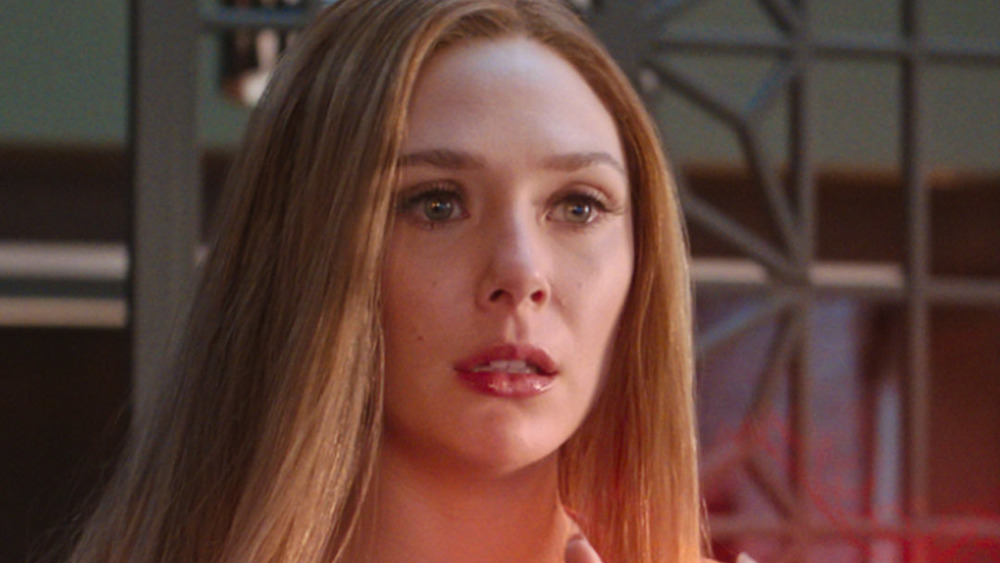 Marvel Studios/Disney+
WandaVision's idyllic town of Westview, New Jersey has been the topic of a lot of speculation — and not just in normal fan-theory ways. Ever since the show declared that Westview is located in New Jersey, residents of the Garden State spent weeks speculating where actually it's nestled. Yes, it's a fictional location, and yes, WandaVision was shot in Atlanta and Los Angeles, not New Jersey. But none of those facts slowed down the detective work.
The city of Hackensack, New Jersey getting name-dropped in the second episode of WandaVision convinced many — including a comic expert consulted by NorthJersey.com – that Westview is located in Bergen County. This idea is further backed up by a 1982 Vision and the Scarlet Witch comic miniseries that sees the two move to the real Bergen County municipality of Leonia. Bergen County is right across the river from the state of New York, so it would be an easy commute to Avengers HQ. That said, Bergen County is far too densely populated and not even remotely pastoral enough for an isolated town like Westview.
Others looked for clues elsewhere. Some pointed out the 732 area code on the for sale sign in WandaVision's first episode; this particular region includes Central Jersey counties Middlesex, Somerset, Union, Monmouth, and Ocean. Union County also includes the similarly named Westfield, the hometown of Marvel Studios president Kevin Feige — and while the towns have some similarities, Union is also too densely populated a county for a spacious town.
Jeremy Schneider of NJ.com posited that all this evidence "would suggest West or South Jersey — Hunterdon, Mercer or Salem County perhaps" as Westview's more precise location. Still, others suspected the town is much further north in New Jersey, situated somewhere like Sussex County, a rural, spacious county in the northernmost part of the state.
For those not up on New Jersey geography, we've mentioned 10 of New Jersey's 21 counties, mostly covering the Central and Northern parts of the state. But we can put an end to this: Looper managed to acquire correct location of WandaVision's Westview.
And the answer is ...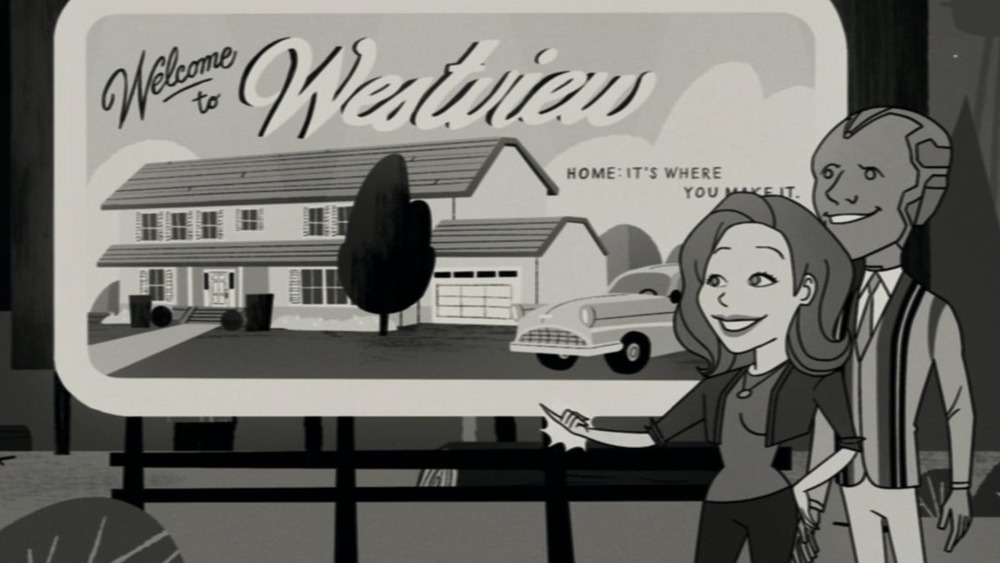 Marvel Studios/Disney+
Looper spoke with a whole slate of WandaVision creatives — director Matt Shakman, producer Mary Livanos, and head writer Jac Schaeffer — and our first question to each of them was the same: "Where in New Jersey is Westview?" 
Shakman answered, "I think it's in commuting distance to New York, which is what a lot of those sitcom towns were. Livanos offered her own thoughts, linking the fictional Westview to the real Westfield: "I think Kevin Feige is from Westfield, New Jersey, so let's say close to there."
With Schaeffer — who has actual New Jersey connections through her family and the fact that she attended Princeton University for her undergraduate studies — we got our definitive answer. "I'm going to say it's in the Trenton-Princeton-Lawrenceville area," she stated. "I just feel like it's in that zone." 
This explains the area code seen on the sign outside Wanda (Elizabeth Olsen) and Vision's (Paul Bettany) house in WandaVision's premiere episode. The area Schaeffer mentioned carries a 609 area code, but 732 isn't far and a realtor could easily carry both. Even so, that didn't factor into her writing. "Actually, it's been a long time since I've looked at area codes. I went to Princeton, and my mother is from Jersey. And so that's what I was seeing the whole time I was writing it," Schaeffer explained. It's also a spacious area and technically commuting distance from New York, though Vision's ability to fly renders that metric moot anyway. 
So, there's one of many lingering WandaVision questions answered: Westview is in the vicinity of Trenton, Princeton, and Lawrenceville, in Mercer County. You're welcome, New Jersey.