You'll Barely Recognize Erik Von Detten From Brink Now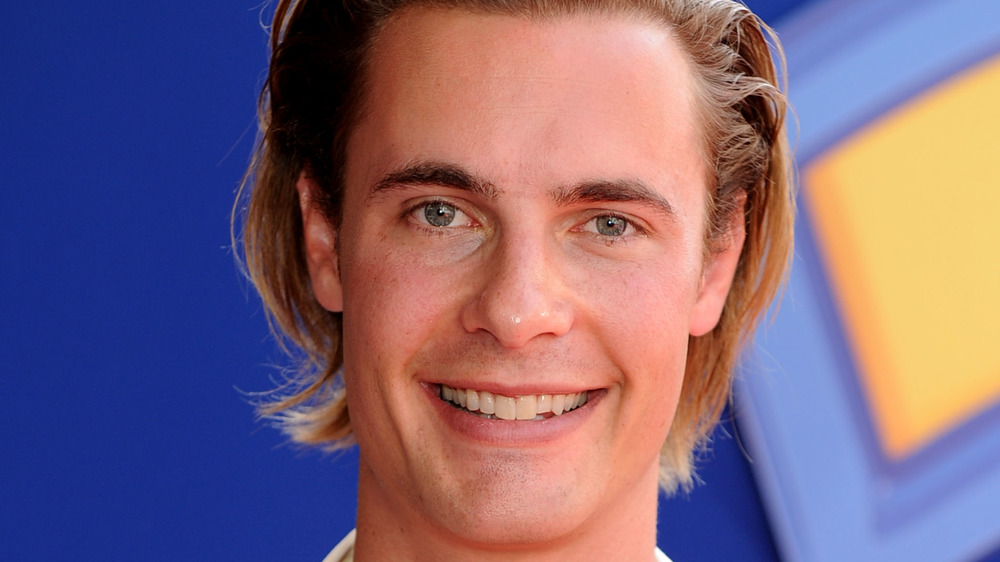 Kevin Winter/Getty Images
Before Netflix blessed the world with Noah Centineo and the men of Outer Banks this decade, the Disney Channel introduced Zac Efron in the mid-2000s. Before that, the Disney Channel played host to a smattering of other teenage dreamboats through the late '90s and early aughts. Among them was Erik von Detten, the hunky star of the 1998 Disney Channel original movie Brink!
With long blonde locks, a sharp jawline, bright blue eyes, and a smolder that would make Derek Zoolander jealous, von Detten was a quintessential teen heartthrob. It's been more than a decade since fans last saw his pretty face on a screen, so they might not recognize him anymore. But he was too much of a gem to be completely forgotten, and at 38 years old, he is still a stud of a different kind.
Gone are his beach-vibe hair and youthful pretty-boy smolder, replaced by a shorter, darker, more tamed hairdo and guy-next-door-slash-PTA-dad smile. Still, the baby blues sparkle, the jawline cuts, and his smile and demeanor spew charm. It's enough to make anyone miss the man who once was Brink... and so much more.
Erik von Detten's career spanned two decades and a variety of projects
Von Detten got his big break at ten years old, playing the youngest version of Nicholas Alamain, a boy with serious parental/guardian drama, from 1992-93. For the next twenty years, he maintained a steady stream of work as a guest actor in television shows —including ER (1995), 7th Heaven (1996), 8 Simple Rules (2004), and Bones (2008)— and especially as a voice actor.
Von Detten voiced evil kid Sid in the Toy Story films, a character in Recess for 10 episodes from 1997-2000, a character in an animated Tarzan series, and has lent his voice to many other animated projects. Along the way, he starred in several live-action shows, including the 1999 ABC sitcom Odd Man Out, the 1999 Disney Channel sci-fi mystery So Weird, the ABC fantasy series Dinotopia (A 2002 follow-up to a miniseries), and the 2004 ABC sitcom Complete Savages. Although all those shows were short-lived, he didn't need them to create his legacy as a heartthrob. That came from film roles.
For example, in the 1997 comedy Leave it to Beaver, which was based on the classic '50s and '60s sitcom of the same name, von Detten played Wallace "Wally" Cleaver, the older brother of main character Theodore "Beaver" Cleaver. A year later came Brink! In the Disney Channel movie, von Detten played title character Andy "Brink" Brinker. Brink betrays his skating crew, his best friends, and his principles to make money for his family by joining a rival group. Though it was only a television movie, it's one of the most beloved Disney Channel original movies of the era.
Brink! made him a heartthrob, but truly cementing his place in history as such was his role in the timeless, adored 2001 rom-com The Princess Diaries. Leaning into his pretty-boy image, von Detten played Josh Bryant, the high school peer Anne Hathaway's main character Mia Thermopolis pines for — until he proves conniving and selfish. Josh came out a loser, but audiences couldn't help swooning a little for von Detten.
Erik von Detten is a family man now
Erik von Detten was last seen on camera in a 2008 episode of Bones, and was last heard as Sid in 2010's Toy Story 3. But the actor has been plenty busy off camera.
He has a wife named Angela, who's a real estate agent and, as E! Online reported, they welcomed a daughter, Claire, in May 2019. In a December 2020 Instagram post, Angela said the family was growing, as they're expecting a second child sometime in March 2021. The family apparently lives in Los Angeles. According to an interview von Detten gave Romper in 2018, he now works in sales for a commodities brokerage company, and spends time acting at a local theater.
He's not been completely out of the limelight, though, as he's been photographed at movie premieres, including a 2016 special event celebrating the 100th Disney Channel Original Movie. He also might appear back on screens soon, as he has an IMDb credit for a show called  The Tonopah Five (listed as being in post-production). The show features other '90s faces, including Lori Beth Denberg and Danny Tamberelli of All That fame, and seems to be a comical satire of their "has-been" status. Talk about nostalgia.
It's not clear what the status of the show is or even what network is behind it, but it might be nice to have the man you can barely recognize now, Erik von Detten, back to fall in love with all over again.