Why Rosita Bustillos From Wynonna Earp Looks So Familiar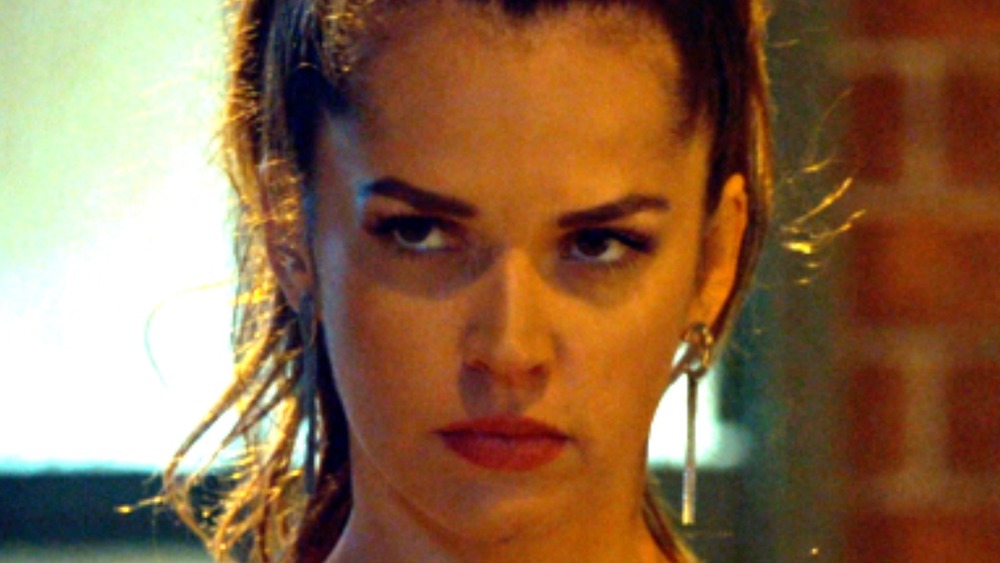 SyFy
Minor spoilers ahead for Wynonna Earp
Wynonna Earp, the unique horror series that blends the mythology of the Wild West with some fun supernatural flourishes, will, unfortunately, be coming to an end with its fourth season. The show follows the exploits of the eponymous Wynonna Earp (Melanie Scrofano), a descendant of the legendary gunslinger Wyatt Earp. She must follow in her ancestor's footsteps by finishing off a legion of undead outlaws, known as revenants, that have been kept alive into modern times thanks to a curse. True to her heritage, Wynonna has put down many of these revenants in her day, but there is one that she just can't seem to take care of.
Rosita Bustillos is a cunning immortal who managed to slip Wynonna's detection for quite some time. As with the other revenants, she's been alive for hundreds of years and has used her extended time on earth to her advantage. Rosita holds advanced degrees in science and engineering, but don't let her advanced knowledge fool you. She's still as fierce as she was during her heyday in the 1800s and is not afraid to throw down when necessary.
Rosita is played by Canadian actor Tamara Duarte (via Eh Con). If you've been catching up on the series before its grand conclusion and are curious about where else you've seen Duarte before, wonder no more. Here are some of her most notable roles.
Tamara Duarte had a role on Degrassi: The Next Generation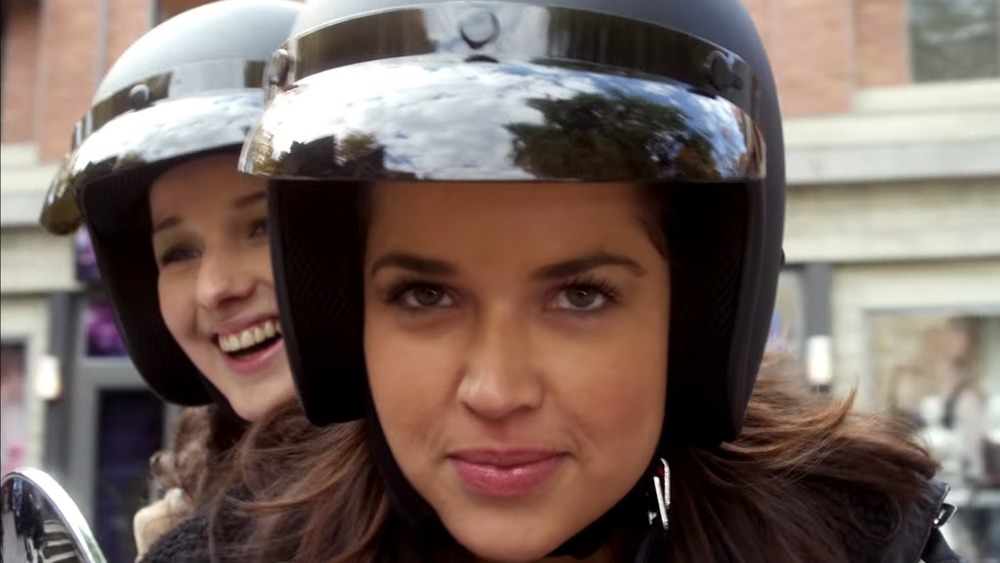 Entertainment One
As with any Canadian actor worth their salt, one of Duarte's first big roles was on the evergreen teen soap opera Degrassi: The Next Generation. Duarte had a multi-episode arc on season 11 of the show where she played a budding artist and part-time figure model named Charlie.
When series regular Fiona (Annie Clark) takes an art class that Charlie is posing for, the two strike up a friendship that eventually turns into something more. Rich kid Fiona is intrigued by Charlie's carefree attitude and modern bohemian lifestyle. As a newly out lesbian, Fiona quickly comes to look up to out-and-proud Charlie for guidance on how to embrace her sexuality. After developing a close friendship, the two began dating. However, the relationship isn't fated to last.
It becomes clear to Charlie that Fiona simply isn't ready to be in a relationship, so the two part ways. Even though they didn't stand the test of time, Charlie does help Fiona grow and come to better terms with herself.
It's a small role in the grand scheme of Degrassi: The Next Generation, but it was clearly enough to help get Duarte's foot in the door. She followed it up with more TV roles, including a recurring part on another popular western series.
The other western series Tamara Duarte appeared on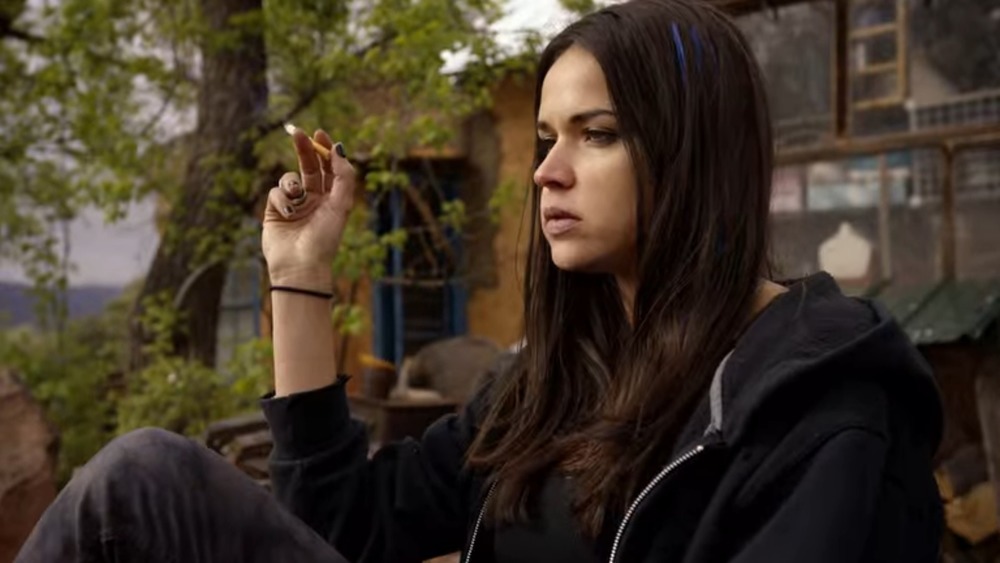 Netflix
Based on the popular novel series the Walt Longmire Mysteries by Craig Johnson, Longmire is a hybrid police procedural and neo-western that started life on A&E before moving to Netflix. The show follows Wyoming sheriff Walt Longmire (Robert Taylor) as he deals with the complicated task of solving crimes in the rural west, where the rugged landscape and cultural frictions often work against him.
In the fourth season of the series, Walt is investigating the sexual assault and kidnapping of an indigenous woman named Gab (Julia Jones). The investigation takes a promising turn when he discovers that Gab was at a casino with some men from a nearby oil-field before she disappeared. To try and get a better idea of what happened, Walt speaks with one of Gab's friends, Mandy, who is played by Duarte.
Mandy is known to party with the oil-field workers on occasion but is reluctant to name names. Eventually, though, she plays her part and ends up becoming a recurring presence on the show. She even takes a job at the law firm of Walt's daughter Cady (Cassidy Freeman), who recognizes that even though Mandy is a bit rough around the edges, she has a lot to offer.
Longmire wasn't the last time that Duarte appeared on a crime procedural.
Departure put Tamara Duarte's investigation skills to the test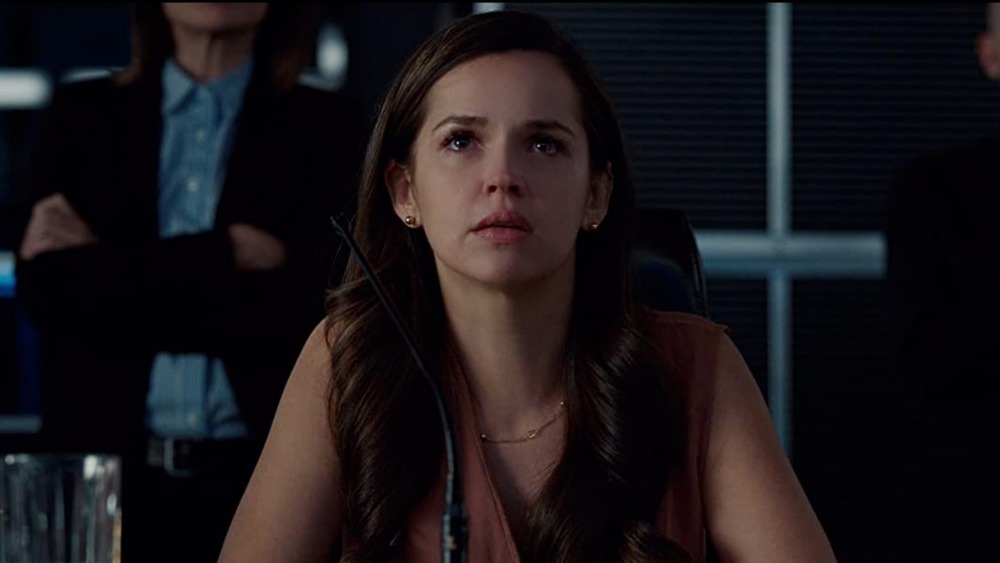 Peacock
You've probably watched dozens of crime procedurals that feature police officers or FBI agents using a variety of techniques to catch criminals. You may have even tuned into shows that focus on a super-niche aspect of crime solving. The Peacock original series Departure takes that concept one step further. The series introduces viewers to the (fictional) Transport Safety and Investigations Bureau (TSIB). When you need someone to figure out exactly what happened during a major plane, train, or automobile accident, they are who you turn to.
The main mystery of the first season of Departure surrounds the disappearance of a plane full of passengers that vanished while making the crossing from New York City to London. Kendra Malley (Archie Panjabi), one of the TSIB's top investigators, is tasked with figuring out exactly what happened to the plane and why. In addition to her mentor Howard Lawson (the late, great Christopher Plummer), she has a crack team of fellow investigators to work with, including Nadia, who is played by Duarte.
A second season of the show is already in the works (via TV, eh?). If Duarte returns to reprise her role, it will hopefully give Wynonna Earp fans who are missing Rosita Bustillos something to look forward to.