The Scarlet Witch Costume Detail You Totally Missed In The WandaVision Finale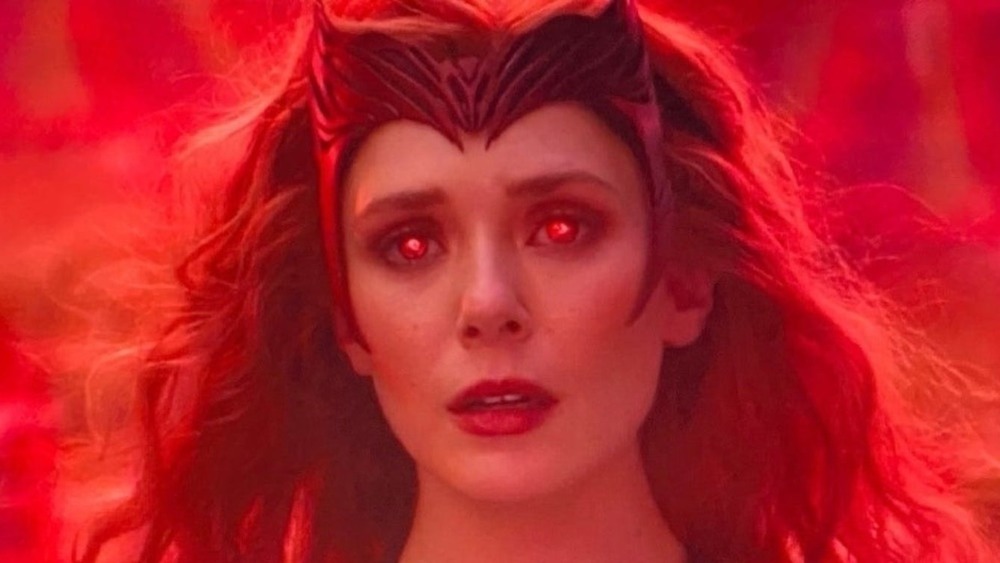 Disney/Marvel Studios
The season finale of WandaVision answered so many questions and possibly left that much more unanswered. One thing fans were hoping to see more than anything was the reveal of a true Scarlet Witch outfit, and they got it by the end of the episode. Wanda Maximoff's costume was hinted at in Episode 6 where she dressed up as a "Sokovian fortune teller," but was really wearing a cosplay version of the Scarlet Witch costume.
Wanda finally got her crown, one of the character's signature pieces that fans had been waiting to see for so long. The rest of the form-fitting garb has more of a maroon color than the classic red seen in the comics, and many noticed the color's similarity to that of the Magneto costumes from the X-Men films of the past two decades.
The neckline of the new suit was much higher than that of her character's former suits, much to Elizabeth Olsen's enjoyment. The actress had previously discussed her issues with the cleavage-baring suit from Avengers: Age of Ultron and Captain America: Civil War when talking with Elle in 2018. Now, a few years later, she is fully covered up.
That's not the only noticeable change with the suit, however. Several days after the season finale, fans started to notice an almost missable detail in the costume which lands right below Wanda's neck.
A tribute to Vision and the Mind Stone is cut into the outfit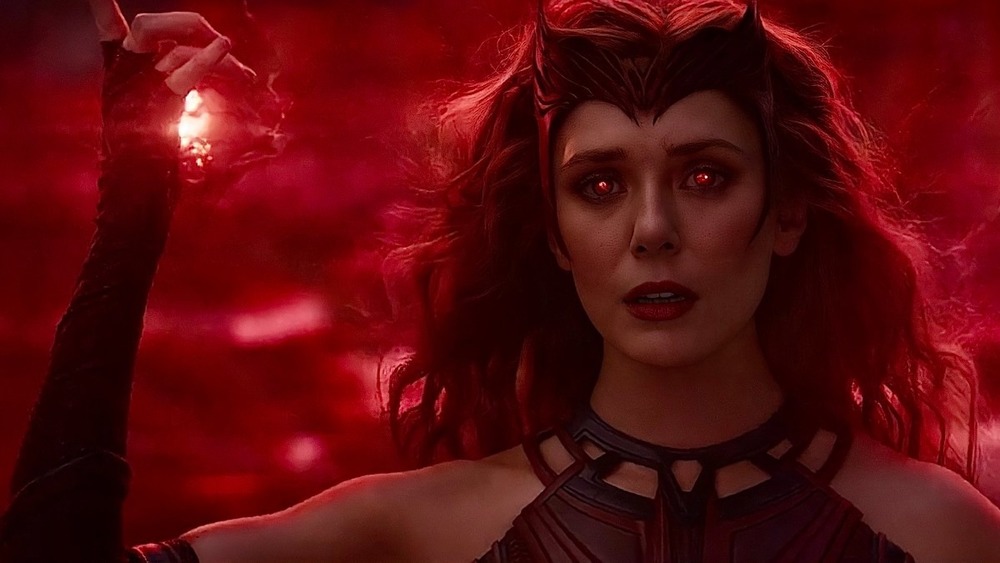 Disney/Marvel Studios
A very popular post in the WandaVision subreddit pointed out a cut-out just below Scarlet Witch's neck which is the exact shape of the Mind Stone. The shape is as clear as day, and it's really surprising that so many people missed it on the first viewing. MCU fans saw this shape embedded in Vision's head for years, and to see it now become a part of Wanda's identity is truly special. It's also an homage to the stone itself, which elevated her powers to a whole other level.
The detail was important enough for the POP! Funko doll to include the special tribute as well. In images of the doll revealed by Comic Book, the small cut-out can be seen below Wanda's neck in the middle of two bigger trapezoid shapes.
The costume designers at Marvel Studios deserve all the praise in the world for this significant detail put into the new Scarlet Witch ensemble. There also appears to be a tribute to Vision in her crown, but it's not as blatant as the neck cut-out. In the headpiece, there is another hexagonal figure at its center, resembling that of the Mind Stone in Vision's "indestructible" head.