The Truth About The Office's Talking Head Interviews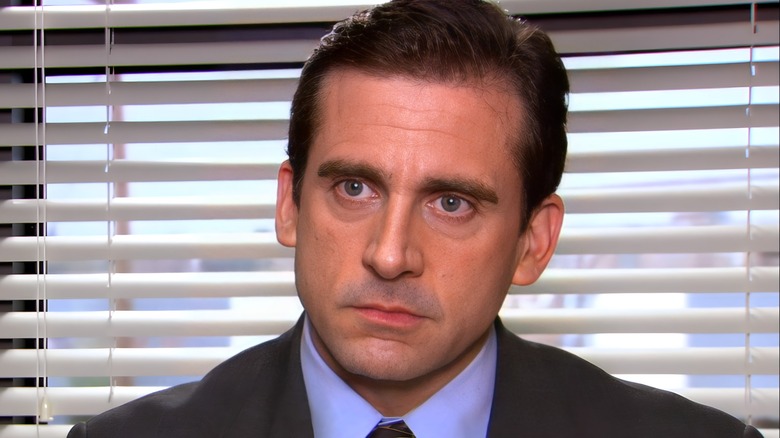 NBC
The Office's unique documentary-style filming gave viewers a closer relationship with the show's characters. Instead of just seeing the show play out like a normal sitcom, we were treated to one-on-ones with the employees of Dunder Mifflin where we learned their true intentions, deepest fears, and truths.
Some of the show's greatest moments happened during talking head interviews. Jim Halpert (John Krasinski) first asks Pam Beesley (Jenna Fischer) on a date, Dwight Schrute (Rainn Wilson) details the perfect crime, Michael Scott (Steve Carrell) explains his George Foreman accident, and Stanley Hudson (Leslie David Baker) expresses his love for Pretzel Day in these very special scenes.
These talking head interviews seemed like a way for the viewers to get to know the characters better and for additional laughs, but they actually had a deeper meaning than many fans realized. They occurred in all sorts of places in the workplace from the conference room, to Michael's office, to the kitchen. It turns out some of these locations were picked for certain characters on purpose, and the hidden meaning behind it will change the way you watch The Office forever.
Jim Halpert's talking heads were purposefully different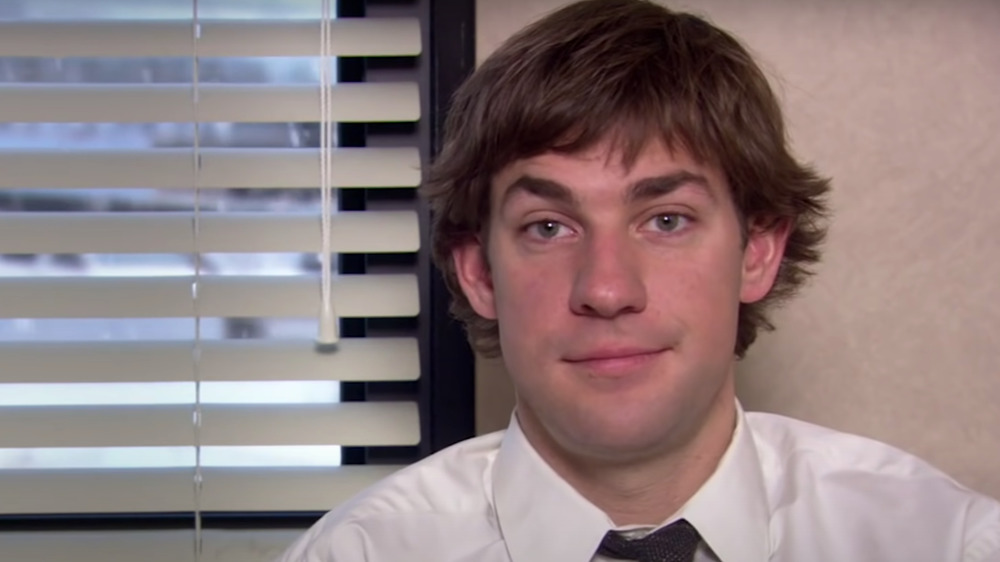 NBC Universal Television Distribution
Jenna Fischer and Angela Kinsey host the vastly popular Office Ladies podcast, where they break down every episode of The Office and give fun facts and insider information that viewers might never have known.
In 2020, Fischer and Kinsey revealed that there was a fun tidbit about the talking head interviews that they themselves never knew about until recently. In their podcast (via Mashable), Jenna details how she reached out to showrunner Greg Daniels after a fan inquired about Jim Halpert's talking head interviews. The eagle-eyed fan noticed that Jim's talking heads took place in front of the conference room window that looked outside, and all the other characters sat in front of windows that faced the office bullpen.
According to Daniels, this was intentional and a suggestion from the show's cinematographer, Randall Einhorn. "He said Randall's intention here was that it didn't necessarily only have to be Jim, but the idea was that any character that had a future outside of Dunder Mifflin or held some sort of internal optimism would sit in front of a window leading out into the world, but characters who didn't want to leave Dunder Mifflin — or who maybe were in more of a position of being trapped — would do their talking heads facing into the office," Fischer explained.
Michael Scott's talking heads were the exception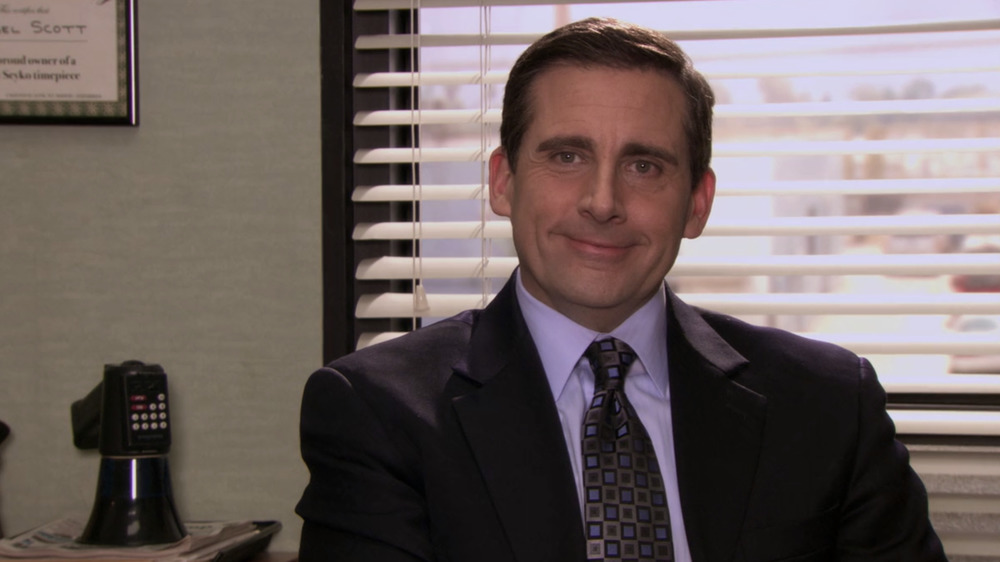 NBC Universal Television Distribution
The fearless leader of Dunder Mifflin was the exception to the rule when it came to the talking heads. Many of Michael Scott's interviews were held in his office at his desk, which had a window to the outside just behind him. It didn't make sense to shoot Steve Carrell sitting in front of the other window in his office, which faced the bullpen, so most of his talking heads had the window to the outside behind him.
As time progressed during The Office, other characters began to sit in the coveted seat once held only by Jim Halpert. Jenna Fischer remembered how Pam Beesley only got to sit in front of the window facing outside when she was with Jim. "Well for a very long time I only sat there if I was with Jim, which was really the only possible future for Pam outside of the office I think," Fischer said on Office Ladies. "Otherwise, she was rather trapped in her bad decision of being with Roy."
After Jim and Pam became a couple, the latter began to get her own talking-head interviews in front of the outside-facing window. Jim and Pam eventually left Dunder Mifflin in the series finale, as they headed off to Texas for their next big adventure. Michael also leaves the company in season 7, venturing off to Colorado to start his new life with Holly Flax (Amy Ryan). While Michael's talking head interviews in front of his office window were originally the exception, they ended up following the rule, as he was able to break away from the company.