How Black Panther's Costume Designer Set The Tone For Coming 2 America - Exclusive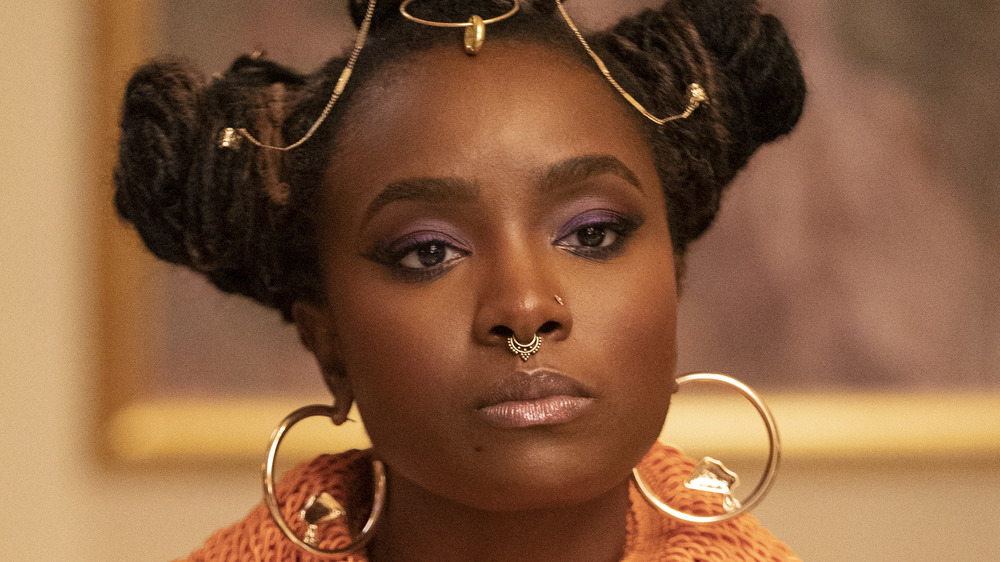 Amazon Studios
In 1988, 30 years before Marvel took us to Wakanda with Black Panther, Eddie Murphy, Arsenio Hall, and the rest of Coming to America's superstar cast introduced audiences to Zamunda, a fictional African nation known for its wealth, progress, and unusual traditions. It was, and remains, revolutionary.
"It's an important movie, especially to African American culture. It was a movie that in 1988 was showing wealth and royalty with an African family," filmmaker Craig Brewer, who directed the sequel Coming 2 America, tells Looper in an exclusive interview. "There was a time where it was like, 'Wow, look at this movie,' and we needed to live up to that standard."
Still, other than the African setting, Zamunda and Wakanda don't have much in common on the surface. For all of its glamour, Zamunda doesn't have a stockpile of vibranium, sci-fi technology, or all that many superheroes. However, the two fictional countries do have one big thing in common: Both Wakandan and Zamundan fashions were designed by Oscar-winning costume designer Ruth Carter.
According to Coming 2 America director Craig Brewer, Carter — who won the Academy Award for Best Costume Design for her work on Marvel's 2018 superhero epic – was instrumental in fleshing out the world of Zamunda, which has a much bigger focus in the modern-day follow-up. Contrary to its title, Coming 2 America spends much more time in Zamunda than the United States, as Murphy's King Akeem tries to reconnect with his long-lost son Lavelle, played by Jermaine Fowler.
"I know why everybody wanted to name it Coming 2 America, but I was [thinking], 'Yeah, it seems like this is more like Back to Zamunda than anything else,'" Brewer jokes.
Spending a lot of time in the fictional nation meant the film's team had to flesh out Zamunda and its culture, and there was no question that Carter was the right woman for the job. 
"The first call was really to Ruth Carter in terms of the costumes and saying, 'Look, Ruth. You did a superhero movie, but you bring such respect to the costumes by way of the cultures that you embraced emanating from Africa,'" Brewer recalls. "I know we're doing a comedy, but we have to do that with Coming 2 America [as well], because Coming 2 America is more than just a movie to make people laugh."
But, as you may have noticed, Zamundans and Wakandians don't look all that similar. According to Brewer, that was all part of the plan.
How Ruth Carter gave Coming 2 America a different look than Black Panther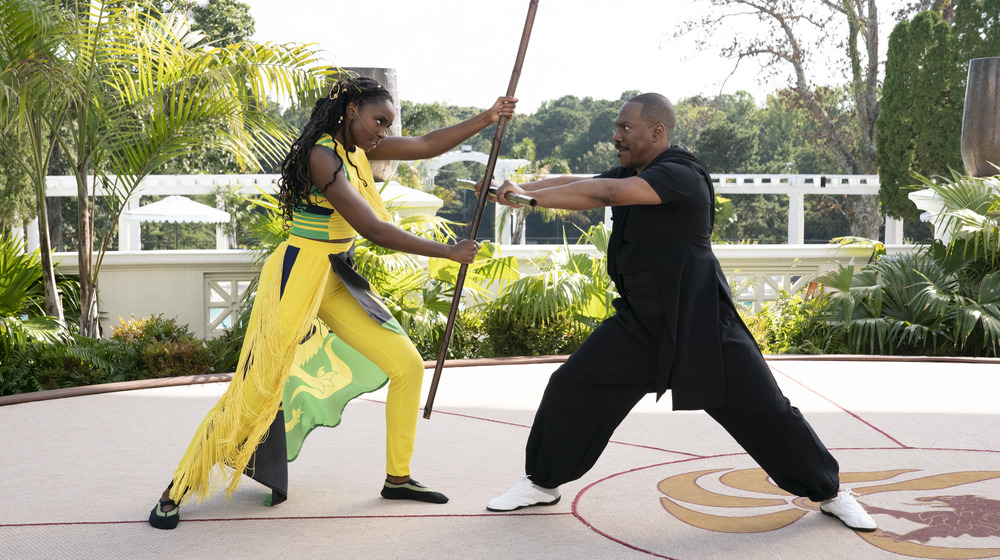 Amazon Studios
Carter's Black Panther costumes were instantly iconic, but the designer didn't want to repeat herself on Coming 2 America. "That's something that actually Ruth was really big on. She wanted [them] to be two different nations, two different places," Brewer says.
However, that didn't mean that Carter didn't have room to play. "If you really look at the first Coming to America, it does have a little bit more of a colonial look, a little bit more statesman," Brewer says. "People are wearing suits. There wasn't a tremendous amount of African-inspired wear in the first movie. The palace gowns were a little bit more European in the first movie."
For Coming 2 America, Carter opted to look at both traditional African outfits as well as modern African fashion trends, creating costumes that are nothing less than breathtaking. And all the effort paid off, as Carter's work on the film is earning rave reviews across the board. Outside of seeing some old favorites return to the screen, the costumes may be the best part of the movie.
Brewer is certainly a fan. "There are some outfits that I'm just amazed at," the director says, calling out green-and-white costumes worn by Jermaine Fowler and KiKi Layne, who plays Akeem's daughter Princess Meeka Joffer, as some of his favorites. "It's just like Ruth's got her ear to the ground and she knows about trends that are happening on the other side of the globe," Brewer tells Looper. "It was really inspiring every day to show up and see people in these costumes. It's stunning."
Coming 2 America is available to stream on Amazon Prime Video now.