Who Is The Strong Man In GEICO's World's Strongest Man Commercial?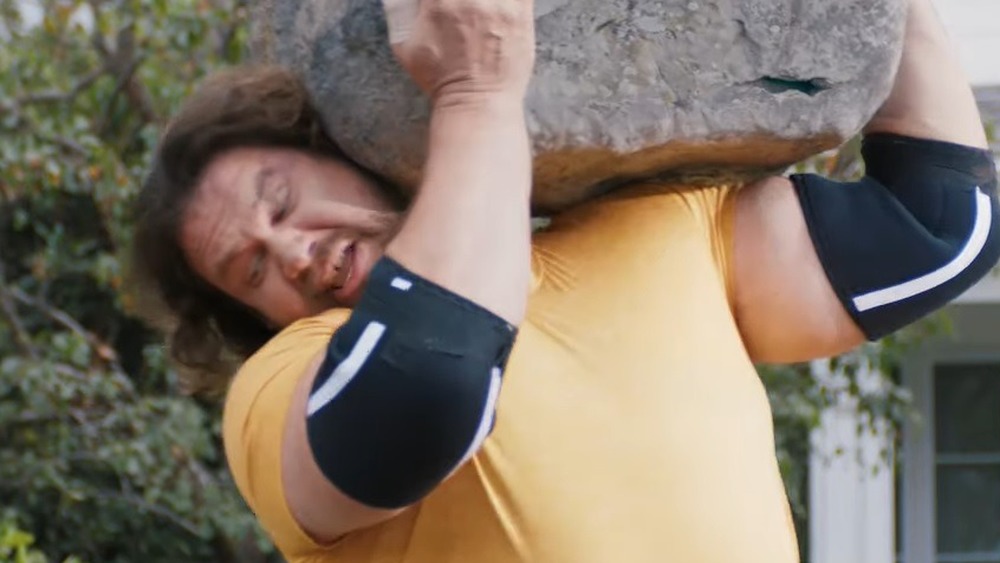 Geico
Lately, Geico commercials have been on a celebrity tangent. The company hired the rapper duo Tag Team, '90s exercise tape mogul Billy Blanks, and the Harlem Globetrotters for commercials, and it's showing no sign of stopping thanks to its latest ad. To round out February, Geico released a new commercial in which "World's Strongest Man Martins Licis" helped break down cardboard for recycling. What does he have to do with Geico? Well, he's the world's strongest man, but you don't need the world's strongest man to break down cardboard, sort of like how you don't need help switching to Geico to save 15% on your car insurance. Or something like that.
While this isn't the first time Geico hired a professional athlete (see: Harlem Globetrotters), Licis is by no means a household name, so you might not recognize his face or work.
Arnold Schwarzenegger would be proud of Martins Licis
Martins Licis is a dual-citizen of the United States and Latvia. The strongman was introduced to weight training and heavy lifting at a very early age; at only 9 years old, he started training by lifting stones on his family's Latvian farm, and when he turned 18, Licis started competing professionally. Licis participated in numerous weightlifting contests, including The World's Strongest Man, Ultimate Strongman, and the Arnold Strongman Classic. Usually, he represented the United States, but during the 2017 Ultimate Strongman Summermania, Licis lifted for Latvia. As for his record, it speaks for himself. After all, you don't earn the title "World's Strongest Man" just by competing in the competition.
In 2017 and 2018, Licis placed fourth in the World's Strongest Man, and in 2019, he won the coveted first place, (via BarBend). He also placed first in the 2017 Ultimate Strongman. Furthermore, Licis earned second and third place in the 2019 and 2020 Arnold Strongman Classics, respectively. Clearly, Martins Licis deserves his title.
He has his own YouTube channel
Like many celebrities these days, Martins Licis creates YouTube videos on the side. For the most part, Licis fills his channel with videos that show off his prodigious strength. He has posted videos lifting giant weights, pulling monster trucks, and most difficult of all, giving away a PlayStation 5. However, he has appeared on screen in more than just exercise aficionados' YouTube feeds. Licis' strength has attracted the attention of game show producers, as he has guest starred on shows such as Game On! and To Tell the Truth (as seen on his IMDb page). He was also interviewed by Jerry O'Connell — and demonstrated his deadlifting prowess in front of a live studio audience.
Licis has only one true "acting" credit, according to IMDB, from when he appeared on the webseries Chad and JT Go Deep. The show's titular stars visited the 2019 Arnold Strongman Classic — in which he placed second — and Licis was part of the action because, well, he was part of the competition. Only time will tell if Martins Licis will follow in Arnold Schwarzenegger's footsteps and make the leap from muscled powerlifter to muscled performer.