Who Are The Harlem Globetrotters In The New GEICO Commercial?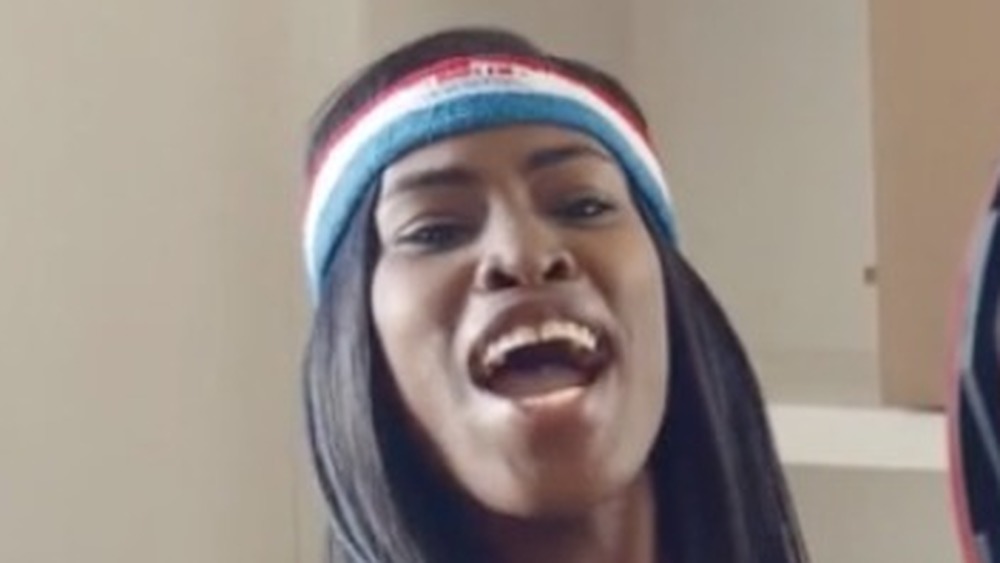 Geico
Insurance company GEICO's latest commercial features a very simple, very funny premise: "The Harlem Globetrotters Moving Company." It's basically a comedy sketch in advertisement form.
The spot features the current lineup of the Harlem Globetrotters, the famous exhibition basketball team that is known all over the world for its combination of incredible athleticism and slapstick comedy. Famous former Globetrotters include Chuck Cooper and Nat "Sweetwater" Clifton, who left the Globetrotters to become the first two Black players to play in the NBA, and Wilt Chamberlain, one of the greatest basketball players of all time, who played for the team before entering the NBA.
The Globetrotters are extremely skilled basketball players who thrill crowds with their elaborately coordinated passing routines, physics-defying trick shots, and ability to spin basketballs on their fingers for inordinately long periods of time. They're incredibly fun to watch in person or even on YouTube, but you definitely don't want them helping you move: In the commercial, they hilariously toss around boxes full of highly breakable items the way they do basketballs.
The Harlem Globetrotters' roster consists of over 30 players, and so only a handful of them appear in the commercial. Here are the members of the team who play the "Harlem Globetrotters Moving Company."
Nate "Big Easy" Lofton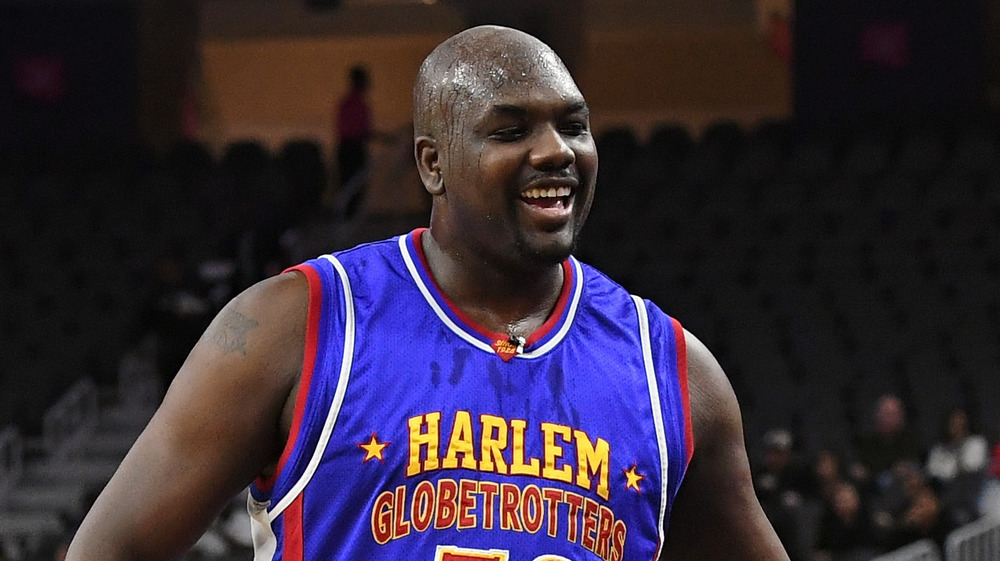 Ethan Miller/Getty Images
"Big Easy" gets his nickname from his hometown of New Orleans, Louisiana as well as his laidback personality, according to his bio on the Harlem Globetrotters' website. The 6'9" graduate of Southeastern Louisiana University is one of the team's most prominent performers, because he's famous for something he did outside of the Globetrotters — namely, Lofton and fellow Globetrotter Herbert "Flight Time" Lang appeared on three seasons of the long-running CBS reality competition show The Amazing Race. In season 15, they finished in fourth place; in season 18, second place; and season 24, an "all-stars" season, where they finished sixth. It must have been hard for them, because Globetrotters almost never lose. He's appeared on many other shows as well, including The Price Is Right, Are You Smarter Than A 5th Grader?, and The Tonight Show.
Lofton holds Guinness World Records for the farthest basketball hook shot (72 feet 6.25 inches) and the farthest blindfolded basketball hook shot (58 feet, 2.5 inches).
Fatima "TNT" Lister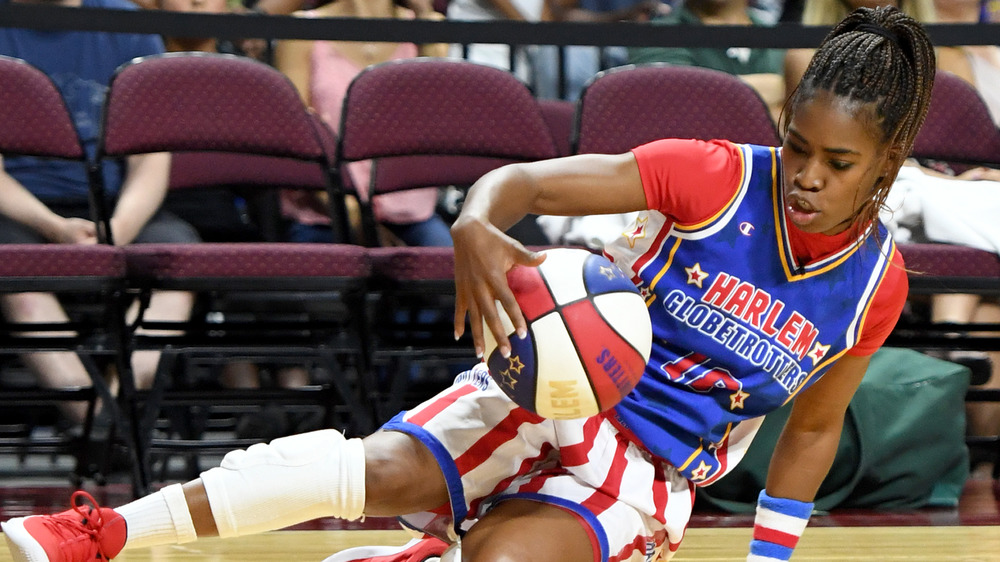 Ethan Miller/Getty Images
The Globetrotter operating the "dress shirt cannon" in the commercial is Fatima "TNT" Lister, a Globetrotter legend. When she joined the team in 2011, she was the first female Globetrotter since 1993, and according to her bio on the Globetrotters' site, her success on the team has helped pave the way for more women to join the organization. "The best part about being a female Globetrotter is being able to inspire girls and young women to follow their dreams," she said.
Lister played college ball at New Mexico and Temple. At the latter school, she was coached by Olympic gold medal winner and Basketball Hall of Fame member Dawn Staley, one of the greatest hoopers of all time, who Lister told Sport 360 she tries to emulate.
She says that the greatest moment of her basketball career was playing at the White House with Barack Obama. "He made you feel so comfortable, like he was just one of the guys playing pick-up," she told Sport 360. "And he's got a nice little shot too."
Lister also does voiceover work, portraying Coach Fox (a fox) on the animated series Pete the Cat.
Chris "Smooth" Staples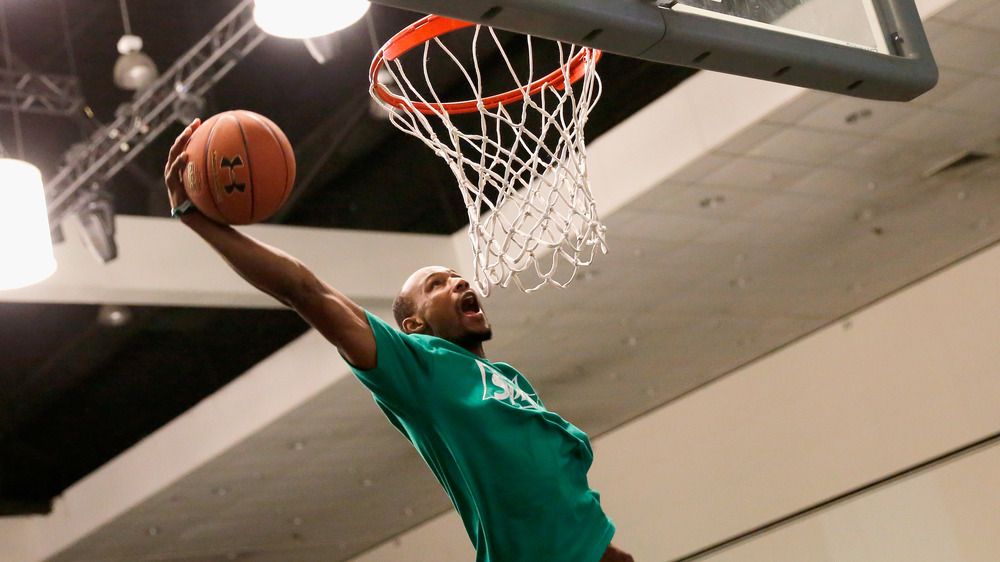 Rich Polk/bet/Getty Images
Like "Big Easy," "Smooth" is also famous for reality TV. Staples appeared on The Bachelorette in 2018, competing for the heart of season lead Becca Kufrin. He didn't make it very far on the show. He was eliminated in week 4, but not before he dunked over Becca.
Staples actually isn't a current member of the Globetrotters' roster, but he must have come back because they needed a dunker. That was Staples' specialized role on the Globetrotters, of whom he was a member for three seasons. The man can dunk, as he demonstrates in the commercial. It is worth noting that Staples has a really great YouTube presence, as well, as seen in videos where he is demonstrating how to do the tricky basketball skills he needed to learn in order to become a Globetrotter, going 1-on-1 against a 7'5" giant, and reuniting with Becca Kufrin as she judged a dunk contest.
Donald Johnson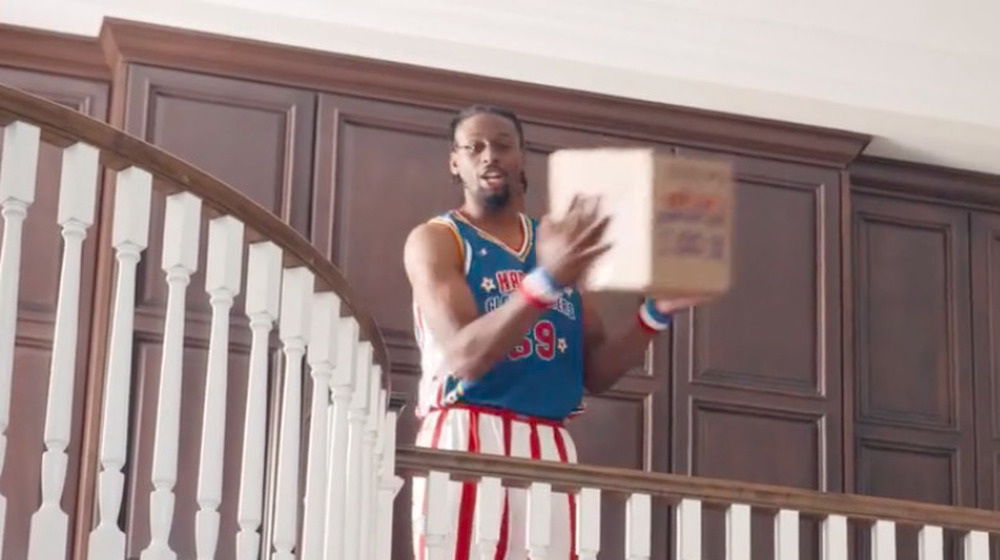 Geico
Donald Johnson doesn't seem to have a nickname, which might be because he doesn't always play for the Globetrotters -– he's currently on the roster of the Washington Generals, the team whose job it is to lose to the Globetrotters in their exhibition games. He has also played for the Globetrotters, which is notable, as it's pretty rare for a player to suit up for both teams. The most famous player for both teams was Paul "Tiny" Sturgess, the tallest Globetrotter ever, who also made humorous appearances as the Generals' villainous masked player "Cager" after leaving the Globetrotters.
Johnson went to CSU Bakersfield, a Southern California university with a tradition of producing Globetrotters: he's one of eight Bakersfield alumni to play for the team, according to the college team's website. Before joining the Globetrotter organization in 2016, Johnson played professionally in Sweden for the Solna Vikings and in Canada. He's also an assistant coach for the University of Antelope Valley Pioneers women's basketball team.
Evin "Baller" Bartlett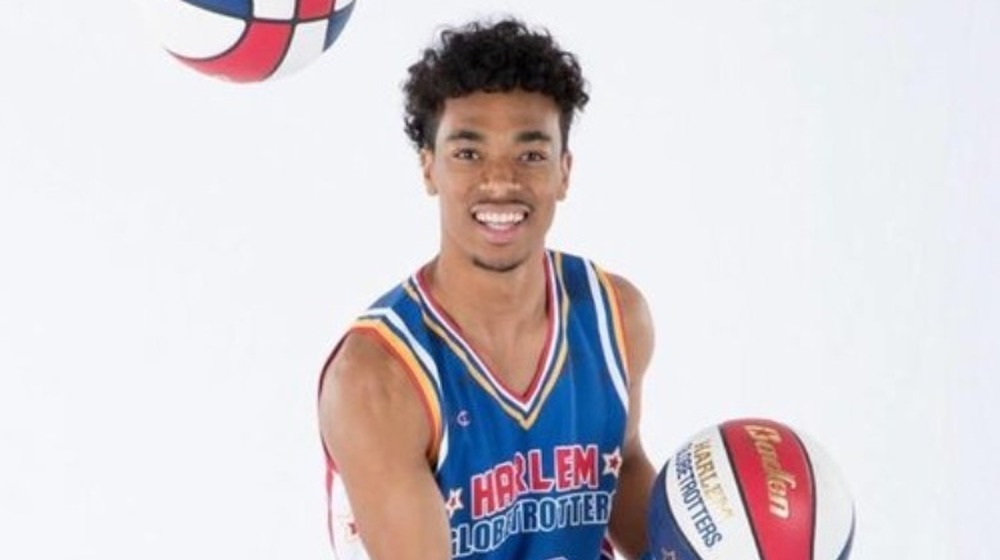 Evin Bartlett
"Baller" Bartlett is another former Globetrotter who is now working in the film and television industry. According to his website, he has appeared in commercials for ESPN, Jordan Brand, Facebook, Foot Locker, and Google, and is slated to appear in the upcoming Looney Tunes basketball movie Space Jam 2 with LeBron James.
Bartlett is small for a basketball player, at 5'9," but his ball-handling skills are superb, as he demonstrates in the commercial. He won two national championships in the National Christian College Athletic Association as a student at Ohio Christian University.
Bartlett is a very positive guy. "I am more than what you see. Words aren't enough to explain my journey and pictures only give you a glimpse of my life," he writes on his website. "I am living my dream and connecting with the world, one person at a time. I'm just beginning this journey of life and gaining understanding of my true passion, which is providing happiness and touching as many lives as I can."