Why Michaela Stone From Manifest Looks So Familiar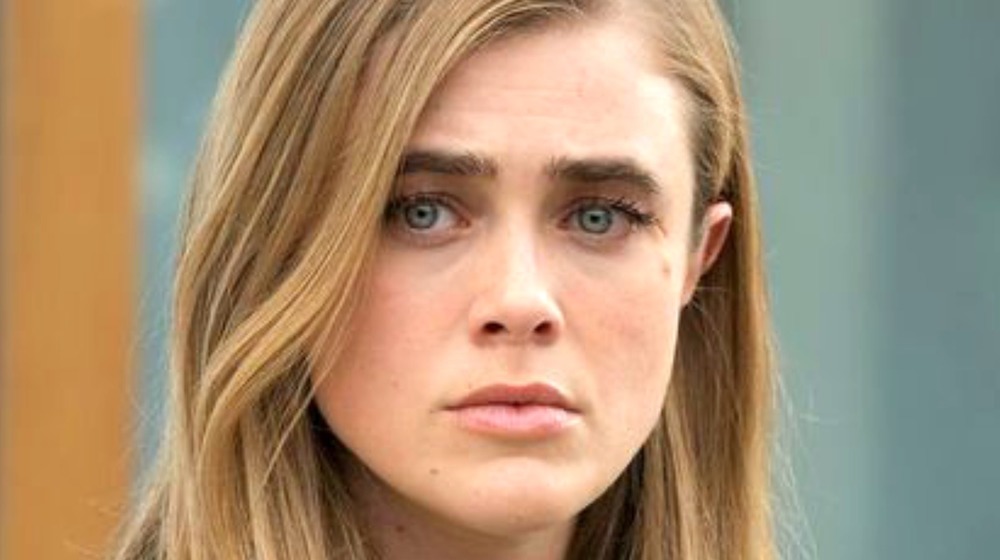 NBC
In normal times, spring marks the return of fall shows that went on midseason winter hiatuses and the end of the shorter-run shows that own the winter time slots. However, thanks to COVID-19, nothing is normal, and few shows have remained on schedule. Thus, typical fall shows and typical winter shows have just been dropping at random times around one another, and we've learned to simply sit back and wait for our favorite shows to return. Well, the wait is almost over for fans of one would-be winter show: Manifest. The hit NBC science fiction drama is finally returning for its third season, slated to premiere in less than a month — on April 1.
The show follows the mystery of a commercial airline flight, Montego Air Flight 828. To passengers, the flight hit turbulence but was otherwise routine. But when they land, they learn five years have passed since the plane departed, and to the rest of the world, the plane disappeared en route and the passengers were presumed dead. As the returned passengers cope with the lives their loved ones have lived in their absence, a few of them set out to get answers about what exactly happened with their flight and what it means.
Manifest debuted in September 2018, with a 16-episode first season run. For the second season, NBC shifted it to a midwinter slot and shortened the run to 13 episodes, but it was a ratings darling and was renewed in June 2020, even amid coronavirus uncertainty. Manifest stars Josh Dallas, who signed onto the show fresh off a career breakthrough role on ABC's fantasy show Once Upon a Time. His primary co-star is Melissa Roxburgh. She plays Michaela Stone. Michaela and her brother Ben (Dallas) were both on the flight, along with Ben's son, and Michaela returns to the world to find her almost-fiancé has started a life with her best friend. Roxburgh might not have had as much buzz going into Manifest as Dallas, but she had a solid resume of her own. Here's why Michaela Stone might look familiar to viewers.
Melissa Roxburgh was in two of the Diary of a Wimpy Kid franchise films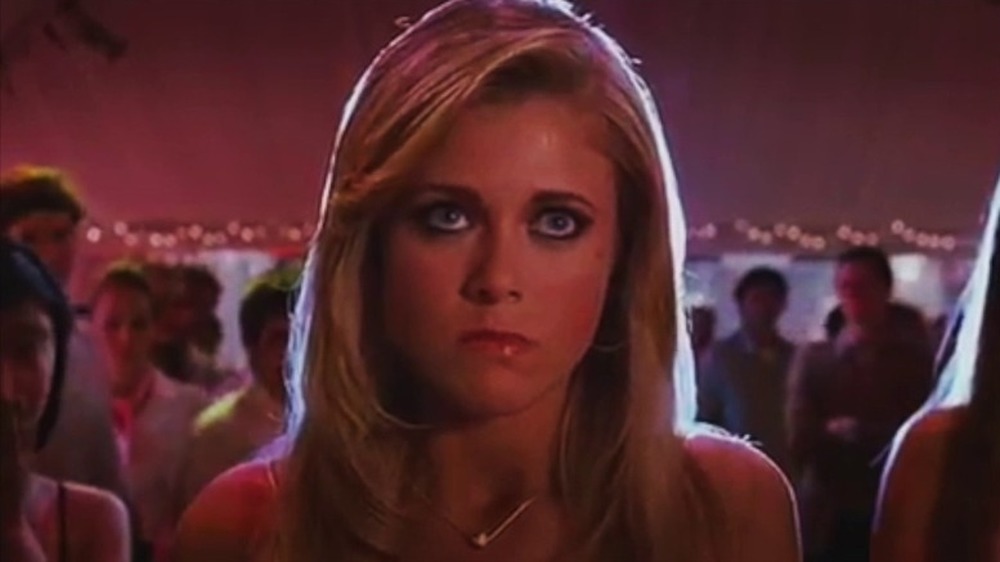 20th Century Fox
Melissa Roxburgh appeared in back-to-back sequels of the 2010 film Diary of a Wimpy Kid, which was the first in a series of movies based on the eponymous book series by Jeff Kinney. The first film stars Zachary Gordon as Greg Heffley, a preteen who cooks up elaborate schemes to try to make a positive name for himself in the complicated social atmosphere of middle school.
Roxburgh appeared in the second film Diary of a Wimpy Kid: Rodrick Rules, which premiered in 2011 and centers on Greg's relationship with his older brother Rodrick. Roxburgh portrays Rachel, one of Rodrick's friends who attends a party he throws (yup, Roxburgh plays a teen in this...because 2011 was a decade ago, and she was a teen... time is weird). She returned to the franchise for the third film, the 2012 follow-up Diary of a Wimpy Kid: Dog Days, only in an entirely different role. In Dog Days she plays another of Rodrick's classmates, Heather Hills. Heather is the object of Rodrick's affection, and the older sister of Greg's crush Holly.
The Wimpy Kid films may be a decade old, but Roxburgh doesn't look too much different. She grew up in the time since the films as did fans of the books and movies, so it's not unlikely they're among Manifest viewers.
Roxburgh appeared in more recent films, but you'd be forgiven for not recognizing her from those roles. That's because in one she is as an alien (Ensign Syl), all cranial appendage-covered, in Star Trek Beyond. She is also in a film that might be too scary for many — the 2014 film Leprechaun: Origins; Roxburgh plays Jeni, one of four young friends stalked by an evil mythological creature.
If those films aren't where you've seen her, perhaps her television roles ring a bell.
Roxburgh has appeared in several CW shows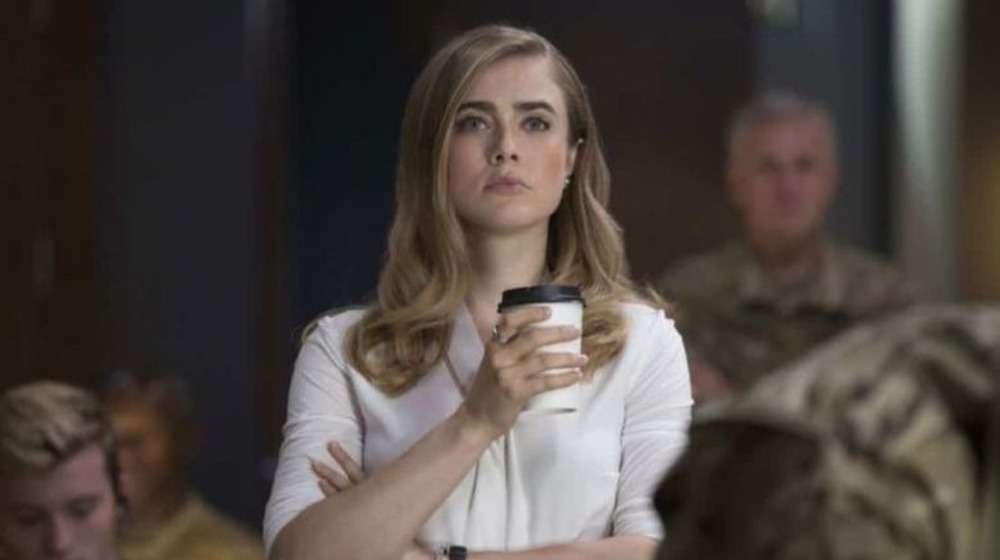 The CW
Before getting her big break on Manifest, Melissa Roxburgh popped up on several hit CW shows throughout the last decade. First came a two-episode role on Arrow. She played Blake, a friend of Thea Queen. In a 2012 episode, she attends Oliver's prison-themed party, and in a 2013 episode, she attends Thea's 18th birthday party, where she gives Thea the problematic drug Vertigo as a gift. In 2014, Roxburgh appeared in an episode of The Tomorrow People (an unfairly short-lived sci-fi show starring Robbie Amell, cousin of Arrow star Stephen Amell). During that same time period, she appeared in Supernatural as Lila Taylor in a 2012 episode and Violet Duval in a 2014 episode.
In 2016, Roxburgh returned to the Arrowverse, appearing in one episode of DC's Legends of Tomorrow. She played Betty Seaver, who crosses paths with Jefferson Jackson after she's involved in a car crash with her boyfriend Tommy. Tommy gets abducted and turned into a hawk monster by Vandal Savage. Later, when the deformed Tommy later sees Betty with Jackson, he nearly kills her by slashing her throat with his talons. The team saves Betty, and eventually frees Tommy from Savage's clutches and reunites the couple.
In 2017, Roxburgh landed her first main role in a CW show. She played Thea in Valor, a show about an elite U.S. Army unit of helicopter pilots trained to perform special clandestine missions. Unfortunately, Valor only lasted one season, but Roxburgh wasn't off screens long, with the last episode of Valor airing in January 2018 and Manifest debuting that fall. In fact, given her busy last decade, this coronavirus delay of Manifest marks what appears to be the longest drought of television appearances Roxburgh's had since her Arrow debut.
Luckily, it ends soon and Roxburgh will be back in business with Manifest season 3 this spring.