What Is The Song That Ata Johnson Sings In Episode 3 Of Young Rock?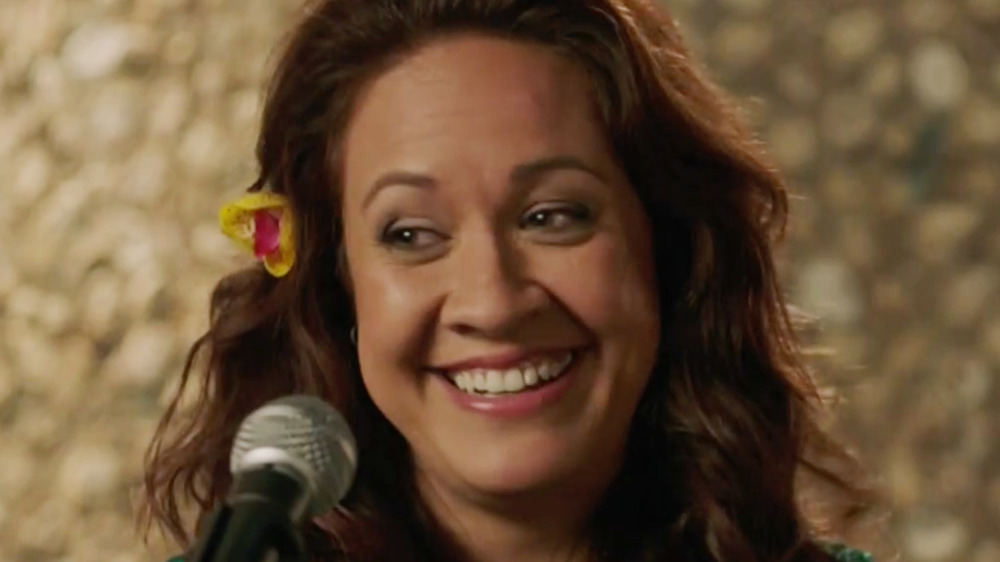 NBC
Contains spoilers for Young Rock episode 3
There's a new Ata Johnson coming out.
In the latest episode of NBC's breakout hit sitcom Young Rock, Dwayne "the Rock" Johnson's mother Ata (Stacey Leilua) tells her young son and her husband Rocky (Joseph Lee Anderson) during a fancy dinner at a high-end restaurant that she's finally going to put herself out there and pursue a singing career. The moment happens near the end of Young Rock episode 3, aptly entitled "Forward, Together," and results in both little Dwayne and Rocky smiling wide and encouraging Ata as she takes the stage at the other end of the restaurant. 
When Ata begins singing, Dwayne grins and says aloud that the song she's performing is just as good as the "room service" tune she sang to him in their hotel room at the start of the episode — an on-the-spot parody of "That's Amore," in which Ata sang about the joys of room service food while Dwayne chowed down on a massive hamburger. 
Unlike that made-up, food-focused tune, however, the song that Ata sings at the end of Young Rock's third episode exists in the real world. Wondering what it is? We've got you covered.
Ata Johnson sings "I'm Coming Out" in Young Rock episode 3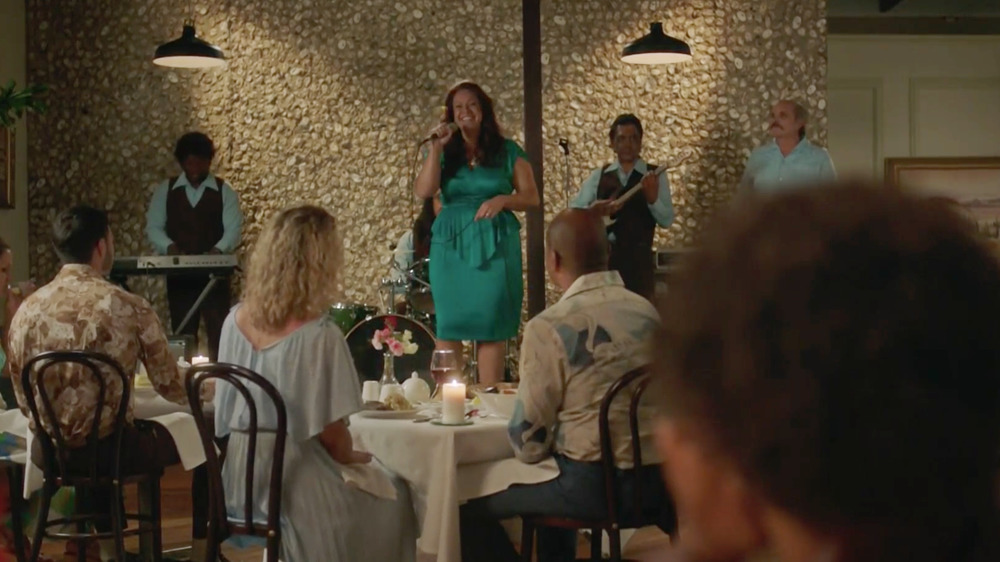 NBC
As it turns out, Ata Johnson selected the perfect song to sing after sharing her intentions to chase her musical dreams. The track she performs at the restaurant is one that oozes optimism, strength, determination, and power — and is a downright jam on top of all its thematic merit. It's none other than "I'm Coming Out," the 1980 disco-funk song performed by Diana Ross, produced and written by Bernard Edwards and Nile Rodgers of the band Chic.
The lyrics of "I'm Coming Out" reflect Ata's aspirations and the direction in which she's aiming to steer her life from this moment onward. "I'm coming out / I want the world to know / Got to let it show," Ross sings in the song's hook. The first verse of "I'm Coming Out" is even more poignant as it relates to Ata's life: "There's a new me coming out / And I just had to live / And I wanna give / I'm completely positive / I think this time around / I am gonna do it / Like you never knew it / Oh, I'll make it through / The time has come for me / To break out of this shell / I have to shout / That I am coming out." In the second verse, Ross proclaims that she has to "show the world" all that she wants to be — "all [her] abilities — and prove that there's "so much more" to her than meets the eye. "And oh how I have planned / I'm spreadin' love," the song goes. "There is no need to fear / And I just feel so good / Every time I hear / I'm coming out."
Although the real-life Ata Johnson never became a professional singer, she's still a music-lover to this day. In fact, Ata and Dwayne Johnson recently serenaded late-night host Jimmy Fallon with a Samoan and English song called "Savalivali." Video-chatting with Fallon in mid-February 2021, Ata played the ukulele while she and Dwayne sang, "Savalivali means go for a walk. Tautalatala means too much talk. Alofa ia te oe means I love you." Smiling cheerfully, Ata wrapped up the performance with the final line of verse 1 — "Take it easy, faifai lemu" — and strummed the ukulele strings in a perfectly dramatic fashion. Then, to Fallon's surprise and delight, Ata and Dwayne began singing another song: a personalized one made just for Fallon.
She may not be racking up Grammys or performing at Super Bowl halftime shows as a professional singer, but there's no denying that Ata Johnson is a star in her own right.