The Star Wars: The Last Jedi Kiss That Wasn't Supposed To Happen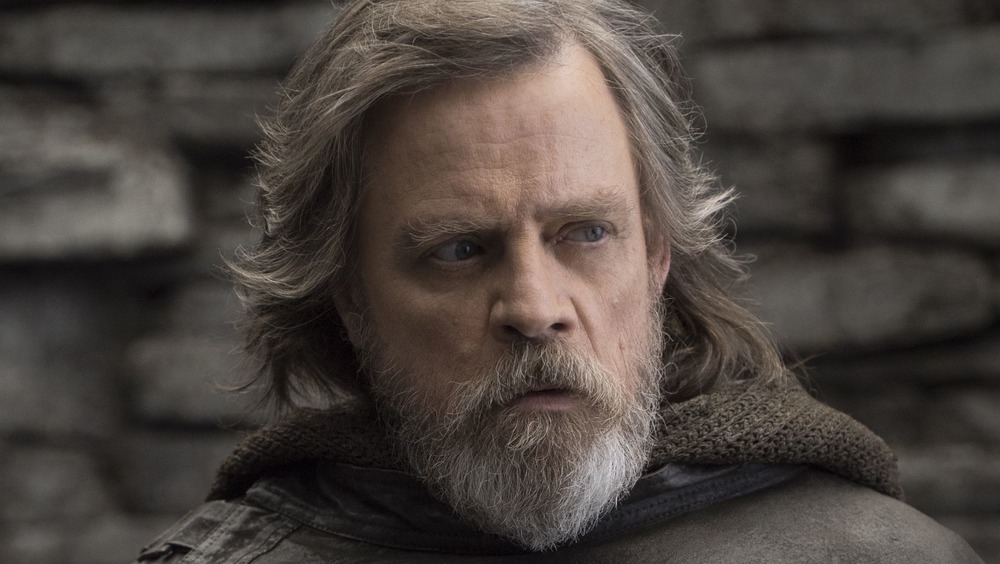 Lucasfilm/Disney
Though Luke Skywalker (Mark Hamill) grows up an unassuming farmboy amidst the endless sands of Tatooine — one who would rather stop by Tosche Station to pick up some power converters than do work — he dreams bigger. During the events of A New Hope, those dreams finally come true ... just not in the way he expects, and not without a dire cost. As he learns about the Force and plays an integral role in the war against the Galactic Empire, his increasingly complicated legacy comes to touch every corner of the vast Star Wars galaxy.
Yet by the time Rey (Daisy Ridley) meets Luke in The Last Jedi (they officially meet at the end of The Force Awakens, but the wordless minute or so they spend together hardly counts), that legacy has all but been forgotten. He has long sequestered himself on the watery world of Ahch-To, a hermit that would put even old Obi-Wan Kenobi (Alec Guinness) to shame. Like Obi-Wan, though, he teaches Rey a thing or two about the Force. And despite not leaving Ahch-To behind to help her fight the good fight, Luke's Force projection appears at the Battle of Crait. While his projection is there, he does more than just trick the First Order: he also pays a final visit to his sister Leia (Carrie Fisher), who is still as much a part of galactic politics as ever. 
And in a spur of the moment, to make the scene even more emotional than it already would've been, actor Mark Hamill added a masterful touch.
A fitting farewell for the Skywalker siblings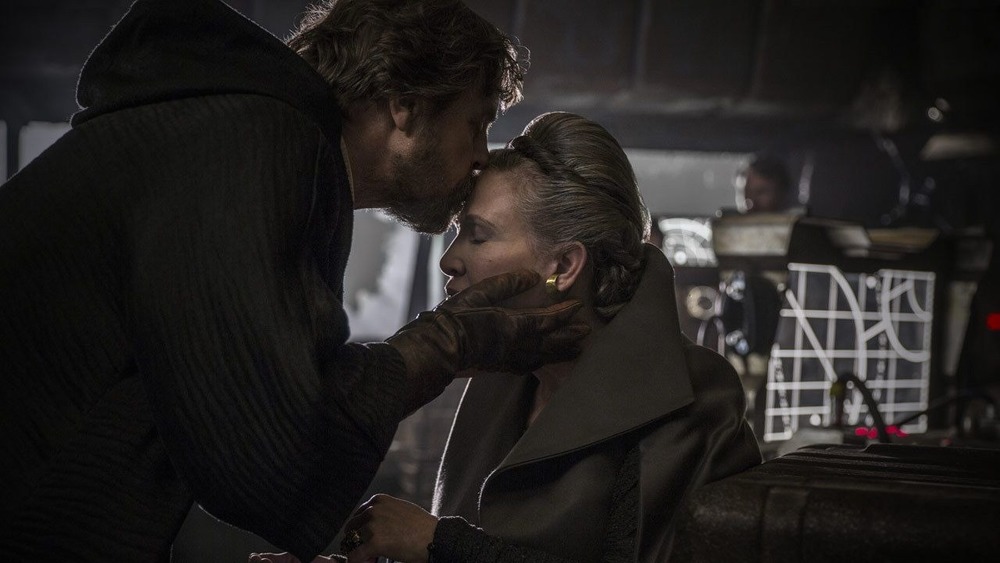 Lucasfilm/Disney
Just when Leia believes all hope is lost, Luke unexpectedly arrives (though no one's aware that it's merely his projection), declaring his intention to stop Leia's son, Kylo Ren (Adam Driver). "I held out hope for so long," she says, "but I know my son's gone."
"No one's ever really gone," Luke replies, handing Leia the golden dice that once belonged to Han Solo (Harrison Ford). Then — his resolve at its peak — Luke stands, bows his head, and kisses his sister's forehead. Describing the scene doesn't nearly do it the justice it deserves. It's a moment apt to make any Star Wars fan tear up, whether they're a fan of The Last Jedi or not.
In an interview with Entertainment Tonight, Hamill revealed that the kiss was all his idea. "I didn't decide it and say 'can I do this?'" the actor said. "It was just spontaneous, and really momentous for me because Luke was saying goodbye to his sister forever." On top of that, Hamill addresses Fisher's untimely passing, saying he can't watch the scene because "it takes [him] out of the movie completely."
Beyond the clash of lightsabers and the space-bound dogfights, Star Wars is a very human story, and Hamill's decision is a nonpareil reminder of just that. Both on and off-screen, the Skywalker siblings obviously meant the galaxy to one another, and it shows. May the Force be with them both.