The Forgotten Emma Roberts Thriller On Netflix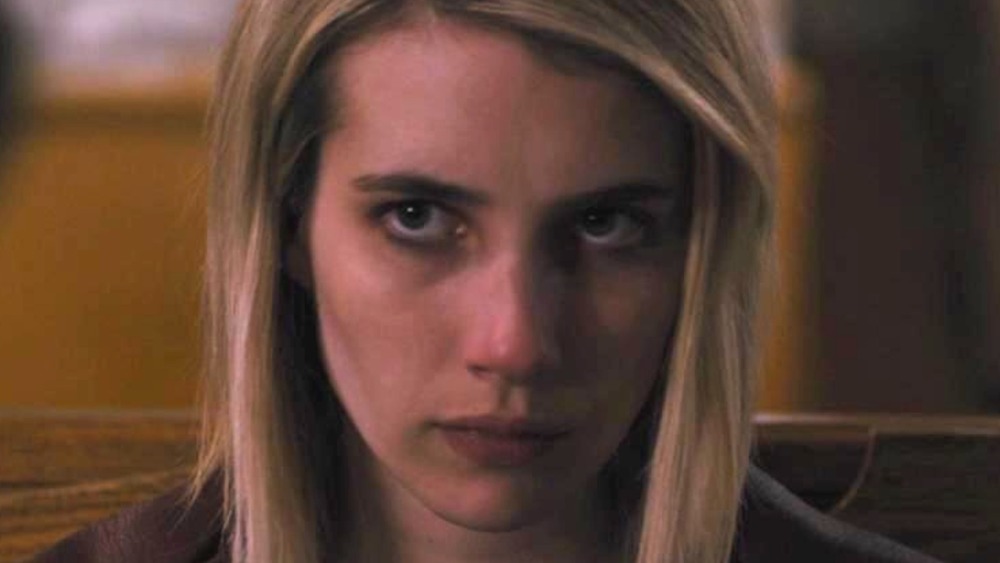 A24 Films
Any horror movie aficionado would be quick to tell you we're currently basking in the blood-spattered glow of genre cinema's golden age. With films like Get Out, Hereditary, The Invisible Man, and many more both dominating the box office and earning raves from critics, it's easy enough to understand why. Even as the horror realm continues to birth auteurs of the next generation, so, too, does the it continue to attract premiere on-screen talent from every generation. 
Still, few actors of the younger gen have so wholly embraced the new wave of genre fare as Emma Roberts. Though she rose to stardom for more family-friendly offerings like Nancy Drew (2007) and Hotel for Dogs (2009), Roberts was soon indulging in projects fronted by fake blood, ghastly ghouls, and terrorized teens — with high-profile delights like Scream 4, American Horror Story, and Scream Queens among them. But as strong as Emma Roberts' work was in each of those projects (particularly Scream Queens, which remains a tragically underappreciated series even years after its cancellation), some might argue that she saved her best genre work for a little micro-budget thriller called The Blackcoat's Daughter.
That film was written and directed by Oz Perkins (Gretel & Hansel) and released in 2015 by indie powerhouse A24 Films. It also found Roberts sharing the screen with up-and-coming talents like Kiernan Shipka (Mad Men, Chilling Adventures of Sabrina) and Lucy Boynton (Sing Street, Bohemian Rhapsody). Sadly, The Blackcoat's Daughter didn't exactly set the box office ablaze in its brief, shamefully limited theatrical run. The film has become a legit cult sensation in recent years, though, with hardcore genre fans basking endlessly in its frosty, brooding splendor. And if you want to see for yourself what the fuss is about, you can now do so on Netflix.  
The Blackcoat's Daughter is a brooding, must-see beast of a thriller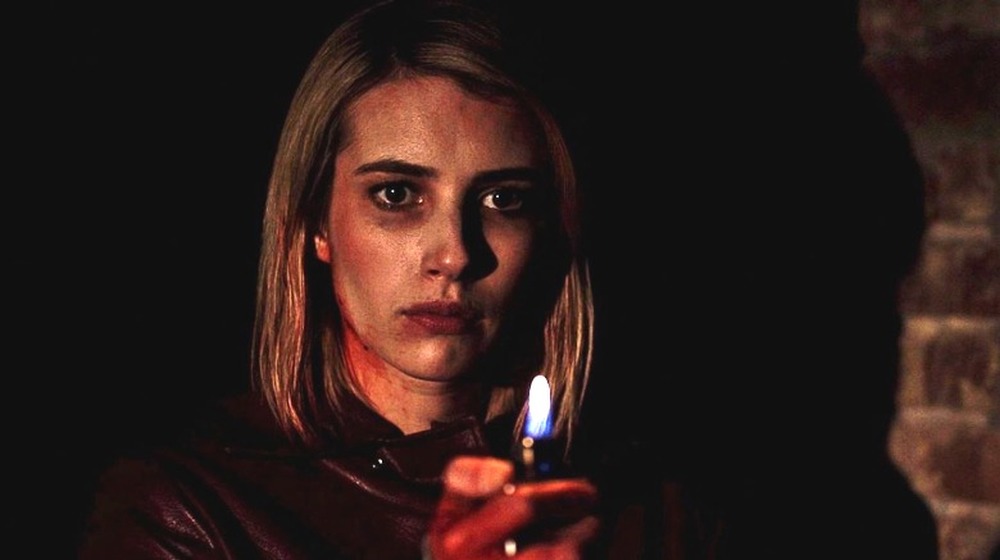 A24 Films
We should warn you, however, that The Blackcoat's Daughter is not your typical genre confection bathed in corn syrup splatter, hatchet-wielding madmen, and final girl fury. That's not to say Perkins' film doesn't feature its share of on-screen carnage. Quite the opposite is true, with The Blackcoat's Daughter conjuring some truly grisly sights throughout. Perkins indulges in such sights sparingly, though, focusing his energy instead on weaving a suffocating sense of dread and an all-consuming thread of icy isolation into the fabric of a stylish, meticulously paced film.
Okay, some might be quick to call the pacing of The Blackcoat's Daughter "plodding," maybe even "lethargic." And though the story does unfold in decidedly unhurried fashion, those who stick with it will be rewarded with a head-spinning third act that'll shake you to your very core. It'll also ensure that The Blackcoat's Daughter lingers heavy in your head and heart for days, weeks, months, and even years after the credits roll.
That twist will not be spoiled here, because anyone opting to enter the frozen confines of The Blackcoat's Daughter for the first time deserves to experience it as chastely as possible. Suffice it to say, the film's parallel narratives of private school girls (Shipka and Boynton) dealing with their own personal dramas and a malevolent entity while being snowed in over winter break, along with a recent escapee from a mental institution (Roberts) hitching a ride with a grieving couple (James Remar and Lauren Holly), goes places wholly unexpected in that final act.
Where it goes is indeed a soul-crushing finale more than befitting the film's heart-wrenchingly forlorn narrative. And yes, Emma Roberts' bone-chilling work in those final moments of The Blackcoat's daughter really are among the best the actor has ever delivered.