WandaVision: Why Young Wanda And Young Pietro Look So Familiar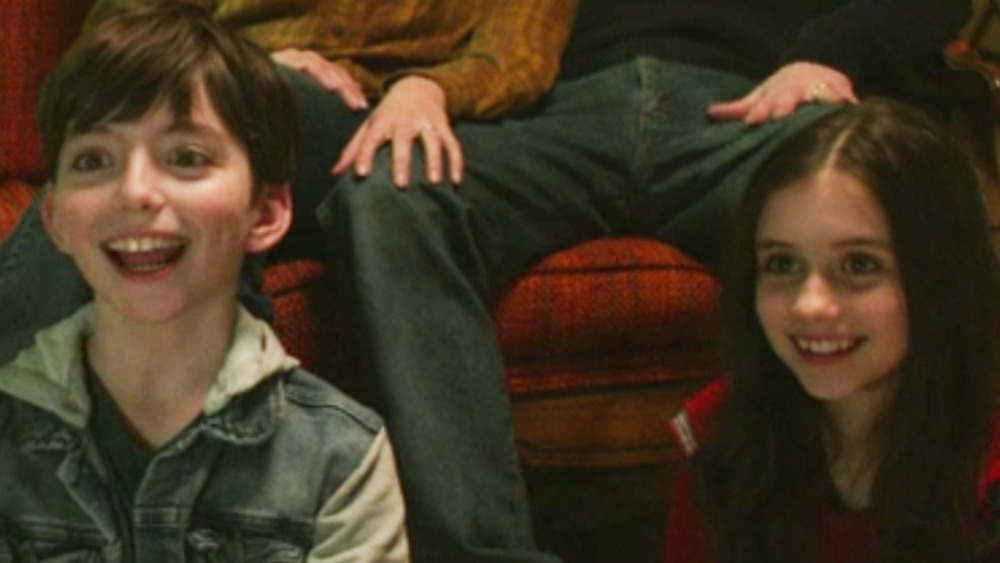 Marvel Studios/Disney+
Contains spoilers for WandaVision episode 8
In the newest episode of WandaVision, "Previously On," Wanda Maximoff (Elizabeth Olsen) and Agatha Harkness (Kathryn Hahn) take an eerie walk down memory lane with the help of Agatha's magical powers. The two pop into all the most important and traumatic moments in Wanda's life, including her time at HYDRA, the moment she saw Vision's dead body, and her childhood in Sokovia. During one sequence, a young Wanda and young Pietro watch sitcoms with their parents to learn English and find some happiness in the midst of constant war. As expected, this scene doesn't end too happily, with a Stark Industries missile landing in their living room, killing Wanda and Pietro's parents.
WandaVision episode 8 takes a deep dive into Wanda's history and what made her who she is today. For Agatha, this is all a tool for her to figure out what's really behind Wanda's abnormally strong and intuitive power. (Spoiler: It has something to do with Chaos Magic.) But for Wanda, this experience wakes her up from the dream she created in Westview and shows her who the real villain is. With only one episode left of the season, there's no way to say how this adventure will end, but expect it to be big, exciting, and unpredictable.
While WandaVision episode 8 might be a journey through the past for Wanda, it also brings quite a few new faces to the show for viewers — like the two actors who play young Wanda and Pietro: Michaela Russell and Gabriel Gurevich. Though they may be young, Russell and Gurevich are quickly stacking up roles in big-name projects, and you've likely seen them around before. Can't remember where? Let us jog your memory.
Michaela Russell played Sophia in Love to the Rescue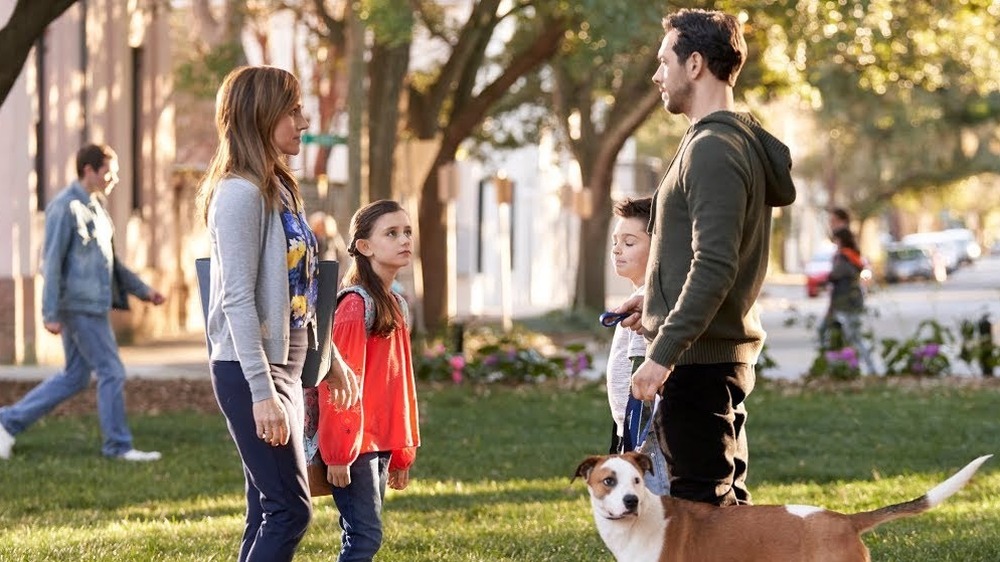 Hallmark Network
In her first-ever acting role, Michaela Russell portrayed the character of Sophia in the Hallmark romance movie Love to the Rescue. In the film, two families are brought together by a single dog who captures their hearts. Nikki Deloach and Michael Rady play two single parents named Kate and Eric, who go out with their kids to find the perfect dog to adopt. Russell's Sophia is Kate's daughter, while Max Ivutin plays Eric's son Owen.
The two families find themselves facing off against each other in a bid to adopt a rescue dog named Bruce. The volunteer suggests that instead of fighting over Bruce, they both take care of the pup, splitting Bruce's time between their two houses. Over time, Bruce forms a bridge between Kate, Eric, and their children, and they slowly grow closer together until they finally become one family. Sophia is the one who finds Bruce online and begs her mother to adopt the dog, kickstarting the whole debacle that leads to Kate and Eric falling in love.
Michaela Russell portrayed Mildred in an episode of Amazing Stories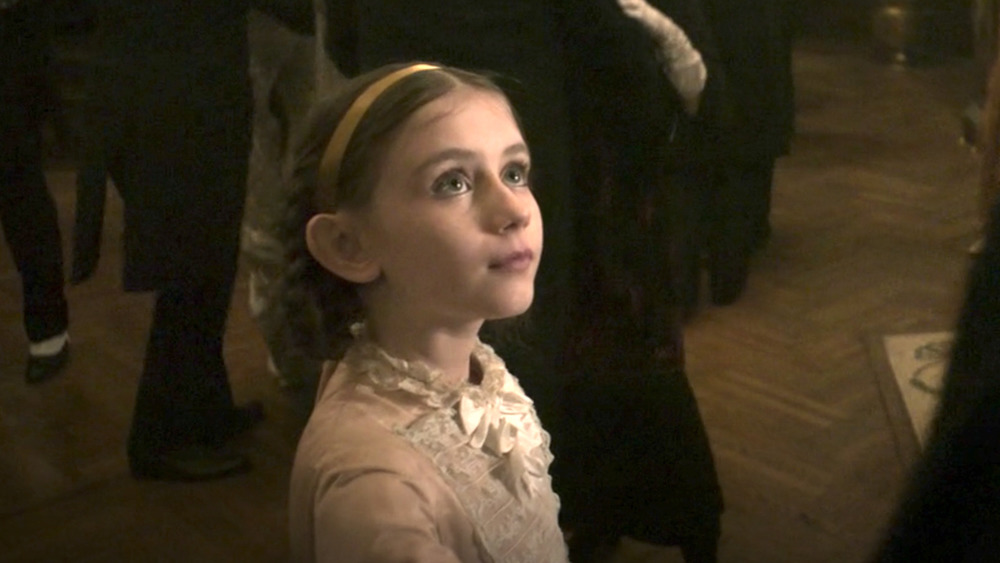 Apple TV+
After starring in another Hallmark movie with Deloach and Rady called Two Turtle Doves, Russell moved on to Apple TV+ with a supporting role in an episode of Amazing Stories, the streamer's reboot of the classic anthology series. Similar in structure to shows like The Twilight Zone and Black Mirror, Amazing Stories is comprised of episodes that each feature a new science-fiction-heavy story. The original series was created by Steven Spielberg in 1985, inspired by a science fiction magazine of the same name that began in the 1920s. 
The reboot premiered on Apple TV+ on March 6, 2020. Russell appears in episode 1, called "The Cellar," starring Dylan O'Brien and Victoria Pedretti (of You and the Haunting anthology fame). The story follows O'Brien's character Sam, a restless young man helping his brother restore an old house. While Sam checks the electricity in the cellar, a strange storm causes him to be thrown back in time to 1919, where he meets Evelyn (Pedretti), a talented young woman whose mother is forcing her into a loveless marriage. Thus begins a star-crossed love story for the ages.
Russell appears in this episode of Amazing Stories when Sam, still stuck in the past, attends a fancy party with Evelyn. While societal expectations lead Evelyn to dance with the man she doesn't want to marry, Sam is approached by a cute little girl named Mildred, played by Russell. She requests a dance partner, and naturally, Sam takes on the role. What follows is a disarmingly sweet moment as Sam puts in all the effort to give Mildred a real dancing experience.
Gabriel Gurevich brought a young Philip Jennings to life in The Americans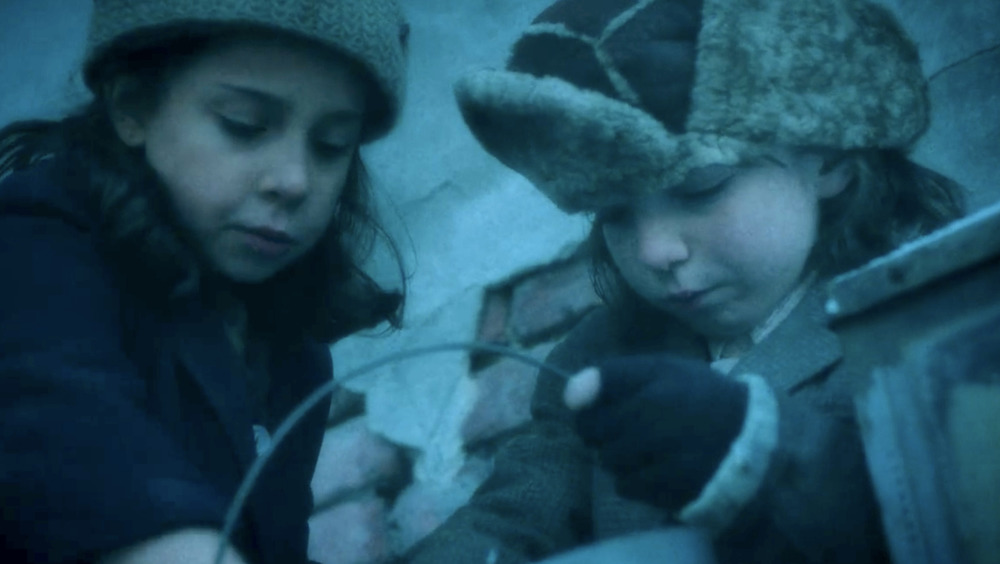 FX
Just like his on-screen sister in WandaVision, Gabriel Gurevich got quite the start, with his first role being a young Philip Jennings in the Cold War thriller The Americans. While young Pietro Maximoff's experience in Sokovia is not the best upbringing a kid could ask for, Philip Jennings doesn't have it much better. During seasons 5 and 6 of The Americans, Gurevich appears in flashbacks as an adorable, tiny version of Matthew Rhys' character, who lives on scraps and crumbs in freezing Russia. In one flashback, Philip awaits his father's return, hoping he'll bring back something to eat. He does, but it's unclear what it is or if it's even truly edible.
In a later flashback, Gurevich returns as a young Philip gathering in the cold with many other children, waiting for a cook to exit a building and give them the food left at the bottom of pans. The children crowd around the pots and pans, scraping off any bit of nutrients they can get. Gurevich is the perfect actor to portray an innocent Philip before all the manipulation and spy work forms him into who he is as an adult.
Gabriel Gurevich was Mikhail in a season 4 episode of Supergirl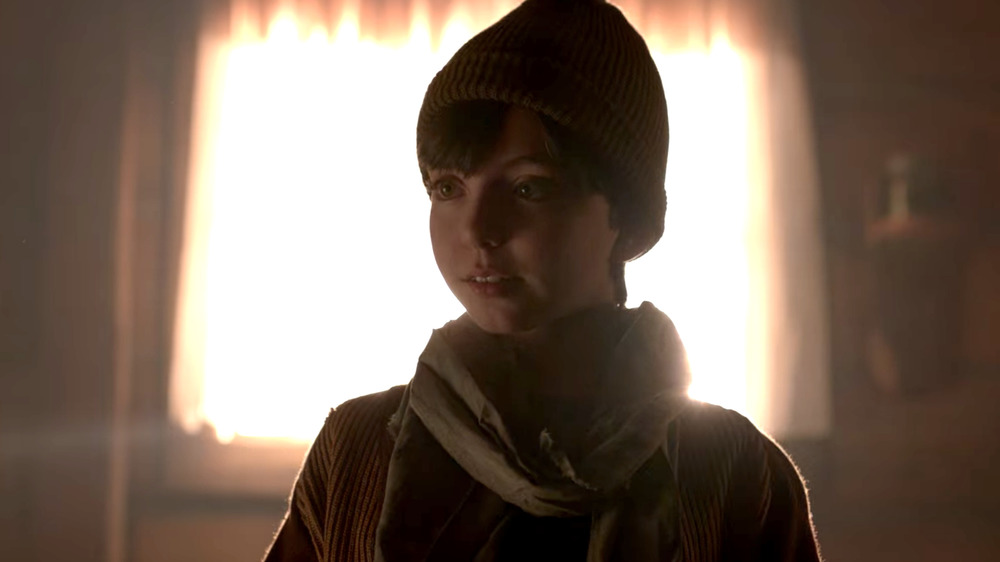 The CW
It turns out that Gurevich has visited the world of superheroes before. In 2019, the young actor guest-starred in season 4, episode 16 of the CW's Supergirl. The episode, entitled "The House of L," recounts the history of Red Daughter, the Kara Danvers (Melissa Benoist) clone whom the fictional Kaznians are trying to turn into their ultimate weapon. Red Daughter has no memories, which Lex Luthor (Jon Cryer) uses to his advantage, manipulating her into thinking she's a daughter of Krypton who must protect the world from people like Kara.
While trapped in remote Kaznia, Red Daughter hears a child screaming for help. She bursts out, killing her captors and rescuing Mikhail, played by Gurevich. Red Daughter comes to care for Mikhail and wants to protect him. Understanding that the boy is Red Daughter's weakness, Lex launches a missile at Mikhail's cabin when Red Daughter rebels against his orders, killing him. Red Daughter can't control her grief and anger, going crazy and destroying a nearby naval ship. Luckily for Mikhail, the episode later reveals that Otis Graves (Robert Baker), Lex's (supposedly) loyal soldier, arrives just in time to save him from the missile and send him to a new life in the U.S. 
Although this probably has nothing to do with Gurevich's past role, the episode also has a direct reference to The Americans, with one character saying, "You are not gonna go all apple pie-eating, flag-waving Phillips Jennings on me."