How Anthony Mackie Got Ripped To Play The Falcon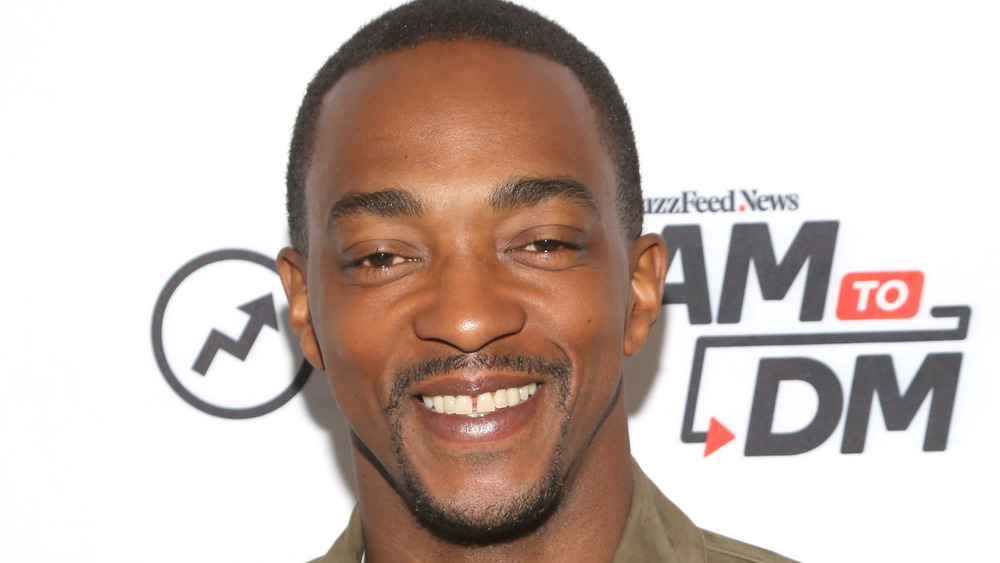 Manny Carabel/Getty Images
Anthony Mackie made his big screen debut as rapper Papa Doc in the hit 2002 Eminem vehicle 8 Mile. He went on to appear in a string of critically acclaimed movies in the years that followed. The New Orleans native popped up in the likes of The Manchurian Candidate, Million Dollar Baby, Half Nelson and Kathryn Bigelow's Iraq War thriller The Hurt Locker, which dominated the Academy Awards in 2010. Mackie didn't get to taste that glory, however: There was a lot of buzz around his performance as the Oscars drew nearer, but a nomination never came. "When that happened with Hurt Locker, it hurt," Mackie told Men's Health. "I had to take a year off of work."
When he returned to Hollywood, the first thing he did was email Marvel. "My line was, 'Yo, I'm the black dude from The Hurt Locker,'" he wrote. "'I would love to work with you guys.'" He was open to playing any character they would consider him for, even the bad ones. Believe it or not, Mackie initially auditioned for the role of the Mandarin in Iron Man 3 before he was cast as the Falcon. Casting directors recognized that he could be perfect for the role of Sam Wilson, and before he knew it, he was having lunch with Joe Russo about Captain America: The Winter Soldier. He's pretty much been in exceptional shape ever since. How did he get so ripped for his superhero role? Here's how.
Anthony Mackie got a head start with Pain and Gain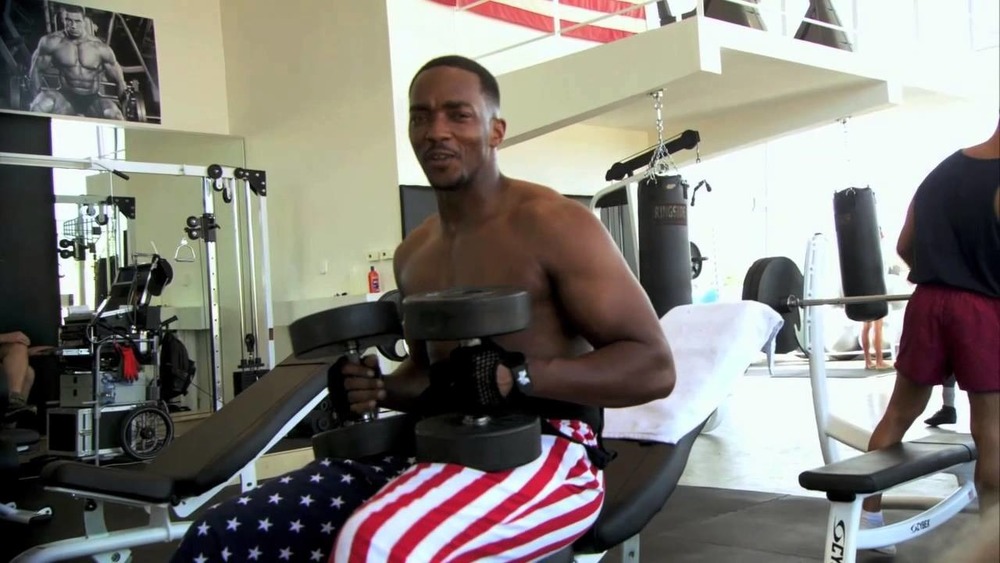 YouTube
Anthony Mackie threw his hat into the Marvel ring once he was over his painful Oscar snub, but it would be a couple of years before he got to suit up as the Falcon. In that time, he made a movie with two of the most ripped actors in Hollywood: Mark Wahlberg and the Rock himself, Dwayne Johnson. Mackie had to hit the weights hard for his role in Michael Bay's Pain and Gain, which was very loosely based on a real-life kidnapping executed by some ham-fisted bodybuilders in the 1990s. By his own admission, Mackie was "lazy and fat" when he landed the part of steroid-using meathead Adrian Doorbal, and he was "looking for a project to help me get back in the gym and start working out," he told BuzzFeed.
Pain and Gain fit the bill, but it was right around the corner by the time he signed on — Mackie was given just five weeks to get in shape for the shoot. To make that happen, he started a regimen of "heavy lifting and no cardio," he told Men's Health. "I was max repping. At the end of every set, I would max out. I was doing chest and thighs, back and tris and shoulders, and then Friday would be legs, and I would start over again. It was just constantly ripping the muscle, giving it four days to recover, and then going right back into it."
Anthony Mackie experienced "extreme gains" while working out with Mark Wahlberg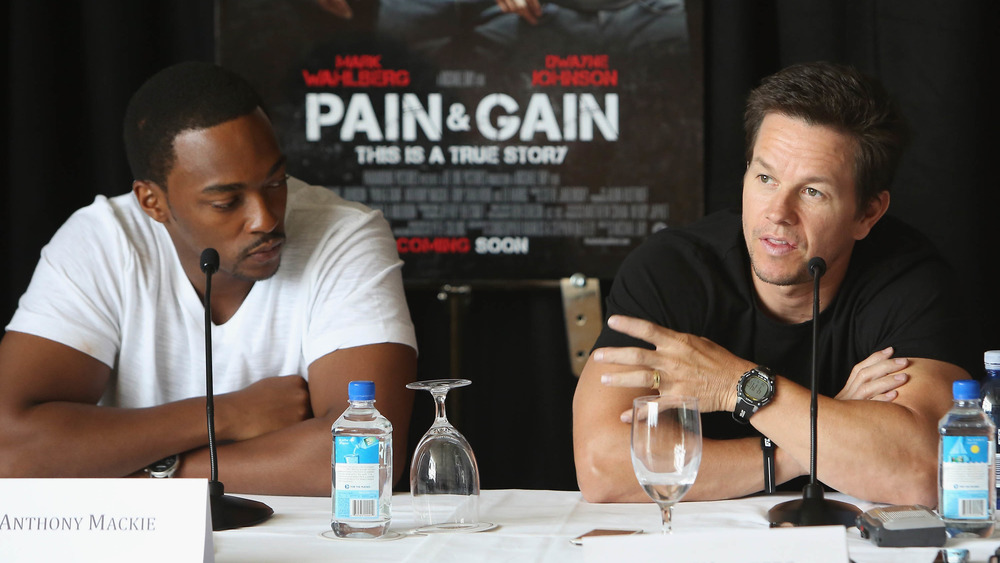 Alexander Tamargo/Getty Images
To help him get ripped in five short weeks for Pain and Gain, Anthony Mackie enlisted the help of an old workout buddy back in his hometown of New Orleans. "We would just push each other every day," Mackie told BuzzFeed. "Then once the movie started, Mark and I would work out every morning together." Mackie has spoken at length about what it was like having Mark Wahlberg as a workout partner for the duration of the shoot. He revealed that the musician-turned-Hollywood star "can be very difficult" at times, but he doesn't hold that against him. "The thing about Mark is that he is the ultimate competitor," Mackie told Vibe. "I thought that I was competitive, but he's a definite rival in my level of competitiveness."
Keeping up with Wahlberg and his iron-pumping entourage (the actor's driver and assistant joined in with the workout, Mackie revealed) proved to be quite the challenge, but it did absolute wonders for the soon-to-be Marvel star's physique. They spent around six weeks as gym buddies, and Mackie noticed some "extreme gains" in that time. "We would push each other to the limits and max out," he said, before revealing that the experience filled him with a welcome sense of nostalgia. "It was a great opportunity to be in the gym and just become a gym head like I was in high school once again."
Anthony Mackie went back to "high school workouts" for his Marvel role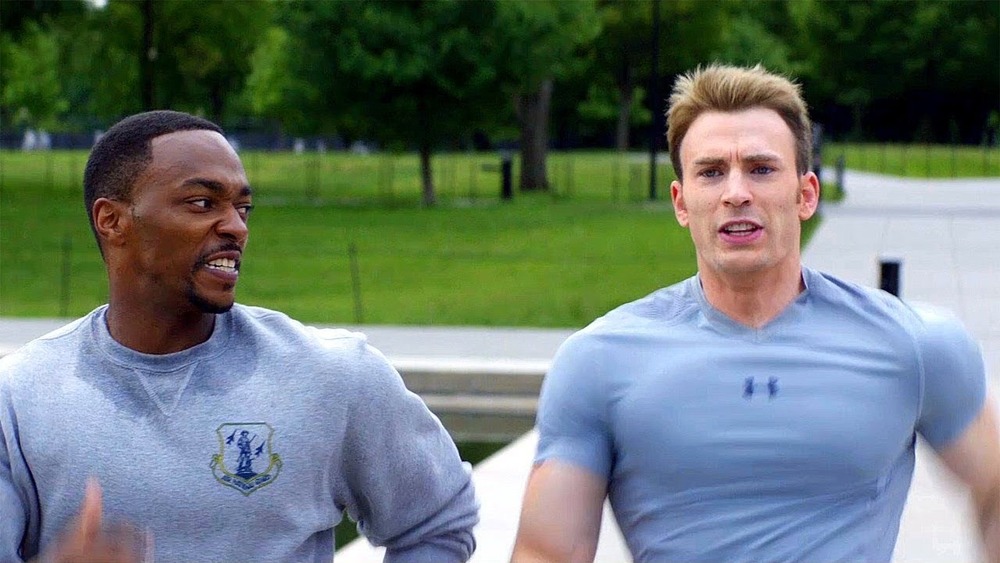 Anthony Mackie's dream of joining the Marvel Cinematic Universe became a reality when he won the role of the Falcon in Captain America: The Winter Solider. He quickly realized that he was going to look tiny next to the super-jacked Chris Evans. The hard work he did before and during the making of Pain and Gain had him in impressive shape, but this was another level entirely. "Chris Evans is in such good shape!" Mackie told Vulture after news of his casting broke. "He [was] dragged into the lab [and] injected with some s***, but I got to stand next to him! So, we shall see."
At that point, everything Mackie knew about the Falcon came from the comics, and they made for a pretty daunting read. "He's known for his physique," Mackie said of Sam Wilson, a Harlem-born orphan who becomes Captain America's partner after the latter frees his mind from the control of the Red Skull. "He's described as 6'3", 245 pounds, so starting Monday, for the next five months until we start shooting, I'm going back to high-school workouts and start doing two-a-days, so I get up to 230 pounds." He may not look quite as jacked as Evans does in Captain America: The Winter Soldier, but by the time they reunited to shoot Avengers: Age of Ultron, Mackie was apparently doing more push-ups than even Cap himself.
Anthony Mackie didn't want the Falcon to look like Mr. T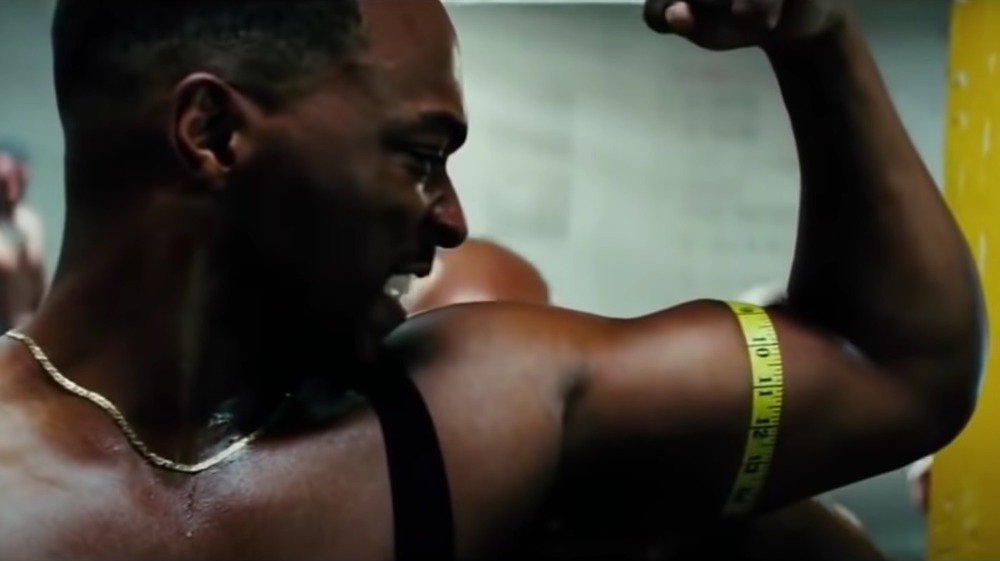 Every superhero actor wants to look their best when they pull on their costume, and Anthony Mackie is no exception. A competitive person by nature, he instinctively started comparing himself to Chris Evans after joining the cast of Captain America: The Winter Soldier, though he knew that Sam Wilson isn't a super soldier like Cap. This meant that he had to toe a fine line between looking super-jacked and superhuman. "I wanted to put myself in a position where I don't look like Mr. T, but you can tell that the guy works out and pays attention to his physique and is healthy," he told Vibe. "I do cardio and I stay focused on my regiment and I know the results will come. I've been in the gym and worked out long enough to know how to get results with my body."
He got those results with the aid of some good old fashioned shut-eye ("When you sleep, you grow, that's the rule" he told BuzzFeed) and a carefully considered diet. To this day, the actor is very particular about what he eats while he's bulking up. When he sat down with Men's Health in 2021, he revealed that his personally designed "meal plan" helps him to "lean out" for the camera. "I find that because I lift heavy I tend to bulk easily, so I try to use my diet to cut as much fat as possible."
Anthony Mackie doesn't need energy drinks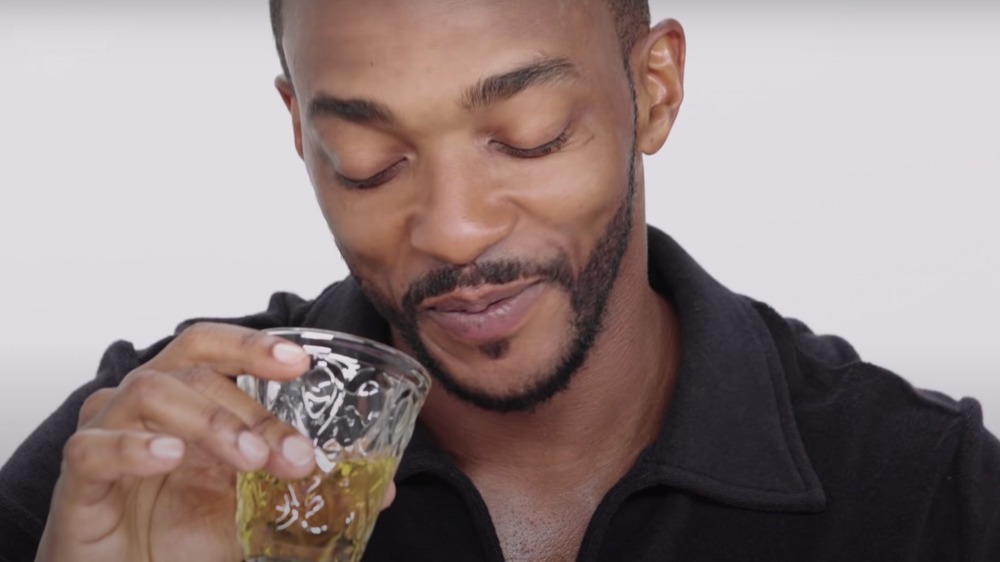 YouTube
Coffee has long been America's favorite source of caffeine, but old Joe has had a new rival in recent years. Red Bull and Monster are just two of the many energy drinks available in what seems like every store nowadays, and they've become a popular alternative to more expensive pre-workout beverages. One study (via Bodybuilding.com) revealed that 42 percent of athletes chug one as part of their regimen, though Anthony Mackie has never been interested. "I'm not really big on pre-workout or energy drinks," he told Men's Health. "I feel like I don't need the boost. So I try to drink as much water as possible before and after going to the gym."
He does, however, partake in another favorite of bodybuilders everywhere — the protein shake. The actor began consuming a shake after every workout during his Pain and Gain days ("I would do a half banana, a scoop of peanut butter, and a scoop of protein with skim milk and make a smoothie," he told BuzzFeed), and he's been fine-tuning his recipe ever since. Nowadays, he's less about the peanut and more about the almond. "My protein shake is real simple," he told Men's Health. "I do a scoop of vegan-based protein, a tablespoon of powdered almond butter so it cuts all the sugar out of it, I do almond milk and almond water." He also uses collagen and turmeric, which he claims helps with "elasticity" and "joint repair."
Anthony Mackie keeps things nice and simple at breakfast time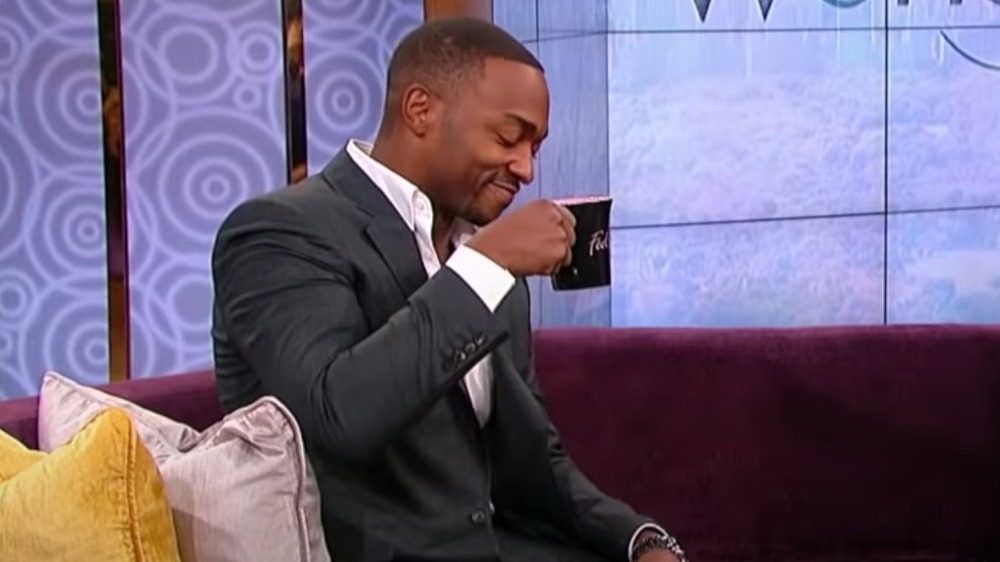 YouTube
They say that breakfast is the most important meal of the day. That's especially true when you're going straight from cereal to barbells. Anthony Mackie got used to getting up early to eat back when he was working out with Mark Wahlberg ("At six in the morning, I would drink six egg whites and one egg yolk and that would be my breakfast," he told the Pittsburgh Post-Gazette), so he was already used to the grind when he was cast as the Falcon soon after. Speaking to Honey and Lime about the strict diet he followed for Captain America: The Winter Soldier, Mackie said that "fitness is a lifestyle" that you have to embrace fully. "You have to eat a certain way. You have to do a certain thing. You have to live a certain way."
The Falcon still has eggs in the morning, but he cooks them up nowadays. "My breakfast is real simple," he told Men's Health in 2021. "I'll do six scrambled eggs. Usually I'll do sauteed onions or sweet peppers." He also has a portion of steel-cut oats, a breakfast favorite among bodybuilders. "The steel-cut oats is very important because my body uses those carbs to burn off when I work out in the morning, because I like to work out early," Mackie added. "I try to get those carbs in so I can burn them off when I'm lifting."
Anthony Mackie's lunch is always big but rarely exciting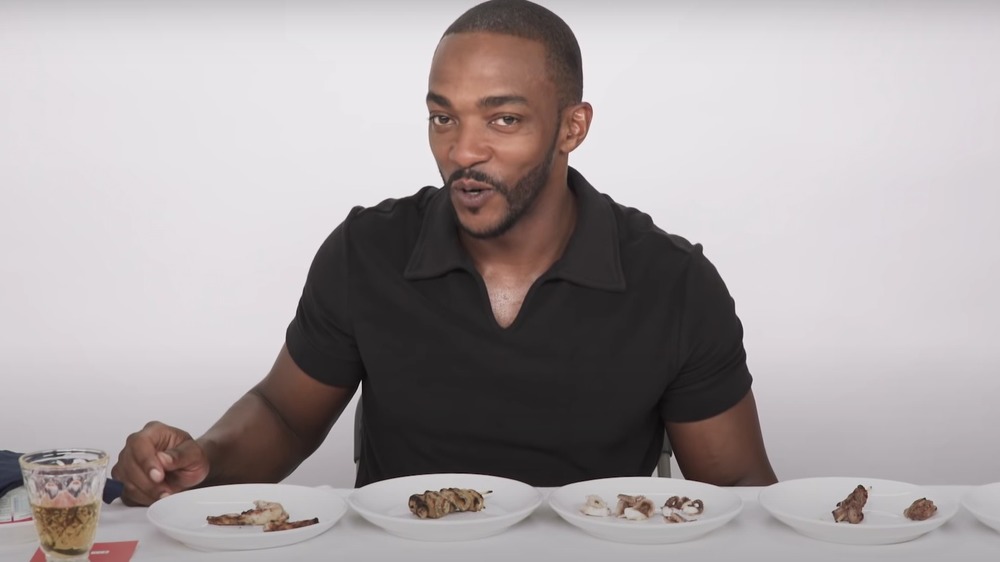 YouTube
From the moment he gets up in the morning to the end of the day, Anthony Mackie is "constantly grazing" in the kitchen. "I'll nibble and bite and eat throughout the course of the day, so I never feel full, but I never feel empty," he told Men's Health. That doesn't mean he skimps on the portions at meal time, however. He follows up his egg and oat breakfast with a "pretty big" lunch that's full of everything he needs to keep his superhero bod. "I try to have my big meals in the middle of the day instead of later, so I'll do two or three grilled chicken cutlets, some cut vegetables with hummus, and a salad."
The extra food he puts away at lunch time gives him the energy he needs to carry on until the evening, when he does "a three mile, 30 minute run" to get the blood pumping. It's more functional than it is tasty, but that's all part of the gig. Mackie got used to saying goodbye to the naughty things in his life when he was preparing for Captain America: The Winter Soldier. "Me and my homeboy Jack Daniels stopped talking," he told Honey and Lime. "Me and my girlfriend Haagen Dazs broke up. She French, it was crazy." So it goes for those who want to portray superheroes.
Anthony Mackie is a real meat lover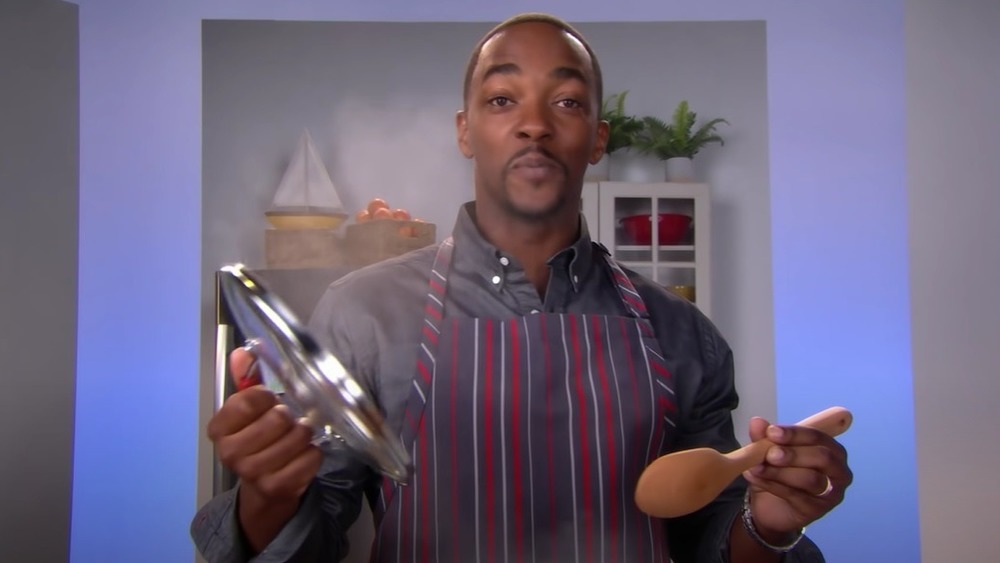 YouTube
Anthony Mackie's fellow Marvel star Chris Hemsworth has proven that it's perfectly possible to achieve a god-like body while on a plant-based diet. The Thor actor shocked everyone when he managed to maintain his incredible physique after going vegan — his own personal trainer included. "It actually surprised me as well because we're all in this mentality of 'gotta eat animal protein, protein, protein,' but you can get a lot of protein from beans," fitness coach Luke Zocchi told Today Extra (via Australian Men's Health). There's a lot to be said for vegan superheroes (the Avengers have killed way more chickens than Sokovians at this point), but that's not how Mackie rolls.
During his 2021 Men's Health sit-down, the actor revealed that he's a big meat lover whose dinner is "usually a big piece of fish or piece of chicken. I try to stay with lean protein," he told the men's mag. "I'm really into bison and buffalo now, if I have to have red meat. Or lamb [which is] my favorite meat on earth." He went on to reveal that every now and then he'll visit his favorite butcher in search of "something wild" to spice things up after all that chicken. "Like rabbit, or something like that," Mackie said. "And I do that with some brown rice, or quinoa is really big for me now, so I'll do that and make a quinoa veggie sauté."
Anthony Mackie's morning routine isn't what you'd expect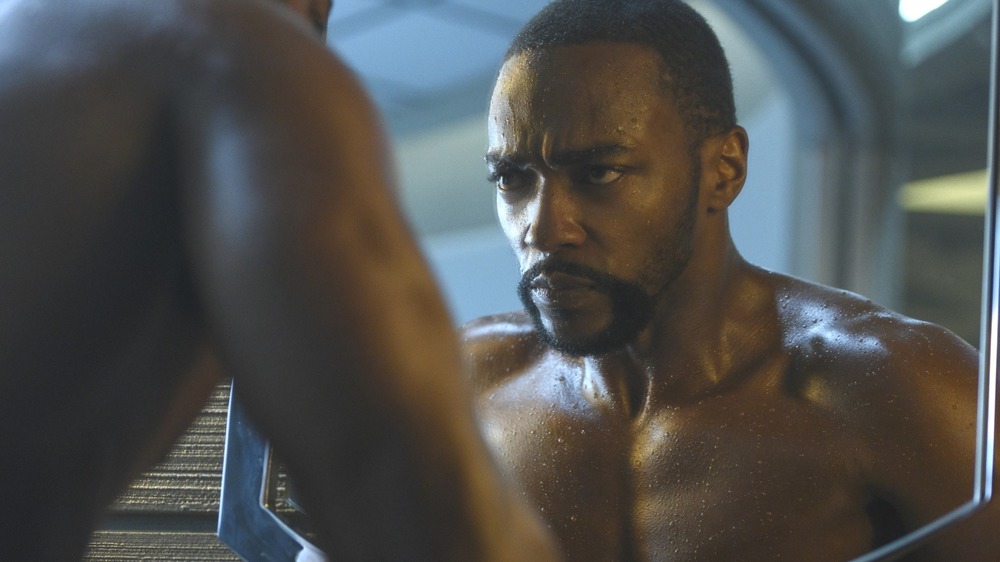 After debuting as the Falcon in Captain America: The Winter Soldier, Anthony Mackie went on to reprise the role in Avengers: Age of Ultron, Ant-Man, Captain America: Civil War, Avengers: Infinity War and Avengers: Endgame. By the time it came to film Endgame, he had his fitness regimen down to an art. When the actor sat down for a video interview with Vanity Fair right after the release of the multi-billion dollar grossing sequel in 2019, he walked viewers through his typical day. "I wake up to Beyoncé," he revealed. "I do. I love Beyoncé. She makes me strong. She's my spirit animal." After that, he eats his protein-packed breakfast, and that's when the hard work begins. "The first thing I do in the morning is a hundred push-ups," he continued. Around 7:30 AM, he hits the gym.
Mackie also shared a big workout hack: Instead of driving himself to the gym and warming up there, he runs the four miles instead, leaving him with more time for weights. "[I] get in, I'm already warm from the jog," he said, before breaking down his gym routine. He always begins with "30 minutes of legs, then we move onto other places ... Monday is chest and tri. Tuesday will be back and biceps. Every day you hit abs for 20 minutes. And then Wednesday would be legs and shoulders. Burn them out, start the routine over."
Anthony Mackie did a lot of cycling during time off from The Falcon and the Winter Soldier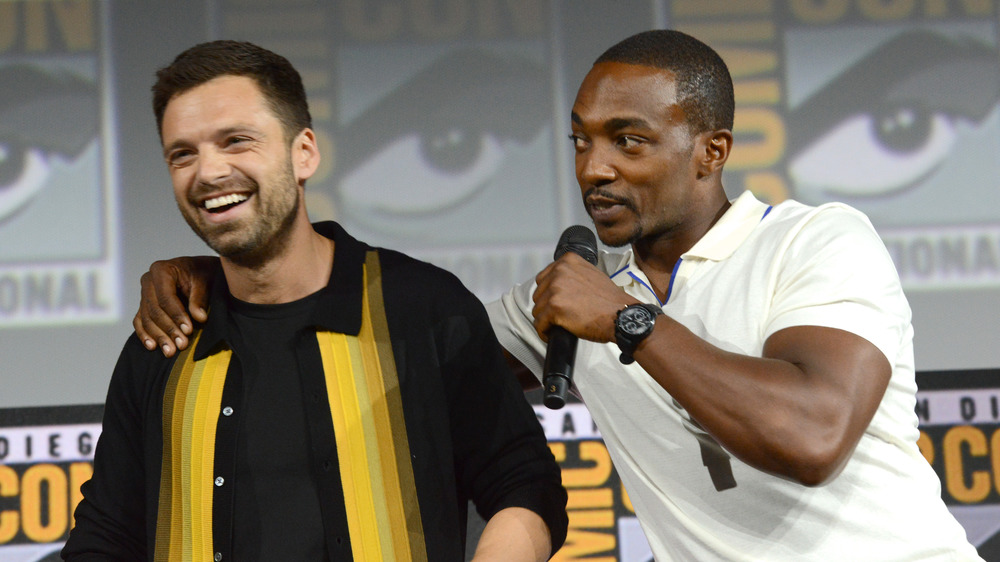 Albert L. Ortega/Getty Images
At this point, Atlanta is a second home to Marvel stars like Anthony Mackie. At least a dozen MCU movies have made use of Pinewood Atlanta Studios, and the Atlanta metro area has doubled for everywhere from New York City to Lagos. Disney+ series The Falcon and the Winter Soldier was also filmed in Atlanta, and when Mackie wasn't on the job, he liked to slip into his favorite pair of cycling shorts and find some exercise bikes. "You have a lot of different cycling places," he told GQ. "You have the cycling places in Buckhead, where you have a lot of young women with ponytails that'll scream and [are] very angry on their bikes, or you can go to the cycling place in Decatur, where there are a lot of young, angry people who yell and twerk on bikes."
Mackie particularly likes getting his bike fix in Midtown, where it's apparently a lot more easy-going: "It's just a bunch of nice people that ride bikes. No one's yelling. No one's throwing stuff. Everyone's sweating." The cycling, along with all of Mackie's tried and tested routines, reportedly had him in the best shape of his life as he shot The Falcon and the Winter Solider. Leaked set photos that have since been removed from Twitter prove that Mackie "bulked up big time to play the Falcon this time around," ComicBook.com said.