Paranormal Activity 7 Release - What We Know So Far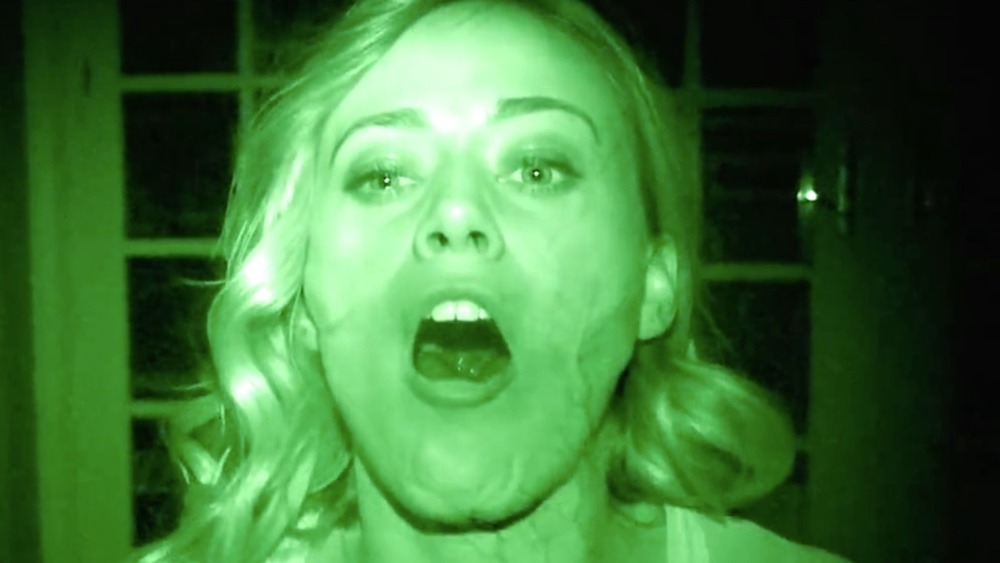 Paramount Pictures
Believe it or not, almost 15 years have passed since a little no-budget supernatural thriller helped put genre producer extraordinaire Jason Blum and his Blumhouse Productions on the Hollywood map. That film was 2007's found footage creeper Paranormal Activity, which followed the travails of a young couple (Katie Featherston and Micah Sloat) being terrorized in their own home by an unseen malevolent spirit. Written and directed by Oren Peli with a heightened sense of dread and indie film flair, Paranormal Activity became a legitimate cultural sensation when it hit theaters, clearing close to $200 million at the box office on a reported budget of $15,000.
Those are the sort of numbers that typically have studio bosses salivating for a sequel, and bosses at Paramount Pictures (who released Paranormal Activity theatrically) were quick to order a sequel, with Paranormal Activity 2 arriving in 2010. That film proved equally lucrative for the studio, who couldn't help but see full-on franchise potential in the Paranormal Activity universe. To date, Paramount and Blumhouse have teamed up for six Paranormal Activity flicks. And even as each of those films have varied in quality, each has also brought something unique to one of cinema's most lucrative franchises.
That franchise is about to expand even further, with Paramount and Blumhouse now gearing up to unleash Paranormal Activity 7 on the masses. Here's everything we know so far about that upcoming flick.
What is Paranormal Activity 7's release date?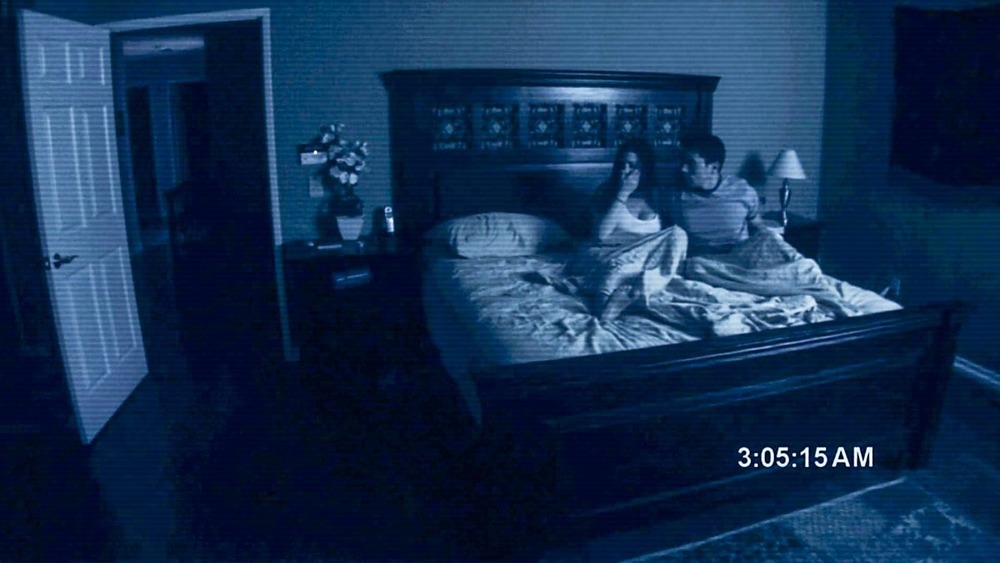 Paramount Pictures
Before we get too deep into the what's, when's, and where's of Paranormal Activity 7, we should tell you that the film is still in the early stages of production. As such, details about the project are quite scarce. What we do know for certain is that Paranormal Activity 7 is indeed happening, though we can neither confirm nor deny whether it even has a completed shooting script at this point. Since the film has already gotten the green light from Paramount bosses (which actually happened a million years ago in the pre-pandemic early days of 2020), it's safe to assume the film's producers have at least a fair idea of what they want to do with the new film, so there's hope Paranormal Activity 7 will be firing up its night-lights and handy-cams sooner rather than later. Likewise, these micro-budget flicks tend to shoot faster than most productions, so the release date for Paranormal Activity 7 is likely closer than we think.
That being said, as the film has yet to start filming, there's been no official release date announced for the film just yet. Whatever the case, it's a safe bet Paranormal Activity 7 won't arrive until sometime in 2022 — though its unclear if the film is still targeting its already re-shuffled March 22, 2022, release date. Stay tuned for details.   
Who will be in Paranormal Activity 7?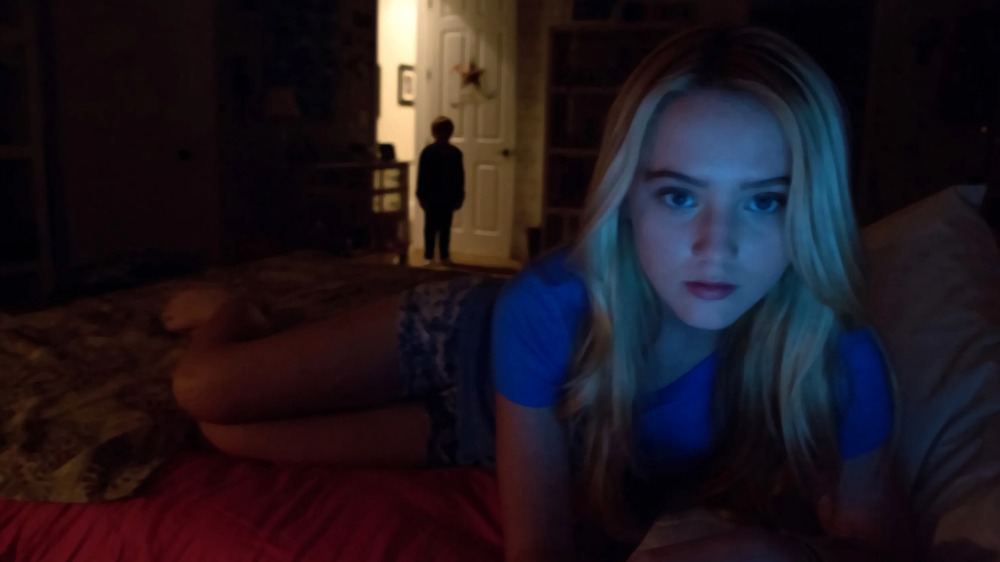 Paramount Pictures
As Paranormal Activity 7 is still very much in the early stages of production, it's obviously too soon to be pondering who might be in the film, let alone if any prior characters might return to traipse through another found footage nightmare. That possibility remains largely possible, however, as many characters from Paranormal Activity films past remain more or less in the picture for a return. Even more so as elements of time travel and dimension-hopping have been introduced into the Paranormal cinematic universe of late, essentially opening the door for any prior stars to make a repeat appearance.
For now, we're just going to have to wait and see what the producers have in mind for Paranormal Activity 7 before we get any solid insight as to who may or may not be in it. That being said, if there's one actor most likely to return to the Paranormal Activity fold, it's O.G. star Katie Featherston. Her demonically possessed and tragically tormented Katie has been a franchise regular over the years, having appeared in adult form in five out of the six Paranormal flicks (with only her younger self turning up in No. 6). As it stands, Katie's whereabouts in the Paranormal-verse continue to be unknown, so a return may well be in order. But with no official plot or casting news released for Paranormal Activity 7, at this point all is conjecture. 
What's the plot of Paranormal Activity 7?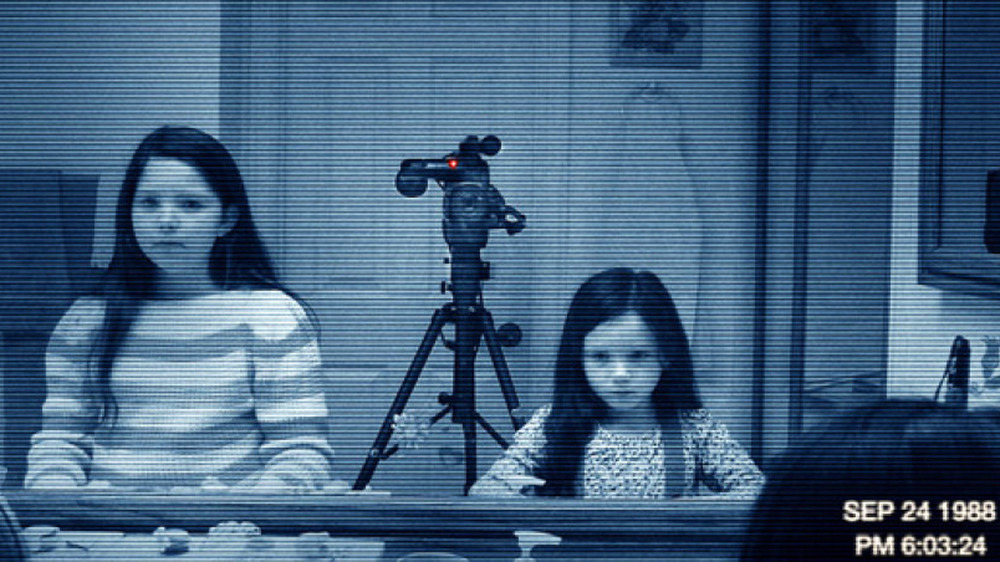 Paramount Pictures
As you've probably guessed by the general lack of information surrounding Paranormal Activity 7 so far, we haven't a clue as to what the film will be about. And given all the timeline and dimension hopping that's taken place in recent chapters, the new film's narrative could literally unfold anytime and anywhere in between. But even as we don't know yet know the plot of Paranormal Activity 7, we do have a few telling details about the production. First and foremost, it's been announced that the new film will return the franchise to its found footage roots after 2015's The Ghost Dimension surprisingly broke from the form.
That'll be welcome news from franchise faithful who were largely put off by the stark stylistic change in the last film. Paranormal Activity fans should also rejoice that the new film will be directed by The Signal helmer William Eubank, who's recent monster mayhem marvel Underwater was also one of 2020's more overlooked genre delights. Likewise, fans should be just as pleased that frequent franchise scribe and one-time director Christopher Landon (Paranormal Activity: The Marked Ones, Happy Death Day, Freaky) will be returning to pen the new film after sitting The Ghost Dimension out. Per Landon's comments to Movieweb last summer, the new chapter will "set a new course" for the franchise, which might be smart as even he would have to admit the overarching mythology guiding the Paranormal Activity franchise has gotten a bit murky over the years. 
Where can you watch the new Paranormal Activity movie?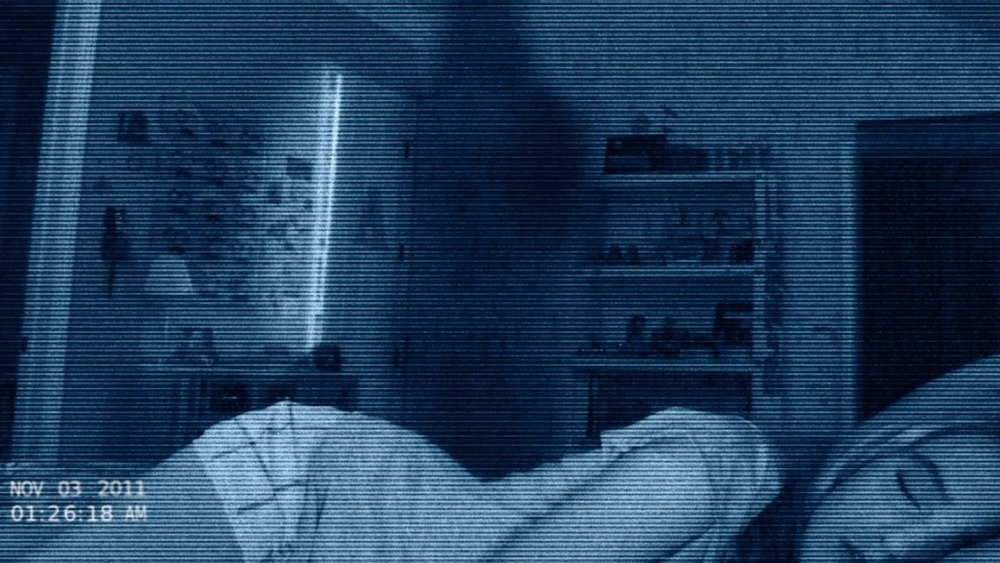 Paramount Pictures
With so much still unknown about Paranormal Activity 7, and some seriously intriguing talent at work behind the camera, it's hard not to be wholly intrigued by the new film's possibilities. With any luck, we'll start getting some concrete details about the production in the very near future. But even as the who's, what's, and when's of Paranormal Activity 7 remain largely kept under wraps, the one bit of information we can confirm about the film is the where. And while Paranormal Activity 7 was originally conceived with a theatrical release in mind, Paramount and ViacomCBS recently made it official that the new film will instead make its debut via a straight to streaming release on the soon-to-be Paramount Plus platform.
While it's hard to argue Paramount's desire to push subscriptions to their streaming platform (particularly given the current state of the theatrical game), it's sort of a bummer the new Paranormal Activity flick won't play in multiplexes, if only because watching these fright-fests in a darkened theater with dozens of complete strangers enhances the experience in ways a living room scene just cannot compete with. Either way, we should probably just be happy a new chapter of the franchise is in the works — not to mention prepping our nerves for a return to the bone-chilling supernatural insanity of the Paranormal Activity universe.