Why The Actor Who Plays The Iron Sheik In Young Rock Looks So Familiar
The new NBC sitcom Young Rock opens with Fast & Furious actor Dwayne "The Rock" Johnson running for president in 2032. Asked how he can connect with voters skeptical about him, the TV version Johnson looks back on his, well, unusual upbringing as the son of a struggling pro wrestler.
Dwayne spent most of his early childhood on the road as his dad, "Soul Man" Rocky Johnson, toured the wrestling circuits. Part of the show's storyline shows Dwayne growing up while encountering a bevy of wrestling legends, including Andre the Giant, Junkyard Dog, and ultimate heel the Iron Sheik (all played by younger actors). Young Rock is careful to portray each larger-than-life wrestler as a grounded, realistic human being, as well as show how they influenced the future wrestler and movie star.
But why does Iron Sheik actor Brett Azar look so familiar to new viewers? Here's where else you may know the Young Rock actor from.
Brett Azar is a bodybuilder and actor you may recognize from Jessica Jones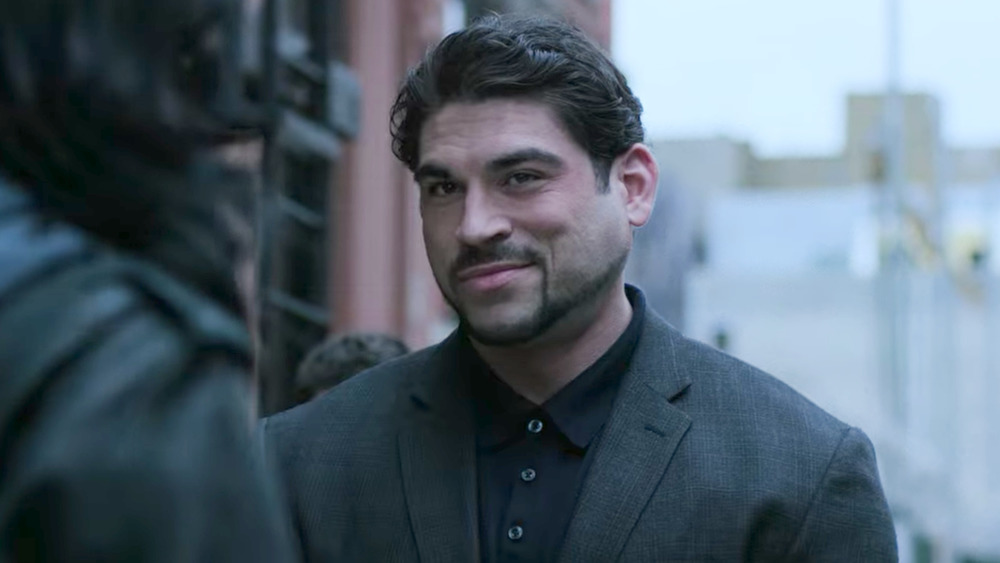 Netflix
Azar has often worked as a model and bodybuilder — appropriate for playing the Iron Sheik — and at one point measured 6'2" and weighed 265 pounds, according to his biography on IMDb. He even competed in the Heavyweight Category of the National Physique Committee (NPC) Championships. Azar's first career was, in fact, as a professional trainer, but he was compelled to return to acting after his clients said he should rekindle the interest he had in college. "They kept drilling it into my head. And, you know, at [University of Rhode Island], I did some acting and I loved it. I took Theatre 101 and tried out for the play. I was in Romeo and Juliet and that was one of my favorite parts of college," Azar told URI Today. 
The rest, as they say, is history. Azar began his acting career in earnest with a role in the 2012 series Smash, credited as "Muscle Man," which led to a number of background parts and smaller credits. (One credited role on Gotham was as "Hitman #3.") For some time, Azar's most notable speaking role was as loan shark Len Sirkes on the Marvel-Netflix series Jessica Jones, starring Krysten Ritter as the titular vigilante. Azar also worked with the Rock before he appeared as the Iron Sheik in Young Rock: He appeared in Central Intelligence, the 2016 action comedy also starring Kevin Hart, but only in an uncredited part.
Brett Azar was the double for the T-800 in two Terminator films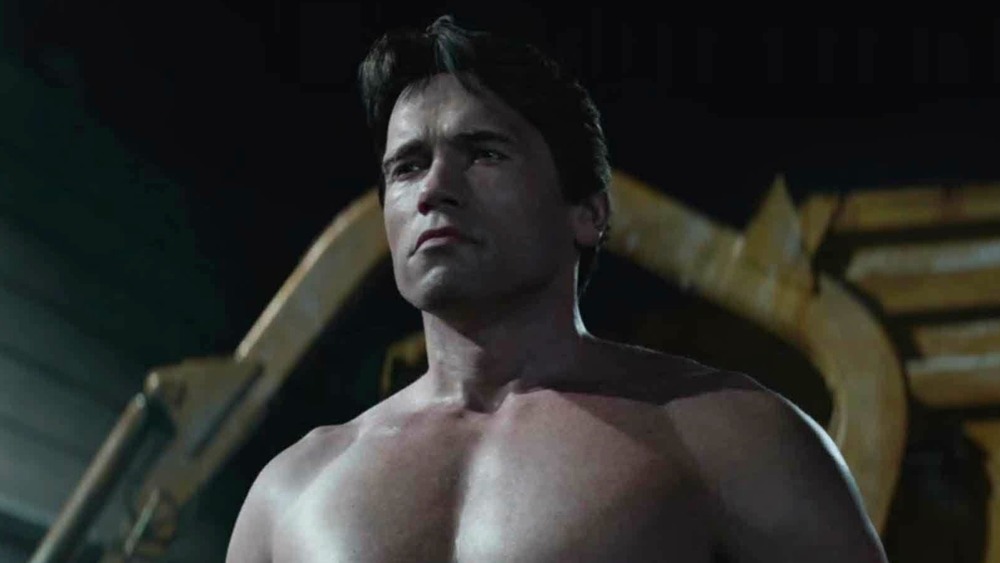 Paramount Pictures
In 2015, Azar's physical resemblance to Arnold Schwarzenegger landed him a key role in Terminator Genisys: as a motion-capture model for Schwarzenegger's T-800 cyborg. As a body double, Azar stood in for Schwarzenegger's 1984-era physique from the original film The Terminator, and also stood in for the T-800 in the fight scenes. Azar's work as a body double for Schwarzenegger allowed for CGI rendering of the Terminator to be more realistic, especially in action scenes. As a lifelong Terminator fan who considers Schwarzenegger his personal idol, this was a dream come true for Azar (via Entertainment Weekly).
Azar returned for the 2019 reboot Terminator: Dark Fate, again acting as the motion capture and body double for Schwarzenegger's character. This included filming fight scenes, working with Linda Hamilton, and performing movements as the T-800. While Azar's face isn't in either Genisys or Dark Fate, and thus you wouldn't recognize him that way, his body his.  
Azar has appeared in multiple shows and films since then, including the TNT series Claws and the children's film Agent Toby Barks. His performance as the Iron Sheik in Young Rock is his biggest role to date.