Who's The Actor That Plays Junkyard Dog In Young Rock?
Michael S. Schwartz/Getty Images
With two episodes under its belt, NBC's hottest new sitcom, Young Rock, has begun its takeover of the television world. Following Dwayne "The Rock" Johnson's fictional (for now) bid for the position of president of the United States, the professional wrestler-turned-actor is hoping to connect with his fanbase. To do so, he and WandaVision star and TikTok sensation Randall Park have embarked on a trip down memory lane — telling the world all about The Rock's humble beginnings. There's certainly mischief, adventure, and danger afoot, but Young Rock is also chock-full of heart and life lessons that viewers of all backgrounds can appreciate.
Additionally, the program also boasts a solid cast, with many of its names tasked with portraying wrestlers of yesteryear. Throughout his formative years, Johnson's father, the late "Soul Man" Rocky Johnson (Joseph Lee Anderson), was an active competitor and worked many of the wrestling world's territories. This gave the future WWE champion the chance to rub shoulders with some of his dad's greatest allies and rivals, away from the ring. Names like Andre the Giant (Matthew Willig), Afa (John Tui) and Sika (Fasitua Amosa), collectively known as the Wild Samoans, and "Macho Man" Randy Savage (Kevin Makely) appear in flashbacks to The Rock's childhood. 
The same goes for the legendary Junkyard Dog, whose actor has quite the varied career behind him.
Nate Jackson channels his inner JYD on Young Rock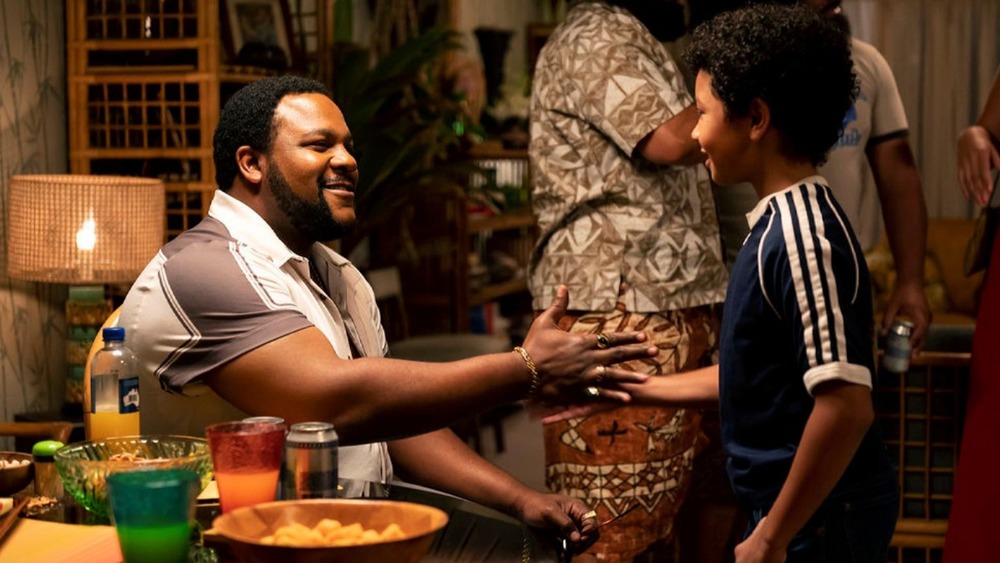 NBC
The actor tasked with bringing the late Junkyard Dog to the small screen is comedian Nate Jackson, who's no stranger to the medium. His television career began in 2011 for the TV docuseries Will to Live, where he took on the role of Bobby Maulsey. From there, he stopped by the Comedy Central hit Tosh.0 in 2014 for the ninth episode of season 6, titled "Misses Every Layup." Come 2017, Jackson made his TV return for HBO's All Def Comedy, performing a standup routine in the third installment of the inaugural season. He has also worked behind the scenes on laugh-out-loud programs like Laff Mobb's We Got Next, where he wrote one episode, and Wild N' Out, serving as a creative consultant for 13 episodes.
In addition to his television work, Nate Jackson has begun to dip his toes into cinematic productions. Back in 2013, he wrote, directed, edited, and starred in a comedy short called The P Word, followed by an appearance in the 2014 video short Marvin Road, which he also helped write. He also popped up in another short, 2017's Cause and Effect, but not before making his feature-length film debut for the 2015 comedy She Wins. When he's not performing standup or testing his acting chops, he runs the Super Funny Comedy Club in Tacoma, Washington, giving others a chance to share their gifts of entertainment and laughter.
Even though Junkyard Dog isn't at the forefront of Young Rock, it's still an impressive role Nate Jackson can add to his already strong résumé.