The Crew Season 2 - What We Know So Far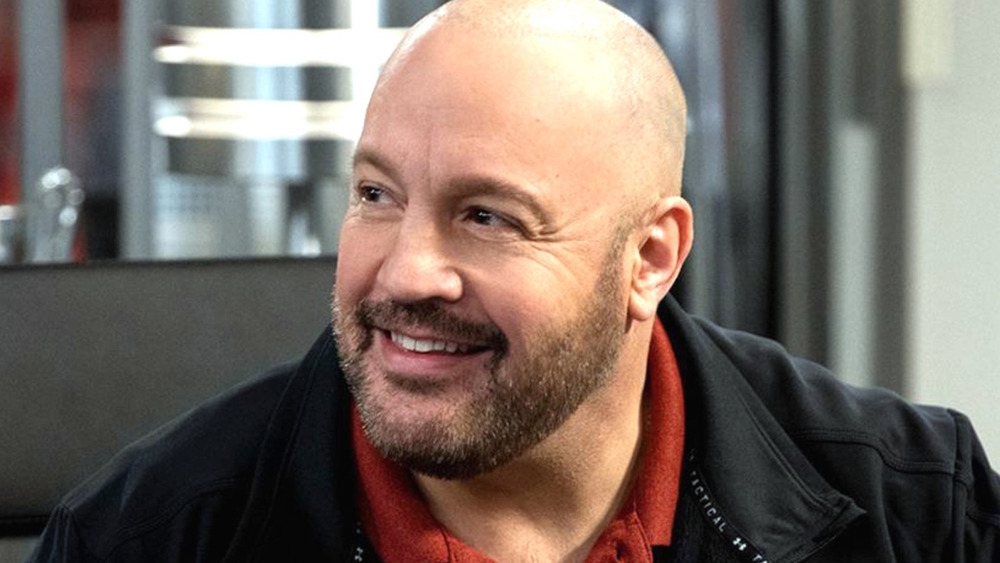 Netflix
In February 2021, Netflix released all ten episodes of The Crew to its subscribers. The Crew is the latest in a lineage of Kevin James-led multi-cam sitcoms that includes The King of Queens and Kevin Can Wait before it. In The Crew, Kevin James stars as the crew chief at a NASCAR garage called Bobby Spencer Racing. Its story kicks off when the garage's namesake, Bobby Spencer, retires, and his daughter Catherine, takes over the business.
The series' main source of tension comes courtesy of Catherine's age and business training. As a young and ambitious new owner, Catherine hopes to breathe new life into the garage. Kevin James and the rest of the crew, meanwhile, are stubborn in their ways. Therefore, Catherine's vision for the garage is oftentimes received as a threat to their easygoing workplace environment.
Reviews have been generally unkind to The Crew, describing its comedy as outdated or uninspired. That said, The Crew was most likely never going to be a hit with critics. Kevin Can Wait before was met with a similar critical reception prior to its cancellation.
In anticipation of the series' continuation, here's everything we know so far about a second season of The Crew.
When will The Crew season 2 be released?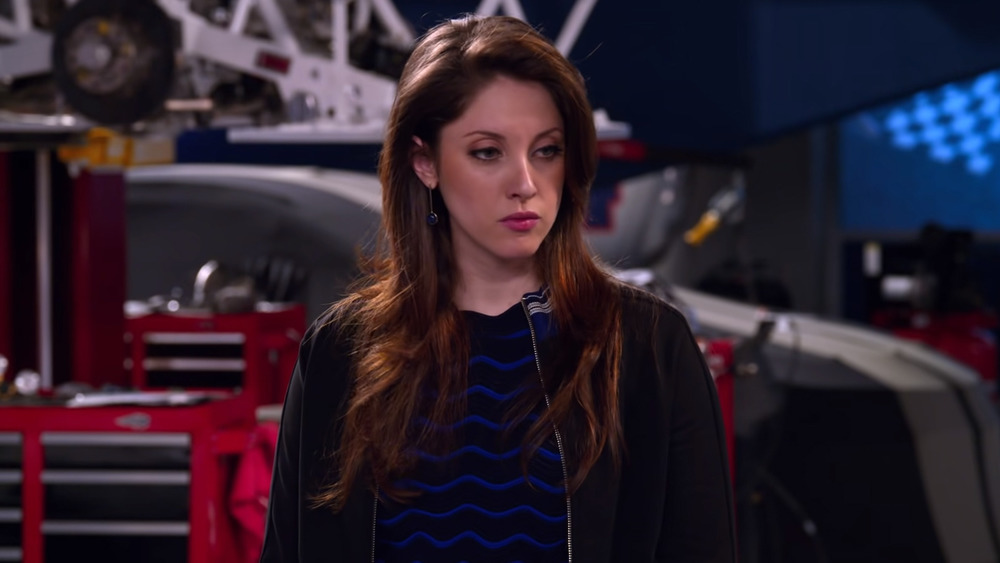 Netflix
The Crew was only recently released to Netflix, and the streaming service has yet to either confirm a second season or announce its cancellation. Despite an absence of news one way or another, however, there are a few key reasons to believe that The Crew will indeed return for round two at some point in the future.
Most notably, Kevin James is as good of a reason as any for The Crew to continue. While Kevin James-led series have a history of not playing well to critics, he's nevertheless a star with a considerable audience. His star power among a certain demographic is so sizable, in fact, that he was paid $400,000 per episode during The King of Queens' final season. While, on the other hand, Kevin James may not be easy to work with, financial success oftentimes outweighs such issues with regards to getting a project made.
Furthermore, Netflix has a history of renewing even shows it ends up canceling for at least a second season. Given that the production of a multi-cam sitcom that largely takes place in the same auto garage location is likely not on the pricier side, The Crew season 2 may very well be released sooner rather than later.
What will be the plot of The Crew season 2?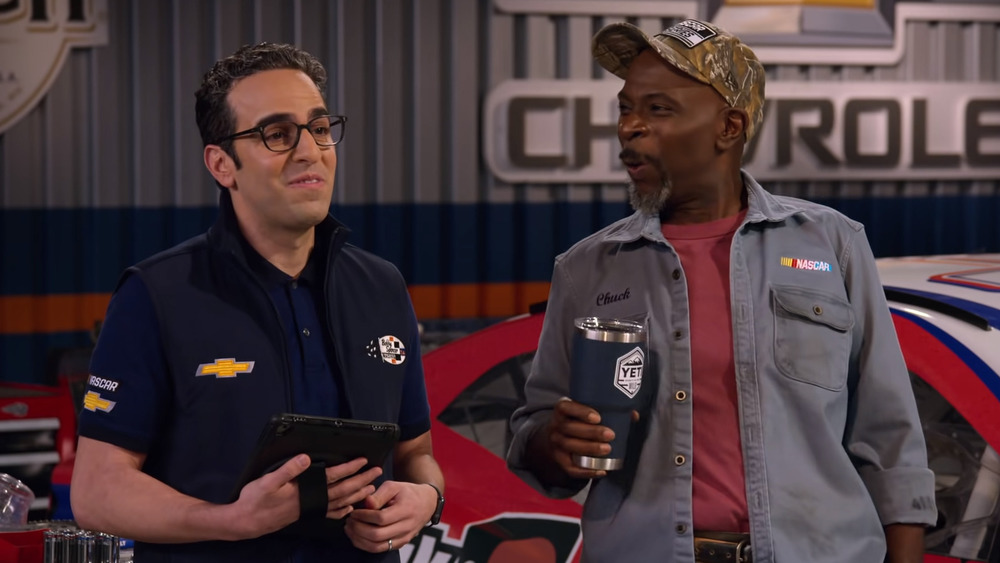 Netflix
Since The Crew is a sitcom intended for a broad audience, its story is relatively light on plot. That said, a couple of key story developments throughout its first season do hint at some developments likely to come in a theoretical season 2.
One ongoing plot thread that persists through The Crew is Catherine's desire to replace Jake, the resident driver at Bobby Spencer Racing. Jake is not the sharpest tool in the shed, so to speak, but is nevertheless a part of the titular crew. How he manages (or fails) to hold onto his job under threat of both Catherine's good business sense and his own sort of self-sabotage will likely remain a plot point in the series' second season.
Said plot point could be shaken up further by a kiss shared between Jake and Catherine near the end of season 1. Their romance is likely to both complicate Jake's efforts to hold onto his job as well as the workplace environment in general, given that Catherine is something of an antagonist to the easygoing central crew. Romance between a crew member and their sort-of enemy is naturally going to result in a fair share of classic sitcom scenarios.
Who will make up the cast of The Crew season 2?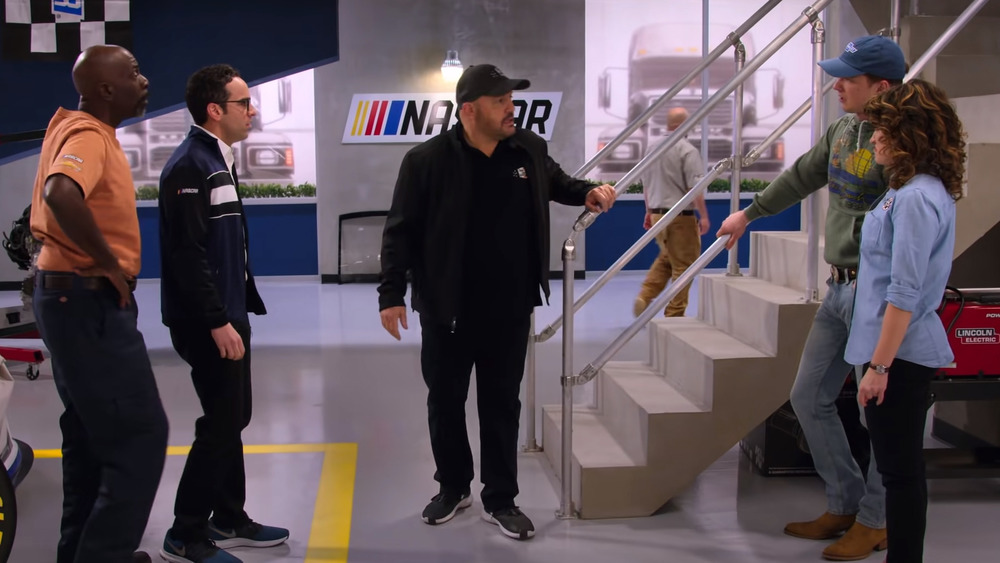 Netflix
Without official confirmation of a second season for the show, it's impossible to know who will be returning to the series in its second outing. That said, the series' stars essentially all remain intact upon the conclusion of season 1, so the return of its core is likely.
Alongside James, Jillian Mueller stars as Catherine. Her prior TV credits include minor appearances in Law & Order: Special Victims Unit and The Last O.G., making her turn in The Crew her most notable role yet. Jake is portrayed by Freddie Stroma, a British actor who has appeared in a number of British projects like The Inbetweeners 2 and the Harry Potter film franchise (as Cormac McLaggen).
Rounding out the core cast are Gary Anthony Williams, Dan Ahdootm, and Sarah Stiles. Williams is a seasoned comedic actor whose credits include Harold & Kumar Go to White Castle and The Boondocks, among many other roles. Ahdoot is a stand-up comic who has appeared in the likes of Cobra Kai and Bajillion Dollar Propertie$. Stiles likewise has a number of TV credits to her name, including Get Shorty and Billions.
Given the importance of the chemistry within an ensemble cast to the sitcom genre, each of these actors should be expected to return for season 2, barring any future complications.