The Surprising City Used As A Stand-In For New York In Tom & Jerry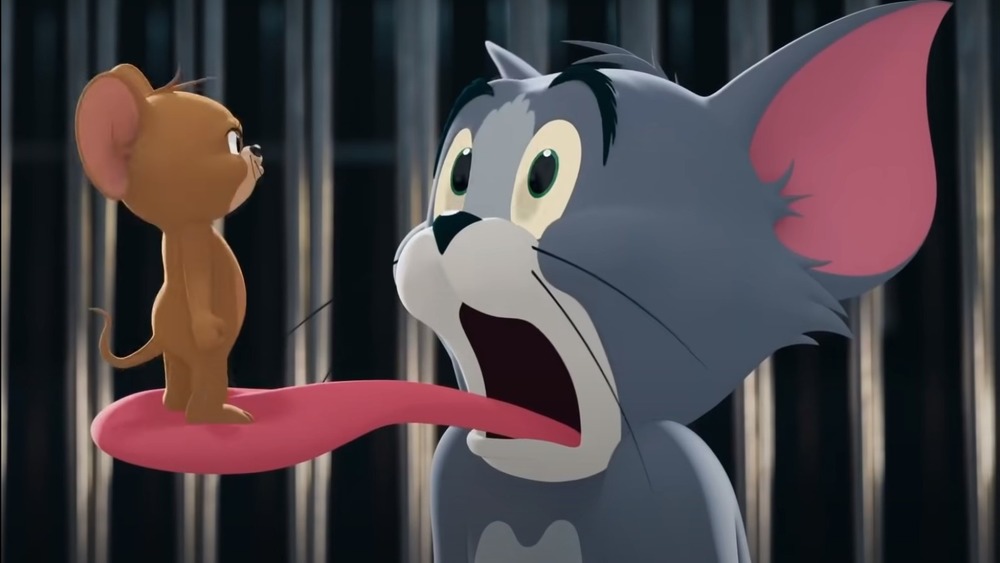 Warner Bros.
Tom & Jerry: The Movie joins the pantheon of hybrid live action/cartoon movie adaptations this week, transporting viewers to a New York City populated by animated animals with a shared love of heinous physical violence. "There's no place like New York. You can't fake it," Tom & Jerry director Tim Story said in a recent Q&A session — in the same breath that he used to explain how the production faked shooting in New York.
In truth, the film was shot primarily in England, utilizing the Warner Bros. Studios lots in Hertfordshire — the same facilities used to shoot much of the Harry Potter franchise, Sherlock Holmes, and Sweeney Todd. But for the outdoor shots, according to Story, the crew made use of a substitute NYC which, in many ways, is more similar to old York than anything else: London.
"Any time we were outside the hotel and on the street where you actually saw our actors, that was all in London, and we took the backdrop of one of the movies, Fantastic Beasts, we took that old city, which was old New York," Story recounted to curious fans. "We converted that into present-day New York and literally put the backdrop of the real New York in. ... We had big green screens and blue screens at the end of the street, and we would put in actual footage of New York."
Tom & Jerry's New York is newer than you'd imagine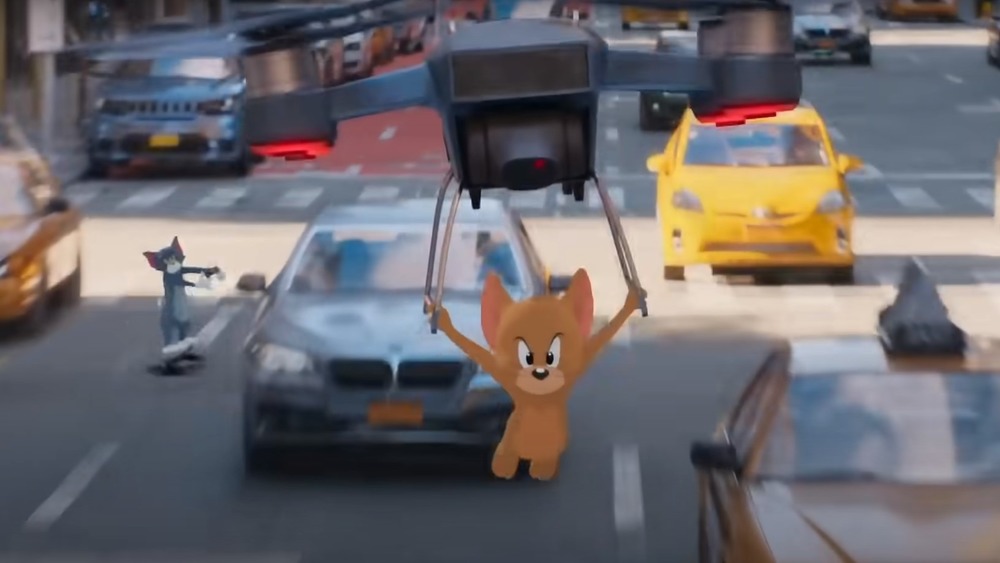 Warner Bros.
It's unclear exactly which area of London is being referred to in Story's interview, as Echo reports from 2015 state that Fantastic Beasts and Where to Find Them primarily used Liverpool as its stand-in for the Big Apple. Whatever the case, Tom & Jerry isn't the first film that Story has helmed where giant blue swaths of fabric stood in for New York. Fantastic Four from 2005 was filmed in Vancouver, British Columbia, as was its sequel, with New York painted into the background through chroma key compositing.
Asked how he captured the feel of the city for Tom & Jerry, Story pointed out that he made trips to New York before production began in order to scout locations and get a feel for the scenes he had in mind. "Then, we would send the camera guys out to those specific places, and they would take puppets, they would take maquettes, and we would line up the shots."
Tom & Jerry, which stars Chloë Grace Moretz, Michael Peña, Colin Jost, Rob Delaney, and Ken Jeong, is set to debut in theaters and on HBO Max on February 26 as part of Warner Bros.' year-long hybrid release plan for all major 2021 motion pictures.