Vulture Will Be 'Terrifying' In Spider-Man: Homecoming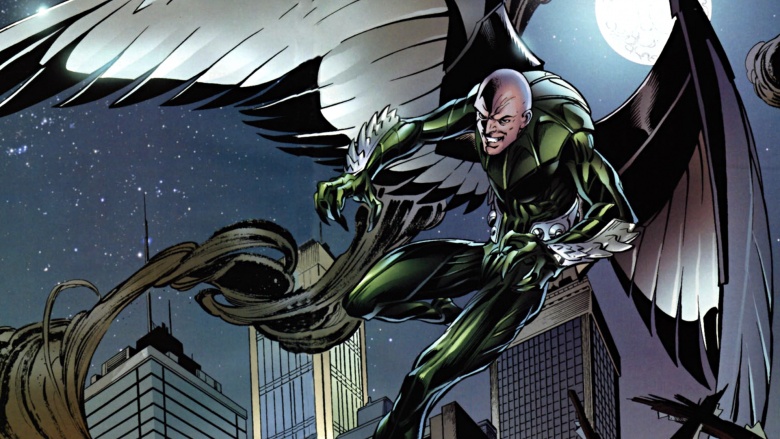 Marvel
Spider-Man: Homecoming is shaping up to present the teenage web slinger in a very different way than the previous movies, and the villain he faces could be scarier than anything we've seen so far.
Actor Tom Holland, director Jon Watts, and some of the producers opened up about the movie to USA Today, and Holland said Vulture (Michael Keaton) will make his presence known in horrifying fashion. "The first time we see the Vulture is terrifying," Holland said. "It's like a horror movie: really scary, very intense and shocking."
Spider-Man and Vulture (aka Adrian Toomes) go way back, all the way to the villain's first appearance in the 1963 comic Amazing Spider-Man #2. He's a former electronics engineer who designs a special harness that allows him to fly and enhances his strength.
Watts said, "It's fun to think that if Spider-Man is a regular kid who becomes a superhero, there's got to be a bunch of regular guys who become super-villains, too."
Instead of retelling Spidey's well-known origins, Watts will pick up the story right after the events of Captain America: Civil War. Co-producer Eric Hauserman Carroll said, "[Peter Parker] literally just went to Europe with the coolest clique of them all. And now he's back with the academic decathlon and the mathletes and going, 'What am I doing here?'"
Holland said Peter Parker will still have a lot of growing up to do in Homecoming. "This is really a movie where Spider-Man's not the finished article," he said. "He really does learn and he makes massive mistakes. It's nice to see a kid do that and then try to rectify those mistakes."
We know from the first teaser that Spider-Man will sport a brand new suit in the movie, courtesy of Tony Stark (Robert Downey Jr.). He'll make some "minor upgrades," including web wings that will allow Spidey to glide.
The first full trailer will debut tonight (Dec. 8) on Jimmy Kimmel Live!, and the movie will land in theaters July 7, 2017. While we wait, take a look at a few Batman villains who would totally destroy Spider-Man.