Exclusive Clip: Get A Look At Trickster's Finale Episode
One of the most buzz-worthy series hailing from the Great White North is approaching the end of its network run in the States. 
Trickster, the Canadian supernatural drama-thriller co-created by Michelle Latimer and Orphan Black writer Tony Elliott that features a predominantly Indigenous Canadian cast, is set to air the final episode of its first and only season on the CW tonight, February 16, 2021. This comes just a few short weeks after the show, which originally premiered on CBC Television in Canada back in October 2020, made its U.S. television debut on January 12, 2021.
Ahead of Trickster's finale on the CW, Looper is excited to share a clip from the episode. 
Based on the 2017 novel Son of a Trickster by Eden Robinson, Trickster tells the story of Indigenous Haisla teenager Jared, played by Joel Oulette, who lives and peddles drugs in the Kitimat district municipality in British Columbia. Jared is faced with more than his fair share of troubles, trying hard but finding it difficult to ensure that his less-than-functional parents — his self-medicating mother Maggie (Crystle Lightning) and his addict father Phil (Craig Lauzon) — are taken care of. The young man's life gets even more chaotic when he begins to pick up on strange things happening around him, seeing "talking ravens, doppelgängers, [and] skin monsters" and learning that Kitimat isn't all what it seems (via CBC.ca).
Without spoiling anything, the Trickster season 1 finale, which serves as the series finale, is headed into thrilling territory — so buckle up for a wild ride.
Rave reviews for Trickster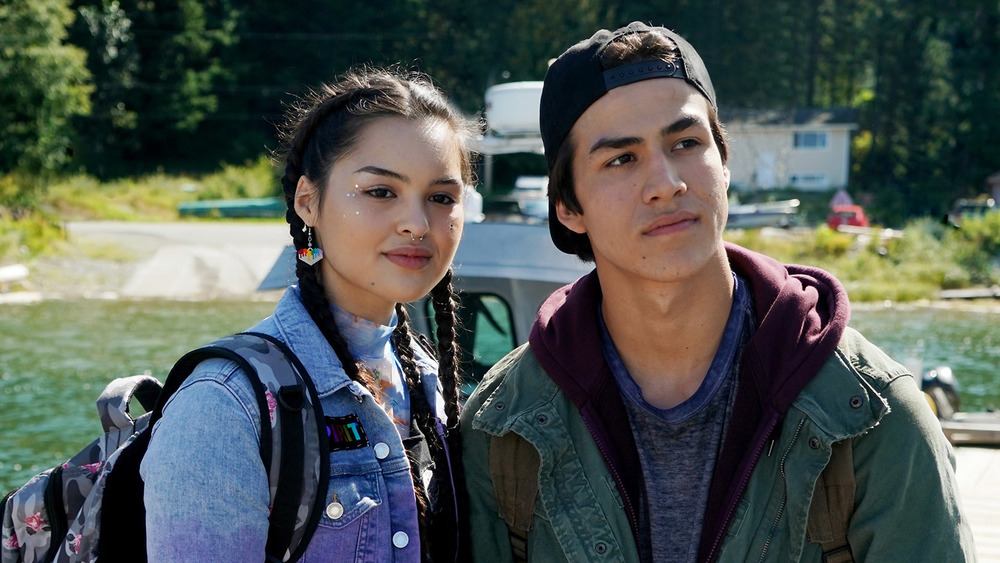 CBC Television/The CW
Considering Trickster has already aired in its entirety in Canada, plenty of reviews for the show have been posted online. Professional critics and everyday audiences can often have vastly different opinions about the merits of movies and television series, but when it comes to Trickster, it seems everyone loves it. The show boasts an impressive 94 percent critical approval rating on Rotten Tomatoes, as well as an 83 percent audience score from users registered on the review aggregator site. 
"Trickster's intelligent horror interrogates the impacts of intergenerational trauma, crafting a creeping mystery that will get under your skin and stay there," the series' consensus reads. And that's just a taste of the praise Trickster has received. Alexandra Heller-Nicholas of ABC Radio Australia gave the series a perfect five-out-of-five-stars rating and stated in her review, "An engrossing fantasy, a moving coming of age story and a profound reflection on the plight of First Nations people in Canada, Trickster ticks all the boxes in bringing these complex threads together in a way that is enormously stylishly, emotionally compelling, and unrelentingly engaging."
The Hollywood Reporter's Daniel Fienberg largely agreed with that assessment, writing in a January 2021 review of Trickster that the series features "so many enticing elements." Jessica Mason at The Mary Sue said simply and effectively, "Trickster has a wonderfully unique tone and sly sense of humor, and an absolutely incredible cast."
Also starring Kalani Queypo as Wade, Nathan Alexis as Crashpad, Anna Lambe as Sarah, Georgina Lightning as Sophia, and more, Trickster will air its final episode on the CW tonight, February 16.