What Baby Oscar From Ghostbusters II Looks Like Today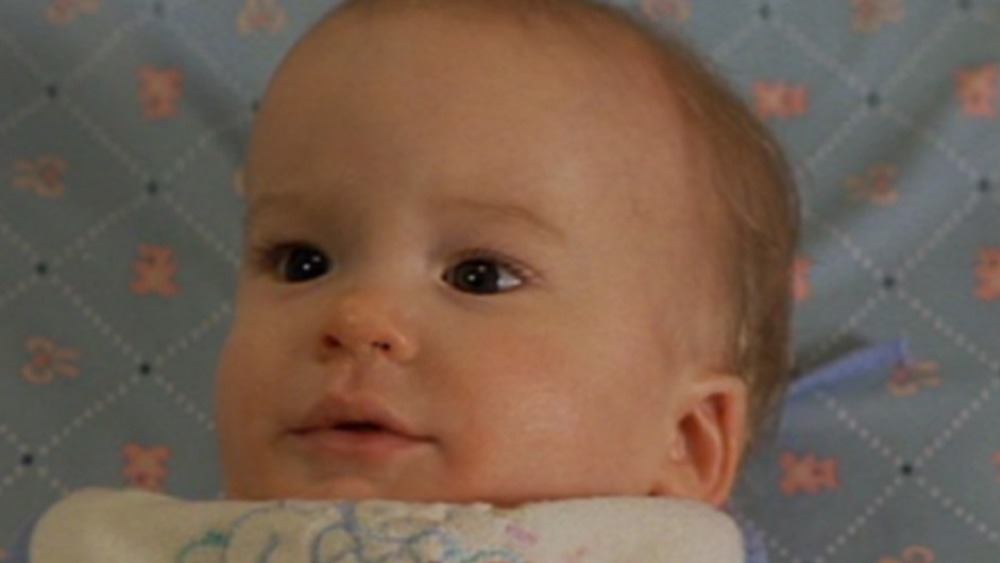 Columbia Pictures
It's been a few decades since Ghostbusters II graced movie theatre screens. The film was a sequel to the original 1984 film Ghostbusters, starring Bill Murray, Dan Aykroyd, Harold Ramis, and Sigourney Weaver. The second installment in the series follows the Ghostbuster team as they take on another formidable paranormal enemy. Despite the film's attempt to recapture the success of the first movie, it didn't do too well with critics or fans, according to Rotten Tomatoes.
Although there were many familiar faces from the original film, one new star that many likely overlooked is Baby Oscar. This infant was the child of Sigourney Weaver's Dana Barrett, Peter Venkman's (Bill Murray) ex-girlfriend. The baby becomes the center of the plot when the film's main antagonist, Vigo, tries to possess the child. Thanks to the help of the Ghostbusters, the team is able to thwart the entity's plan and rescue Oscar.
Many might not realize that Baby Oscar was in fact played by two different actors who were twins. Similar to how Mary-Kate and Ashley Olsen shared their role of Michelle Tanner on Full House, Baby Oscar was also played by both William and Henry Deutschendorf. Considering it's been a few decades since they made their big-screen debut — as one-year-old babies no less — a lot has changed in the intervening years.
William T. Deutschendorf currently leads a quiet life out of the limelight
After making his movie debut when he was just a baby, William T. Deutschendorf didn't move forward with his acting career. Throughout his childhood and teen years, William had a very normal upbringing out of the spotlight. According to the actor's IMDb page, William went to school in 2010 to pursue a degree in education. After graduating, he moved on to become an instructor at the West Coast Martial Arts Academy in California.
Aside from his appearance as Baby Oscar in Ghostbusters II, William's only other credited appearance is in the upcoming Too Hot to Handle: Remembering Ghostbusters II. This film is a documentary exploring all of the behind-the-scenes work that went into the pre and post-production on Ghostbusters II. The doc is currently in post-production, and promises over 30 interviews with everyone who was involved in the original film — including William. According to the former actor's IMDb page, William is set to appear as himself, which more than likely indicates that he will be one of the many people that will be interviewed for the documentary. Just how much he remembers from all those production calls during his first year of life is an open question.
Following the death of his twin brother Henry, William started a drive called Hank's Hope for a Cure. The campaign is associated with the Brain & Behavior Research Foundation, and any money that is donated to William's drive goes straight to the foundation to help assist with research grants that focus on mental illness. "It is very important to me to immediately spread awareness about schizophrenia, bipolar, and suicide prevention," the former actor wrote, "If your first reaction is to ask us what you can do, it's to help us do everything we can to help others suffering from the same illness as Hank."
Henry J. Deutschendorf struggled with mental illness
Much like his twin brother, Henry also didn't pursue a career in acting. Following his role as Baby Oscar, the child star also led a very normal life. Following the same path as his brother, Henry went to college for education and eventually moved on to become an instructor at the West Coast Martial Arts Academy.
In 2008, Henry was diagnosed with schizoaffective disorder. According to his brother, Henry often "experienced hallucinations, delusions, depression, and mania." The disease took a toll on Henry, forcing him to take medication to try and alleviate some of the symptoms. After the diagnosis, William explained that Henry was a changed person on the page for Hank's Hope for a Cure.
"If you knew Hank before his diagnosis, you knew a young man who was upbeat, healthy, witty, kind, outgoing, and was always ready to stand up for people. Medication curbed the delusions but it did not stop the voices. The side effects of the medication took a toll on Hank. He felt like a zombie, lost his personality, gained weight quickly, slept for twelve hours a day, and had to use all of his willpower just to lift his hand to drink a cup of water," he wrote.
Henry eventually died by suicide in 2017 at the age of 29 (via NME). In the memorial post, William explained that Henry's disease caused him to have "bad days" and that he "lost his battle to schizophrenia." Despite this incredible loss, William's campaign to raise awareness and money for the Brain & Behavioral Research Foundation hopes to ensure a brighter future for those who are suffering the same illness as his brother.
If you or someone you know is having suicidal thoughts, please call the National Suicide Prevention Lifeline at 1-800-273-TALK (8255) or text HOME to the Crisis Text Line at 741741.