Why The Couple In Panera's Valentine's Day Commercial Looks So Familiar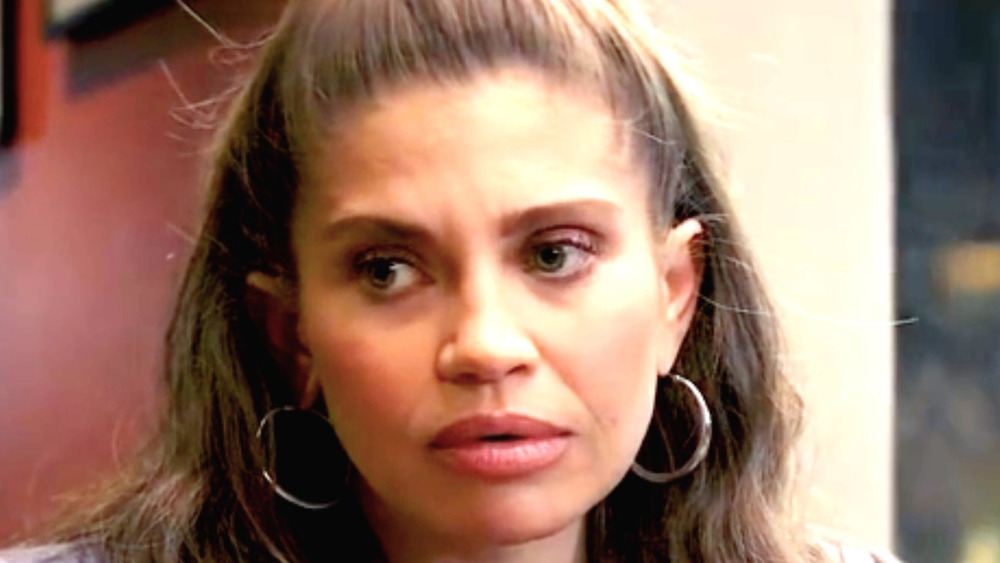 Panera
In their most recent promotion, restaurant chain Panera is advertising their selection of flatbreads. To celebrate the promotion's vicinity to Valentine's Day, a commercial detailing their flatbread selection parodies a romantic comedy movie trailer. It even includes references to iconic romantic comedies from throughout film and TV history.
These include, for example, a reference to a scene from Love Actually in which Andrew Lincoln displays a series of cue cards silently expressing his feelings to his character's love interest at her doorstep. This is parodied in the commercial with a series of messages written in sharpie on pieces of Panera flatbread boxes reading, "You're the pizza I never knew I needed." Other moments reference scenes from When Harry Met Sally, Pretty Woman, Sixteen Candles, Serendipity, Jerry Maguire, and The Break-Up.
The ad's reverence for filmed fictional romance extends even to its cast. In each of those moments are actors Ben Savage and Danielle Fishel. Its stars appear intended to invoke nostalgia in viewers to the extent that they're both named in the commercial as if to draw attention to their inclusion.
While Savage and Fishel both occasionally went on to act in other roles, both performers are most well-known for their work in the long-running ABC sitcom Boy Meets World. Savage, in fact, has long been perceived as inseparable from Boy Meets World, hindering his being cast in further Hollywood projects.
Boy from Boy Meets World meets girl from Boy Meets World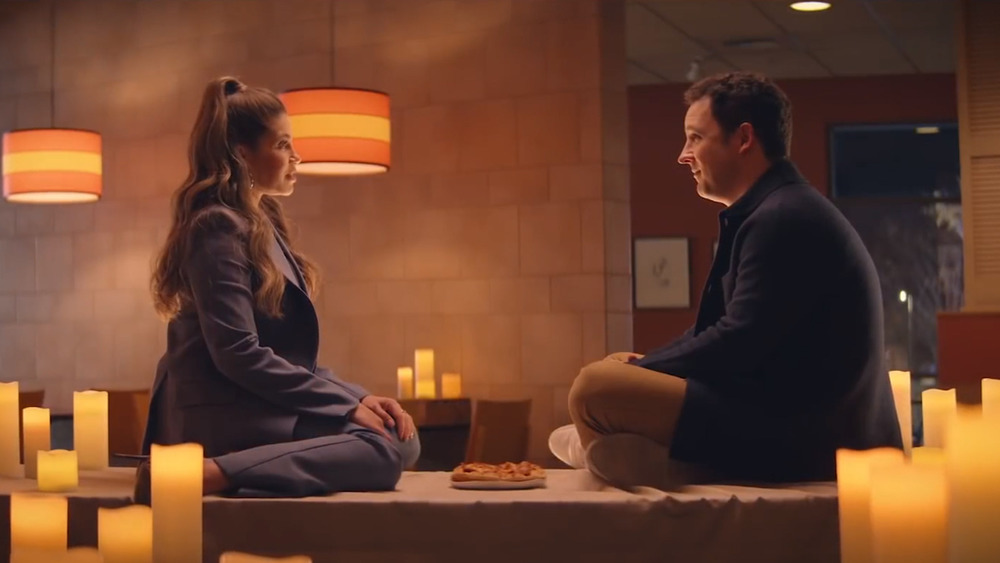 Panera
In Boy Meets World, Ben Savage played none other than Cory Matthews, the titular boy. The series chronicles his teenage years, from middle school to his college days. Danielle Fishel played Topanga, his love interest over the course of the show's seven seasons. Its frank discussions of mature topics like drugs and sexuality remain a relic of its time, unlikely to be covered in today's children's TV landscape.
Savage was 13 years old when the series began and 19 at its end. Fishel, meanwhile, was 12 years old at its start and 18 in the series finale (the final episode's air date, funnily enough, coincided with her 19th birthday). Bucking the typical Hollywood trend of young characters being portrayed by older actors, both Savage and Fishel's real-life ages mirrored their characters'. Thus, longtime viewers of the show got to see not only Cory and Topanga but Savage and Fishel grow up over the course of Boy Meets World's run.
It's to those very viewers that Panera is likely hoping to appeal with its inclusion of Savage and Fishel in its Valentine's Day spot. As both characters appear on-screen for the first time, the ad's narrator describes them as "two old flames." In real life, Fishel is married to media multi-hyphenate Jensen Karp and, in fact, never dated Savage. Therefore the "old flames" are not Savage and Fishel but implied to be Cory and Topanga.