The Last Of Us II Star You Didn't Realize Was In Star Trek Discovery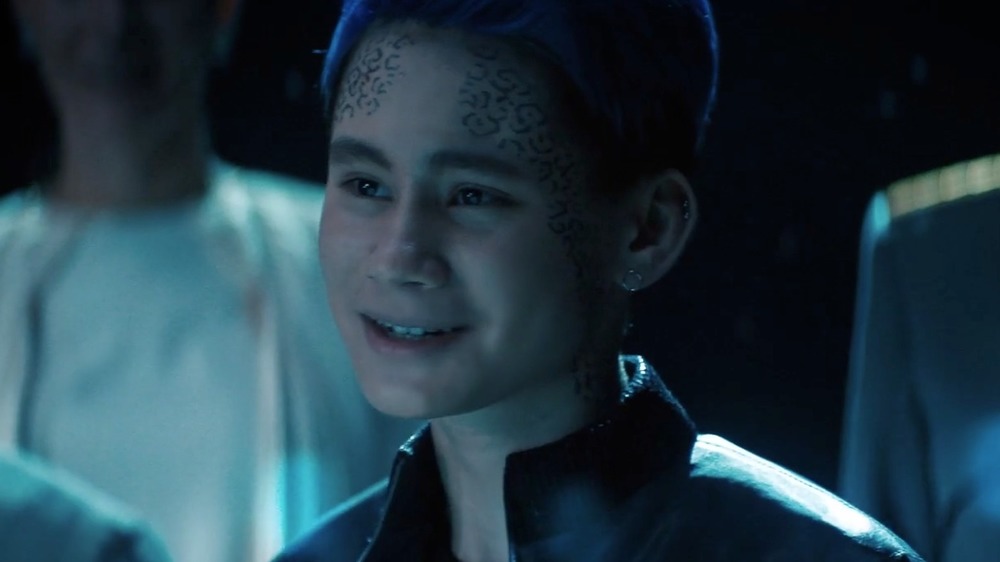 CBS
HBO's adaptation of The Last of Us may have found its lead in a Game of Thrones star, but Bella Ramsey isn't the only actor to work on a project related to the hit gaming franchise and another major genre series. 
That title also goes to Ian Alexander, who first left his mark on the small screen in Netflix's mystery drama The OA as Buck Vu, a trans high schooler who develops a close friendship with a wandering woman eventually revealed to be an angel known as The OA. Following his appearance on the canceled series, he nabbed a voice role in the award-nominated The Last of Us Part II. In an Inverse interview, he spoke about his experience bringing Lev — a young member and defector of the Seraphites, a group of religious radicles — to life. 
After the sequel release to Naughty Dog and Sony's popular 2013 survival horror The Last of Us, Alexander explained to the outlet not just what it meant societally to have a trans character so visible in the game, but the personal impact of getting to voice them. "From Lev, I learned how to really believe in myself, embrace fear, and ask for help," the actor, who voiced and motion-captured the character, said. 
But Lev wouldn't be the only character that gave Alexander this opportunity. The rising screen and voice star said the role directly after his Last of Us part also helped him learn something similar. That character was Gray Tal, a member of the humanoid species known as the Trill, known for inhabiting various bodies across decades in the long-running sci-fi franchise Star Trek. Gray's species has long been celebrated by LGBTQ Star Trek fans for its genderfluid subtext, and their appearance in Star Trek: Discovery marks the first time the series has featured a trans character in its 50-year history. 
Ian Alexander's trans characters on Star Trek and The Last of Us Part II have marked major representational milestones
Sony Interactive Entertainment/Naughty Dog
While speaking to Inverse, Alexander noted the significance of making a trans character visible in such a high profile and progressive TV show. "It's such a privilege to be pioneering this representation for my community, the transgender community, and to be part of such an accepting and supportive franchise," the actor stated of his historic Star Trek appearance."It makes sense that it would be one of the first shows to normalize trans people. The Last of Us Part II also did that — introduced trans characters that got to simply exist." 
Alexander goes on to explain that in both instances for him, "[t]he fact that they were trans didn't go unnoticed, but it came up when it needed to in conversation, and that wasn't something that defined their identity." And while being treated somewhat though not completely similarly by both narratives, the characters are distinctly different, with Alexander pointing out that they navigate their world's quite differently. The actor stated that The Last of Us' "Lev doesn't quite realize how powerful he is yet, whereas [Star Trek's] Gray definitely has a lot more confidence." Yet, those differences ultimately led Alexander to the same personal understanding. 
"Both of them are extremely smart, yet embrace the fact that they don't know — can't know — everything. That's something I've carried with me," he told Inverse. 
Beyond the personal revelatory experiences that came with playing both the video game and TV series characters, Alexander says that by including these types of characters in each series, the popular franchises may have played a part in making the world more welcoming to him and other trans people. 
"Trans people have been erased from history for so long, but we've always been here. Now we finally get to be visible and have our voices heard," the actor explained. "It's really empowering to know how much safer the world is becoming for us."