How To All The Boys Changed Noah Centineo, According To The Author
Netflix
It's now been three years since To All The Boys I've Loved Before put its two leads, Lana Condor and Noah Centineo, in the limelight. Following the film's success as a Netflix exclusive, the two additional books in the original series by Jenny Han were also made into movies. To All The Boys: P.S. I Love You launched in 2020 and is being followed up by To All The Boys: Always and Forever, which will hit Netflix this Friday, February 12. 
In the story, Condor plays Lara Jean Song Covey, a teenager who once wrote long, private letters to the boys she liked. Centineo plays Peter Kavinsky, the recipient of one of the letters when they're sent out by Lara Jean's sister years later. Given that the film series is geared toward young adults and starred young adults, it's obvious that its actors would change and mature a great deal between installments. Centineo — whose career blew up with roles in Disney Channel shows such as Austin & Ally and Jessie prior to a star-making turn in The Fosters, followed by his casting in To All the Boys – is no exception. An interview with author Han has revealed exactly how much.
Noah Centineo was 'always running away' from Jenny Han, but not anymore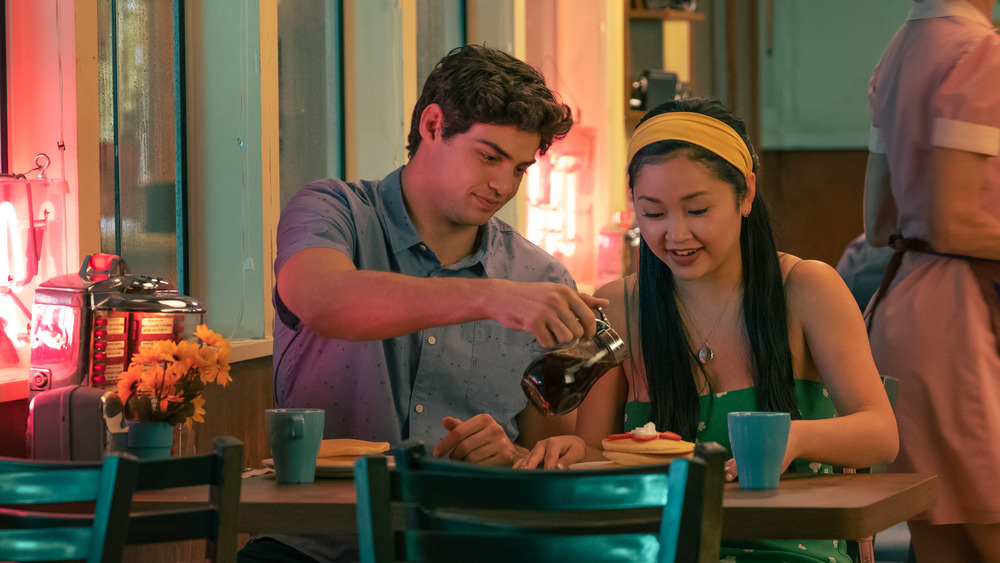 Netflix
In late January 2021, Tara Hitchcock interviewed Han in advance of the third movie's premiere, and asked her about how Centineo has changed over the years. What Han said was both heartwarming and unexpected, considering that it was about an actor who took modeling jobs before auditioning for acting roles.
"Noah, to me, in some ways has really come into his own in terms of being so visible," the author said. "On the first film, he was more shy about having his picture taken even. I was getting a lot of behind the scenes [footage], and he was always running away from me."
Han said that on his return for the second film, after the incredible success of the first movie, Centineo was "humble," and both he and Condor came back with good attitudes. She likened the atmosphere on to a camp reunion, with everyone "rolling up their sleeves and continuing with Lara Jean's story."
That story concludes in the final movie in the trilogy, To All The Boys: Always and Forever. Afterwards, fans hopefully won't have to wait long to see Centineo on screen again, as he'll play He-Man in the upcoming Masters of the Universe movie (whenever that finally debuts) and will take on the role of Atom Smasher in the DC movie universe's Black Adam. Presumably, he's gotten completely over his shyness — if not, with such a career trajectory, it looks like Centineo will have plenty of chances to overcome it in the future.