Why Tina From Irresistible Looks So Familiar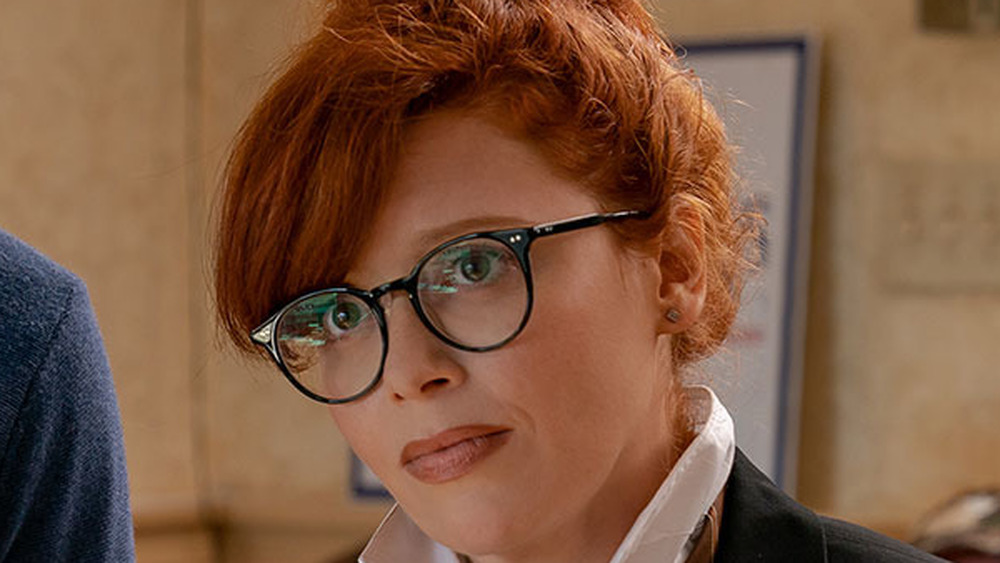 Focus Features
At the center of director Jon Stewart's 2020 political comedy Irresistible is the divide between Washington, D.C. and the heartland. That's the problem political consultant Gary Zimmer (Steve Carell) is trying to solve when he throws himself behind a mayoral candidate in a small Wisconsin town. That's why he, and the political-industrial complex he represents, invest so much of themselves in this otherwise insignificant race. It's an exercise in broadening worldviews, or so they think.  
Tina De Tessant is a part of that process. Tina forms sort of a campaign strategy double act with Kurt Farlander (Topher Grace): she in data analytics, he in polling. They are the human representatives of the national spotlight that's been pointed at, and the ludicrous amounts of money being poured into, the town of Deerlaken.
But Natasha Lyonne, who plays Tina, is far from limited in her worldview. Her acting career has taken her from high schools to prisons to a Groundhog Day-like existential prison of unceasing death and resurrection, like you do. Throughout it all, over a period of more than 25 years, Lyonne's blend of comic timing and deep pathos has made her irresistible to casting directors.
Natasha Lyonne was a voice of reason (no, really!) in American Pie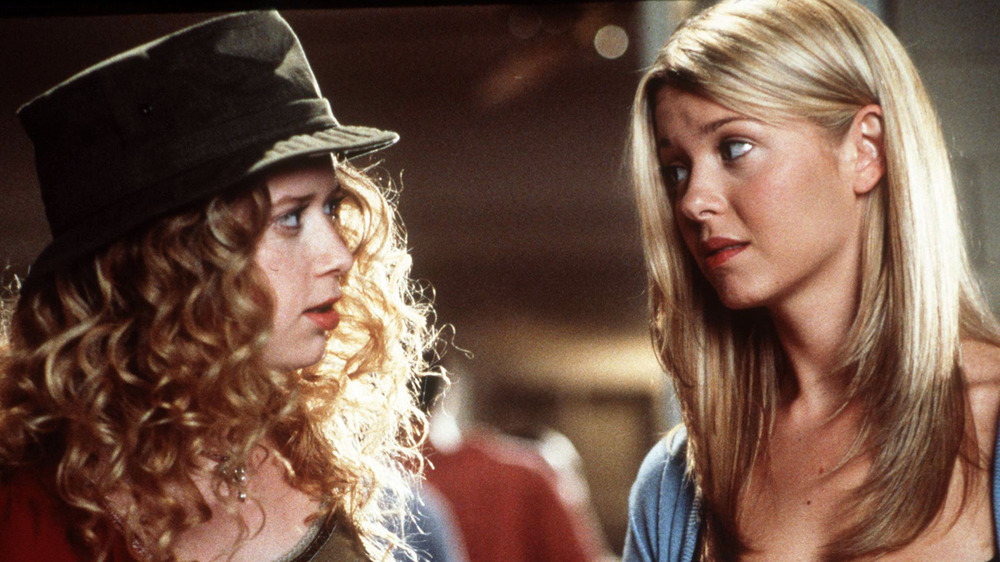 Universal
One of Natasha Lyonne's most prominent early film roles came as Jessica, perhaps the only levelheaded person in East Great Falls, Michigan, in American Pie and two of its sequels.
Though she appears to share moments of flirtation with Stifler (Seann William Scott), particularly in the sequel, American Pie 2, Lyonne's Jessica spends much of the series at a remove from the film's naive but sex-obsessed core group. No one is actively pining for her — she is a member of no one's one true pairing. That gives her a different kind of role to play than the rest of the young characters. She appears to have a greater level of sexual experience than the others, which means she can help counsel Vicky (Tara Reid) and Kevin (Thomas Ian Nicholas) ahead of their anticipated first time and can make for a reliable source when paid by Finch (Eddie Kaye Thomas) to spread rumors around the school of his prowess ahead of prom.
Lyonne returned for a small part in the 2012 sequel American Reunion, coming out as a lesbian by introducing her girlfriend to the gang and once again serving as couples counselor for Kevin and Vicky, despite the fact that the two are not even together.
Natasha Lyonne starred in the cult classic But I'm a Cheerleader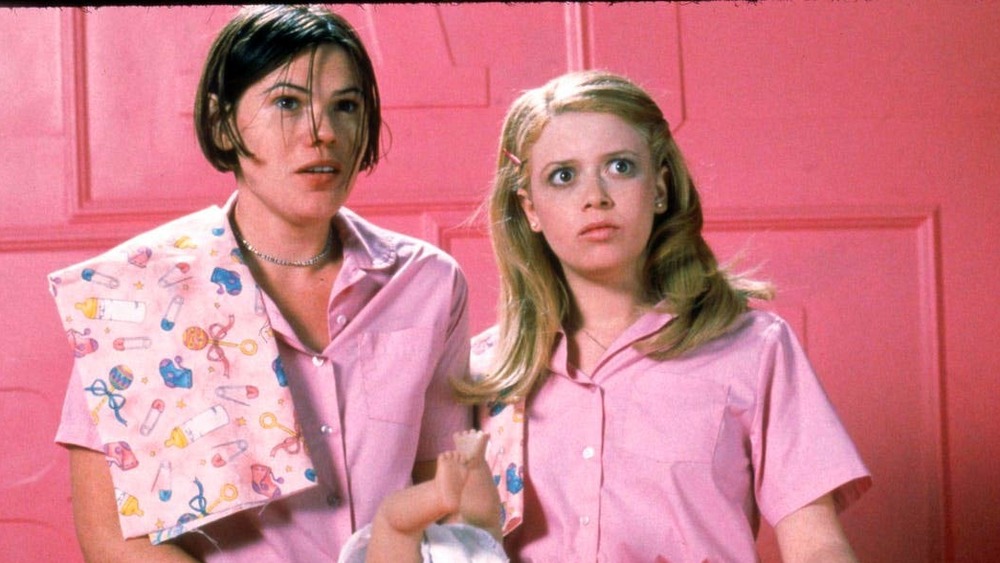 Lionsgate
Later in 1999, Lyonne played a big part in a different kind of story about teenagers confronting their emerging sexuality when she starred as Megan Bloomfield in director Jamie Babbit's cult-favorite conversion therapy satire But I'm a Cheerleader.
Megan is a high school senior, a popular cheerleader, and the girlfriend of a football player...whom she's not that interested in kissing. Her family suspects that she might be a lesbian, and after staging an intervention with Mike (RuPaul), they send her off to True Directions, a camp that purports to convert young people back to heterosexuality.
Megan is accepting of the camp's methods at first, since the idea of being a lesbian is at odds with her upbringing, and she throws herself into its risible methods of gender stereotyping and demystification of the opposite sex. But after meeting and falling for fellow camper Graham (Clea DuVall) and getting the necessary help rebelling against True Directions from former campers Lloyd (Wesley Mann) and Larry (Richard Moll), Megan embraces her sexuality and wins both Graham and the tentative acceptance of her parents.
Natasha Lyonne played a long-serving prisoner on Orange is the New Black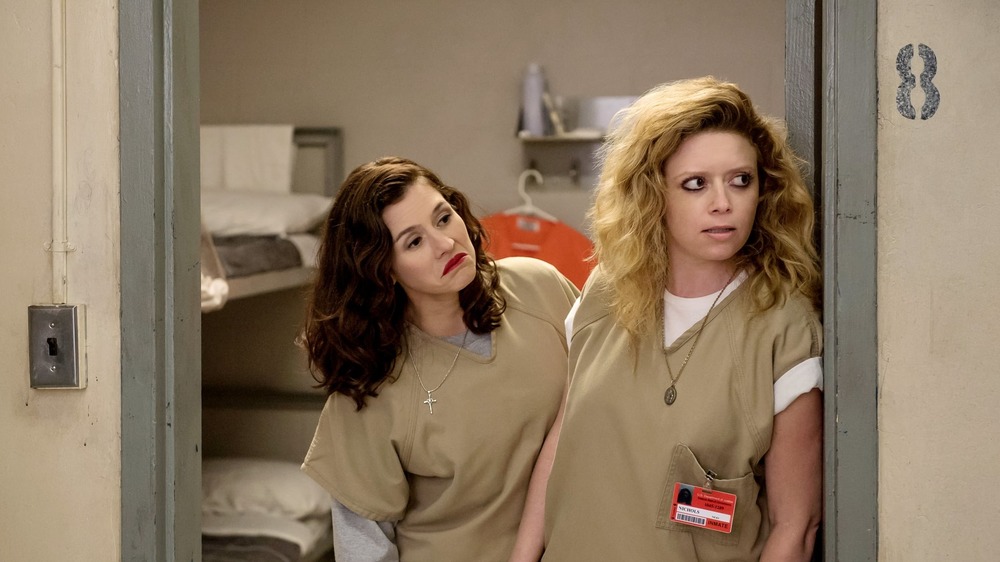 Netflix
In 2013, Lyonne began a series-long stint as the deadpan "Junkie Philosopher" Nicky Nichols on the Netflix prison drama Orange is the New Black.
Nicky came from wealth but was neglected by her dysfunctional family and was eventually arrested and sent to Litchfield for breaking and entering in order to support her heroin habit. She struggles with her addiction throughout much of the series, trying to stay sober with the help of her support network: surrogate mother figure Red (Kate Mulgrew) and her on-again, off-again love interest Lorna (Yael Stone).
Lyonne earned praise, and an Emmy nomination in 2014, for inhabiting Nichols' wit and warmth in the face of adversity throughout the show's seven seasons. It's Nichols who officiates Piper's (Taylor Schilling) and Alex's (Laura Prepon) wedding in season 6, and whose actions help avert an all-out cell block war during that season. During season 7, Nicky cares for both Red and Lorna as they navigate their own crises, learning to embrace her new role as caregiver.
Natasha Lyonne was stuck in a time loop on Russian Doll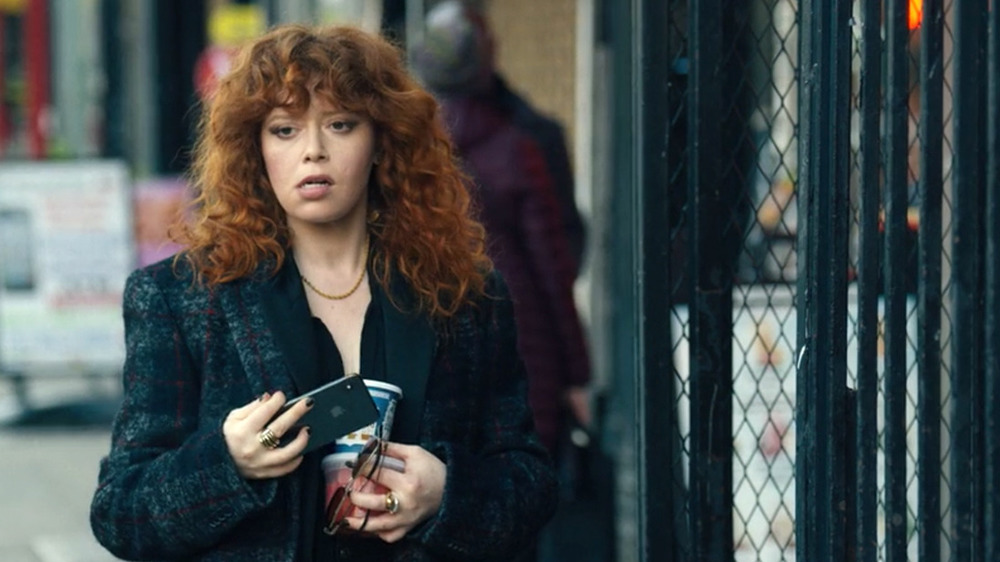 Netflix
No project of Lyonne's has seen her filling more roles than the Netflix comedy-drama Russian Doll, and that's not just because she finds herself functionally immortal after being trapped in a time loop. In addition to co-creating the show along with Leslye Headland and Amy Poehler, Lyonne starred in it, executive produced it, helped write multiple episodes, and even directed the season finale. (The other seven episodes were directed by either Headland or Babbit, bringing Lyonne's career if not full circle, then way back around toward near its beginning.)
In Russian Doll, Lyonne's protagonist Nadia Vulvokov finds herself reliving the night of her 36th birthday after her sudden death traps her into reliving the party and its aftermath over and over. Her attempts to find the cause or a way of escaping the loop lead her to Alan (Charlie Barnett), who's experiencing a similar phenomenon, and the pair work together, more often than not, to extract themselves from their temporal spirals even as the world grows stranger around them with each reset. 
Russian Doll earned Lyonne her second acting Emmy nomination, this time for Outstanding Lead Actress in a Comedy Series, as well as nods for writing and for the series itself. With a second season of Russian Doll reportedly on its way, it doesn't take a data analyst to figure out which direction Lyonne's career is trending.