How Tim Burton Really Feels About Timothee Chalamet's Edward Scissorhands Commercial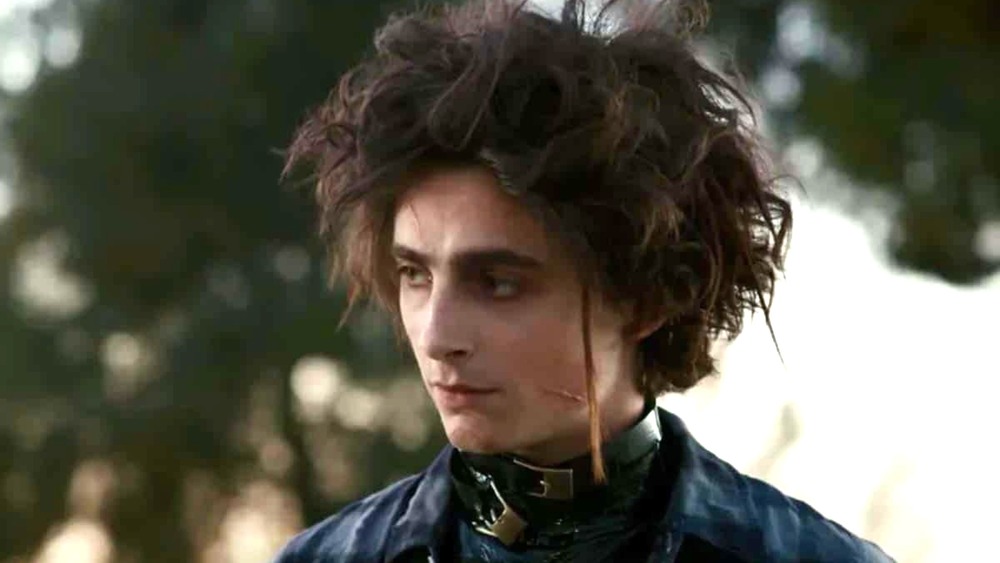 Cadillac/YouTube
Edward Scissorhands remains one of Tim Burton's most beloved movies three decades after its 1990 release, so it would be understandable if the director balked at his film being used as the basis for a Cadillac ad. However, in a statement to The Los Angeles Times, Burton revealed he was delighted by Timothée Chalamet's Edward Scissorhands commercial, and expressed hope that the Super Bowl spot will introduce Edward to a new generation of fans.
In true Burton fashion, Edward Scissorhands is a story about outcasts searching for their place in the world, and the commercial honors the spirit of the movie by focusing on Edward and Kim Boggs' (Winona Ryder) son, Edgar, played to perfection by Chalamet. Throughout the ad, Edgar struggles to fit in due to his scissors, which leads to him popping a football and breaking the pull cord on the bus. Thankfully, his mom has a solution: Cadillac's environmentally friendly car with its LYRIQ hands-free driving feature.
While the commercial could have easily veered into gimmicky territory, it feels like such a natural extension of the film that it works. And that's part of the reason why Burton was happy to give Chalamet and Cadillac his blessing.
"It's rare when a work you're proud of continues to live on and evolve with the times, even after 30 years," Burton said in a statement to The LA Times. "I'm glad to see Edgar coping with the new world! I hope both fans and those being introduced to Edward Scissorhands for the first time enjoy it."
Tim Burton isn't the only one who loved Chalamet's Edward Scissorhands commercial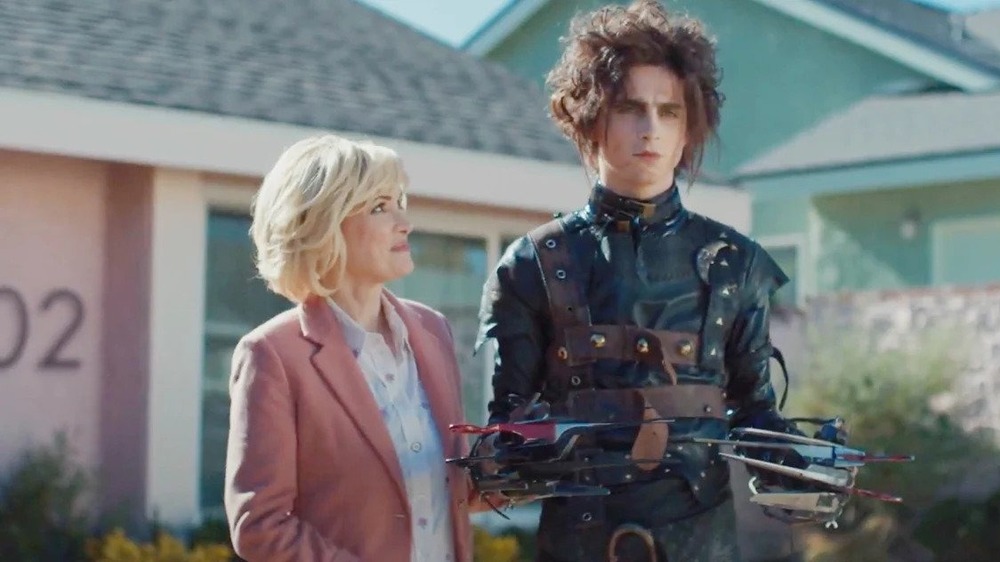 Cadillac/YouTube
Fans on social media went wild for Chalamet's Edward Scissorhands commercial, but the best endorsement for the ad comes from one of its stars: Ryder, who reprised her role as Kim. The Stranger Things actress seamlessly slipped back into the role of the gentle Kim, while also adding new layers to her character now that she's a mom. "It was a pretty special thing to be able to revisit again," Ryder told Vanity Fair in an interview. "Even if just for a little while."
It turns out, Ryder's decision to reprise her role in the commercial was made easy by the casting of Chalamet as Edgar, who she revealed to Vanity Fair that she's a big fan of. "It was quite a moment. Very surreal and also just a very, very sweet moment for me," she said. "I was really blown away by him and everyone's work putting the character together. He is such a beautiful guy, so talented, so incredibly kind and unique. Really the perfect person to embody that character."
The feeling was very much mutual. In his own interview with Vogue, Chalamet called his co-star an "American icon." He gushed, "Working with Winona was a total dream come true ... And in the same way I love working with Saoirse Ronan — it was a reminder of the America's-sweetheart role Winona occupied in many American hearts and minds in the '90s."
Given the amount of mutual appreciation that exists among Burton, Chalamet, and Ryder, it's no wonder Cadillac's homage to Edward Scissorhands ended up being a highlight of Super Bowl LV.