Timothée Chalamet Becomes Edward Scissorhands' Son In Epic Super Bowl Ad
You know what they say: Like father, like son. 
In a new ad for the All-Electric Cadillac LYRIQ, a forthcoming SUV set to roll out in the first half of 2022, Oscar-nominated actor Timothée Chalamet completely transforms. He's no longer the outgoing boy next door (like he played in Greta Gerwig's 2019 adaptation of Little Women), or even the bad boy you can't help but be charmed by (like his character Kyle Scheible in Lady Bird, another Gerwig flick). No, the car company's Super Bowl 2021 ad sees Chalamet embodying a role no one saw coming: Edgar Scissorhands — the son of Edward Scissorhands, Johnny Depp's titular character from the Tim Burton-directed fantasy romance. 
The ad opens with Winona Ryder's voice telling viewers that she's going to share with them "the story of a boy with scissors for hands." In the original movie from 1990, Ryder played Kim Boggs, the love interest of Edward Scissorhands. Cadillac's Super Bowl ad finds Ryder reprising that character, who has evolved from the wide-eyed girl who fell in love with a scissor-handed boy into the affectionate, attentive mother of, well, another scissor-handed boy.
In many ways, Chalamet's Edgar is exactly like his dad. He's got great big scissors for hands, scars on his face, dark and disheveled hair, and a reserved demeanor. Edgar also faces similar troubles that his father did. He can't ride the bus, play football, work his job at a sandwich shop, attend college classes, or text on his cellphone without his scissor hands getting in the way. Most of all, Edgar isn't able to drive a car like many other people his age can; as a substitute, he plays a virtual-reality driving game, but it's just not the same. This breaks his mother's heart, and so she finds the perfect solution: the All-Electric Cadillac LYRIQ, which comes with a "hands-free super cruise" driver assistance feature. 
"Edgar drove off into the sunset," Kim says in a voiceover as the ad shows the sleek SUV cruising along the road. "But don't worry: He still makes it home in time for dinner."
Timothée Chalamet on bringing Edgar Scissorhands to life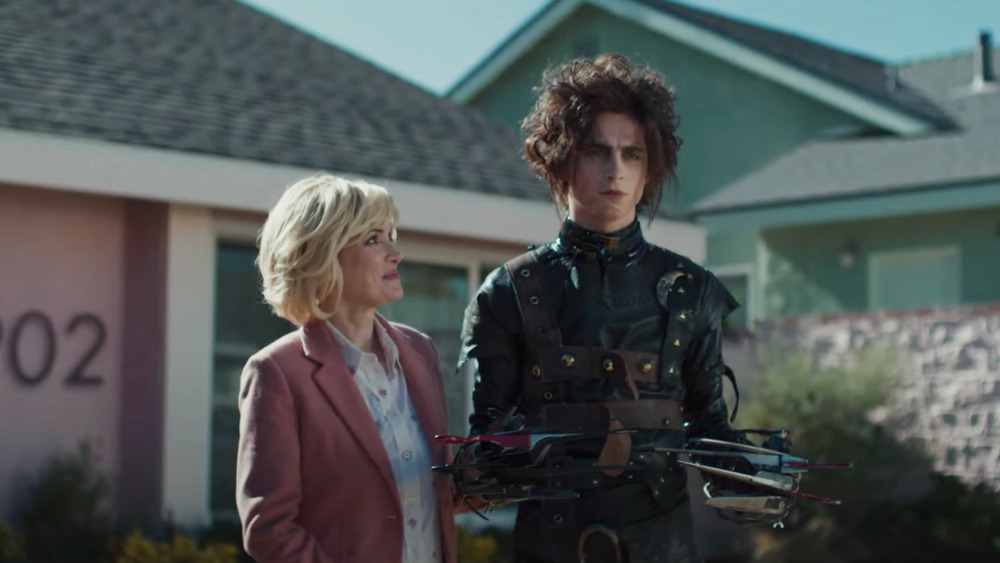 Cadillac/YouTube
Speaking with Vogue in an exclusive interview, Chalamet opened up about how he felt honoring Edward Scissorhands through this commercial, and what it was like to collaborate with Ryder. 
For starters, despite the fact that Chalamet was born five years after Edward Scissorhands debuted, the film was an important one to him as he was growing up. Knowing that, it's hardly a surprise to hear that Chalamet was excited about portraying Edward's son. Additionally, as he shared with Vogue, Chalamet was interested in taking part in the Cadillac ad because David Shane was at the helm as the director, and because he appreciates the environmentally friendly nature of the automobile that the commercial advertises.
"Legacy and precedent are some of the most important factors for me in choosing projects. Edward Scissorhands was a movie I adored growing up, and the opportunity to step into that world was a dream come true. I was also excited about LYRIQ's emphasis on environmental sustainability and cutting down on using fossil-fuel-dependent cars. It felt like the perfect combination of legacy with an eye towards the future," the actor said. "I also love the director David Shane's work in the commercial space, and he was really open to collaborating on this."
Chalamet added that he "grew up an enormous Tim Burton fan," and has recently been more attracted to "fables and stories that get to the essence of who we are in fantastical fashion." This, to him, was a project that checked a lot of important boxes.
What made things even more special was the fact that Chalamet got to pay homage to Edward Scissorhands in a way that not only resonates with longtime fans but also introduces a new audience to the mythos. "This was a wonderful opportunity to hopefully make the original material relatable to a modern audience without sacrificing the originality of the 1990 version. Instead, we wanted to create a character that didn't make you blink in terms of a present-day setting, but was a total homage to the character Johnny Depp created," Chalamet told Vogue.
As for the experience working with Ryder on the Cadillac LYRIQ Super Bowl ad, Chalamet said it was "a total dream come true." He shared, "She's an incredible actress and continues to be an American icon. [...] And she had some tidbits that were honestly creatively very helpful, although that will stay between her and me."
Whether this ad might open the door for a full-blown Edward Scissorhands sequel starring Timothée Chalamet and Winona Ryder is unknown, but we're almost certain that few (if any) people would object to the idea.