The Best Super Bowl 2021 Commercials Ranked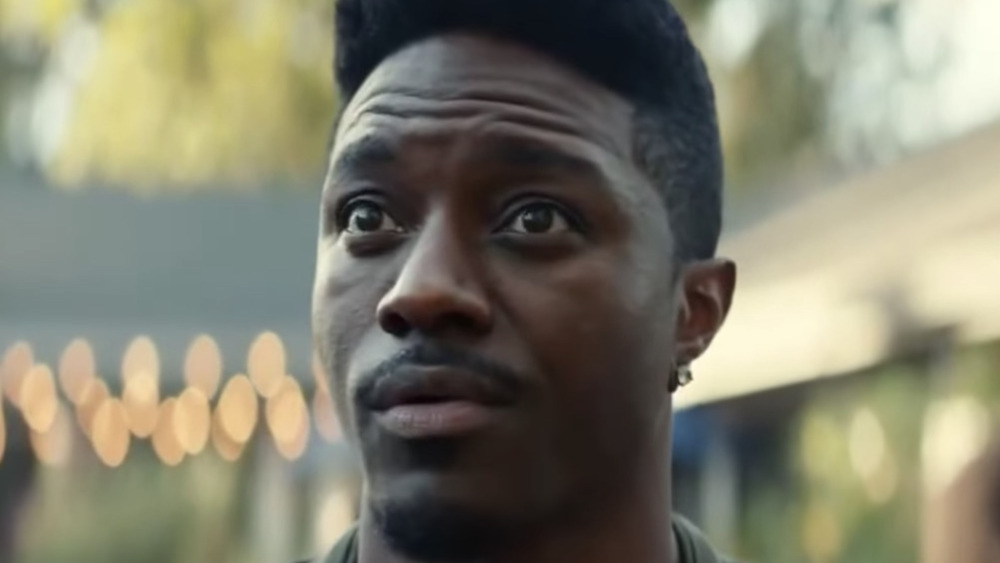 Any other day of the year, sitting through commercials is a chore. You fast forward, you get a snack, you pay for the higher-tier streaming services just to avoid watching yet another LiMu Emu commercial. Yet, there is one day on the calendar when commercials are king: Super Bowl Sunday. The Super Bowl has basically become a holiday in the U.S. Fun fact, the only day Americans eat more food is Thanksgiving. This is to be expected — Super Bowl food is delicious, and it's a heck of a lot of fun to hang out with friends, gobbling nachos and watching weird ads.
This is a big part of how the Super Bowl brings together sports aficionados and non-sport loving people. The food helps, sure, but it's the commercials that we're all talking about the next day. You might not be able to remember who won Super Bowl XXXIII, but you absolutely remember calling your friends and yelling, "Whassup?!" into the phone. (It was the Denver Broncos by the way.) In 2008, Eli Manning and the Giants beat the New England Patriots after the infamous helmet catch, but most people probably remember the original E-Trade baby commercial first. And while you may not have been alive to see it, the dystopian 1984 Apple commercial, which only aired nationally once, changed the industry forever.
2021's advertisers spent $5.5 million for one 30-second slot. We're here to take a look at their best efforts, and rank them from amusing to unforgettable.
Oatly's "WOW No Cow!"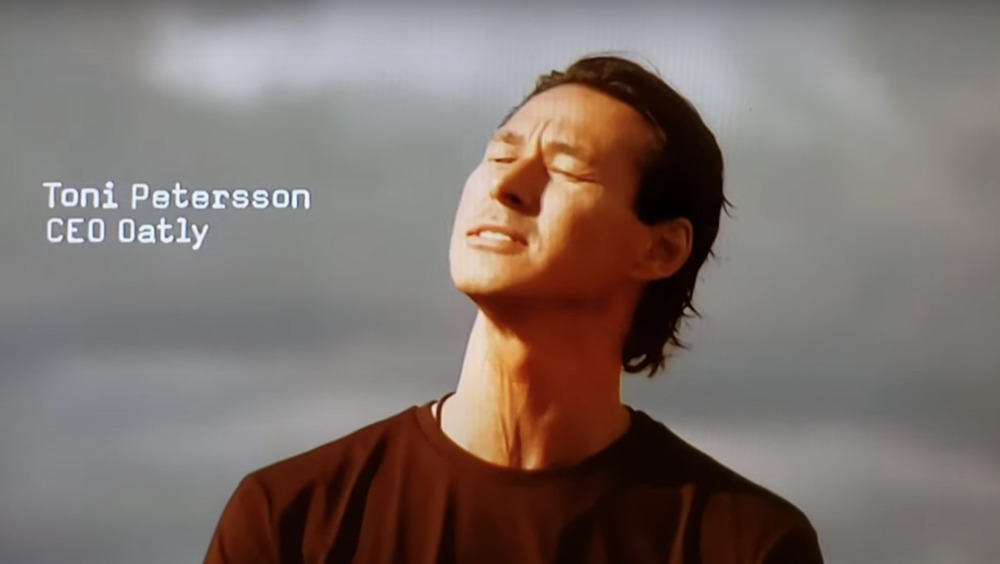 If you're the CEO of a major company, you can truly do whatever you want. This has never been more evident than in Oatly's Super Bowl commercial. The ad features Oatly's CEO Toni Petersson in the middle of a field, singing a bizarre song that he wrote. The video for the spot was actually filmed in Sweden in 2014, but it sure isn't the years-long gap between filming and airing that makes this commercial so weird.
For 30 seconds, millions of people stared at their television as Petersson sang his heart out. If you listened closely, you could probably hear families around the country saying, "What the heck did I just watch?" That being said, if the company wanted to get people talking, it absolutely worked. They must have known that this would send up the bizarro flag, because the day the commercial aired, they added t-shirts for sale that read "I totally hated that Oatly commercial." Many viewers are calling it objectively the worst commercial of the Super Bowl, but hey: If Oatly is happy to have spent $5.5 million to start a conversation, then more power to them.
Squarespace and Dolly Parton team up for "5 to 9"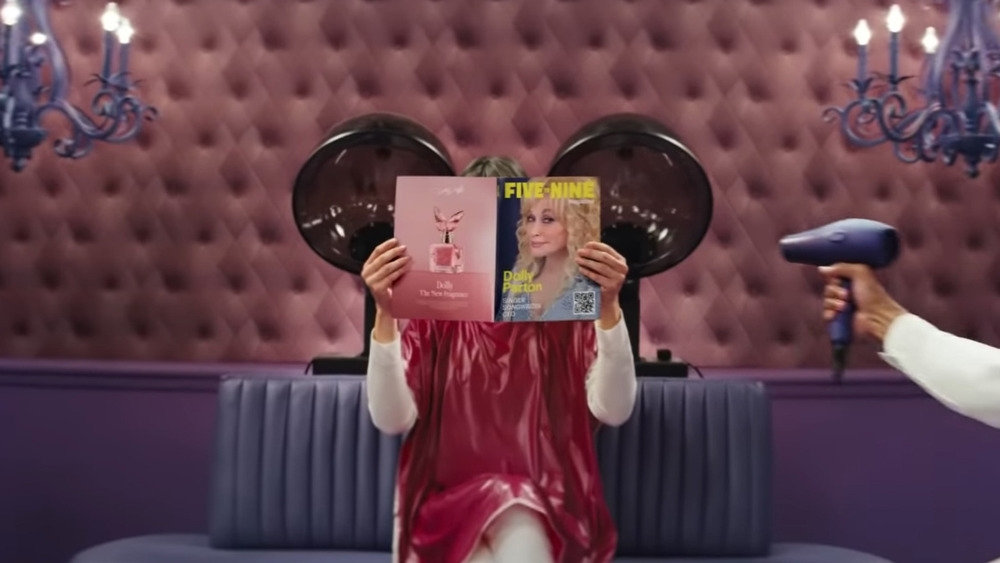 Dolly Parton is a national treasure. This is not a debate: The country legend has done it all and then some. Beyond her extensive music catalog, which includes such smashes as "Jolene" and, of course, "I Will Always Love You," she's starred in award-winning movies, donates to a ton of charities, gave $1 million dollars to help make the COVID vaccine, and even opened a theme park where the theme is Dolly Parton.
So, who better to include on the biggest ad stage of the year than Dolly herself? La La Land director Damien Chazelle took the helm of the commercial, which is set to a reimagining of Parton's "9 to 5" called "5 to 9." The Squarespace commercial dances its way through a variety of colorful scenes: From topiary sculpting to dance fitness to painting, we watch actors break out of their dull jobs and find their true passions. While it's a fun and genuinely cinematic dance sequence, if you're going to use a Dolly Parton song in a Super Bowl commercial, she needs to show up. This isn't a generic commercial people are going to fast-forward through, but it definitely feels like a missed opportunity.
"Last Year's Lemons" from Bud Light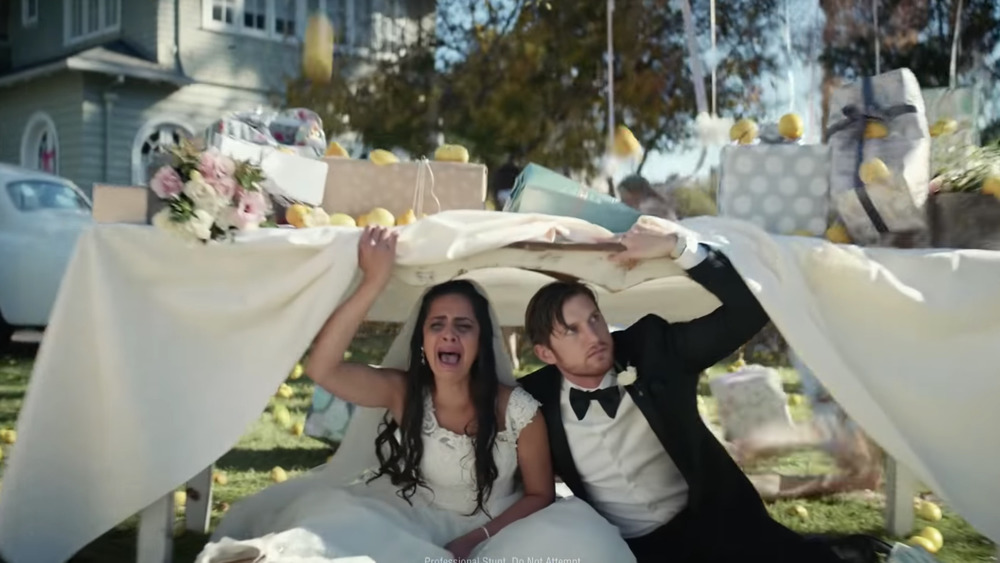 We can all agree that 2020 was a garbage year. With one disaster after the other, it's definitely hard to find any positives. Sure, 2021 isn't starting exactly how we'd all like, but it's definitely an improvement. So, it feels like an apt time to start finding the humor in the midst of all the garbage.
Bud Light's commercial sums up everything we feel about 2020. It begins with friends standing around drinking Bud Light Seltzer Lemonade. Admittedly, it feels a little bizarre to see a bunch of people at a party with no masks, but it does look like summer in the ad, so hopefully, it's a preview of what the future holds. Throughout the commercial, really bad things happen: A guy accidentally shaves off his hair, a couple's wedding gets ruined, and a cyclist crashes his bike into a pile of trash, all while it literally rains lemons. Sly references to the year's realities appear, like a wall full of canceled flights and a stadium crowded with cardboard cut-outs of fans. It finishes with a guy saying, "When life gives you lemons –" before he is brutally cut off by a woman who's had enough of the old adage after the year we just had. We see you, Bud Light Seltzer Lemonade. Well played.
Reddit's interruption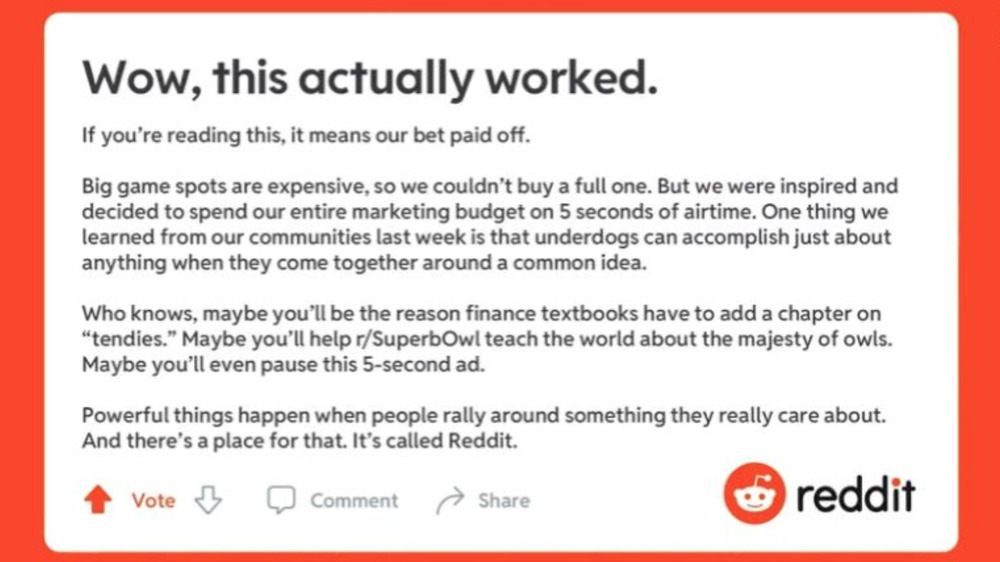 What do you do when you want to air a commercial during the Super Bowl but can only afford a fraction of the cost? Well, if you're Reddit, you air a five-second spot and hope for the best. The ad showed up mimicking a glitch, with a message that reads, "Wow, this actually worked". That's probably all most fans got a chance to read before it disappeared, unless they have a set up that allows them to rewind and pause.
This brilliant marketing campaign is much more than a cost-saving spectacle: It's a nod to the Reddit users who delivered a major shock to Wall Street. If you're unfamiliar with the news item, the short version is that Redditors started a campaign to buy stock in GameStop. This group of non-Wall Street traders disrupted the system, causing the stock to skyrocket. It exposed a fragility of the elite institution, and is being hailed as a win for the little guys. The Reddit ad is a celebration of this, and will likely be remembered for spending a lot of money to support its users.
T-Mobile's Adam Levine sets up Gwen Stefani and Blake Shelton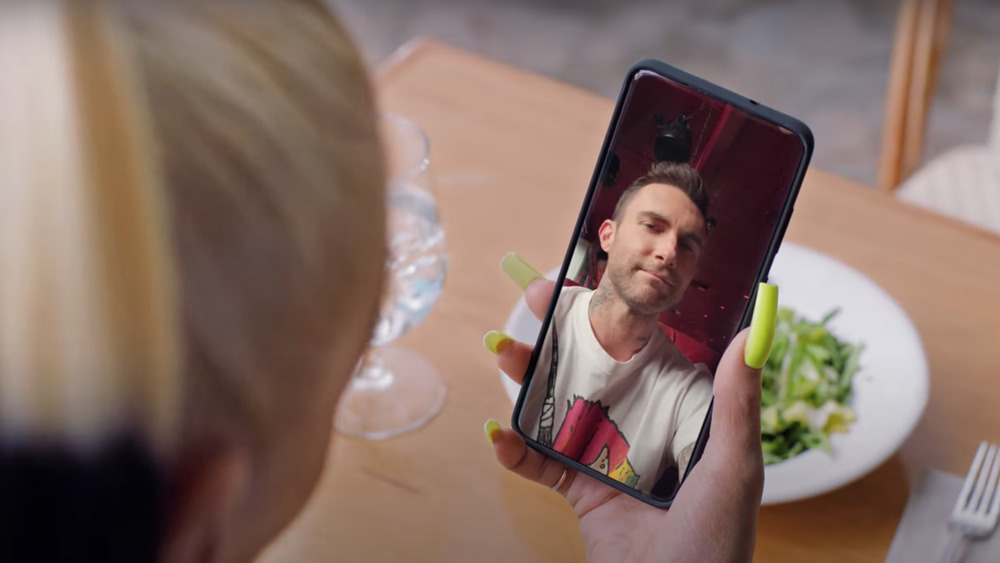 2020 might have been hard, but like any year, it contained love stories. One pairing that no one would have seen coming a couple of decades ago is Gwen Stefani and Blake Shelton, who finally got engaged in 2020. The happy couple got together in 2014, while they were both coaches on The Voice. T-Mobile's Super Bowl commercial paints a different picture, however, of how the pair coupled up.
While on a video call with Adam Levine, Gwen Stefani reveals she's tired of Los Angeles guys and is looking for someone different. Yet, with the call dropping out due to bad service, he thinks he hears her say she's looking for a bumpkin-y country guy. So, Adam sets her up on a blind date with Blake, who shows up in full cowboy attire, complete with spurs. Gwen smiles, assuming this is a joke, but when Blake offers her a ride home on his horse, the sparks begin to fly. Whether or not this story is true, it sure makes an adorable commercial.
General Motors' "No Way, Norway"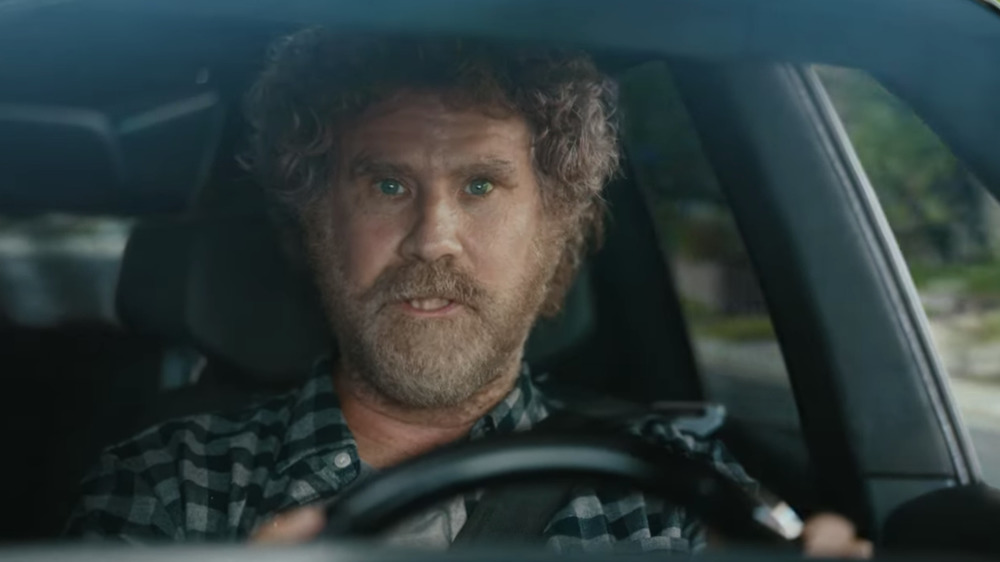 What happens when you put three comedic legends in an ad together? Apparently, a hilarious commercial for General Motors. General Motors is going all-in on electric vehicle technology, as evidenced by this star-studded ad: As GM Chief Marketing Officer Deborah Wahl said, "For the GM brand, the whole mission right now is to ... really help change people's opinions about what they think they know about EVs versus what they really are." This is exciting news to anyone concerned about the environment, but old news to Norway. In case you didn't know (because we sure didn't), Norway sells the most electric cars per capita. In short, they're electric vehicle goals.
Thus, GM hired the one and only Will Ferrell to wage war on the gorgeous Scandinavian country in a commercial called "No Way, Norway". He calls up his buddies Awkwafina (Raya and the Last Dragon) and Kenan Thompson (Saturday Night Live), who agree to help. Antics ensue when Kenan and Awkwafina end up in Finland and Ferrell lands in Sweden, complete with a globe still stuck to his arm. At least the car he drives up in is awesome. Either way, this commercial is very silly, pro-environment, and starring three very funny humans. All the ingredients of a great commercial.
Toyota tells Jessica Long's life story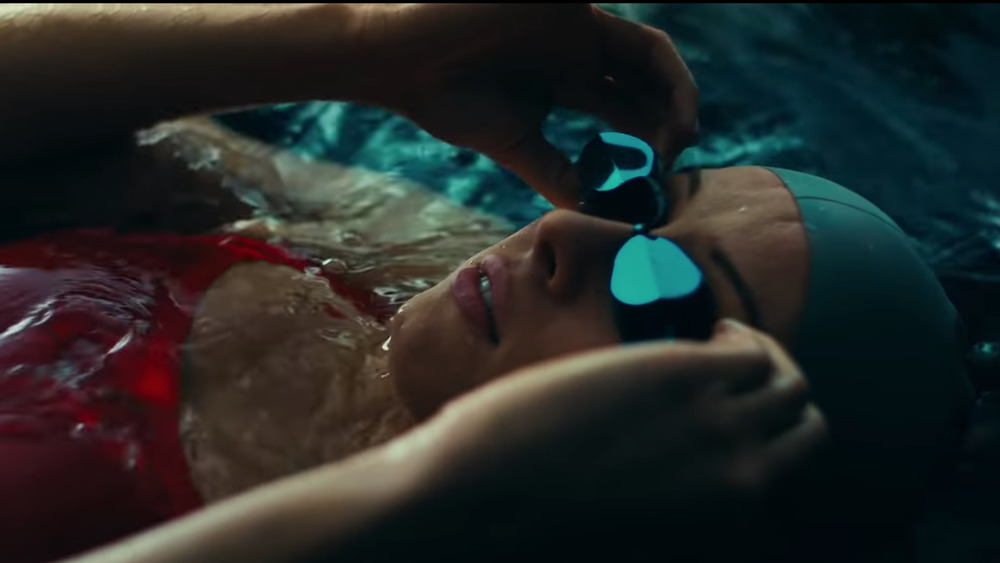 Every year, in a sea of funny ads, there is always one Super Bowl commercial that tugs at your heartstrings. It's a tradition that goes back to Mean Joe Green giving the kid his jersey in exchange for a Coca-Cola, through any of the Budweiser Clydesdale commercials, and all the way to the present, with the Always "Like a Girl" campaign. This year, Toyota delivered the tearjerker of the night.
The commercial begins with a shot of Jessica Long, a highly-decorated Paralympian, in a pool. She swims through the whole commercial, its sets appearing to float on water, as it tells her life story. She swims past the orphanage she began in, the moment she learned to walk as a double amputee, her beginnings as a swimmer, and all the way to the Paralympic Games. We see a woman get a call saying there's a child available for adoption, but she has a medical condition. Undaunted, the woman says, "It may not be easy, but it'll be amazing." Long swimming through the whole commercial embodies the concept of never giving up, regardless of what life throws your way. This commercial also shows that people with disabilities aren't disposable, as they're often treated by society: They live full, extraordinary lives. It's a beautiful spot with a great message.
Uber Eats' "Shameless Manipulation"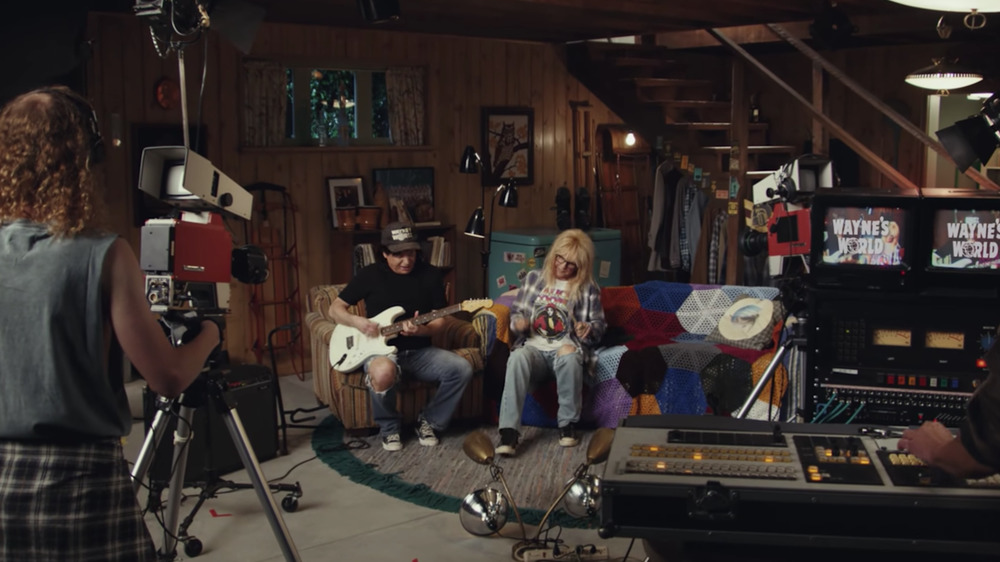 Back in the late '80s, Saturday Night Live premiered a sketch starring Mike Myers as Wayne Campbell and Dana Carvey as Garth Algar. "Wayne's World," which quickly became a recurring sketch, purports to be an excellent public-access show broadcast from a basement in Aurora, Illinois about hockey, babes, and friends, with an emphasis on heavy metal music. The sketch had some incredible guests in its time, including Wayne Gretzky, Bruce Willis, and Tom Hanks as Aerosmith's unforgettable roadie. It was then turned into the highest-grossing SNL film of all time, and even made "Bohemian Rhapsody" skyrocket to number two on the Billboard Hot 100, 16 years after the song came out.
Now, 28 years after Wayne's World 2, the dynamic duo makes a comeback with a fun Uber Eats commercial about supporting local businesses. They also welcome, as their guest, the one and only Cardi B. They assure the audience they're not trying to manipulate us with subliminal messages (which they do), gorgeous flowing hair (except for Garth's Beyoncé moment), and adorable babies (which they hold up dressed as mini versions of themselves). Party on, Uber Eats. This commercial is a winner.
M&M's "Come Together"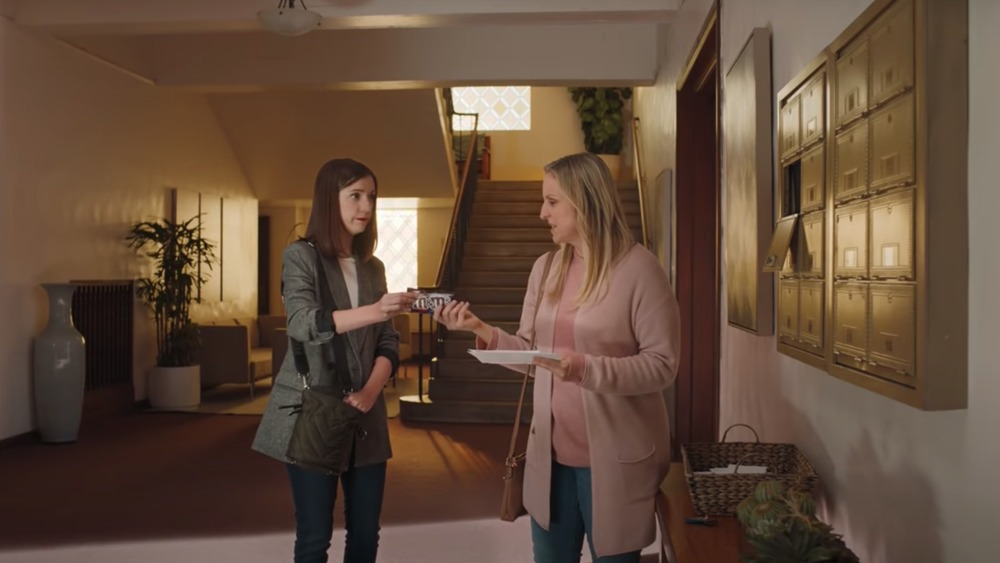 M&M's are simple: They're tiny pieces of chocolate encased in a candy shell that, as the brand will eagerly tell you, melts in your mouth, not in your hand. They have introduced flavors like fudge brownie, caramel, and peanut butter, but the original concept remains timeless — as do the candy's commercials. M&M parent company Mars actually took four years off from advertising during the Super Bowl, from 2014 to 2018. They came back with a vengeance in 2018 with Danny DeVito as the red M&M. 2019's spot featured Christina Applegate driving around the entire M&Ms crew, who bicker while stuck in a candy bar.
2021's advertisement does not disappoint. Each vignette in the ad spotlights someone apologizing to their scene partner by giving them a bag of M&M's. A man tells a woman, "I'm sorry for mansplaining," then attempts to explain what the term means. A woman apologizes to another, saying, "Sorry I called you Karen." When the woman says her name is Karen, the woman gives her a second bag, because she's sorry her name is Karen. It ends with Dan Levy telling the green and brown M&Ms he won't eat any more of their friends ... before the camera pans to reveal he's holding the red M&M hostage in his car. Okay, Dan Levy is the best, but that's a little creepy, to be honest. Still, this is a great addition to the history of M&M Super Bowl commercials.
DoorDash's "The Neighborhood"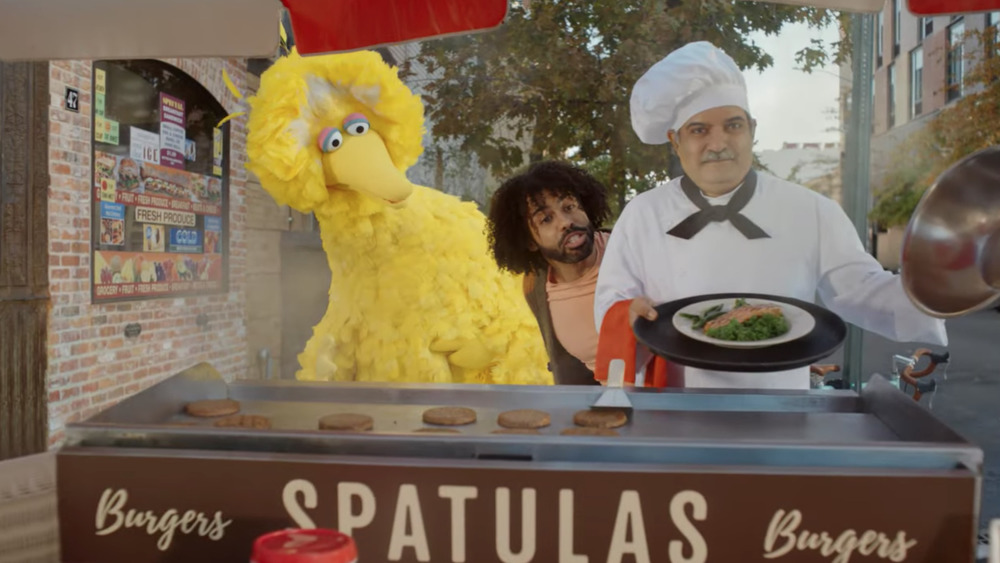 Sesame Street holds a special place in everyone's heart. Maybe it's where you learned your letters, how to count in Spanish, or how to be accepting of others. The cast of characters is funny, kind (even Oscar), and positive. This universally beloved children's program has been a household staple since 1969.
This year, DoorDash welcomed the incomparable Daveed Diggs to the neighborhood. Alongside Big Bird, he flawlessly raps his way through restaurants on his street, detailing how DoorDash will deliver from local businesses. With adorable appearances from Super Grover, Rosita, and, of course, Cookie Monster eating cookies, this is a joy to watch. 
Prior to the Super Bowl, DoorDash aired a companion commercial previewing the main commercial: It shows Cookie Monster and Diggs sitting on the couch reading, waiting for their food. Cookie Monster unsuccessfully attempts to eat his book, and says the brilliant line, "Boy, this tough read."
Both commercials are brought to you by the letter A, for awesome.