The Super Bowl Halftime Show Had Viewers Thinking Of A Jordan Peele Horror Hit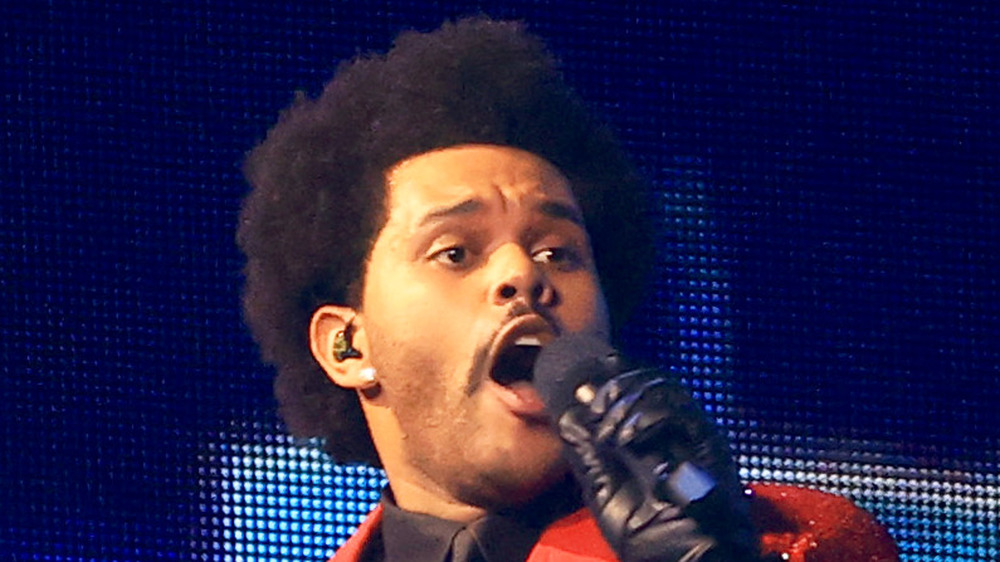 Mike Ehrmann/Getty Images
The 2021 Super Bowl halftime show reminded a lot of fans of a recent Jordan Peele horror hit.
Clad in a red jacket, pop star The Weeknd performed hits like "Blinding Lights" for a smaller-than-usual crowd in Tampa (due to COVID-19 restrictions) during Super Bowl LV, which pits the Kansas City Chiefs against the Tampa Bay Buccaneers. However, as The Weeknd descended onto the field during his performance, viewers noticed a striking resemblance to the recent social horror film, Us, which was released in 2019 and served as Peele's sophomore effort after his Oscar-winning directorial debut, 2017's Get Out. 
With his dancers in red jackets and white hoods, horror fans were irresistibly reminded of the distinct fashion choices in Us, which also featured a ton of red jackets and close, cropped white masks that covered the dancers' entire heads. Here's why the Super Bowl halftime show had viewers thinking of Jordan Peele's hit horror film Us.
The Weeknd's dancers were dressed almost exactly like the Tethered in Us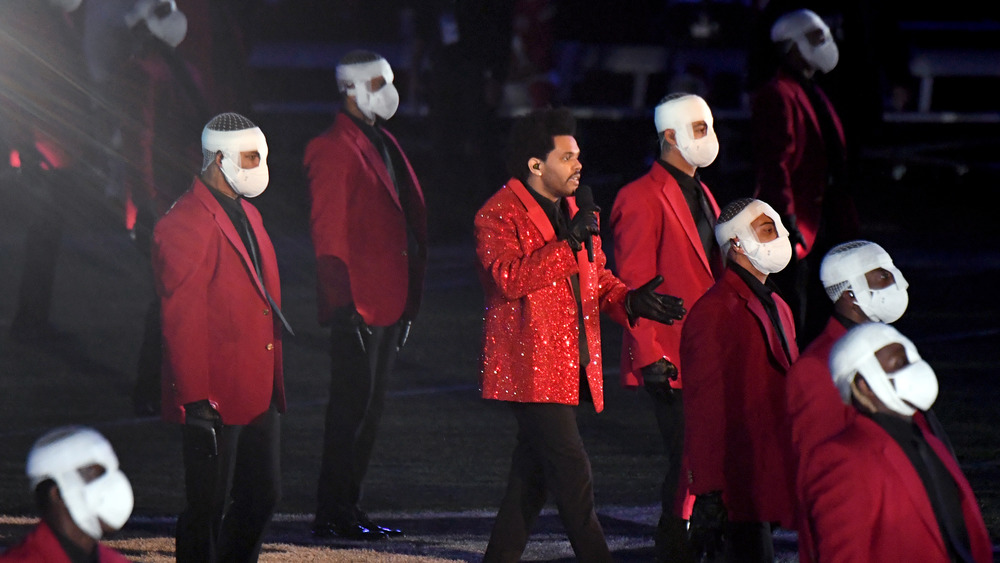 Kevin Mazur/Getty Images
Whether it was on purpose or not — which The Weeknd has yet to reveal — people definitely noticed that the artist's backup dancers looked just like the Tethered in Us. As the Wilson family, along with the rest of the world, discover that their Tethered counterparts have been lurking in the sewers and are emerging to overtake society, the Tethereds murder their human doubles... while wearing red jumpsuits and white masks.
While plenty of Twitter users clocked the significance, The Weeknd recently revealed the reason for his own white mask made of bandages, which he's worn publicly for the better part of a year. "The significance of the entire head bandages is reflecting on the absurd culture of Hollywood celebrity and people manipulating themselves for superficial reasons to please and be validated," the artist told Esquire in a feature on February 7.
For his performance, The Weeknd dropped his own bandages, but had his dancers don them instead; however, thanks to the combination with the white bandages and red jackets, the comparisons to Us were all but inevitable.
You can check out The Weeknd's performance now if you missed it, and Us is available to stream on Hulu.