The Super Bowl Halftime Moment That Left Viewers Feeling Uneasy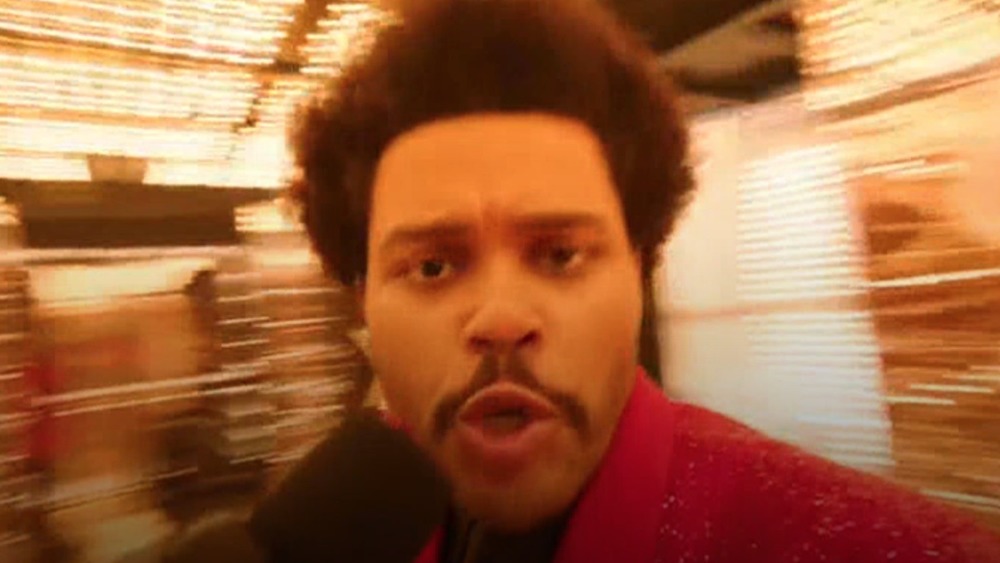 Each year, the Super Bowl halftime show is just as anticipated as the game itself. It has become more than simply an over-the-top performance by a massively popular musician, but a cultural phenomenon that inevitably sparks conversation, whether that's over an infamous wardrobe malfunction, a flailing left shark, or the impressive endurance a singer has to sing, dance, and cartwheel all over the Super Bowl stage. 
Canadian singer-songwriter the Weeknd put on a multi-million-dollar musical spectacle at the 2021 Super Bowl on Sunday, February 7 — a performance that Pepsi capitalized on for its Super Bowl ad — but part of his show left people feeling distinctly uncomfortable. 
Partway through the Weeknd's performance, he stepped into a set made up of reflective gold walls and featuring dozens of shining lights. While the Weeknd was singing his hit song "Can't Feel My Face," the camera tracked his jerky movements through the confusing, mirrored room. He spun around in circles, bringing his face close up to the camera at a selfie-style angle and then moving back again, all while sustaining eye contact with the camera. 
As far as viewers were concerned, this wasn't enjoyable to watch, serving as a less-than-stellar moment from an otherwise solid Super Bowl halftime performance.
The Weeknd's Super Bowl LV performance was dizzying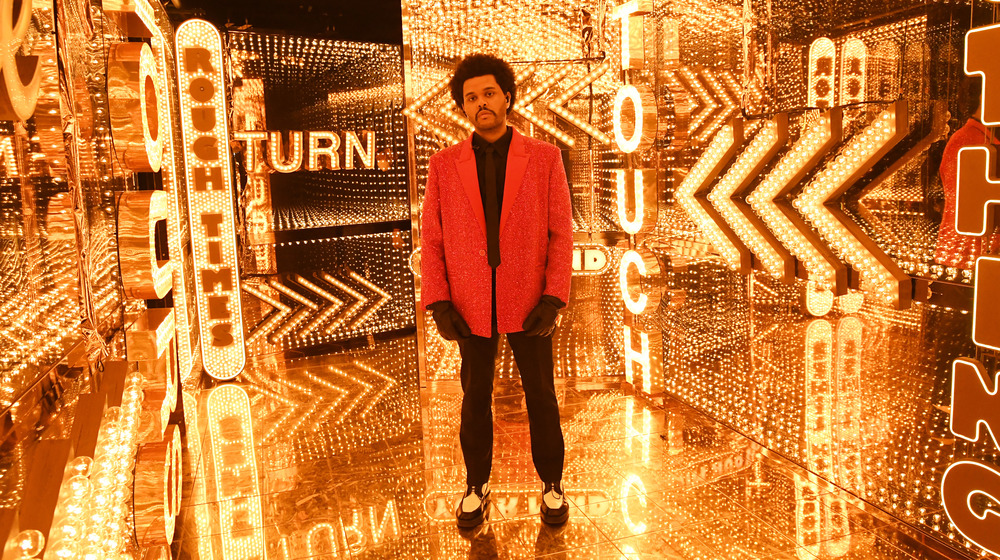 Kevin Mazur/Getty Images
It wasn't long before Super Bowl viewers took to social media to share their discomfort with this part of the Weeknd's halftime performance. 
On Twitter, several users called out the moment for making them incredibly dizzy. User @InfernoOmni wrote, "Bro can The Weeknd stop putting his face all over my TV I'm getting dizzy and i smelt his breath." The disorienting movement made user @lauren_cwright yell at their TV to hold the camera still, while user @Chubbtastic said they were "too stressed" for the close-ups of the Weeknd's face and his rapid spinning throughout the golden room.
Even fans of the Weeknd's were put off by this particular portion of his Super Bowl halftime show. As Twitterer @Brinna_Jae wrote, "Love The Weeknd but I'm dizzy from that moment in the gold room like boii that's too much movement and I have vertigo quit playing."
It wasn't just the twitchy camera work that bothered people, but also the prolonged eye contact. User @madirmoore17 tweeted, "I'm feeling uncomfortable with the eye contact through the tv with The Weeknd rn," with a few others echoing their comments. It made @saucygurl915 uneasy, despite being a fan of his. It might be that nearly a year of isolating from people for the pandemic made the closeness and intimacy of it just too much to bear. 
Then again, this isn't the first time the Weeknd's face has made people uneasy. In fact, maybe it's exactly the effect that he was going for.
Still, it's a tossup for this Super Bowl's most uncomfortable moment: The Weeknd's jaunt through a gold plated fun house, or the inexplicably flat Matthew McConaughey.