Super Bowl Spot For Bob Odenkirk's Nobody Will Hype You Up
Bob Odenkirk has been leveraging his "aw shucks" Midwest aesthetic against audiences for decades — first using it to bait and switch viewers on Saturday Night Live and Mister Show, then deploying it as a sort of camouflage to subvert expectations in Breaking Bad and Better Call Saul. He looks set to continue this tradition in Nobody, the upcoming film that asks, "What if a seemingly unthreatening AARP-eligible suburbanite turned out to be a cyclone of molten death?"
Nobody sees Odenkirk taking on the role of Hutch Mansell, a family man who, at first blush, behaves exactly the way you'd expect someone that looks like Bob Odenkirk to behave. After a failed attempt to stop a home invasion, an emasculated Hutch has his status as a protective patriarch called into question, leading to what looks like a domino rally of retaliatory violence normally reserved for times when Keanu Reeves gets his dog stomped on – all backed by the dulcet tones of Louis Prima. 
Thanks to the film's new Super Bowl spot, we now have some of our best looks yet at what's in store in Nobody.
Bob Odenkirk is getting that bracelet back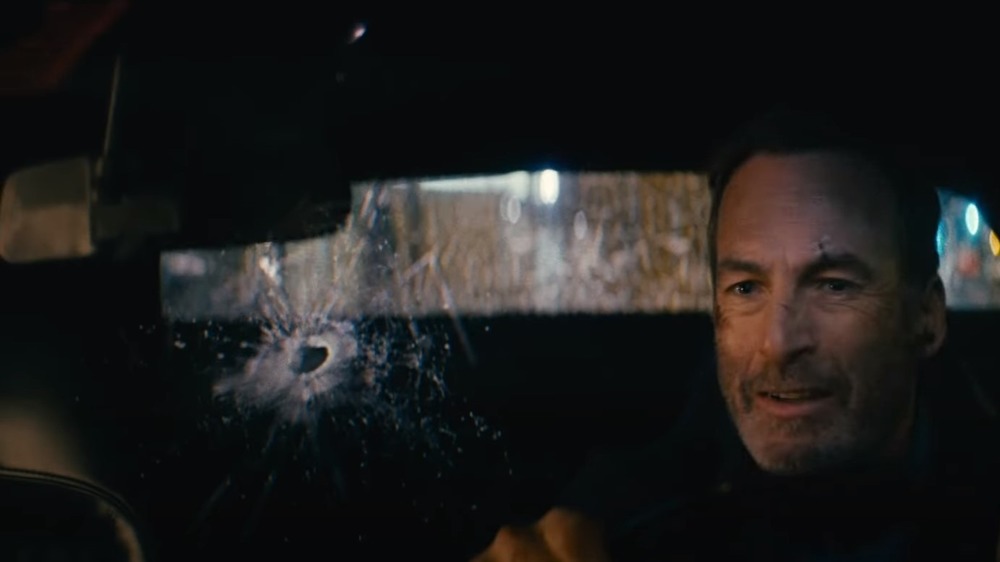 Universal Pictures
Nobody's Big Game spot gives audiences a succinct look at what to expect from the flick, while also offering some intriguing new details about its central plot. We get a quick look at Hutch's home life, juxtaposing his fondness for cooking from scratch with his apparent aptitude for whipping up homemade explosives. There's also some of the best footage so far of the scope of the stylized action violence that viewers can look forward to: seven masked gunmen rushing the Mansell residence, cars flipping down the road, Hutch yelling for the intruders to hand over the "kitty-cat bracelet" that they stole from his daughter, and, on an unrelated note, lasagna.
Most intriguingly, we get a brief but permeating look at Christopher Lloyd, who plays Odenkirk's father Harry in the film, taking up arms alongside his son. It's a striking look for the 82-year-old performer, and a stunning display of the sort of bloodthirstiness we haven't seen from him since he rolled out the Dip in Who Framed Roger Rabbit?
Directed by Hardcore Henry's Ilya Naishuller and written by Derek Kolstad of John Wick fame, Nobody is set to hit theaters on April 2. Bring a spare kitty-cat bracelet, just in case.