Elizabeth Olsen And Paul Bettany Have More Input In WandaVision Than You Think - Exclusive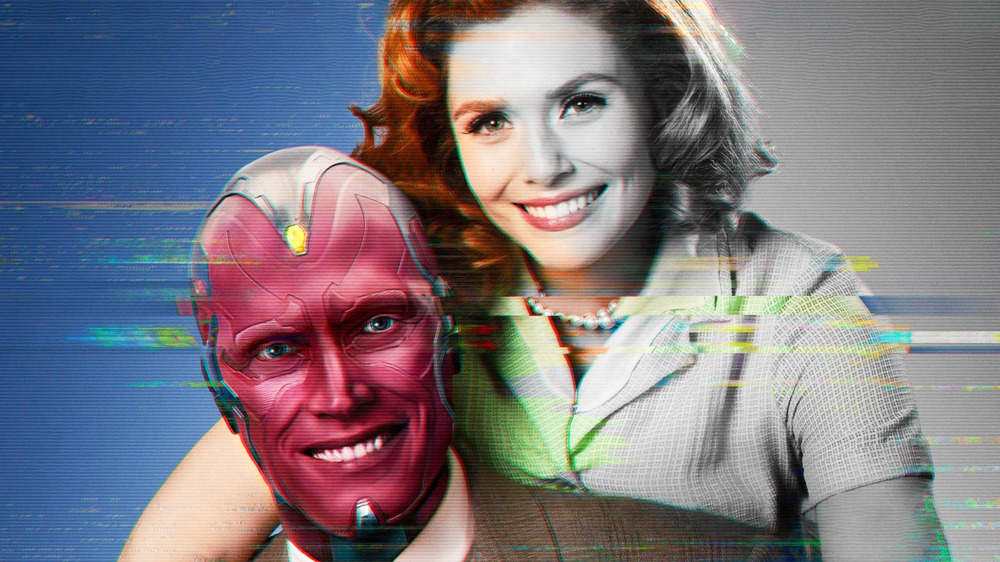 Marvel Studios/Disney+
For WandaVision creator Jac Schaeffer, there wasn't so much concern about whether stars Elizabeth Olsen and Paul Bettany had the ability to put a comedic spin on their normally serious Marvel Cinematic Universe superhero characters Wanda Maximoff (aka Scarlet Witch) and Vision; rather, it all boiled down to whether Schaeffer herself could create the sort of material that would justify Olsen and Bettany's talents.
The comedic spin Schaeffer gave Wanda and Vision — especially in the first three episodes of the series — was that the settings were in the classic television sitcom era of the 1950s, '60s and '70s, and reminiscent of The Dick Van Dyke Show, Bewitched, and The Brady Bunch. That all changes when the environment encasing Wanda and Vision is exposed in episode 4, but it doesn't take away from the fact that Olsen and Bettany had to seriously ramp up the comedy for majority of WandaVision's first 90 minutes.
"I was very familiar with Paul's comedic work in Wimbledon and A Knight's Tale — and even A Beautiful Mind, with his charismatic performance in that. I had a real sense of how to write him in the comedy space, and he was so game for it," Schaeffer told Looper in an exclusive interview. "He was so up for it and excited, and wanted to be funny and silly, and that was wonderful."
Discovering Elizabeth Olsen's comedic sensibilities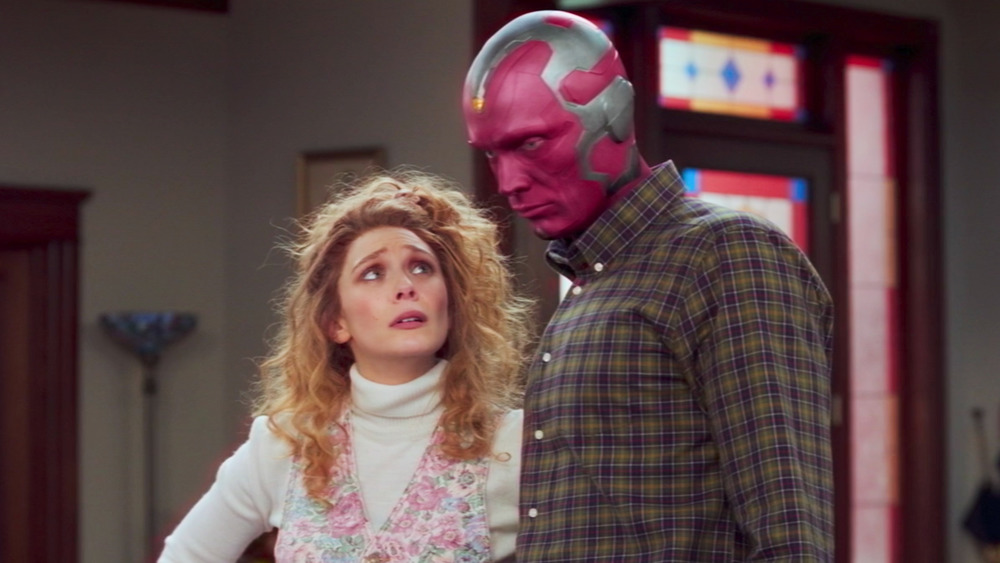 Marvel Studios/Disney+
Schaeffer, who's also the head writer on WandaVision, admitted there was a bit more mystery involved in shaping Wanda's role for Olsen going into the project, but ultimately she was very pleased as she mined the actor's comedic sensibilities.
"I knew less about how to write for Lizzie in that space, but I'm still sort of blown away by how technical her performances are physically, and her voice and her bearing. It was wonderful working with her to make that work," Schaffer said. "Then, in terms of more dramatic moments, she's a very methodical performer. If something doesn't make sense to her, she wants to have the conversation. So, we had a lot of talks in order to make all of the pieces of her voice authentic."
Schaeffer also shared one of the advantages she had going into writing for Bettany on WandaVision: He's used to roles on both sides of the camera. "With Paul, he writes as well, and has such a sense of the right turns of phrase for certain things," Schaeffer explained to Looper. "There was a lot of silliness with him getting all of his little idioms right and making the most of the moments."
In the end, Schaeffer is confident that everything worked out splendidly: "It was so great. I love working with both of them."
Also starring Kathryn Hahn, Teyonah Parris, Randall Park, and Kat Dennings, WandaVision airs new episodes — all directed by Matt Shakman — every Friday on Disney+.