Rampage Movie Will Be 'Scary,' Feature Original Game's Monsters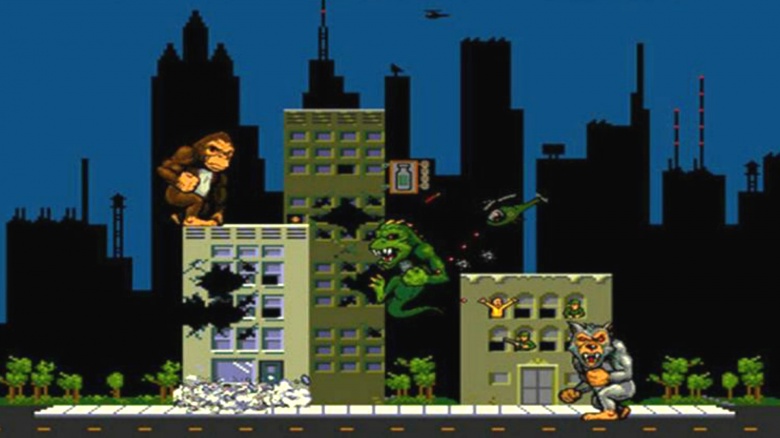 Midway
Remember Rampage? It's the '80s arcade classic that gave kids a (relatively) healthy way to level an entire city.
Director Brad Peyton definitely remembers it, and he's bringing Dwayne Johnson along for a big-budget movie adaptation. And although production doesn't begin until next year, Peyton recently opened up about the flick to We Got This Covered.
If you never played the original game or one of its home console sequels, Rampage puts the player in control of one of three massive monsters: George, a giant gorilla transformed by an experimental vitamin; Lizzie, a Godzilla-like lizard transformed by a radioactive lake; and Ralph, a huge werewolf transformed by a food additive. The player levels up when everything in the city is demolished.
Peyton said the three original creatures will be included in the movie, but hinted that we probably shouldn't expect them to be friendly.
"We are using our love of the original game as our inspiration," he said. "It's going to be a lot more emotional, a lot scarier, and a lot more real than you'd expect. So you look at that original concept about a lab that affects these animals and makes them rampage, and that's the nugget."
Peyton also said that while the movie will have some elements in common with his disaster flick San Andreas, Rampage will be "a monster movie at the core."
Of course, video game adaptations have an iffy track record. While the Resident Evil franchise has been hugely successful for more than a decade, adaptations like Prince of Persia: The Sands of Time, Silent Hill: Revelation, and Warcraft made money but were met with mixed reviews.
However, there are plenty more on the way. Michael Fassbender's Assassin's Creed opens in December, and there are adaptations of Minecraft and Sonic the Hedgehog in the works. Meanwhile, check out some video game movies that never got made.