Exclusive Clip: Get A Sneak Peek At Syfy's New Series Devil May Care
What happens when an unassuming millennial gets tasked with a new job in a place they've never been before? In the real world, the worst that might happen is a bout of anxiety followed by the scaling of a steep learning curve on the millennial's part. But this isn't the real world we're dealing with here. We're dealing with Hell. 
In Syfy's upcoming animated series Devil May Care, set to air as part of the network's expanding late-night animation block TZGZ, the millennial in question is named Beans (voiced by Asif Ali), the newest social media manager for the literal Devil (voiced by Alan Tudyk). Strange, for sure, but the bigger problem is that Beans doesn't know why he's in the ... more unsavory version of afterlife. Luckily for Beans, though, the job he held when he was still alive on Earth is a perfect fit for his new duties in Hell. It isn't long before Beans and the Devil develop an unlikely a friendship — but things are bound to heat up (literally) as Beans tries to generate online buzz, believed to be the one thing that the underworld lacks. 
Ahead of the series' premiere this Saturday, February 6, Looper is excited to share a sneak peek from Devil May Care.
In the clip, shown above, Beans tells the Devil that he can simply be sent to Heaven instead if he doesn't want him around. The Devil brushes this suggestion aside, telling Beans that Hell is no longer all about lava and fire, pain and suffering. Now, the Devil wants his citizens to "be happy," with access to "all the coolest stuff." When the Devil asks Beans what he can do to make Hell more appealing, Beans reveals that he was a social media manager on Earth — and the Devil swiftly appoints him to that post on his personal team.
Devil May Care is a star-studded animated adventure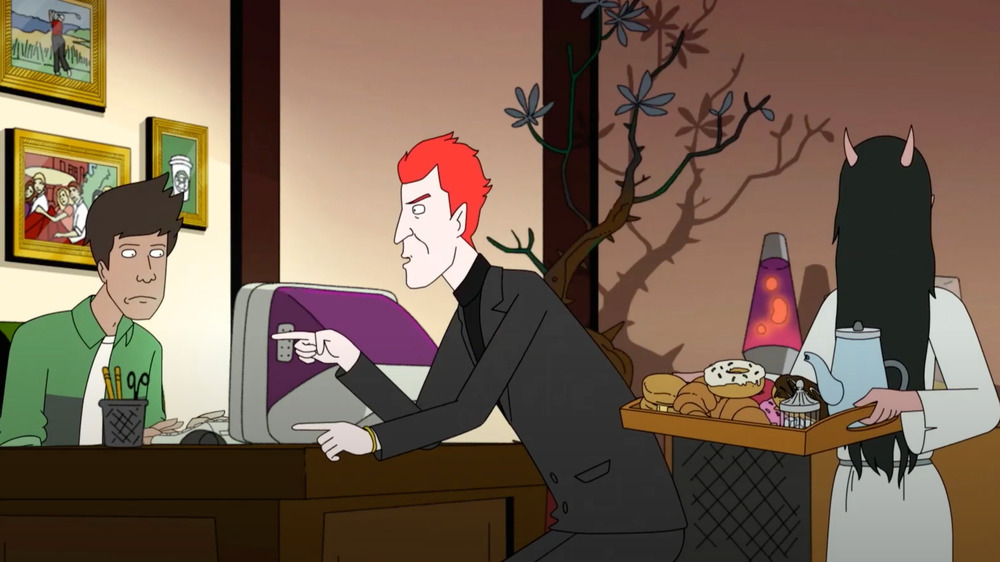 Syfy
By the look and sound of it, Devil May Care is an off-kilter animated comedy that aims to be just as tongue-in-cheek as it is chuckle-out-loud hilarious. It also packs a heavy punch in the voice-acting department, as several big names bring Devil May Care characters to life. 
Of course, there's Alan Tudyk — of Firefly, Star Wars, Wreck-It Ralph, Doom Patrol, Maze Runner, and Harley Quinn fame — lending his versatile voice to the Devil. Opposite him is Asif Ali as Beans. You may remember hearing Ali's voice on Star Trek: Lower Decks, in which he voiced Ensign Asif, and in a couple of episodes of BoJack Horseman. Like Tudyk, Ali has had a glimmering career outside of voice acting, with roles in The Mandalorian (as Caban), WandaVision (as Norm), Wrecked (as Pack), and more. Next up for Ali is the Olivia Wilde-directed drama Don't Worry Darling, starring Florence Pugh and Harry Styles.
Filling out the Devil May Care cast are Brooklyn Nine-Nine favorite Stephanie Beatriz, who brings to life the character Gloria; King of the Hill, Recess, Louie, and Californication actress Pamela Adlon as Regina; Robot Chicken, Avengers Assemble, New Looney Tunes, Animaniacs, and Star Trek: Lower Decks mainstay Fred Tatasciore as President McKinley; Grey Griffin of The Fairly OddParents, The Grim Adventures of Billy & Mandy, Avatar: The Last Airbender, and Danny Phantom notoriety as Coma; and Justice League Unlimited, Futurama, and Pulp Fiction actor Phil LaMarr as Calvin.
Created and executive produced by Douglas Goldstein, Devil May Care will premiere as part of Syfy's TZGZ animation block on Saturday, February 6 at 12 AM ET.