Coming 2 America Trailer Has The Internet Hyped
Eddie Murphy is coming to Amazon next month in the comedy Coming 2 America, sequel to his classic rom-com of a near identical name. Prime Video dropped a new trailer today, hyping up fans with a peek at the flashy royal outfits, dangerous lion chases, and — of course — the unforgettable barbershop guys.
The original Coming to America brought Prince Akeem Joffer (Eddie Murphy) of the fictional African country Zamunda to America in hopes of finding true love. By the end he marries Lisa (Shari Headley) and they are happily set to take over the crown. The sequel fast forwards 30 years: Now, Akeem learns he has a son (Jermaine Fowler) in America and must bring him back to Zamunda to groom him as an heir to the throne, Princess Diaries-style.
The first Coming 2 America trailer brought Akeem and his best friend Semmi (Arsenio Hall) back to America in a nostalgia filled trip to the barbershop, but the second returns them to Zamunda, son Lavelle now in tow. It teases a conflict brewing within Akeem's family over whether or not his eldest daughter can be his heir. On the opposite side of this conflict is a military general intent on taking power for himself. 
Naturally, fans have taken to social media to share their excitement.
A pop culture reference in the trailer is delighting fans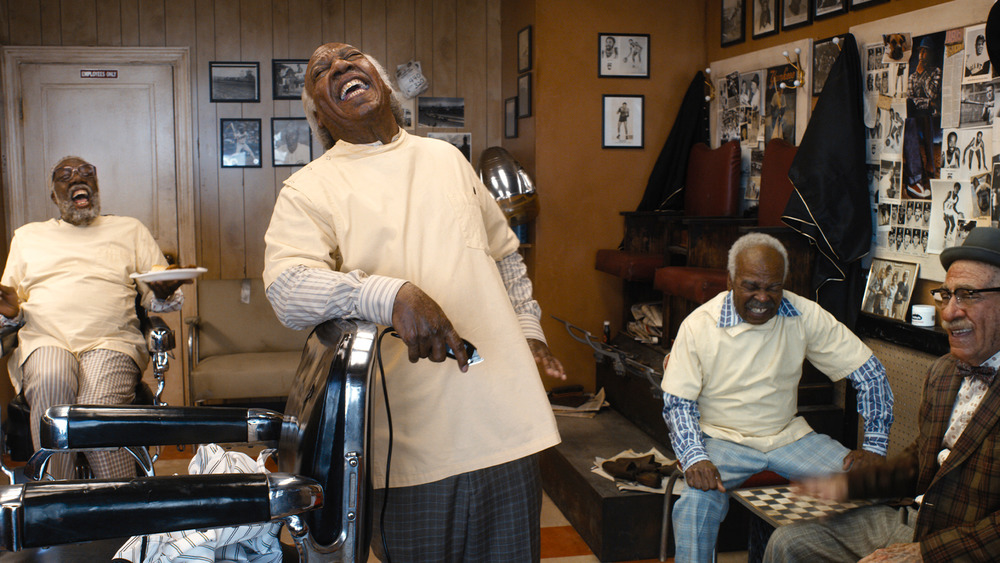 Amazon Studios
With its fast-paced humor and generous callbacks to the original classic, fans are ecstatic over the new Coming 2 America trailer. On YouTube, user Ivan Ivez put a lot of faith in the film, commenting: "Can't wait! This film is gonna heal the wounds of 2020."
The iconic old barbershop men (played by Murphy and Hall in extensive makeup) are back to ridicule Akeem and Semmi like no time has passed at all. In fact, though fans are overjoyed to see them again, they can't help but wonder how these guys are still alive all these years later. Twitter user @1Sami_ wrote, with a laughing emoji, "The barbershop guy's have never left the shop since the original." Meanwhile, others are already speculating that Lavelle isn't Akeem's son at all, but his friend Semmi's.
There's one cheeky joke in particular that fans have latched onto: Lavelle's mother (Leslie Jones) asks if he's "supposed to be like the prince of Wakanda," referencing the fictional African country from Black Panther, to which Akeem responds that "Wakanda is a fictional place. Zamunda is a very real nation." And yet, in a comment under the trailer on YouTube, Johann Belizario wrote, "WAKANDA FOREVER!!!" Zamunda will be hard pressed to reach the cultural heights of Wakanda, which, despite its nonexistence, was briefly and inexplicably listed as a U.S. trade partner.
Fans have emphatically declared that they can't wait for Coming 2 America. Fortunately, it isn't long now until the film's March 5 release on Amazon Prime Video.