The Forgotten Russell Crowe Sci-Fi Thriller On Hulu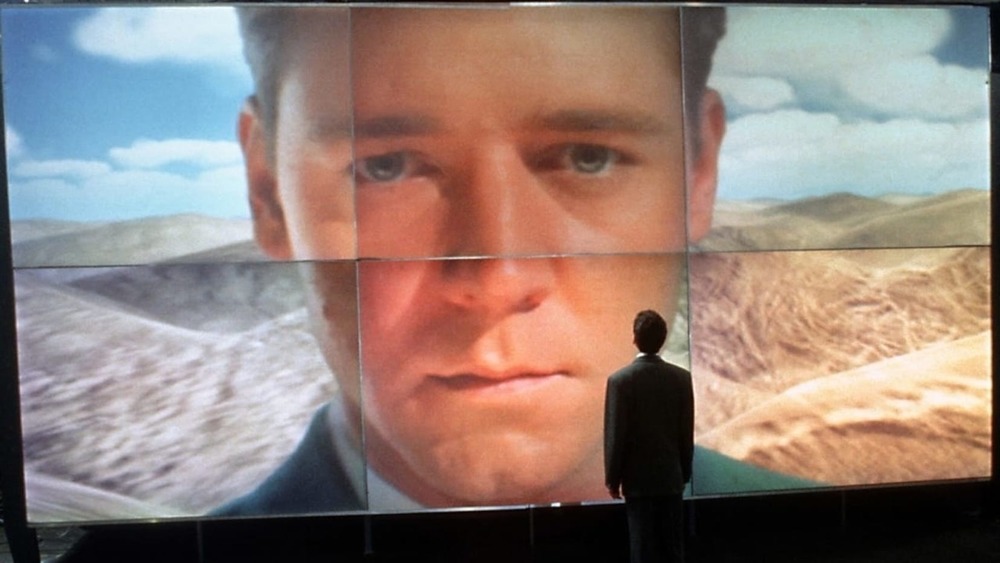 Paramount Pictures
Even though there's a real reason you don't hear from him anymore, Russell Crowe is still regarded as an actor of rare skill and electrifying screen presence. Through much of the late '90s and early '00s, he was legitimately one of the few stars in Hollywood whose name alone could put butts in seats for any movie studio in the world. During this imperial phase of his career, Crowe fronted lauded projects like L.A. Confidential (1996), The Insider (1999 — making it one of the awesome movies that turned 20 last year), Gladiator (2000), A Beautiful Mind (2001), and Master and Commander: The Far Side of the World (2002). 
Like most full-blown movie stars, Russell Crowe's rise to fame hardly happened overnight. In fact, in the early '90s Crowe was still little more than an Aussie transplant who arrived in Tinseltown behind a wave of lofty expectations based on a better-than-solid string of screen appearances back home (see: 1992's Romper Stomper). Though Crowe proved himself faster than most, there were still a few hiccups in his ascension to stardom, and if you want to catch one of those, Hulu can now plug you into one of the actor's most infamous flicks.
That film is 1996's futuristic techno-thriller Virtuosity, which finds Crowe portraying SID 6.7 (a virtual reality amalgam of history's most violent killers) who's given physical form by a seriously misguided tech genius. Once he's loose in the real world, SID goes on a killing spree befitting the vile histories of his programming. Crowe delivers a brash, wildly over-the-top performance in what becomes a reality-twisting tale of cops and robbers that has to be seen to be believed. 
Virtousity flopped in its time, but for Crowe fans it's worth a revisit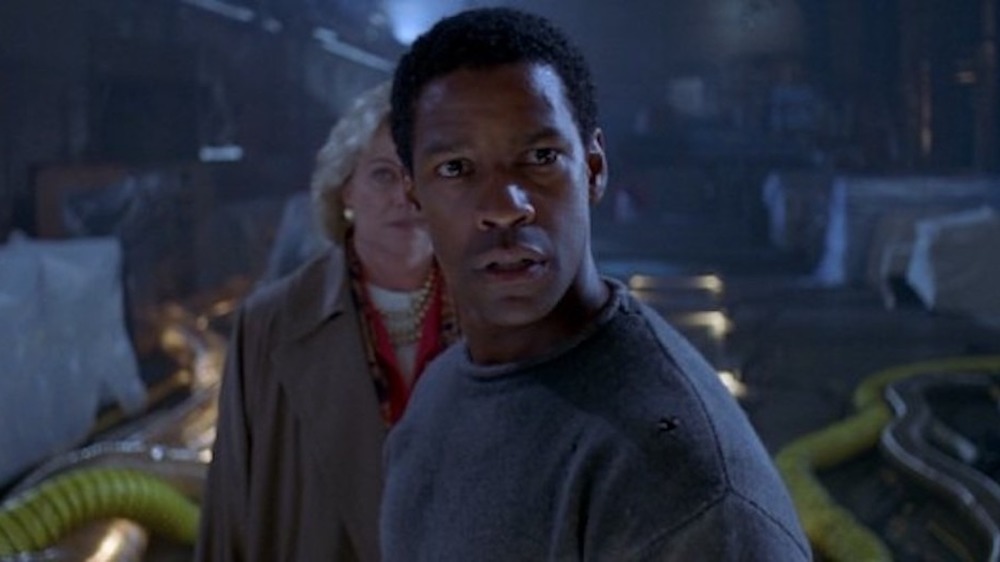 Paramount Pictures
The '90s kids out there no doubt recall the decade was spotted with similarly themed, technophobic tales like Johnny Mnemonic (1995), The Lawnmower Man (1992), and Brainscan (1994), with each offering their own take on the virtual world that was just beginning to encroach on our reality. While the '90s delivered a handful of game-changing altered reality thrillers — see: Strange Days (1995), Dark City (1998), and The Matrix (1999) — the bulk of the decade's cyberpunk-inspired tales were less than memorable.
Virtuosity is often lumped in with the forgettable lot. While the film's less-than-fresh Rotten Tomatoes rating is hardly unearned, even haters have to admit it's a lot more fun than most of its virtual reality brethren. Russell Crowe's wondrously unhinged turn as SID 6.7 is a major draw, and even the film's dated visual effects craft an intriguing aesthetic in the context of their time.
Russell Crowe isn't actually the star of the show, either. The disgraced former cop tasked with bringing SID 6.7 to justice is the focal point of the film. That character is portrayed by screen titan Denzel Washington. Exactly what drew an actor of Washington's caliber (he'd already netted an Oscar for his work in 1989's Glory) to a project like Virtuosity remains a mystery. He's clearly having his own fun trading scenes with Crowe, however, and it really is an absolute hoot to watch them go toe-to-toe.
As it happens, Virtuosity also marks the big-screen debut of The Big Bang Theory star Kaley Cuoco, which should give sci-fi fandom all the more reason hit up Hulu and check it out today.